Indian weddings are all about planning and organizing. And, bridesmaids are the angels assigned for guiding the confused bride in the right direction. So, don't you all
think, our dear angels deserve perfect outfits for the big day? Yes, we hear you. If you
are a bridesmaid, searching for awesome outfit ideas, we are here to help you! From
traditional to contemporary, here you will find limitless options itching to make your
heads turn. However, filtering the right one from our sea of options might be actually
really fun. Hence, go ahead and dive into the super-trendy bridesmaid outfit ideas
listed below.

1) The Haldi Edit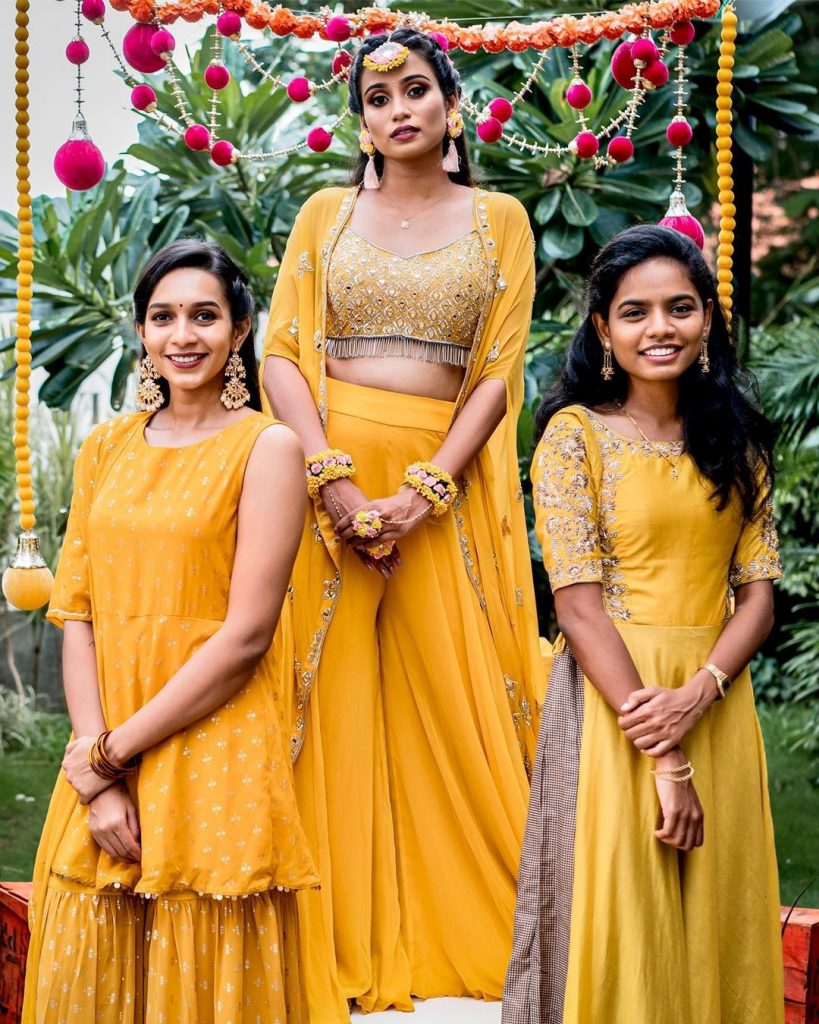 Haldi is a pre-wedding ceremony conducted in almost all Indian households. Even
though Haldi is not on the same day of wedding, it's still very important to stand out
as the bride's dear partners in crime. Undoubtedly, yellow is the color-code followed
nationally for attending the Haldi rituals. Therefore, we will help you to form a unique
and outstanding Haldi outfit for bridesmaids. Firstly, your outfit should match the
bride, both design-wise and pattern-wise. As seen in our photo, the bride is wearing a
modernized sharara suit with a beautiful cropped blouse. The bridesmaids are wearing
long traditional outfits which compliment the bride's attire. Both girls are wearing a
kurta-set along with very similar hairstyles. Above all, make sure to wear the same
kind of jewellery and flowers. Go for a girls-only shopping adventure and get matching
jewellery pieces and accessories. We are absolutely sure that you will thoroughly enjoy
it!

2) A Pastel Poem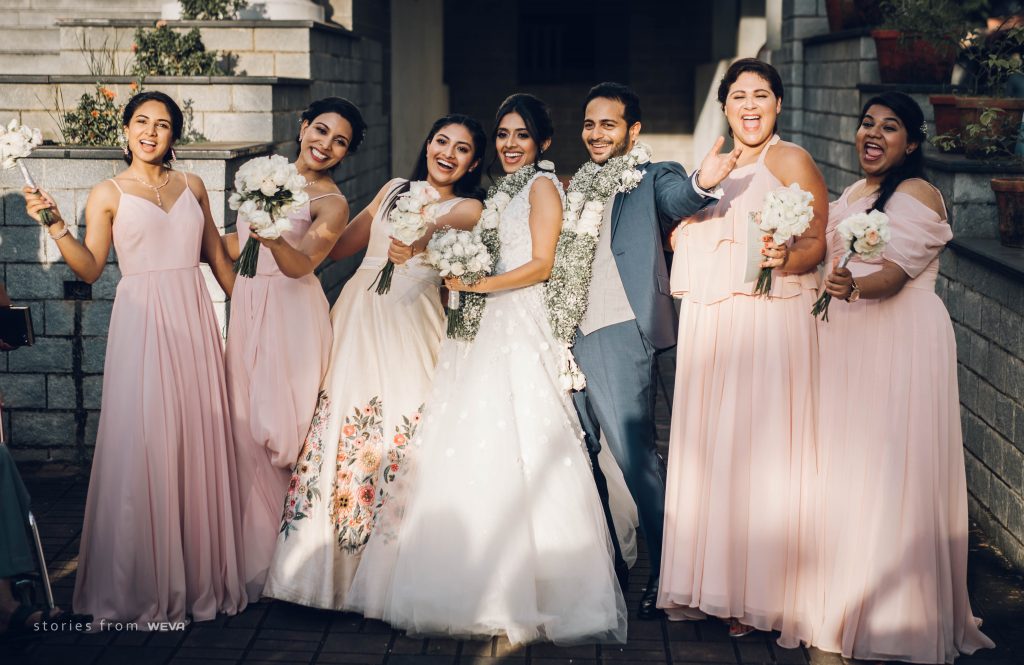 Are you a bride-to-be who's obsessing over pastel palettes? Then, lets doll up all your
bridesmaids in pastels! Christian brides often opt for big mermaid gowns instead of
traditional sarees in this modern era. Hence, the bridesmaids will be dressing up in
minimal yet classy gowns to merge with bride's attire. As a result, team bride shall
shine in beautiful barbie doll gowns. In the photo, we see a very subtle pastel-pink
color worn by all bridesmaids. To clarify, they are not wearing the exact same design.
Interesting, isn't it? The whole idea of diversity over designs will bring a freshness to
our eyes. Hence, all the bridesmaids will feel special and unique, which is great!

3) The Saree Sensation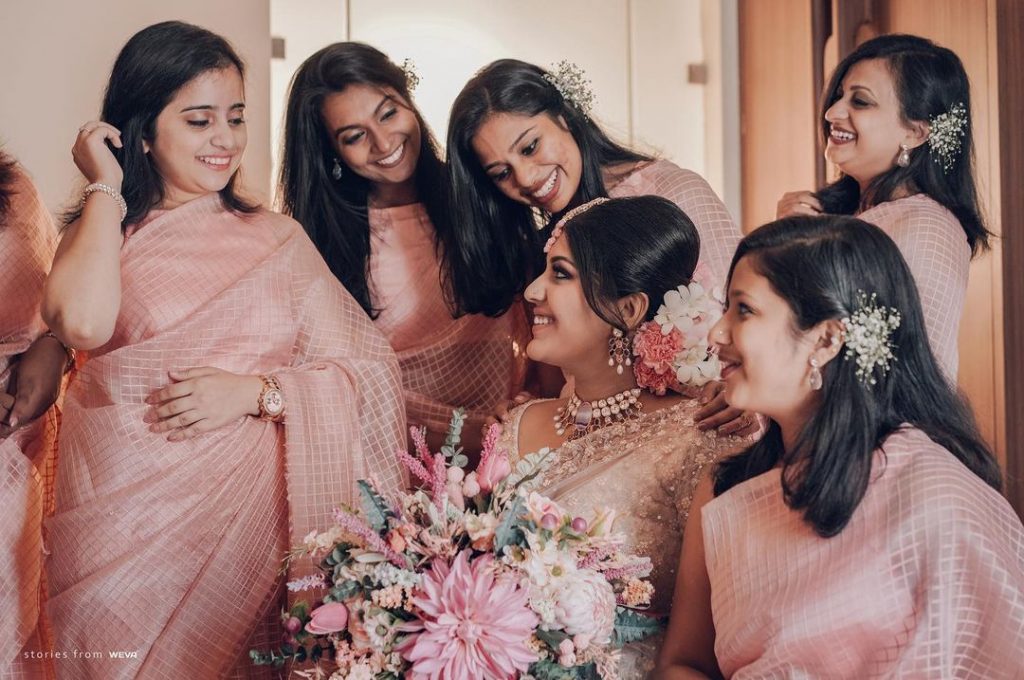 Are you tired of flipping over bridesmaids outfit ideas? We hear you. When you are
confused, just go for a stunning saree outfit. Now, gather your girls and discuss about
the texture, material and color. We would like you to lookout for soothing colors like
English tones or pastels. Because, these palettes are evergreen and the bridesmaids
can even reuse it a million times in the future! A sustainable option is always a cool
idea. As we observe the photo, we get caught at the beauty of their minimal and pastel
saree outfits. The girls are wearing beauiful flowers,. As a result, the whole outfit gets
even more sassy and eye-catchy

4) Go Versatile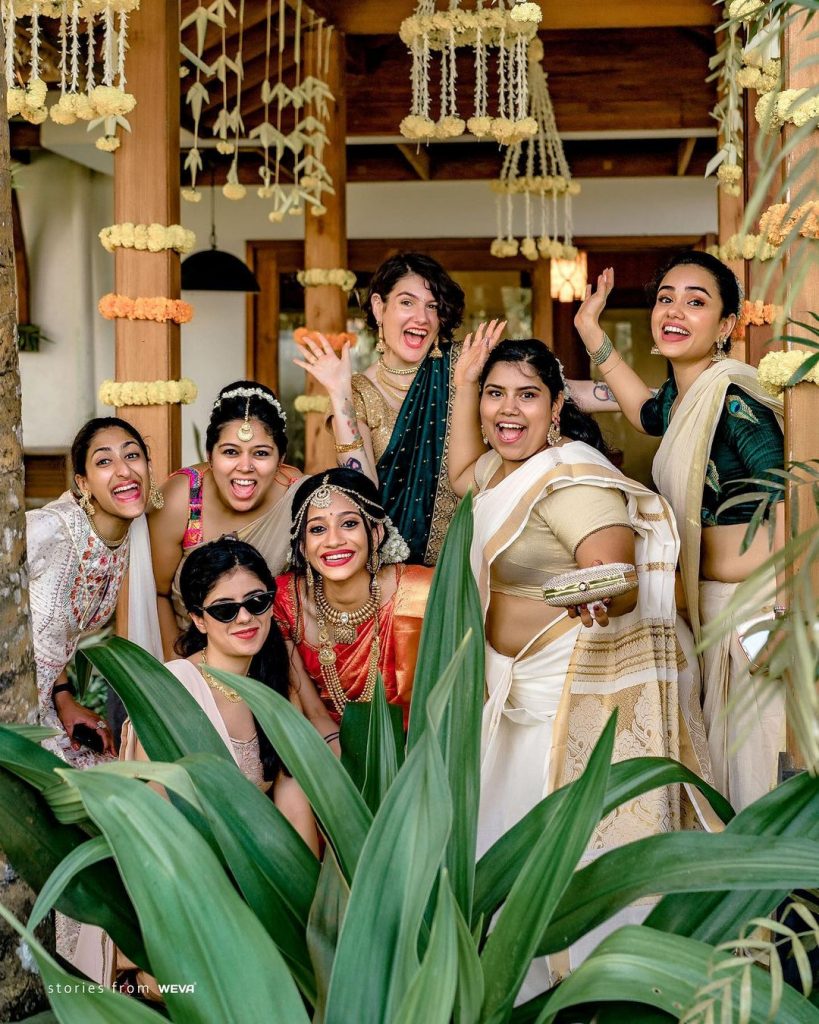 South Indian Hindu weddings don't have an idea of 'bridesmaids' in general. But, as
per the recent evolution, there is no wedding without bridesmaids! Kerala saree is a
fantastic option for beautiful Hindu bridesmaids. Above all, going versatile is
something that is quite crazy and out of the box! By going versatile, we mean
choosing separate, non-similar outfit ideas for each of your bridesmaids. But, sticking to a
particular outfit style will bring uniformity and neatness. Also, it is a good idea to
match all the bridesmaid's blouses colourwise or pattern-wise for identification. In short,
we suggest you to experiment instead of getting stuck at a cliche outfit design for your
Indian bridesmaids dress.

5) The Fashionista Edition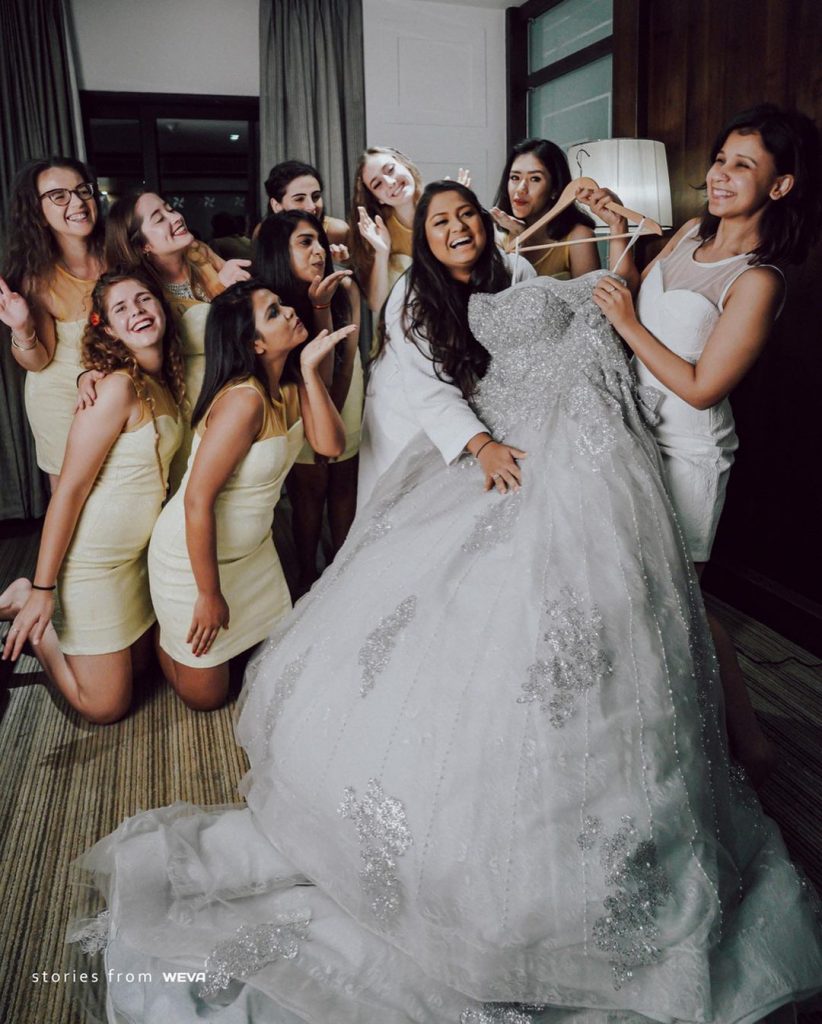 Who is up for an extra-stylish, body-fitted outfit? Say yes to the current outfit
obsessions among bridesmaids! Yes, we are talking about choosing chic over comfort
here. In the picture, you will find a bunch of insanely joyful girls wearing short body-
hugging bridesmaid outfits. However, the length of the dress is not a real deal-breaker
here. Fitting and design play an important role in going hand in hand with the latest
fashion trends. As we discussed earlier, following the same pattern or length will help
to form uniformity among all the bridesmaids. But, you shall make slight variations in
the yolk or sleeves. Most importantly, each bridesmaid is supposed feel confident and
beautiful irrespective of the fitting or pattern of the outfit.

6) Bling Over Boring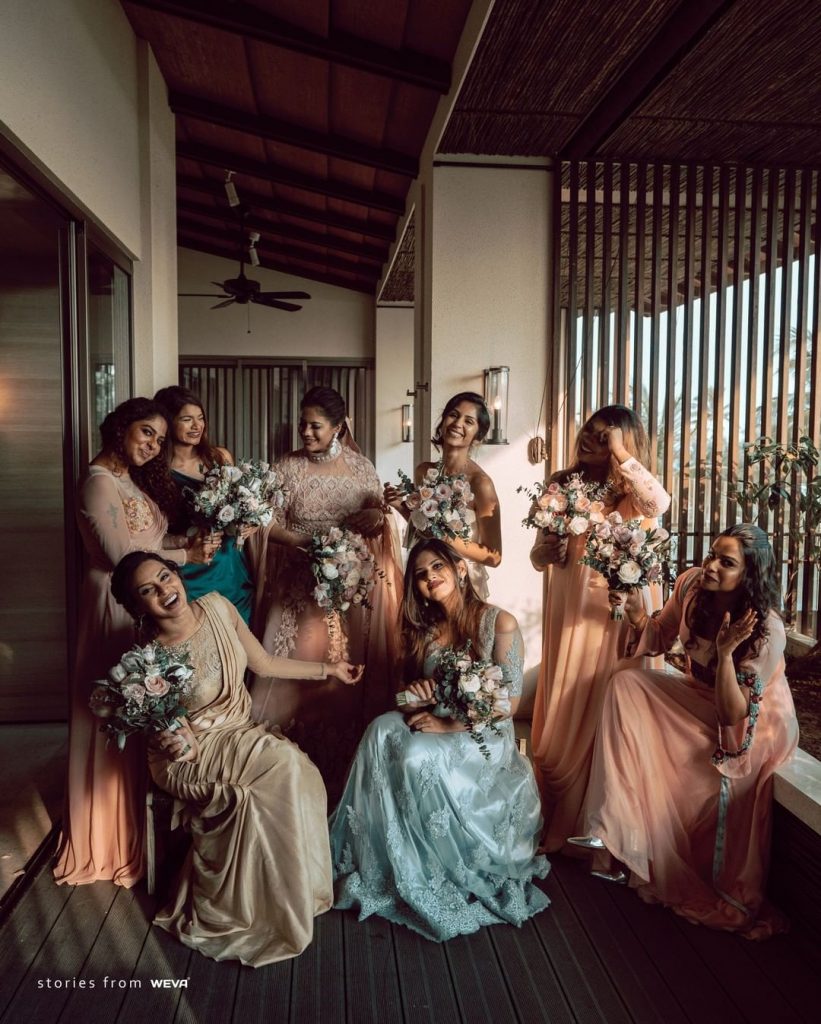 Adding a touch of royalty to a design is definitely admirable. Similarly, detailing out
and adding bling will add royalty to your bridesmaid's outfit. The bride shall
concentrate on each bridesmaid's outfit to make it flawless and beautiful. Also, if you
are adding a sparkly element, make sure to balance that shine with the overall design.
Are you finding this difficult to grasp? Don't worry. Listen up! For designing an
extra-loud outfit, you will require sparkly elements such as sequences, stones and
embroidery. However, it is very essential to acquire an overall balance in the outfit.
So, elevating the shape, cut and sleeve design will help you to win this balance. If you
are still confused, refer to our celebrity bridesmaids in the photo.

7) Color-Coordinated Outfits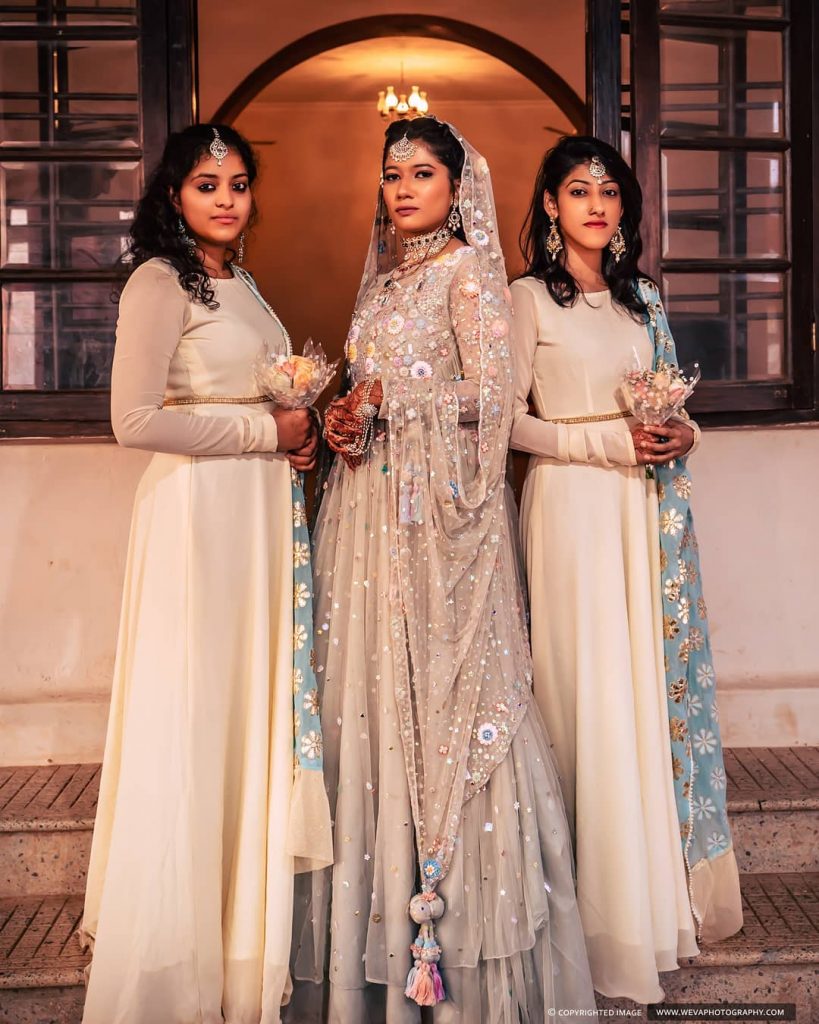 Why don't we try color coordinating outfits with the bride this time? It's time to try
something new and leave behind the mundane and commonly worn outfit ideas. So,
let's select a fabric that is at least 80 percent similar to the bridal outfit. So that, the
whole bride squad will stand out and get recognized at a single stare. Similarly,
choose the same outfit type as the bridal outfit. To clarify, If the bridal outfit is a
lehenga, then let the bridesmaids outfit be a simple and shining lehenga. However, our
idea should not be to copy the exact same design of bridal outfit. Hence, it's important
to add an element like a contrasting dupatta or a hanging jewel for giving a respectful
identity to the bridesmaids lehenga. This is as fun as it seems. Hurry up and get your
girls into planning!

8) The Contrast Game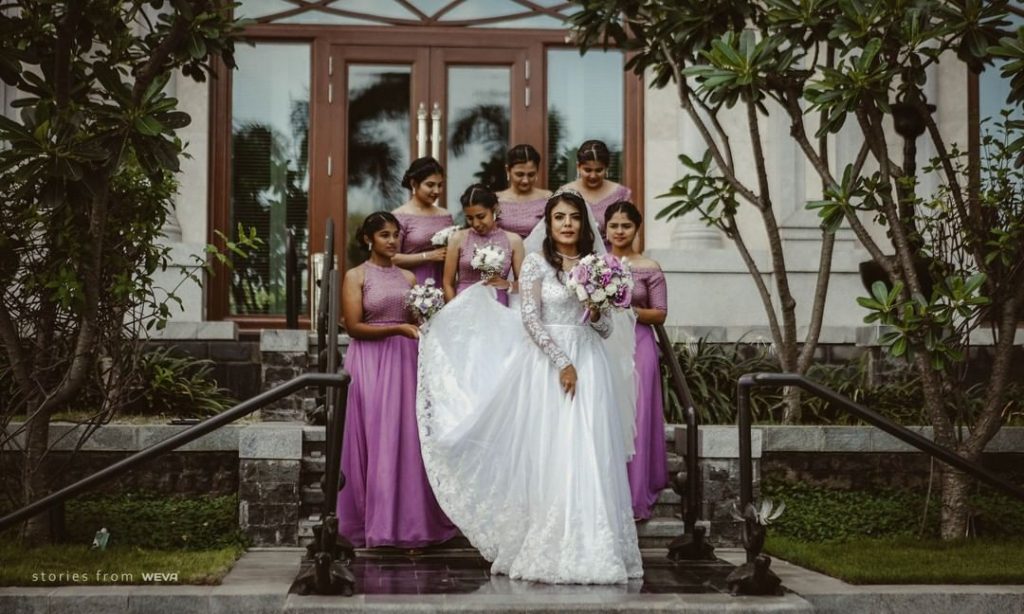 For that bridesmaid who is not a great fan of pastels, we have something special for
you. Clearly, contrast is your strong suit. Therefore, get an outfit planned which will
starkly contrast the bride's outfit. Without a doubt, the bride and the bridesmaids will
effortlessly catch the attention of the guests. Well, that's always our motto. It should
be noted that strong bold colors like maroon or dark tones of violet will help you to
create the contrasting effect that we are talking about. Likewise, go for interesting
detailing works to enhance the beauty of the outfit. Also, make sure that your bouquet
is contrasting with your outfit too. As a result, we get an even more excellent output.
Check the photo to understand our idea on a deep level.

Bridesmaids are the heart and soul of each and every wedding irrespective of
nationality. Hence, they are the biggest support system of the bride. Planning the
bridesmaid's outfit will be so stressful and crucial. Nobody wants the last-minute run
for design decisions and material selection. So, why don't we pre-plan it and enjoy a
super fun, hassle-free girls experiment. In short, these bridesmaids outfit ideas are
collected specially for the upcoming bridesmaids to feel confident on the big day! We
don't want you to compromise your choices into very limited options. So, we pulled
out our best set of outfit ideas for bridesmaids. There's something for all kinds of bridesmaids
here. Therefore, boost your confidence, because we already got your back!
Check out Super Trendy Bridal Poses