Getting ready for your big fat Tamil wedding? Well, here are a bunch of refined and well-curated south Indian bridal poses for all the soon to be married beauties. When it comes to capturing your big moment, a quick prep like this can brush up your adrenaline level. Take a minute and experiment with these south Indian bridal poses for boosting your confidence and imagination. You may even end up discovering a huge potential if you are a camera-shy bride. Let's dive into some hit Tamil bridal photoshoot poses in trend to make your day extra special!
The Lehenga Twirl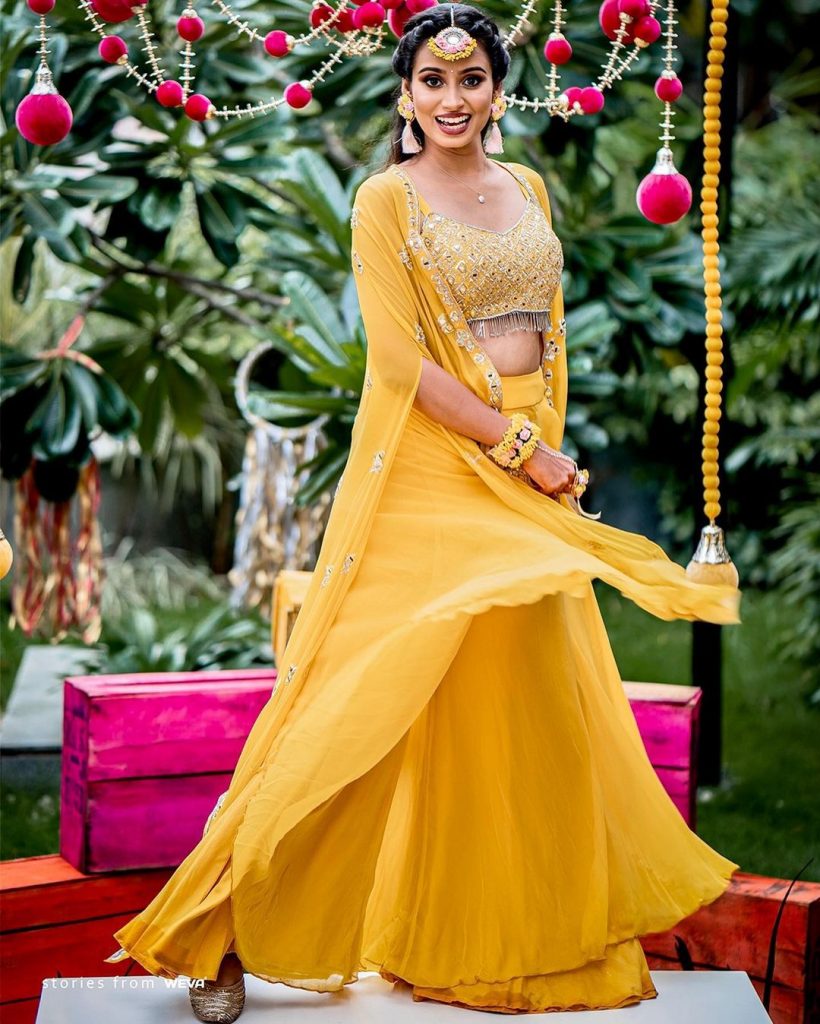 Can a haldi shoot get any more perfect? Our bride Vaishali is twirling in the yellow lehenga outfit of her pre-wedding Haldi ceremony. Lehenga twirling poses have been on trend ever since the 2000s. It is an easy and fun pose to try for all the brides with Lehenga or any similar flowy outfits. Vaishali's Dupatta is breezing in the air as she looks straight to the camera with a beautiful wide smile.
Enhancing Grace with Jewellery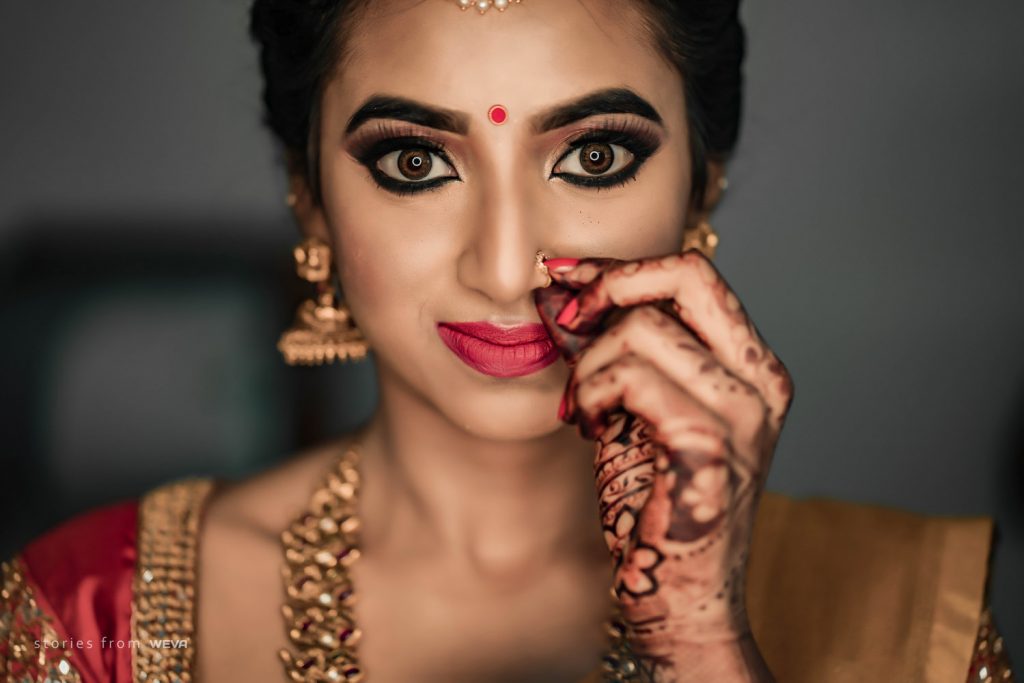 Our stunning bride Roshini is gazing gracefully at the camera eye. She is holding her traditional nose pin jewel which is a signature pose, especially for Tamil Hindu brides. Roshini's close up shot immediately grabs our attention due to the wide-eyed glance. Her henna painted hand and gorgeous bindi strike a symbol of customary Tamil elegance.
A Saree Candid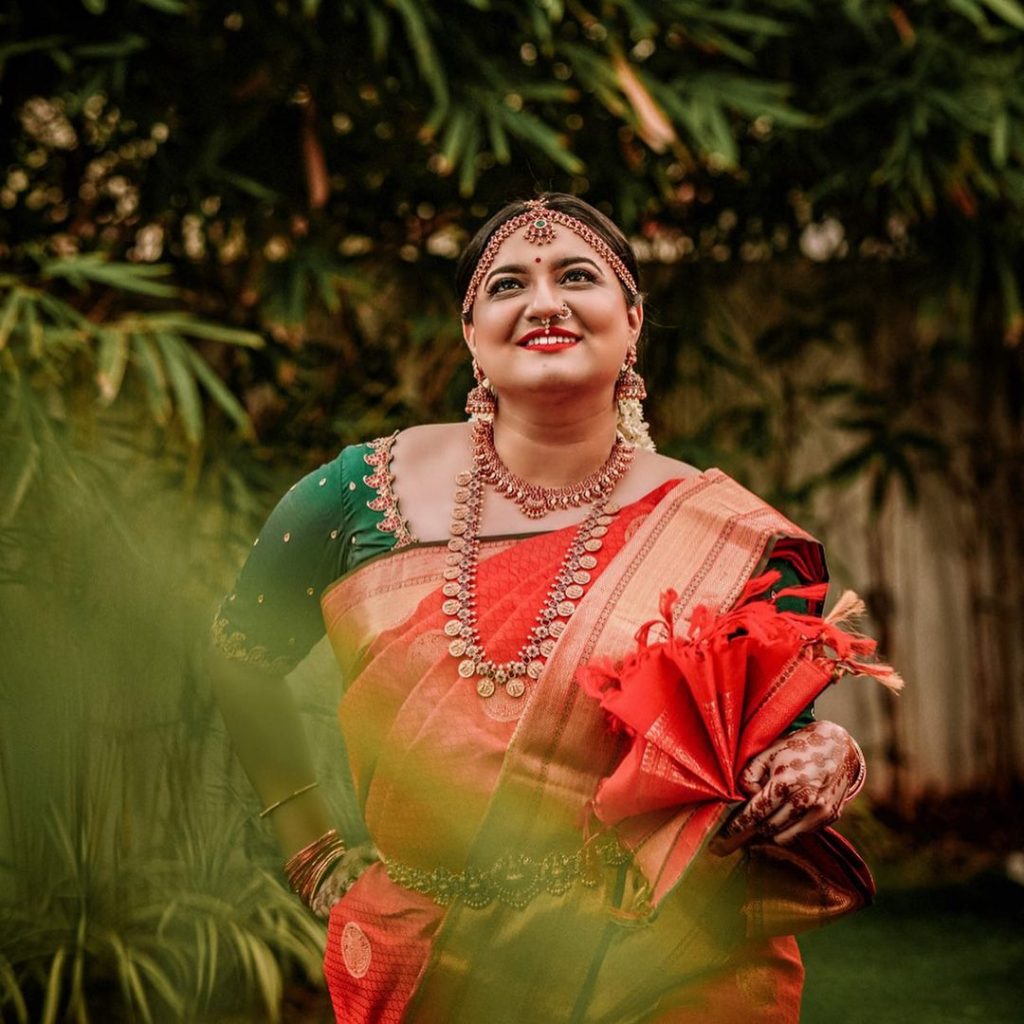 In the frame, our bride Preethi is shining with happiness with an evergreen bridal pose in saree. The shot is captured with a lush green backdrop. The bright red tones of Preethi's traditional wedding outfit radiates a beautiful contrasting effect. She is happily glancing at the sky with a casual hold on her well-draped pallu or throw with tassels. Her pose brings an involuntary smile to our faces due to hints of hope, glory and new beginnings.
The Grand Entry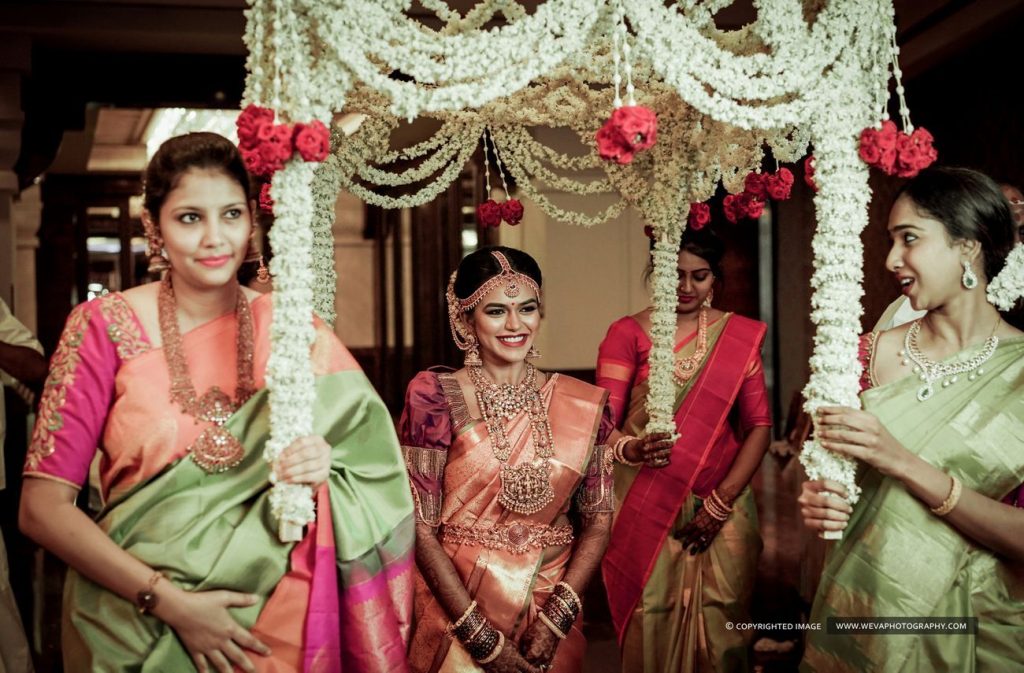 Floral frames above the bride held by bridesmaids is a very common trend that emerged during the last couple of years. The frame moves with the bridal party proceeding towards the stage or the ritual ground. Here is a very excited bride smiling right away at the audience while gracefully making her grand entrance to the stage. Bridal poses with the floral frame hit the Tamil wedding web like a flame due to its popularity. It's one of the most important and emotional bridal moments to be captured.
Natural Poses During Rituals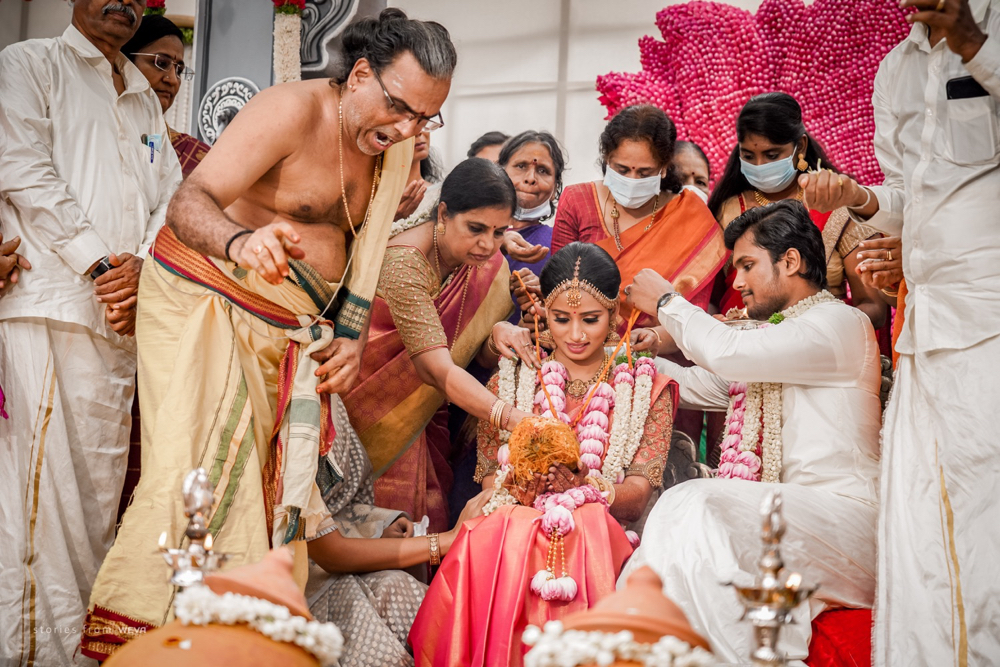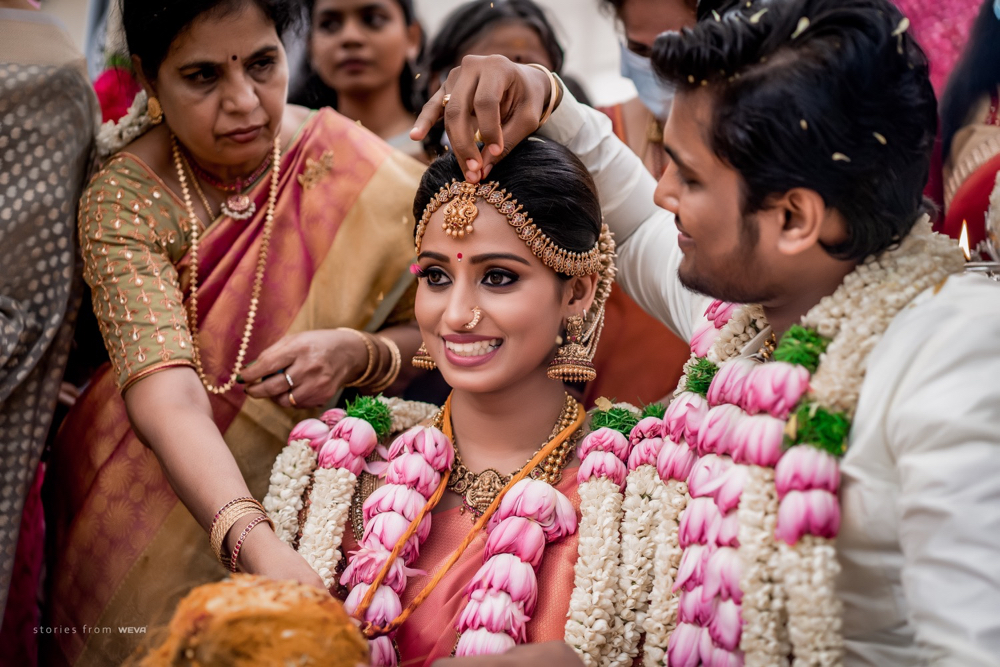 In the frame, our elegant bride Vaishali is attending the pivotal rituals of her traditional Tamil wedding ceremony. She's at her most natural self, beaming with joy. The flawless smiling pose of the bride is a perfect candid that we captured when groom Shyam ties the mangalsutra (a sacred thread with gold elements to be worn every day by married Tamil women) followed by sprinkling red sindoor on her middle hair partition.
The Mangalsutra Pose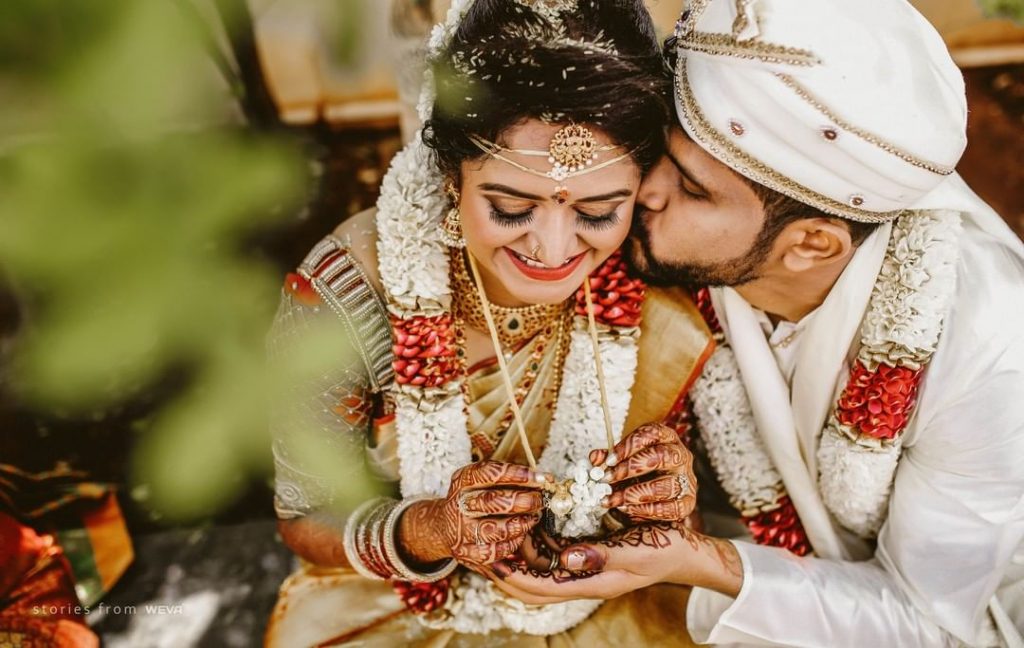 Bride Dakshna is holding her Mangalsutra, enjoying a special newlywed moment with her dear husband. This bridal pose brings satisfaction and thrill to the couple, especially the bride. Dakshina is smiling vividly with her eyes tightly closed, trying to pause time and rewind her big moment once again. It's an immense pleasure of every wedding photographer to capture amazing bridal poses like this.
Bridal Poses with Groom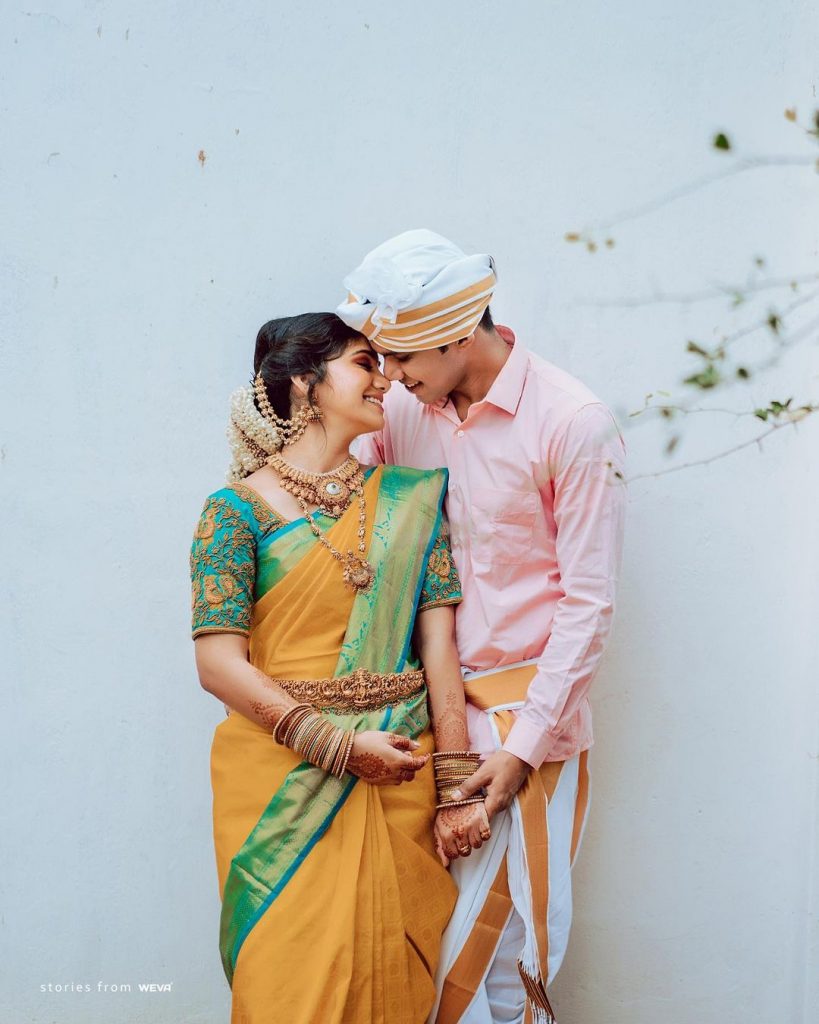 Bride Devanemi is shooting a soft glance at the groom pretending to whisper a secret. This is an excellent bridal pose to warm up the couple shoot, post-wedding. The bride and groom are holding their hands together. Devanemi's posing with the groom soothes our eyes and let us feel a comfortable soft vibe. Our Meivezhi bride sets an example for all the upcoming Tamil brides to be super chill and relaxed during the couple shoot sessions.
The Garland Pose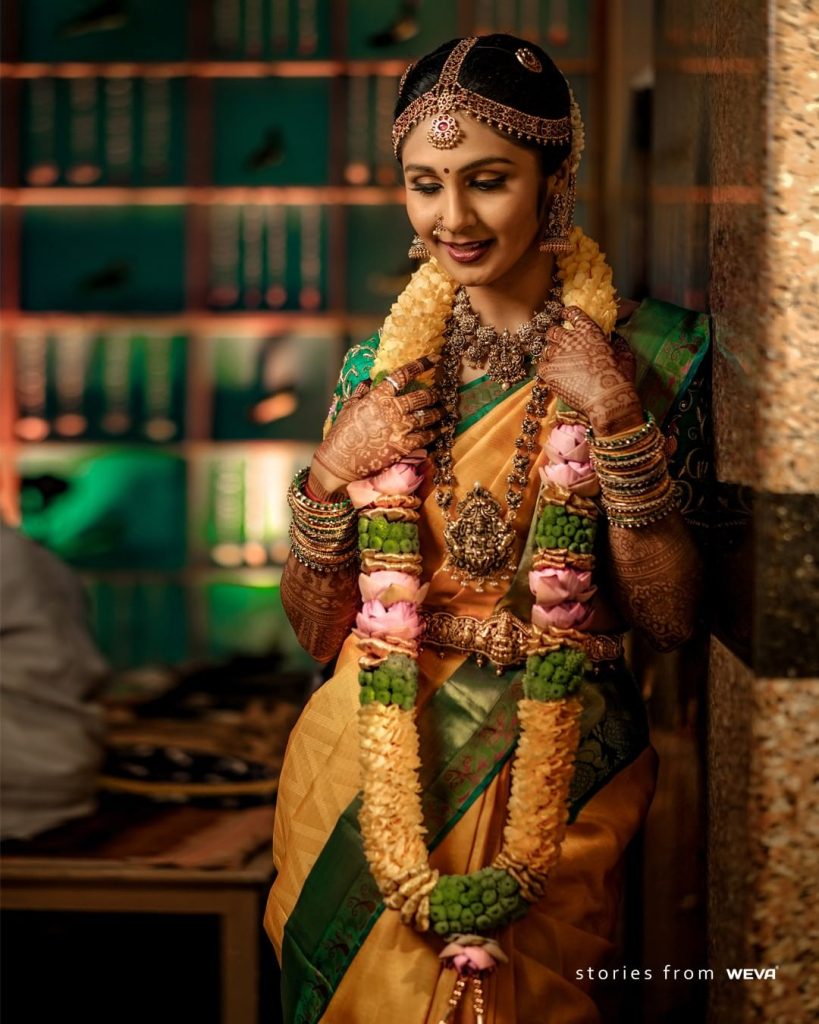 Our gorgeous bride Gayathri is holding her wedding garlands with poise and delight. In the photo, she's gazing down with an ample smile. Her exquisite temple jewellery and yellow outfit bring out the freshness and sophistication of Tamil brides. This almost candid yet planned pose can be aced effortlessly by camera-shy brides of all times. Though bride Gayathri is trying a simple pose, the shot turned out to be quite eye-catchy.
Tamil brides are blessed with limitless occasions to pose during their interesting wedding rituals. The traditions spice up the possibilities of unexplored poses for Tamil brides. From camera shy brides to super confident beauties, these poses can be tried by all the upcoming Tamil brides. A little bit of practice can pump up confidence while posing before the camera on your big day. These poses light up the elegance of both young and mature brides. Pose away with a ravishing smile and conquer your day!