Wedding Photography Of Rory And Pia
Pia is of Bengali origin, and Rorry is of London origin, envisioned their destination wedding as a picturesque Bengali Wedding in Goa . Pia and Rory had 7 events over three days celebrating their Hindu marriage. They wanted to create a unique Indian wedding experience for their guests. So they chose Goa as the backdrop to their fun-filled festivities.
Pia and Rory are an amazing couple, totally made for each other and we had an amazing time capturing two wedding events from the same family.
Day one – The celebrations kick started with The Mehndi night and welcome functions, at Hampi, the Leela . filled with dances, ladies getting their henna done and of course more partying, which was just as crazy and went on till 10 pm.
Day Two – Sangeet Ceremony, which took place at Fig & Olive lawns, the Holiday Inn Resort, was a gorgeous affair and a great moment for the whole family to bond together. DJ took the dance floor by the storm on the Sangeet night, as the sky opened up, the party became a rain dance that no one will ever forget and went on till 10 pm.
The D-day started off with the small Haldi ceremony in the morning on Thursday, 23rd Feb 2017. The Baraat procession and celebrations took place in daylight. The beddecked bridegroom had arrived on a horse and was welcomed by blowing conch-shell and ululation. The bride entry was by covering her eyes with a pair of betel leaves.
The bride was clad in elegant dark Pink lehenga with a light pretty dupatta. The traditional mukut was placed on her head. Rory wore an off white sherwani and he had a traditional Bengali Topor on his head. Rorry wore an off white Sherwani and he had a traditional Bengali Topot on his head. The 'Pheras" was held in a lovely canopy. Pia had a huge smile on her face and it stayed throughout the ceremony. They poured the offering into the fire together.
The wedding reception party followed in the evening. The wedding reception , was another feast of fun, food, dance, speech and love. The  location and decor spoke for themselves.
The entire three  days were filled with emotion, laughs, traditions and love. Throughout the 3 days both families were really close as the banter between them was awesome.
Thank you so much to Pia and Rorry, for putting your faith in us and allowing us to capture your beautiful wedding, it truly was an honor, and hope the moments captured bring back all the emotions from special day. Congratulations to you both once again – WEVA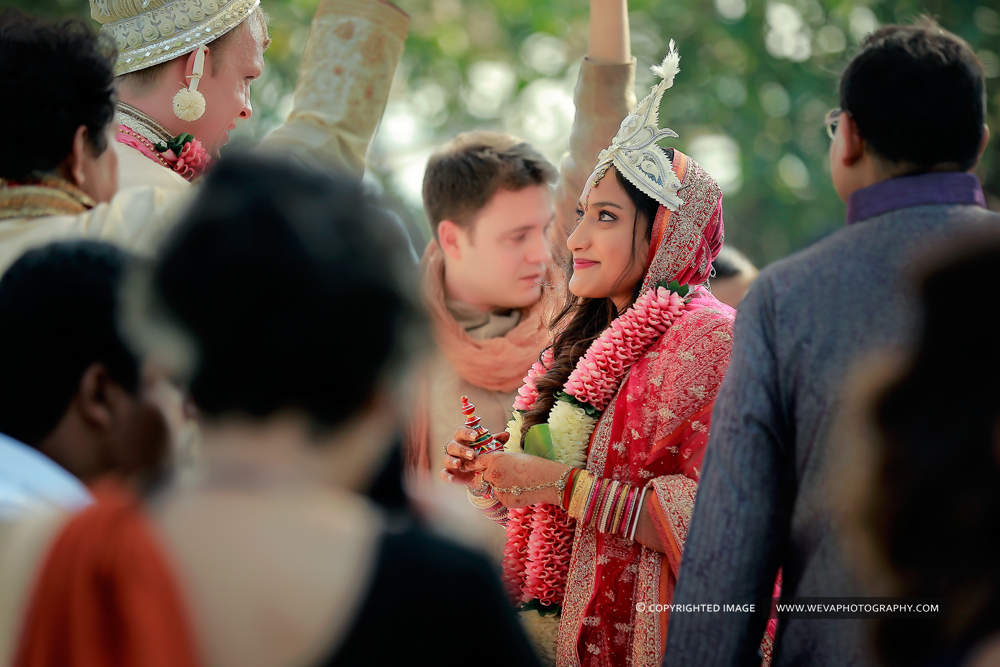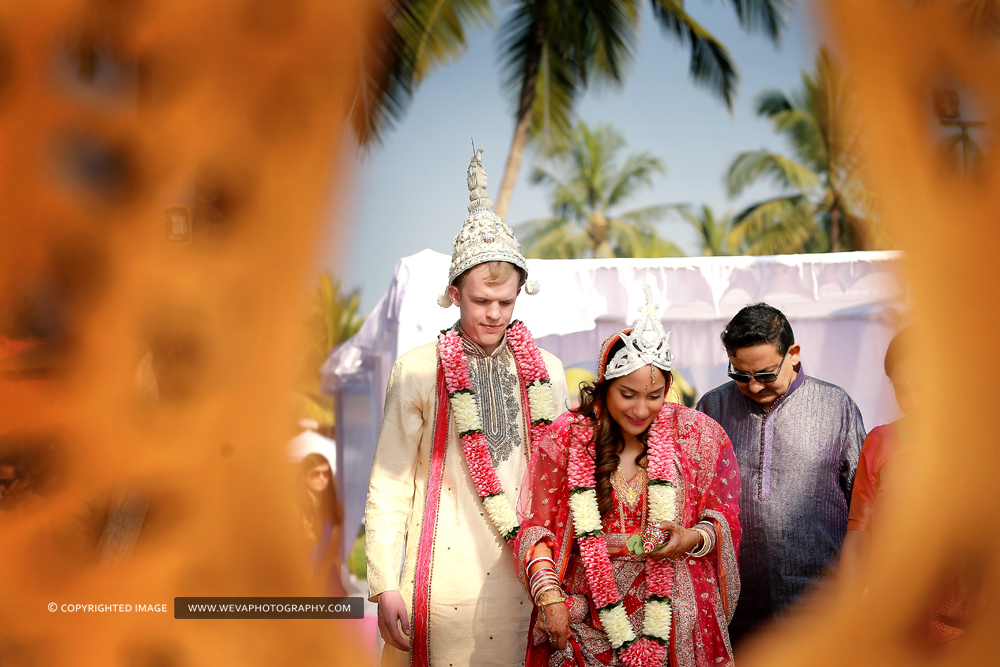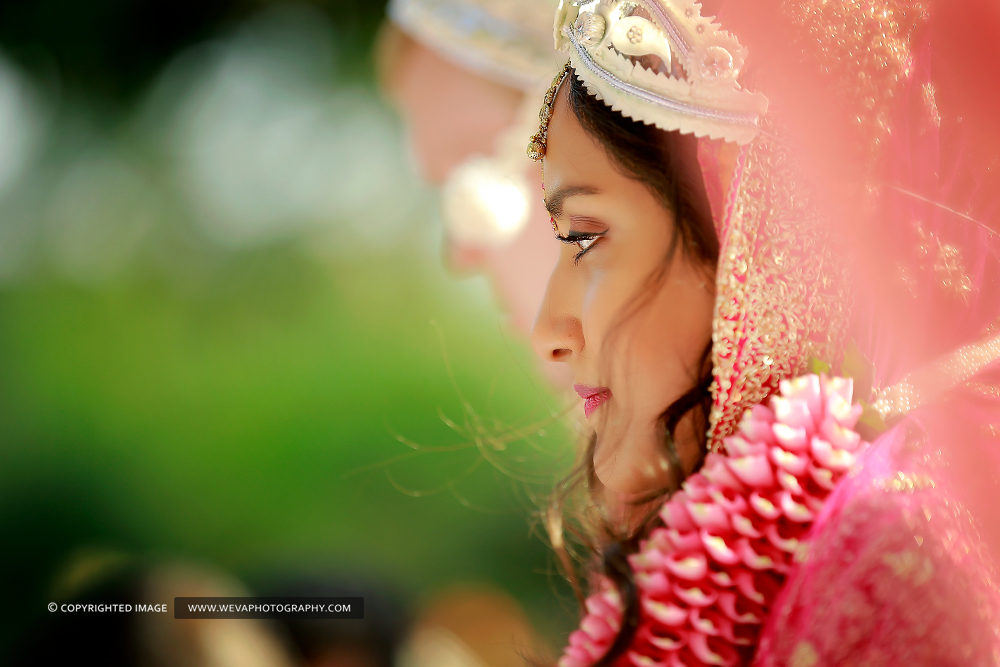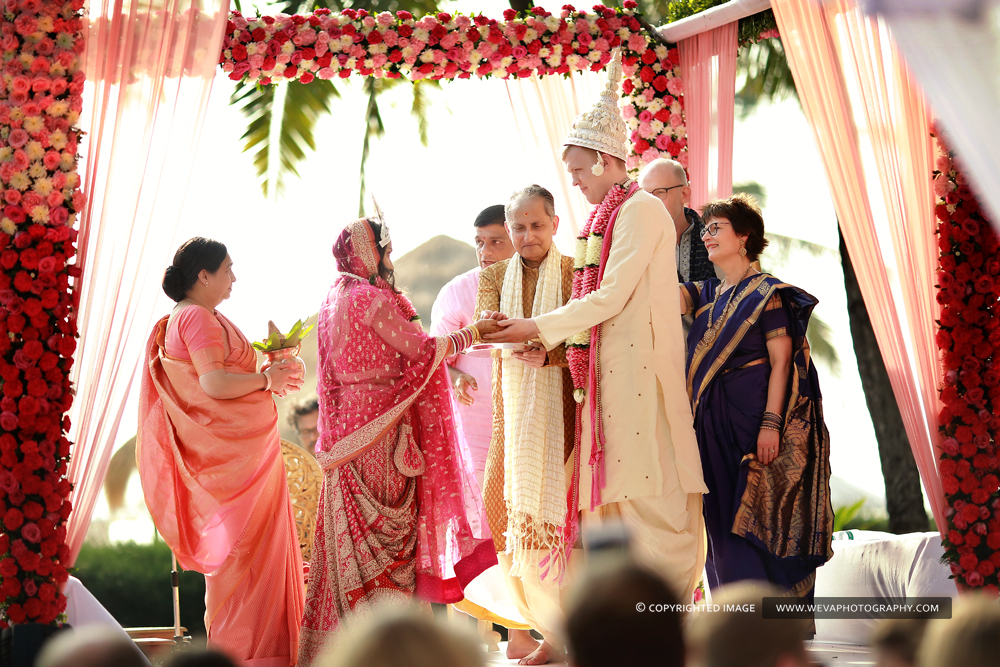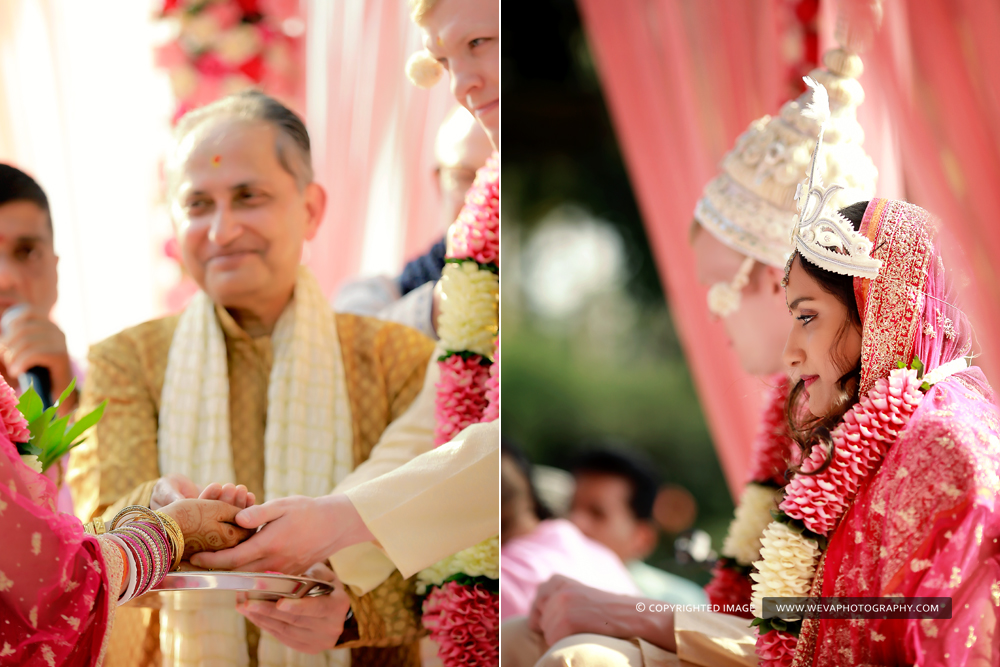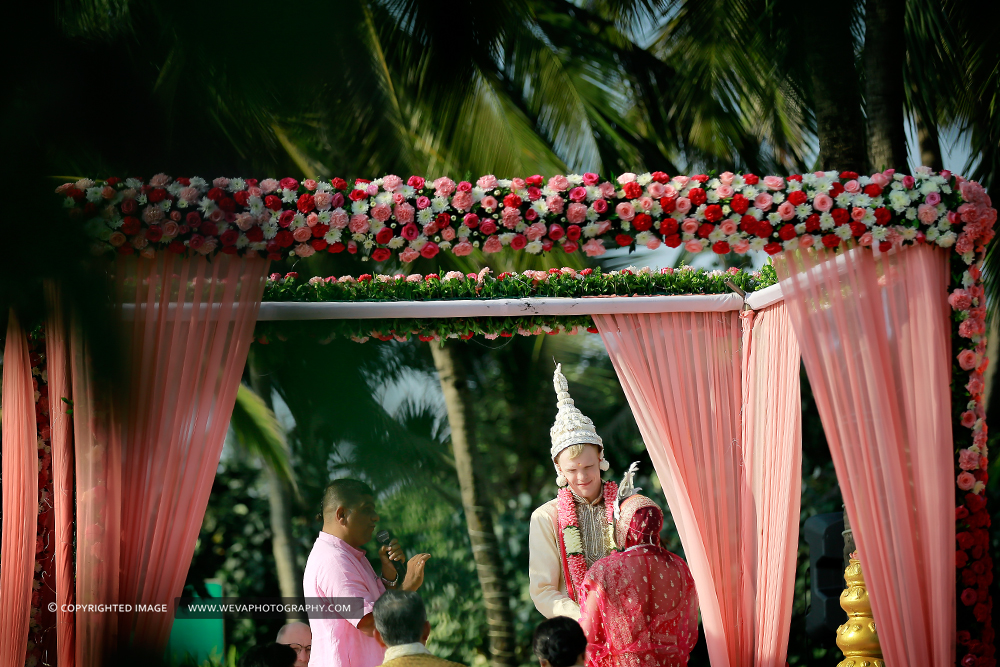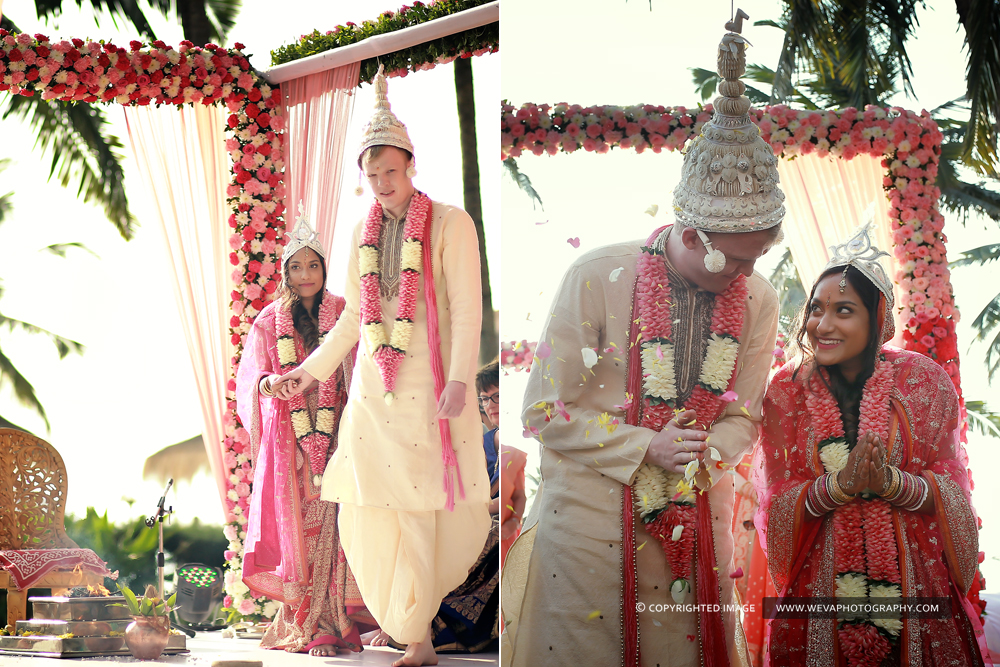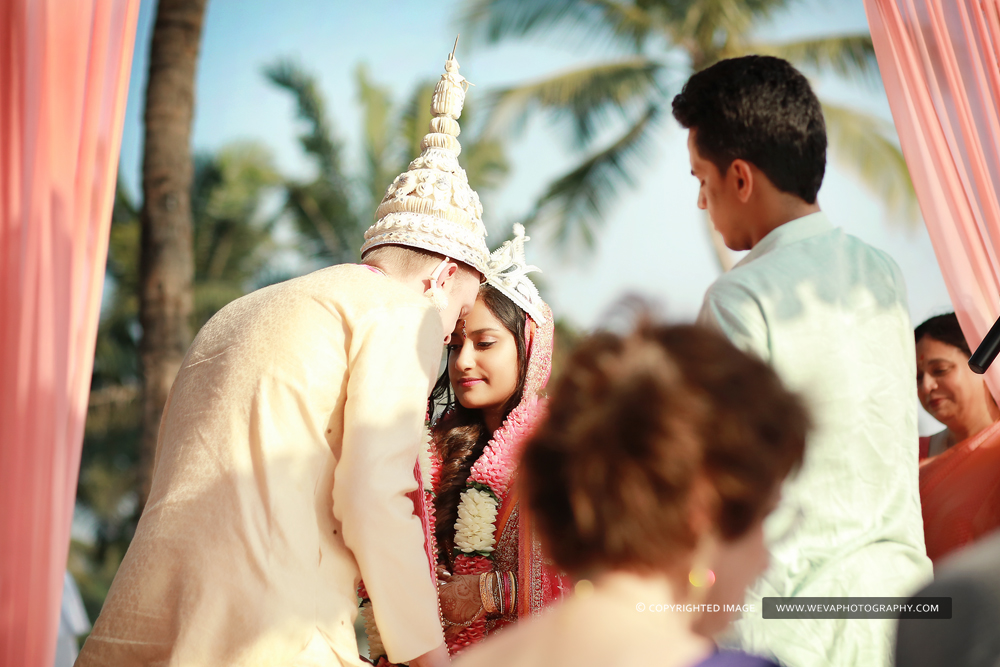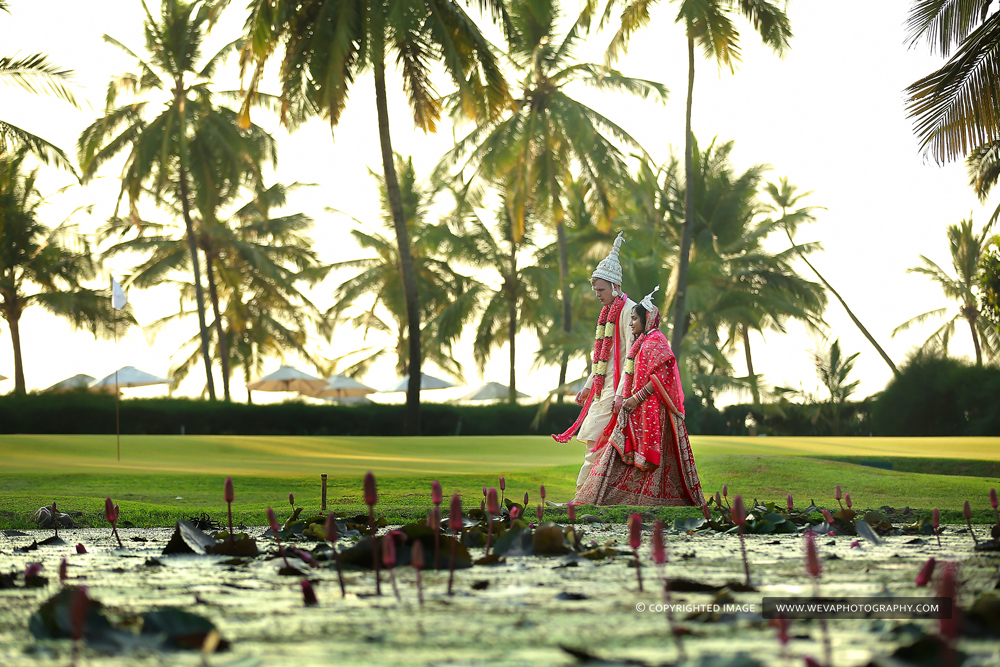 Couple          : Rory And Pia
Location        : The Leela Goa
Composition : Team Weva
Contact          : +91 9061040472
Mail                : mail@wevaphotography.com
FB                   : facebook.com/wevaphotography
Youtube         : youtube.com/wevaphotography