Are you a Chennai bride who is relentlessly searching for something fresh and fun for
your pre-wedding party wears? Would you like to switch a little from the cliche
pre-wedding rasam outfits to something that is custom-made!? Well, we have a
beautiful bunch of ideas for spicing up your Mehendi and Haldi bashes with the latest
updates in Chennai bridal fashion.
With the help of the top wedding photographers in Chennai, we have curated an
interesting set of outfit ideas for flaunting your Haldi smeared outfit in full spirit!
Grab a cup of coffee and your notepad to work on your Chennai bridal fashion ideas
with our references. Let's get this rolling! Come along!!
1) Lehenga Choli With A Twist
There is a lot going on with Lehenga styles when it comes to Chennai bridal fashion fits for
the Haldi ceremony. As per the Hindu traditional beliefs, the bride shall wear
something in yellow for the Haldi rasams. Lehengas has been making revolutionary
changes in its typical traditional cuts and details when it comes to pre-wedding wears.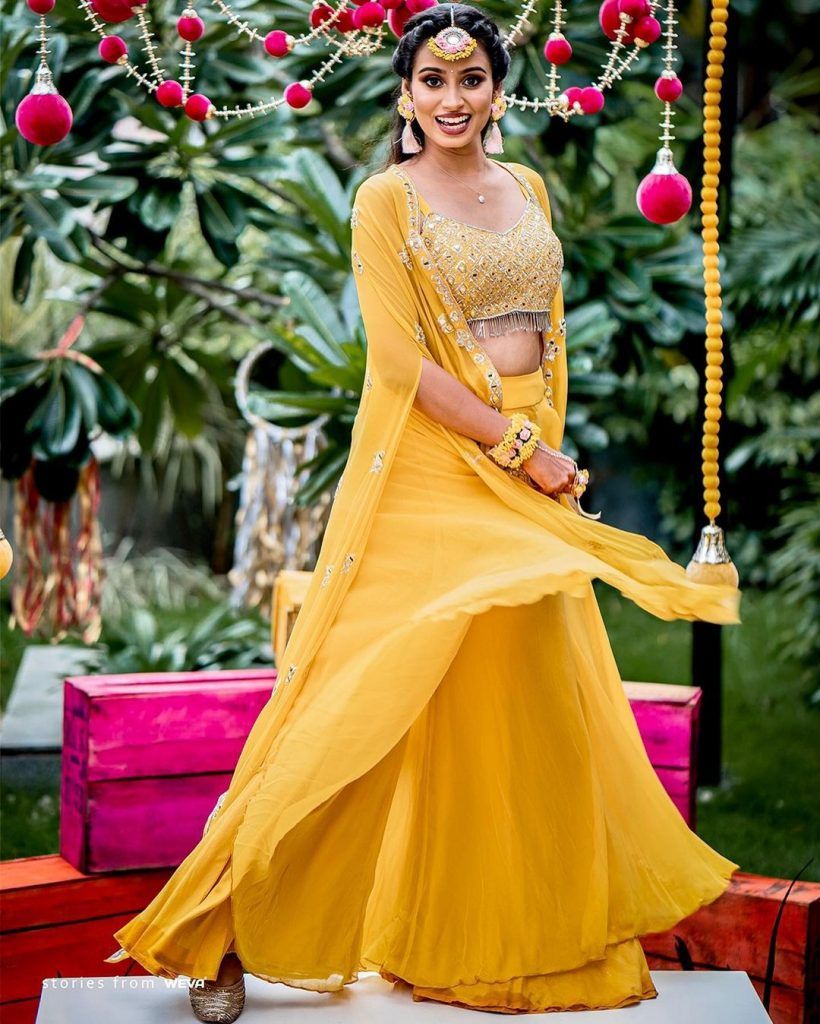 Being browsed on the hot trends in Lehenga designs for Chennai brides, we saw a
lot of interesting designs. To point out, a sleek sleeveless blouse paired with a flared
lehenga is something that has stolen the hearts of Tamil brides. For detailing, we have
been seeing lots of glass bead hangings, beaded embroideries and just plain fits as
well!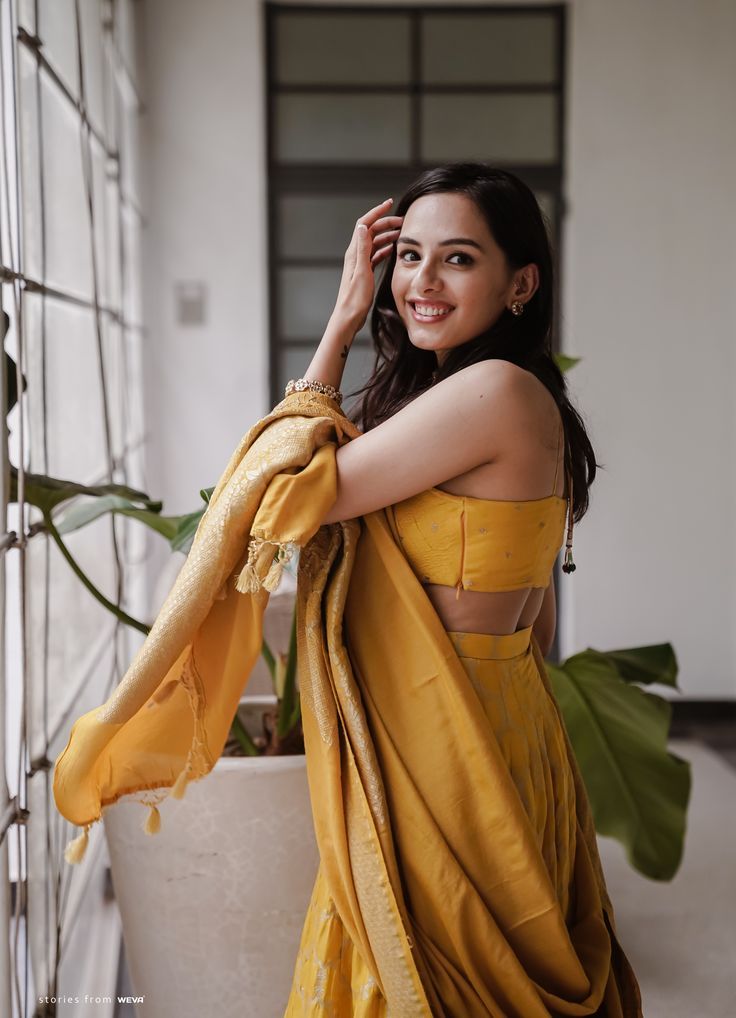 2) Experimental Cuts
Curating unique pieces rather than picking a ready-to-wear Mehendi outfit can be so
much more exciting!! For brides who love to discuss and create something unique
with their designer, this can be a great option. As expected, the bride shall go for
custom fit checks and design discussions.
But, there are also designers who diligently work in accomplishing the requirements
through just virtual platforms. From beautiful anti-fit gowns to comfy palazzo pant
outfits, there are unlimited options to wander through for designing a classic piece for
your Mehendi party. The best part is that the outfit may remain as your own personal
collection that no one can steal to a hundred percent precision.
3) The Saree Swag
Chiffon is an evergreen fabric that is an excellent choice for creative Haldi bridal
saree outfits. Chennai weddings have been loving the big fat Haldi bashes that have
been considered the first family reunion before the wedding! Who wouldn't like to
live through their special pre-wedding bash in a relaxing, breezy saree?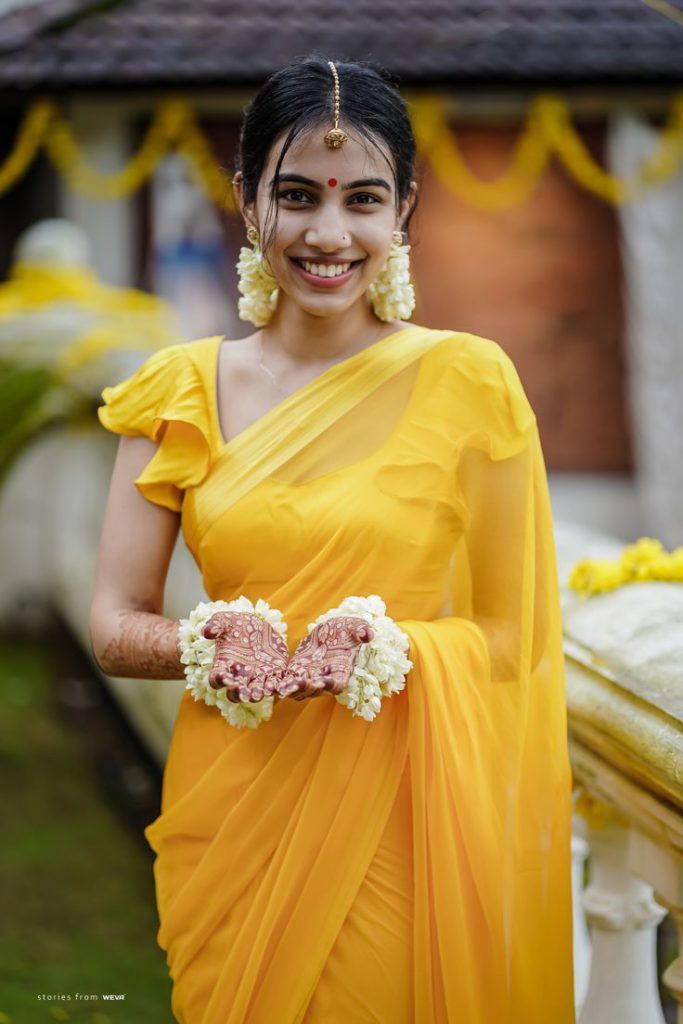 If you are planning on conducting the ceremony in a seaside or lakefront venue,
chiffon and organza can throw in some drama in the photo and video documentation.
Here, the fit can be spiced up by working on the saree blouse and saree detailing. Add
a layer of frills or a bunch of sequences to bring life to the monotone design.
4) The Kerala Style
Kerala Kasavu saree has been crowds favorite all across the country especially when
it comes to pre-wedding Mehendi lookbooks. From a simple saree outfits to tailored
2 piece party sets, you will get amazed by the types of Kasavu outfits designers swear
by! Soft off-white being the dominant color can be fused with the color of your choice
for the top-wear.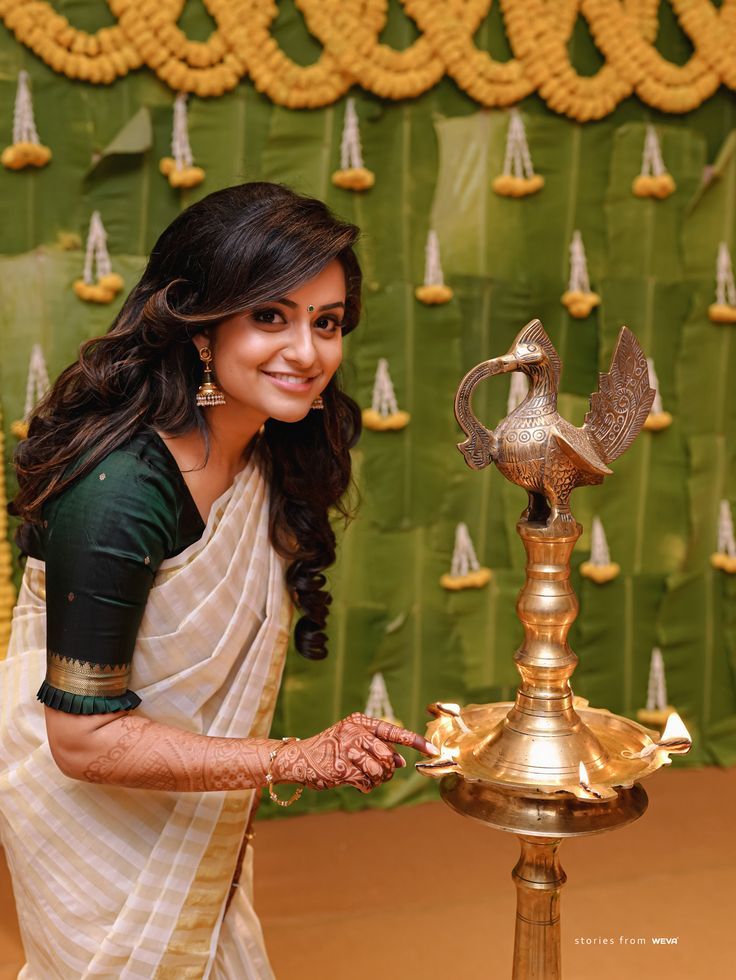 Added to that, the unique custom designs we discussed above can be designed with a
Kasavu saree as well! For attaining a monochromatic look, one may go for the same
fabric with or without the same border. Topped with a bunch of heirloom jewelry,
these looks have a full-blown diva vibe with henna-stained hands and jasmine flowers
on the hair.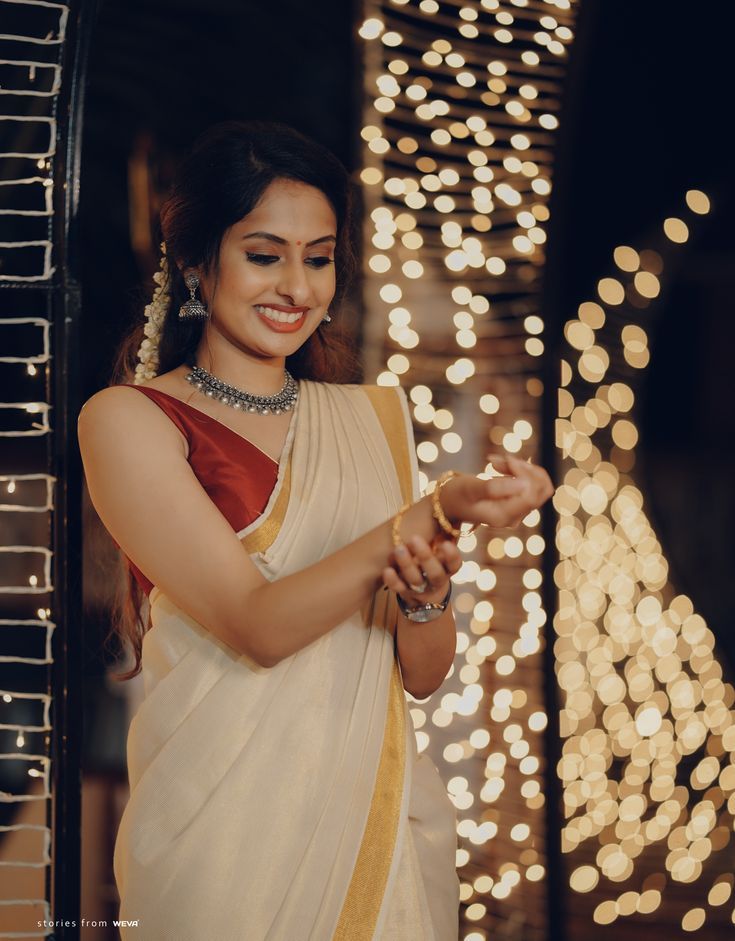 5) The Fun Pop of Colors
We just discussed about the fun of coordinating a monochromatic Haldi outfit with
nothing except yellow! But, how about adding one more color!? Have you ever
thought of adding a neon pink or a rustic orange shade to your yellow Haldi fit!? To
highlight, care shall be taken to balance out the colors as we look at the overall
design.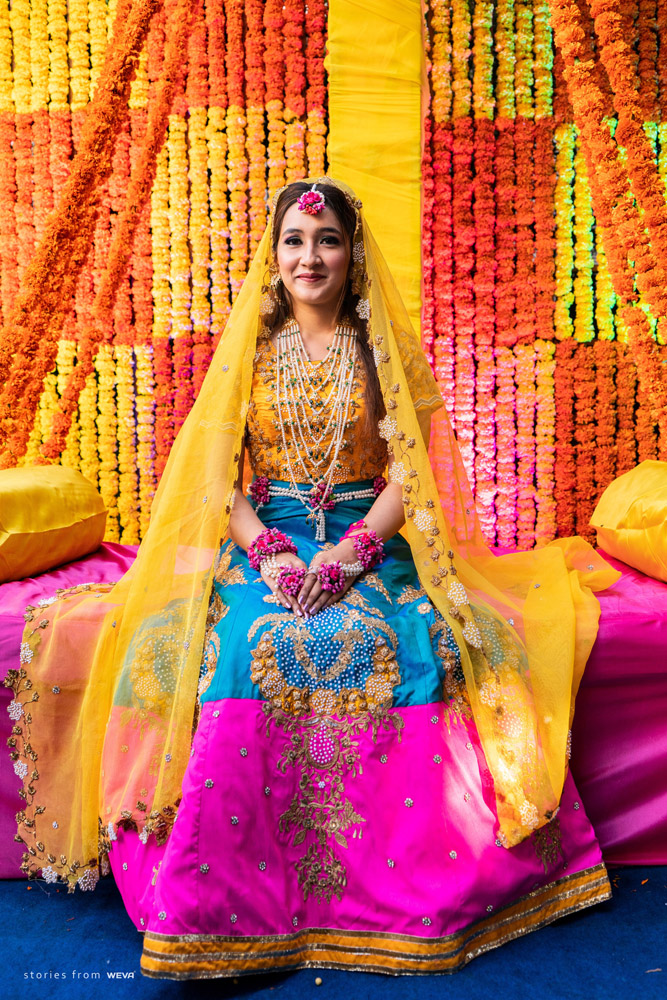 Added to that, if you would like to keep it comfy yet neat, make sure to use just one
additional color instead of adding more than one contrasting colors. The bride may
customize the design with her designer by blocking the areas where the contrasting
color shall be added.
6) Unseen Pastels
Well, we just saw the difference an additional color can make in the traditional
Chennai bridal outfits. How about ditching the color yellow as a whole and going
for something similar in the same family of colors!? How about catching the glares by
dressing in something pastel and pinkish or minty!?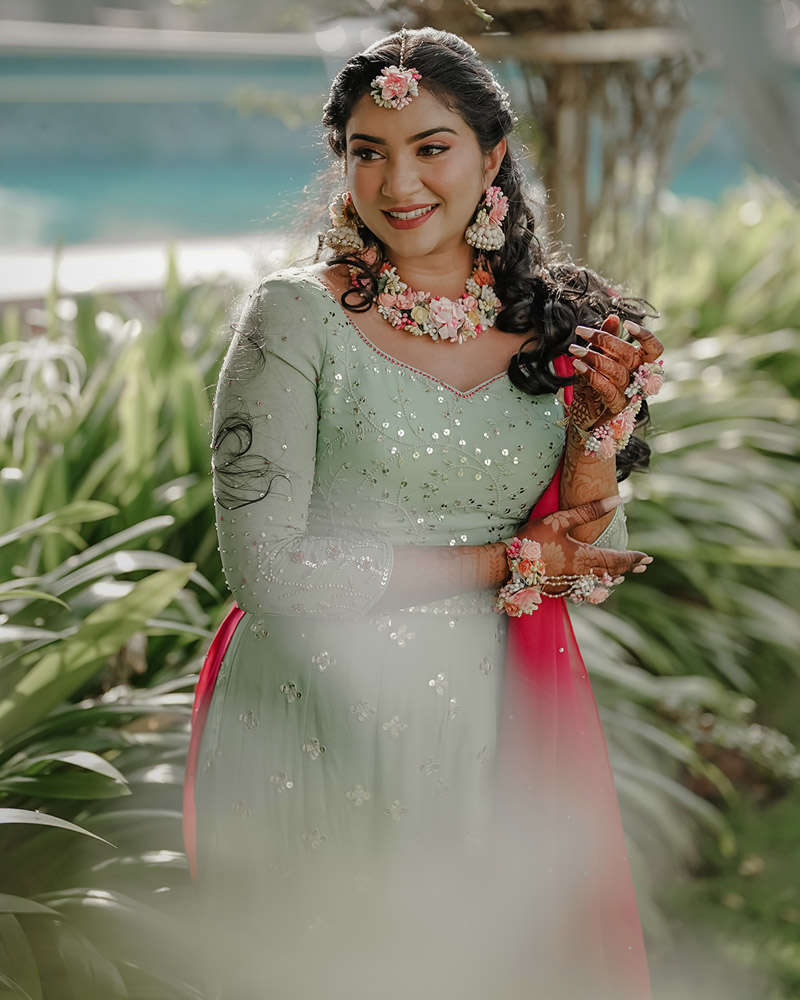 While the bride remains to stand out in her custom color color-coordinated Haldi fit,
the bridesquad and all the other family members shall follow the traditional yellow
dress code. This in turn opens a lot of posing ideas and opportunities for the
photography and videography team! It's a great win-win situation if you could create a
set of unique frames by just going for a fun yet subtle, non-offensive change in your
ritual dress code!
7) The Sharara Love
Let it be a Chennai wedding or a destination wedding at Jaipur, Shararas are
something that you will always spot in Mehendi parties. A tinge of fresh floral
ornaments and tight curls can lift up the mood in less than a second.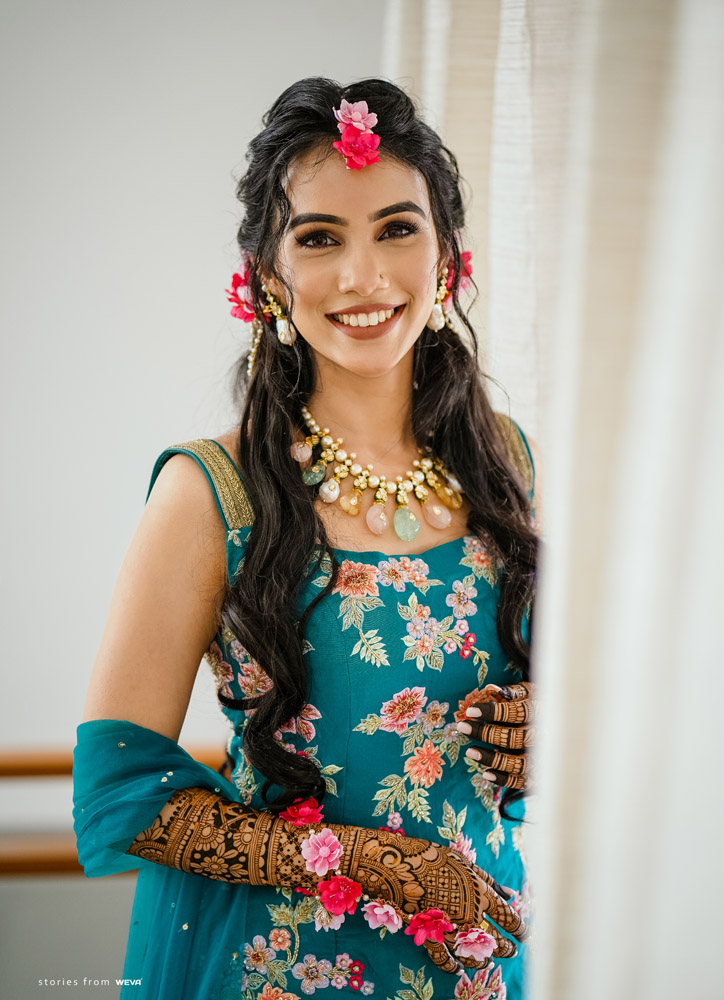 When it comes to colors, neons and pastels are hitting the chart with less or no
detailing at all! Silhouetted fits with sleeveless sharp cuts have been receiving a lot of
love from brides all across the country! Not just the Mehendi rituals, but Haldi parties
are also blessed with shararas by the brides and bridesmaids of Chennai.
8) Mirror Mirror
Mirror works and giant patchworks have been trending in the Chennai bridal fashion
ever since its very first entry!! There is nothing more satisfying than a well-curated
lehenga piece with neatly placed mirrors or patchwork or embroideries. Often seen in
lehengas, sarees and shararas, the mirror work is a great way for rooting towards the
authentic Indian fashion vibe.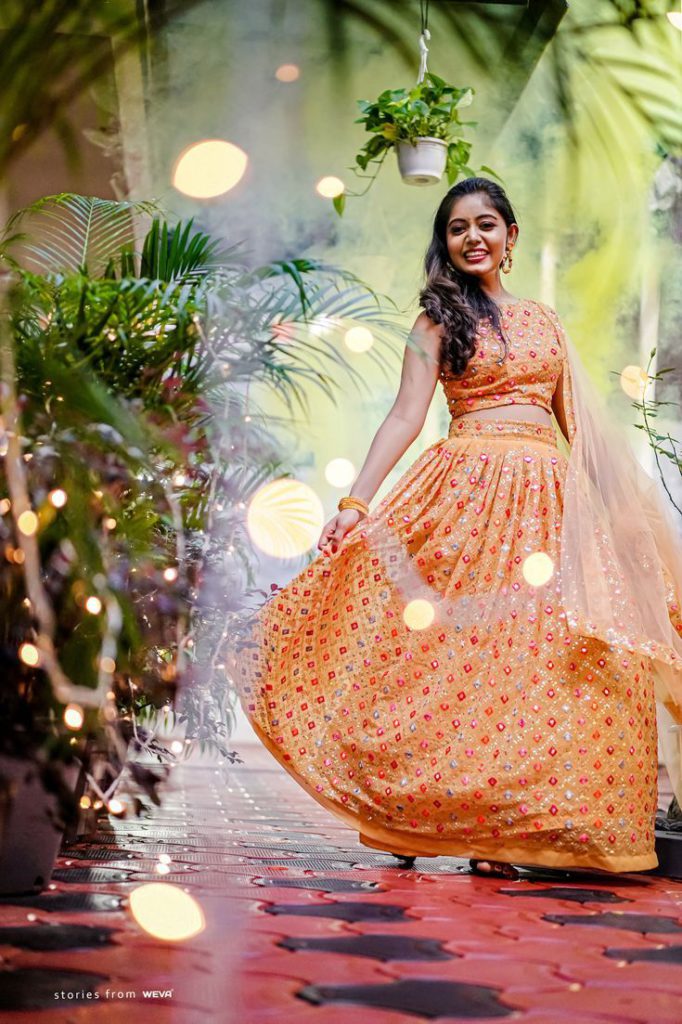 From Mehendi parties to Haldi rasam and bridal showers, mirror worked bridal
wears for Chennai brides are something that we all enjoy. Undoubtedly, it's a great
way to make a statement appearance for your special day with some mirror magic!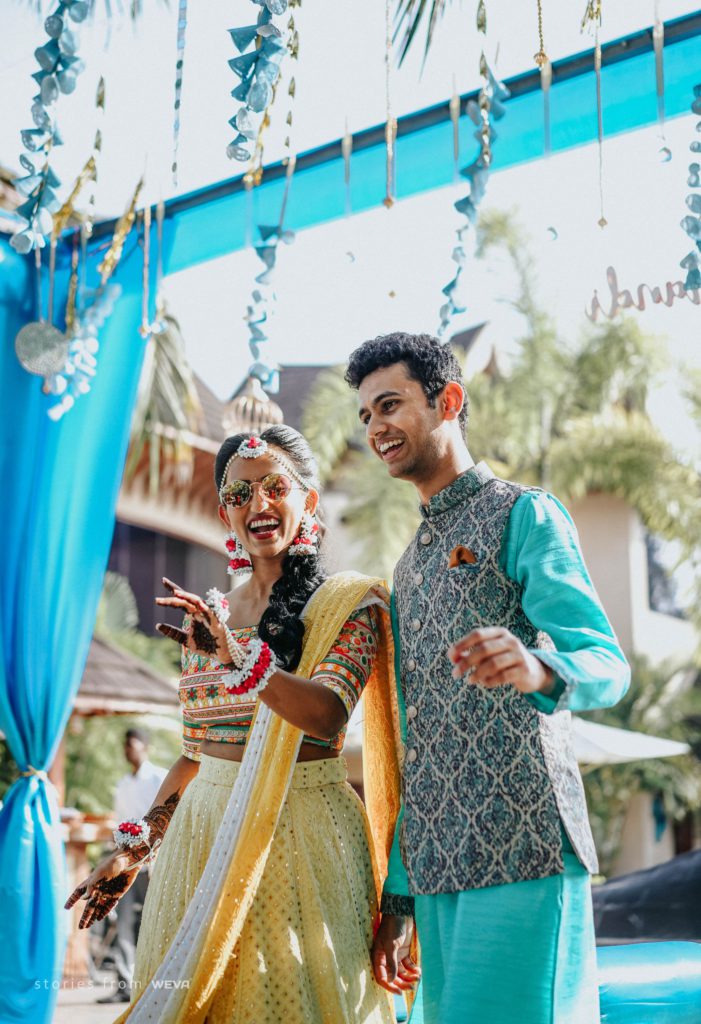 We hope you had a great time flipping through the updates we have in our Chennai
bridal edition. We cannot stress enough on the lovely changes and experiments the
designers are working on to fuse the rich Chennai culture with the Western and
Indo-Western ideas.
Thinking beyond the evergreen Kanjeevaram silks and blood-red kumkums, Chennai
bridal fashion has been evolving along the time to bring some amazing changes,
bringing fresh new content for fashion-sensitive eyes! Hope you had an insightful
read about the latest news in the Chennai bridal edition.