Have you been looking for some innovative and handy tricks to ace South Indian
bridal portraits? Or are you a bride-to-be who is relentlessly browsing bridal
portraits posing tips to try out? We have news for you!! After consulting with some of
the top-rated wedding photographers in Tamil Nadu, we have curated a
beginner-friendly list of Chennai bridal portraits.
Our list of Chennai bridal portraits helps you rock your bridal portrait session with interesting details and hacks
for brides who are camera shy or camera sensitive! Make sure to take your time and
explore our hacks before you prepare for your big day! Be ready with your snack as
we take you through this virtual delicacy!
1) The Half-Saree Swirl
A half saree is an outfit that is solely bonded with South Indian traditions. Often
crafted with Kanjeevaram silks, the outfit consists of a saree blouse, a flared skirt and
a Dupatta. Undoubtedly, the first thing we smell here is a gorgeous lehenga swirl
portrait where the bride is flaunting her silky, flared bottom piece.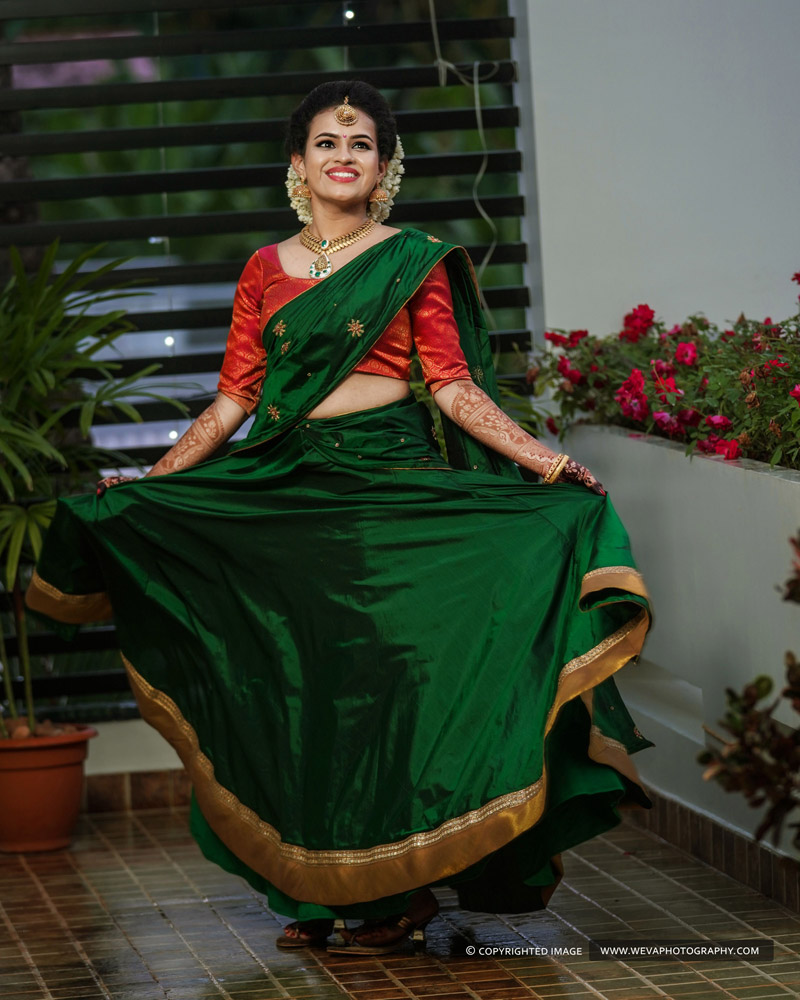 Here, the Dupatta is wrapped around just like a saree. The bride may or may not hold
her Dupatta end and swirl like a princess for grabbing some uber-cool candids. The
shine of the silk skirt is something that completes a beautiful half-saree portrait. To
be precise, it is a treat to flip through these candids with their unique elements,
treasured by the South Indian culture.
2) The Details
To complete a Kanjeevaram silk saree, it requires a majestic better half to balance the
elegance and grace. Clearly, temple jewelry is a number option to top it off with its
divine detailing. Documenting the bridal jewelry details is an unavoidable part of
South Indian bridal portraits.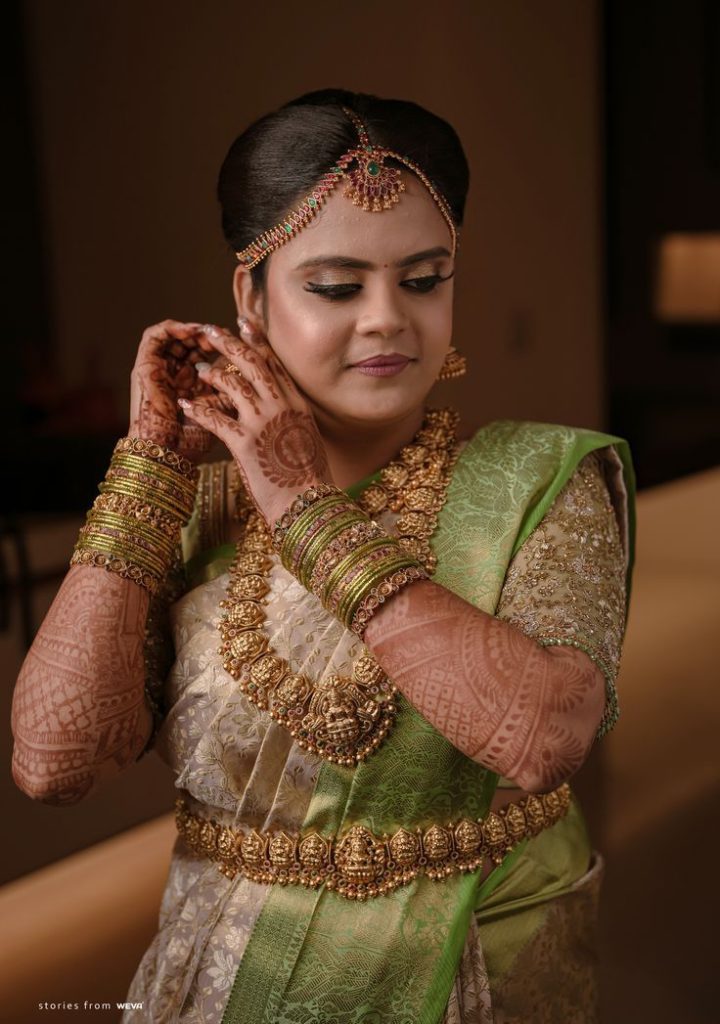 Planned poses and semi-candids can be utilized to capture the beauty of temple
jewelry in detail. To highlight, one can opt for close-ups where a part of the face is
captured. However, full-size portraits could also do the magic where the focus is fixed
on the bridal jewels. A subtle side poses paired with casually playing with the
necklaces or the earrings is a good way to start with.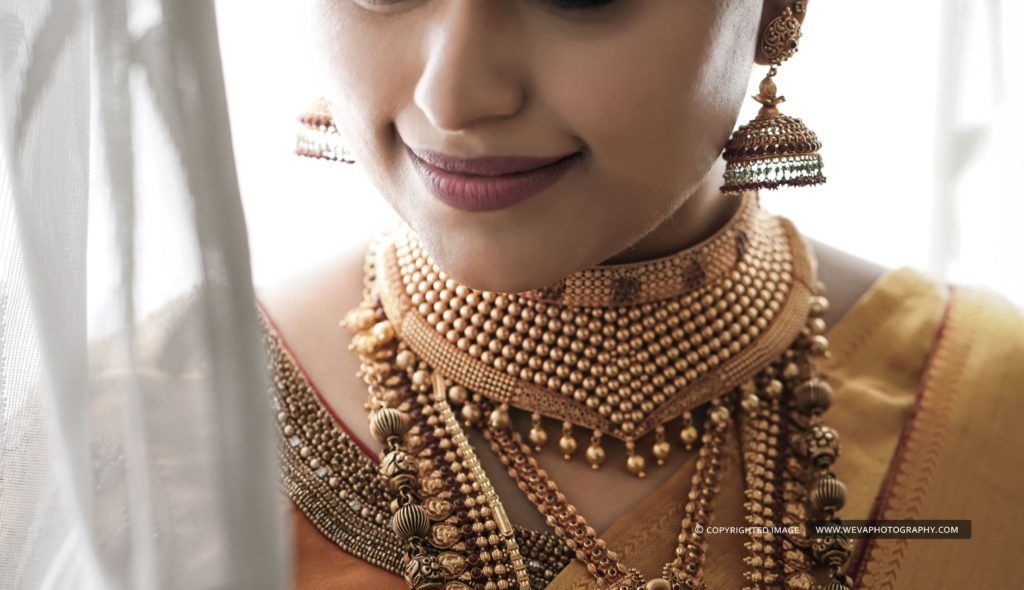 3) The Hairdo Pose
Long braids styled with unique temple jewels and fresh flowers are a specialty of
traditional Tamil bridal looks. Clearly, the hairdo deserves its own special
recognition when it comes to creating graceful Chennai bridal portraits. And, it is
one of the easiest and hassle-free posing ideas for Chennai brides, to begin with
their single bridal portrait session.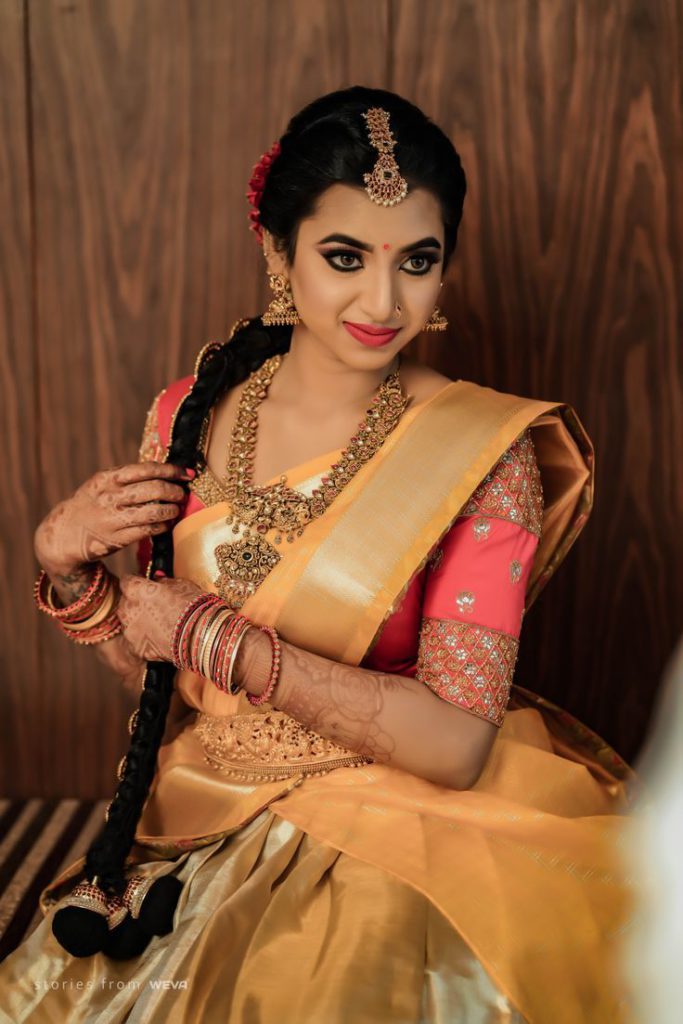 Evidently, some of us would be drowned in anxiety as the wedding photographer
kneels down to catch some soothing singles. In such cases, a simple jewelry shot or a
hairdo moment with plenty of interactions shall dissolve the starting trouble. A variety
of poses could be tried for the hairdo shots including a tilted look to the camera eye as
the bride turns away from the photographer.
4) Graceful Numbers
Top wedding photographers of Chennai strongly stress the importance of
composing graceful poses that are not too cliche! Evidently, a set of portraits that
ooze with grace is a must-try for traditional Tamil bridal portraits.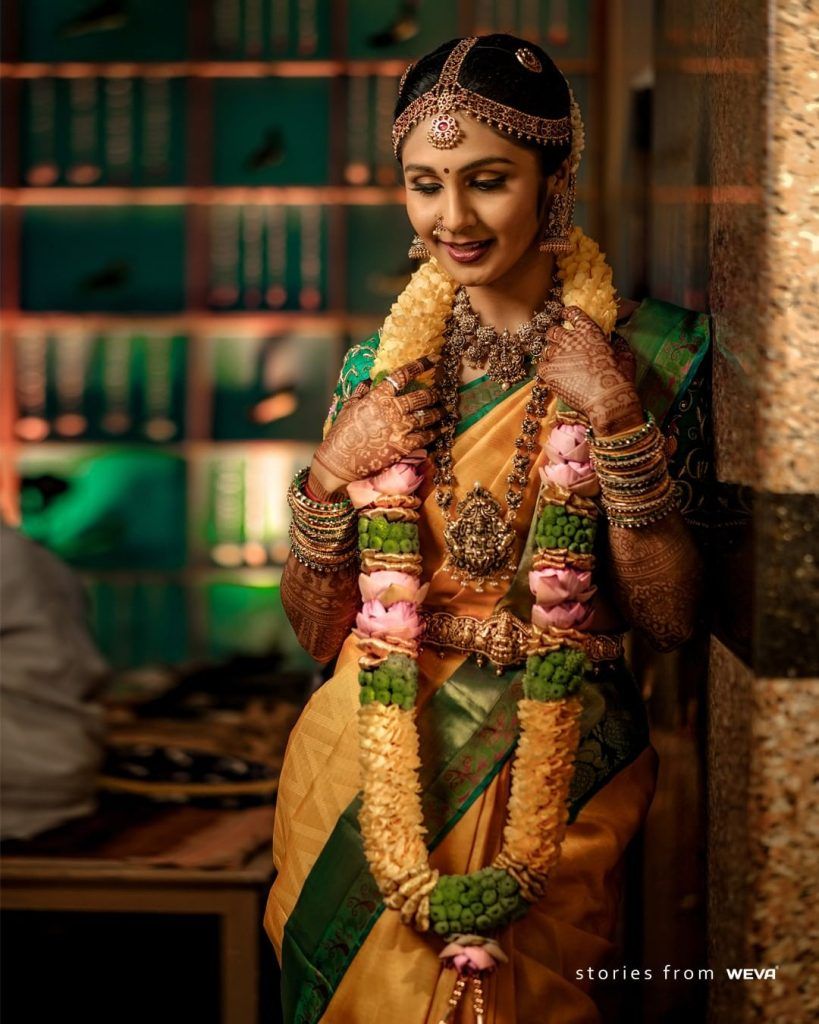 When it comes to evergreen poses, a soft, shy smile wearing the garland is something
that still steals our minds. Though it is not something experimental, the pose has
easily registered in the minds of viewers. Undoubtedly, the pose has a homely, fresh
feel to it that all brides could try. For those who are camera sensitive, this is another
great option, to begin with the bridal portrait session.
5) The Kohl Lined Eyelock
Kohl-lined eyes are something that never fails to fascinate each and every one of us in
Tamil bridal makeup looks. A tinge of bright-red kumkum (a saffron powder worn on
the hair partition by married Hindu women) and Kohl-lined eyes are signature
elements of South Indian bridal lookbooks.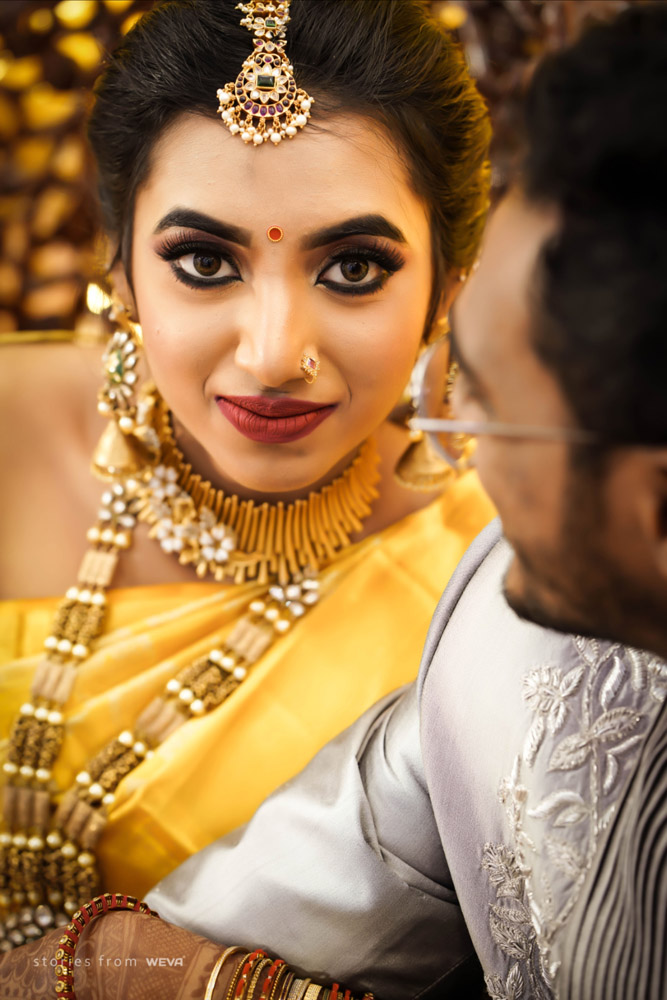 And, into-the-camera-eye candids and close-ups do great justice to showcase these
elements in their full bloom. To point out, extreme close-ups with a detailed view of
the makeup are still topping the charts of best Chennai bridal portraits. A rare and
candid eye-lock with the camera or a graceful wedding shot that is completely
unexpected can bring amazing results!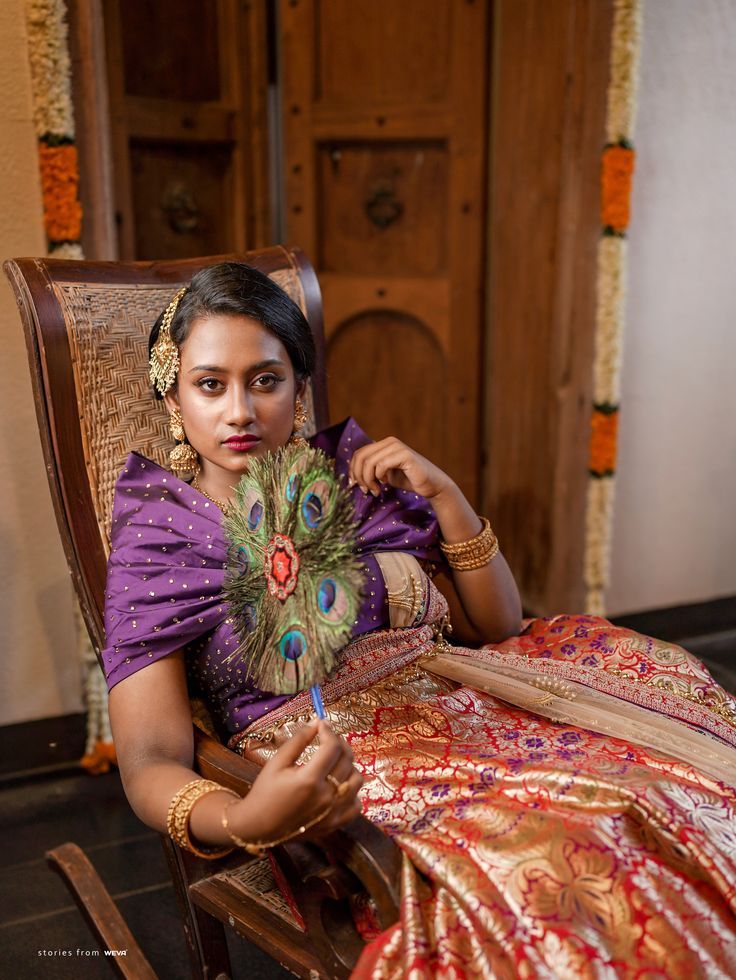 6) The Bridal Entry
The bridal entry is a much-awaited moment in weddings of all cultures. Primarily
because the bride makes her first appearance at the venue through this ritual. Chennai
bridal entries are grand and festive with a processional style. Most importantly, there
is scope for a beautiful bunch of close-ups and wide-angle portraits while the bride
slowly walks down the aisle with her squad.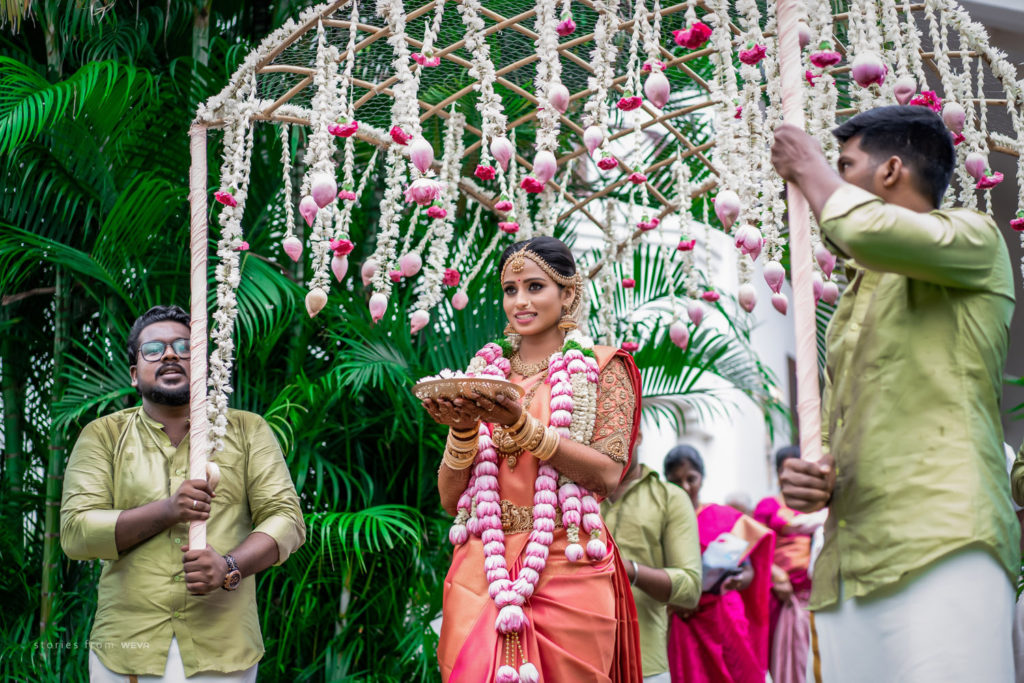 Undoubtedly, low-angle shots are trending when it comes to capturing the bridal entry.
As the perspective and the definition of the frame still feel refreshing in low-angles,
it's a great way to grab some vivid bridal portraits! A neat straight shot from the front
shall be tried. But care shall be taken to not intrude on the rituals by blocking the way.
7) Heavenly Candids
The pre-wedding and mid-wedding candids we have showcased here usher a lively, raw vibe.
And, that is something we all crave while flipping through the mandatory
ceremonial shots. Shots like these require patience and experience to never miss that
special moment which we never will be able to recreate!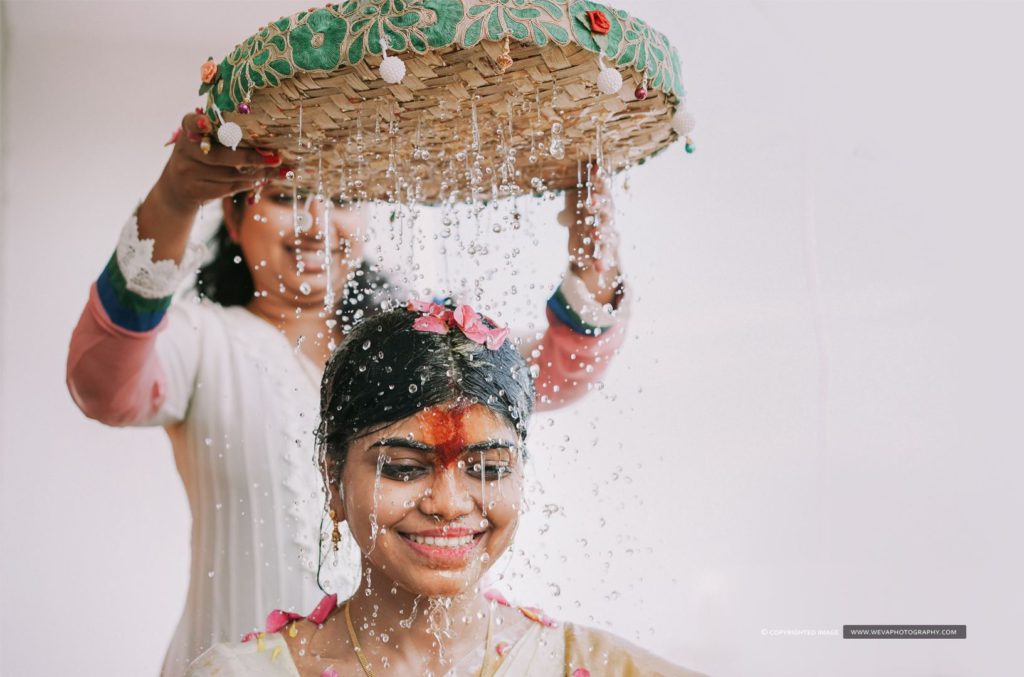 The wedding photographer shall also be aware of the rituals and their order to be
ready to click from unexplored angles. From vanity preps to bidding farewell, there
are countless occasions to click amazing candids that tell a story through a single
photograph. Also, the pre-wedding rituals performed in the morning of the big day
have intimate family gatherings which is a great time for clicking as well!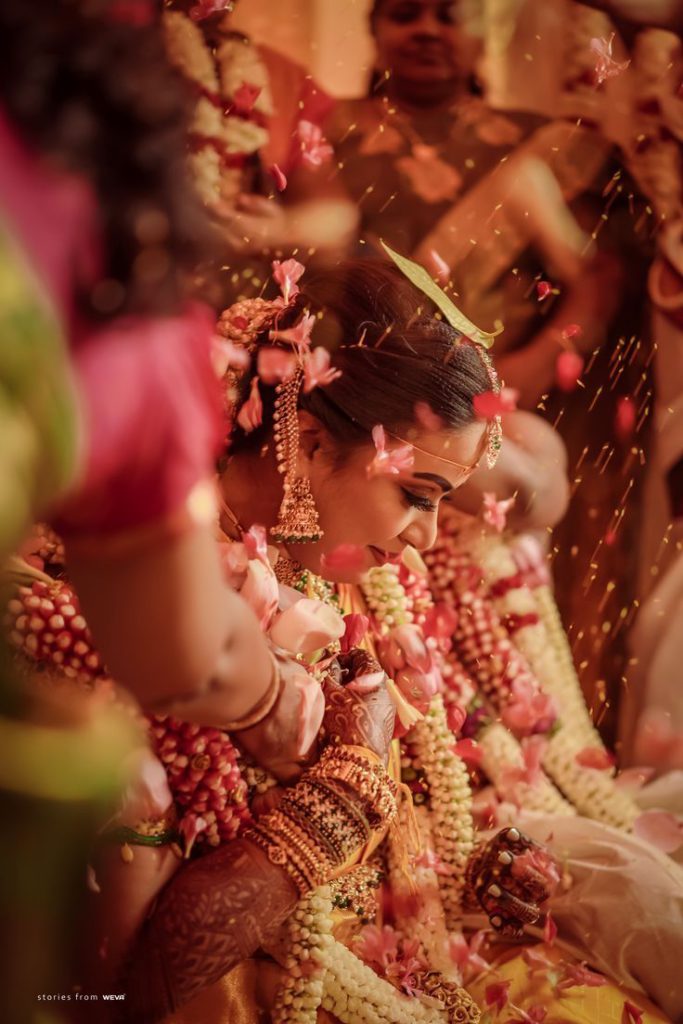 Hope you had a great time flipping through our beginner's guide for Chennai
bridal portraits. We have taken great care to include steps to start with and engage
the portrait sessions even with a camera sensitive bride. We believe that ensuring the
subject's comfort must always be the first priority irrespective of the occasion. Hence,
we have included a bunch of must-try tips to create a comfortable atmosphere for a
planned single portrait shoot sesh. We will be bringing more advanced tips and tricks
to help you polish your skills. Stay tuned!