Are you feeling confused about hiring the same crew for photographing all the big
events of your beautiful Kerala Christian wedding? Or would you like to see how
we have composed our lovely couple Amy & Sachin's big days by their biggest
support system? Brace yourself to witness the most soul-stirring and best Kerala
Christian wedding fixation photos and best Christian engagement photos 2021 of
Amy & Sachin. Our fun-loving and caring couple blessed us with the best memories while
documenting their milestones. Most importantly, we would love to narrate this
true-life story by taking you through multiple events and thereby giving an insight
into how your photos look like if you hire the same best Christian Wedding
photographers Kerala for all your events! Without further ado, let's jump straight in!
The Fixation
1) Getting Ready Portraits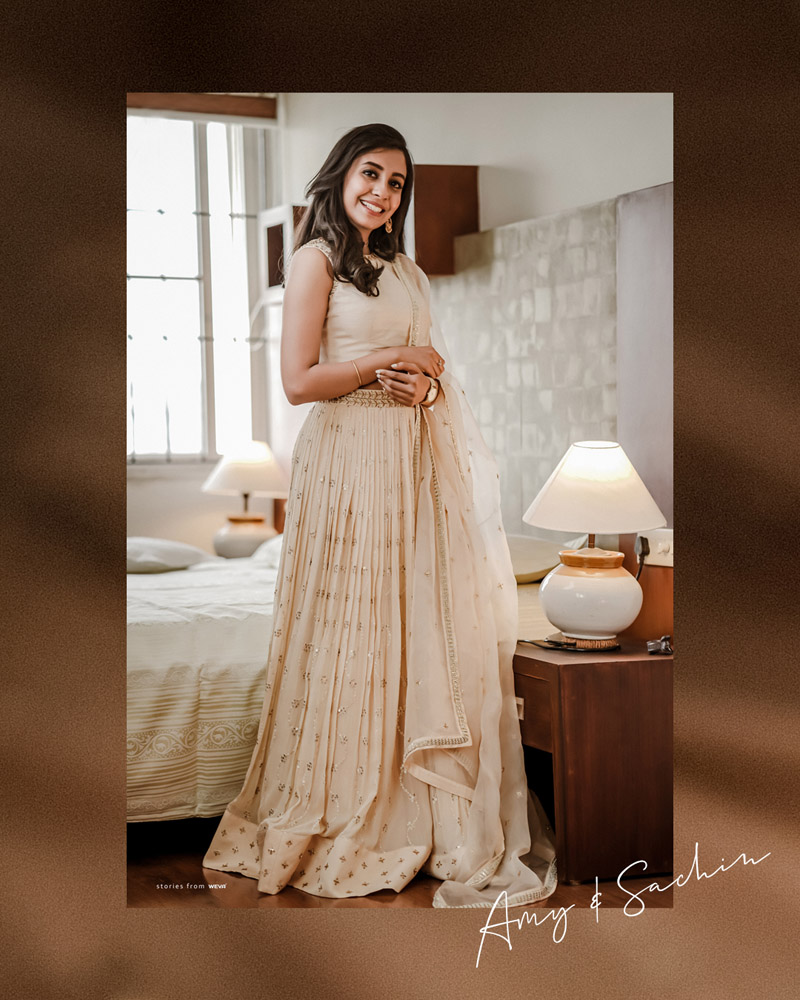 Hosted at the royal indoors of Grand Hyatt, Amy & Sachin's wedding fixation felt
truly dreamy and ecstatic! Amy's marvelous outfit is curated by Label Pallavi
Namdev, one of the most famous designer clothing stores Kochi. Evidently, Amy's
graceful lehenga attire paired with delicate contemporary jewels sculpted some
gorgeous candids with her cute lehenega twirl bridal poses.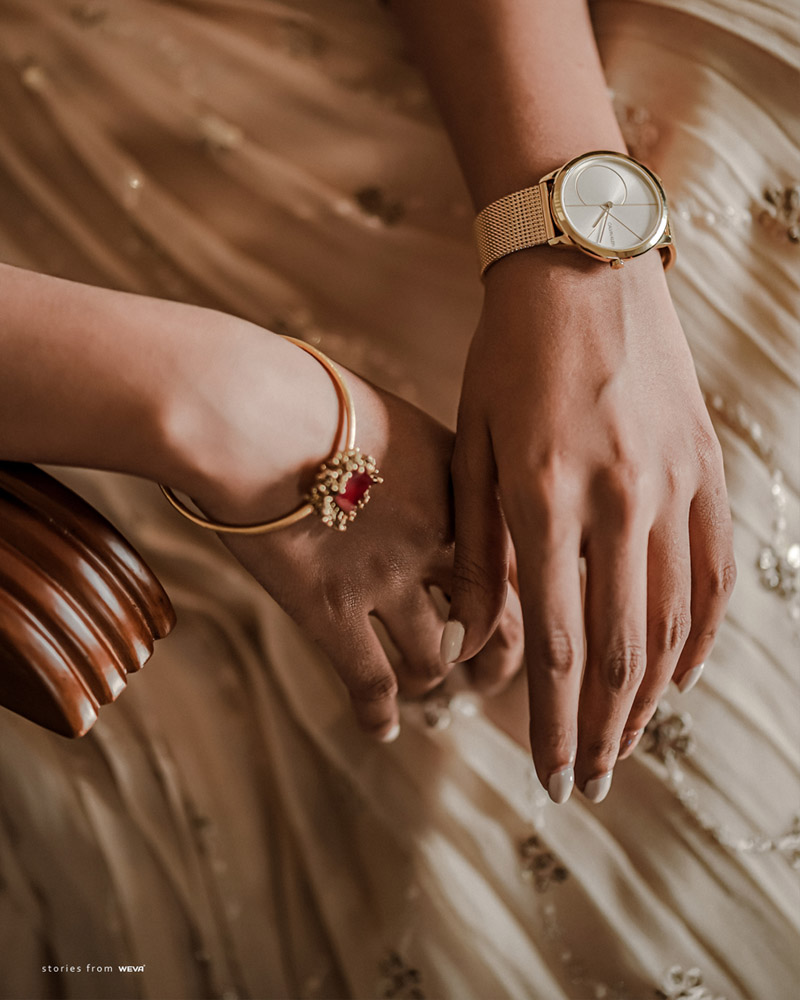 The beige tones and the rich wooden furnishings of Grand Hyatt fused like magic,
delivering us some nerve-calming and trending getting-ready bridal photos.
Keeping it earthy and classy, we have finished Amy's detailed outfit shots with
a hint of subtle sheen to elevate the tones. Clearly, the monochromatic tones
in the portraits bring a signature touch to all the portraits and clicks in this
series of getting ready pictures bridal.
2) The Ceremony
The fixation ceremony Grand Hyatt 2021 ushers a perfect blend of Kerala
Christian wedding traditions and contemporary aesthetics. Coordinated in gorgeous
beige tones, the family followed a neat elegant palette for their attires which has the
best colors for family pictures.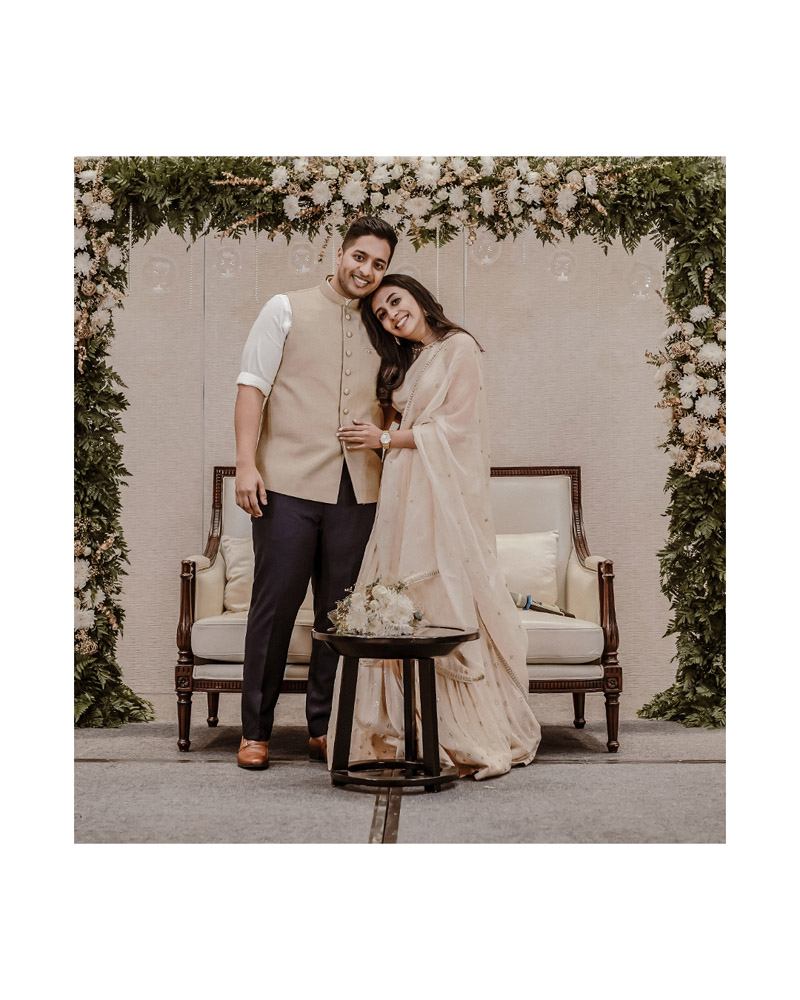 The simplicity of the ceremony and the smooth organization at Le Meridian Banquet
hall Kochi gifted us some gorgeous family portraits. The divine bond shared by both
families stirred tear-jerking emotional moments for each and every one of us while
documenting the events. Amy's affection for her lovely sibling and her dear parents
moved us emotionally while our best family portrait photographers clicked some
invaluable candids.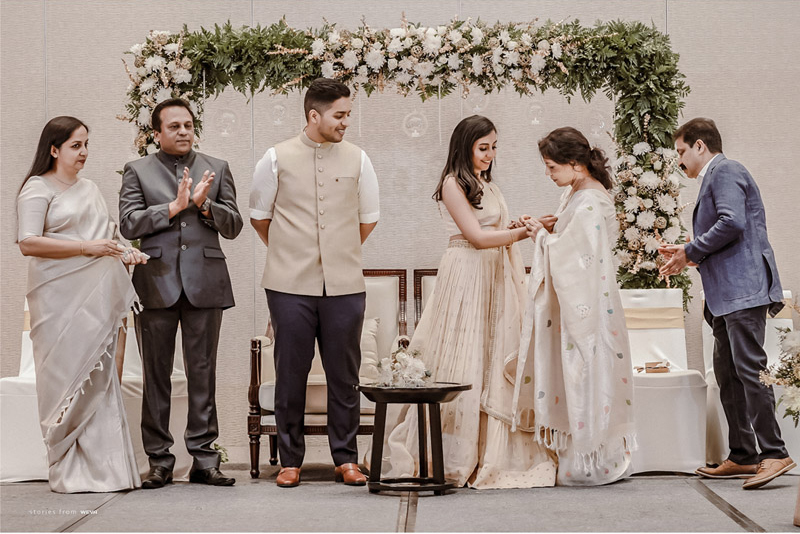 3) In Love
Our signature black and white palette has received so much love in the past few years.
And we couldn't resist finishing a bunch of beautiful portraits from the ceremony with
the tones. The candid shot of Amy & Sachin freezes a magical moment shared
between them on their big day. As we see here, the tones used in the photo are quite
vibrant and bold with the best photo style for couple. We intent to power these most
beautiful couple photos with bold contrasting tones. Sachin's single portrait on the
other hand reflects soft black and white tones that perfectly accentuate his dashing pose.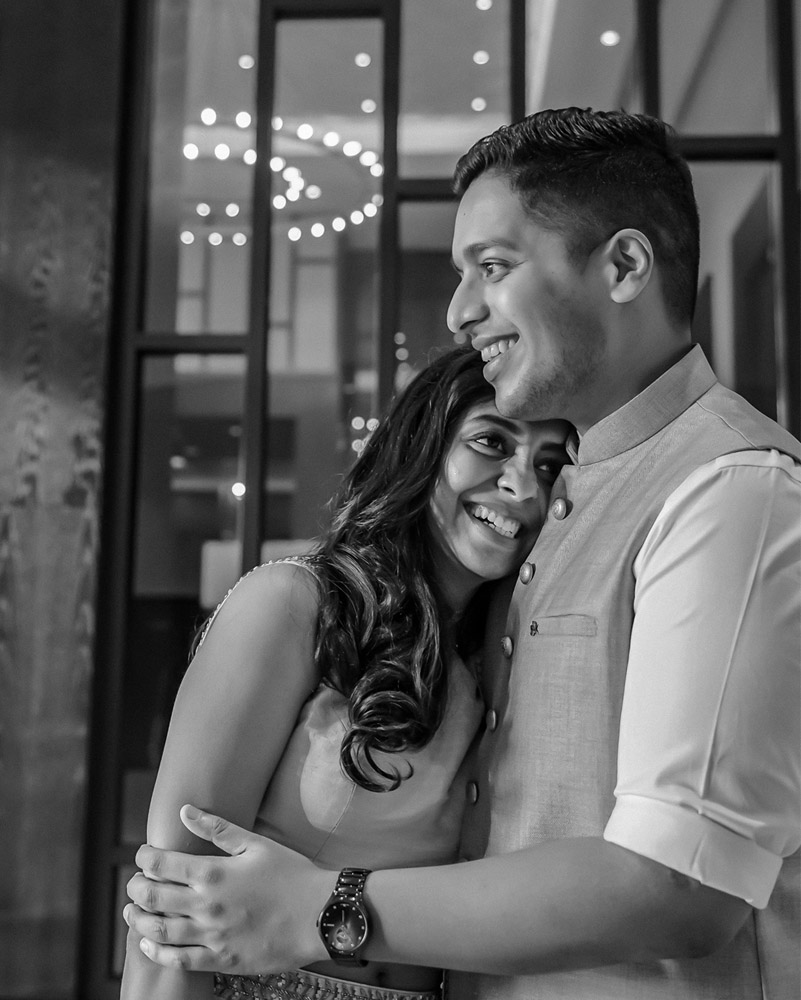 4) Together & Always
The best beautiful couple images captured at the event steal our hearts in a blink
with a rush of positive energy and happiness. Amy's beautiful lehenga twirls in the
candids are captured at low angles to add freshness to the frames. The shiny beige
palette we have extracted for these couple portraits also stresses on the beauty of the
venue. With their striking chemistry and strong emotional connection, our couple pulled off
the most beautiful couple images. The poses we have curated here are stress-free and
easily achievable even for camera-shy couples to document their big day in a blissful
affectionate perspective.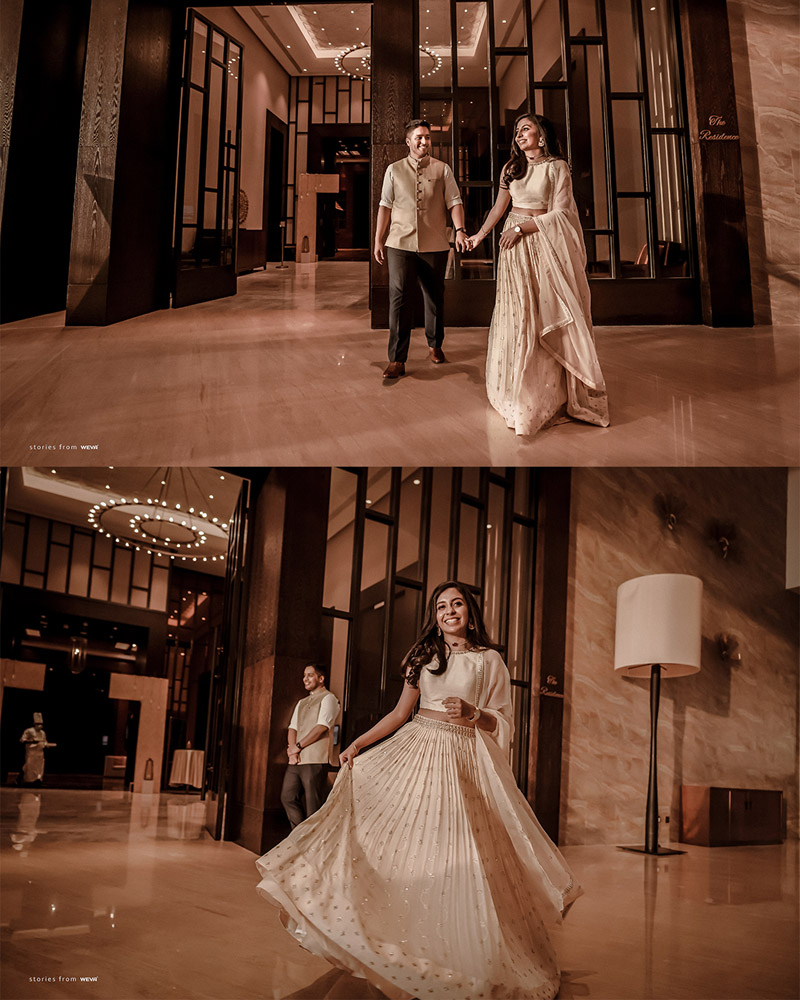 The Engagement
1) Gorgeous Vanity Shots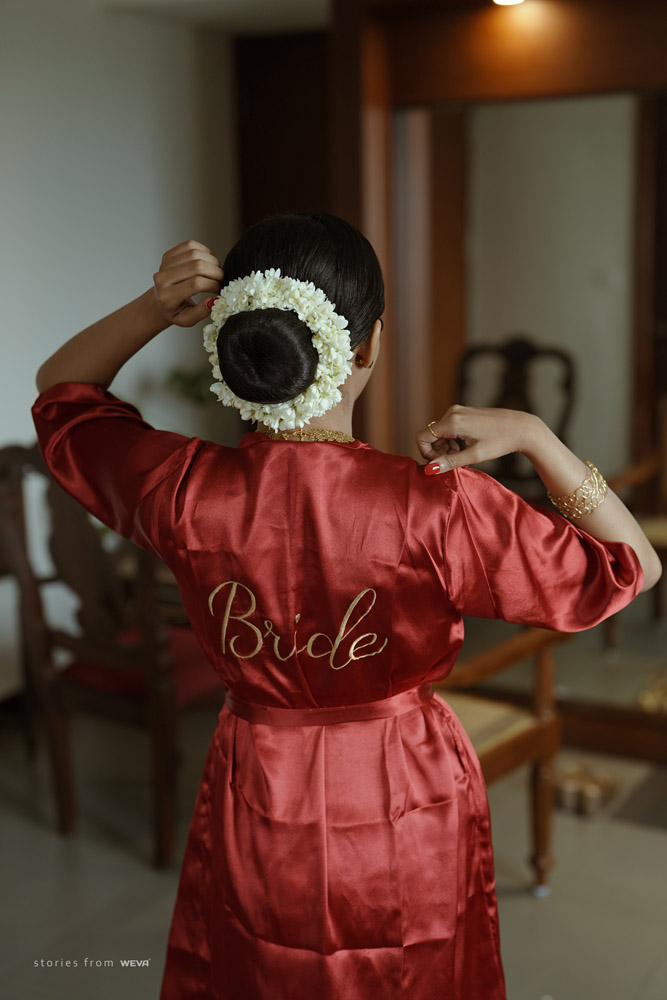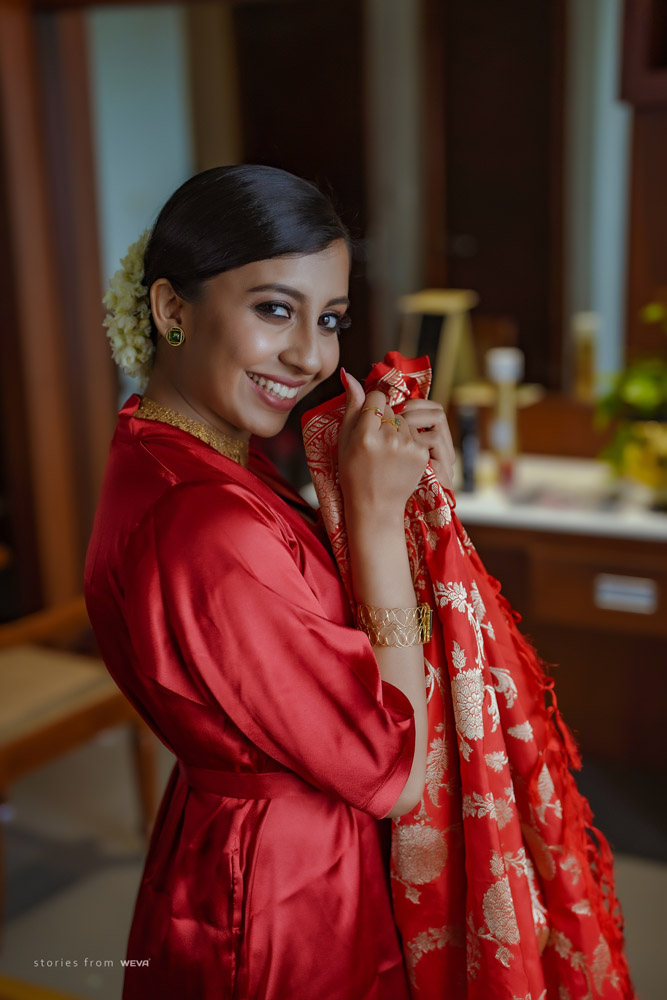 Our bride-to-be is flaunting her vibrant smile and starry eyes in these vanity shots,
delivering us some quirky semi candids. Though candids turn out to be the best for
documenting the best bridal vanity shots unfiltered, a set of quirky poses like these
helps to energize of the overall crew.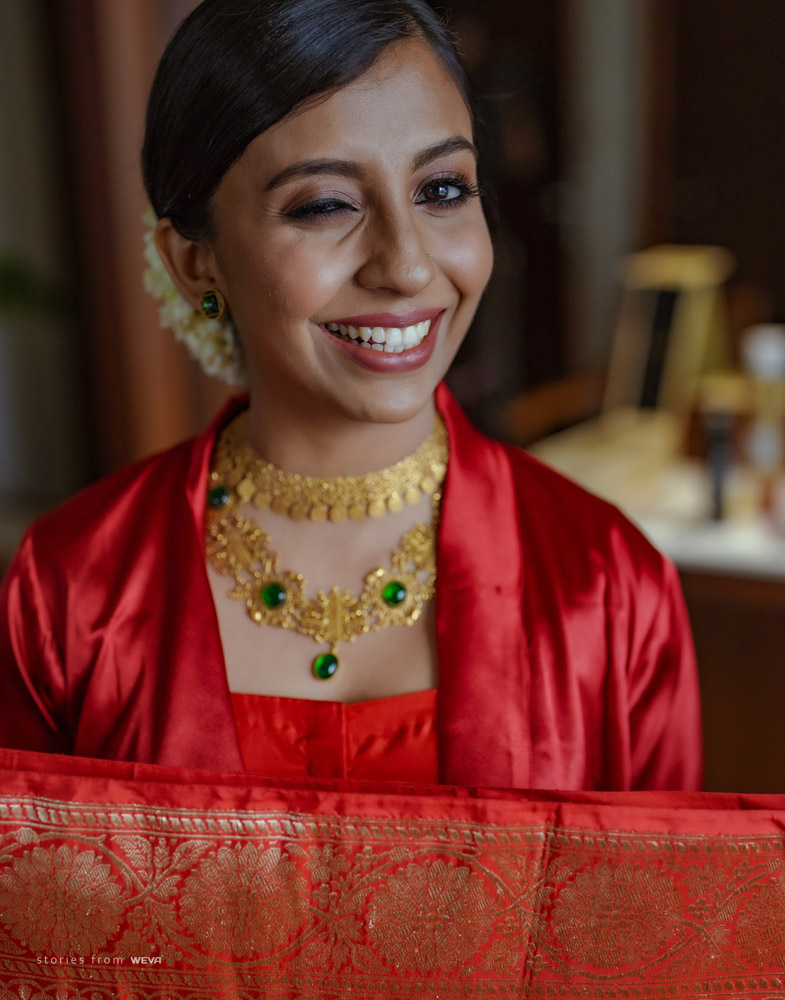 While clicking these awesome bridal portraits 2021, the energy revolves around these
poses will lift up the confidence of the bride-to-be or groom-to-be. Also, it creates
a much stronger and friendlier bond between the person and the photographer.
2) All Decked Up!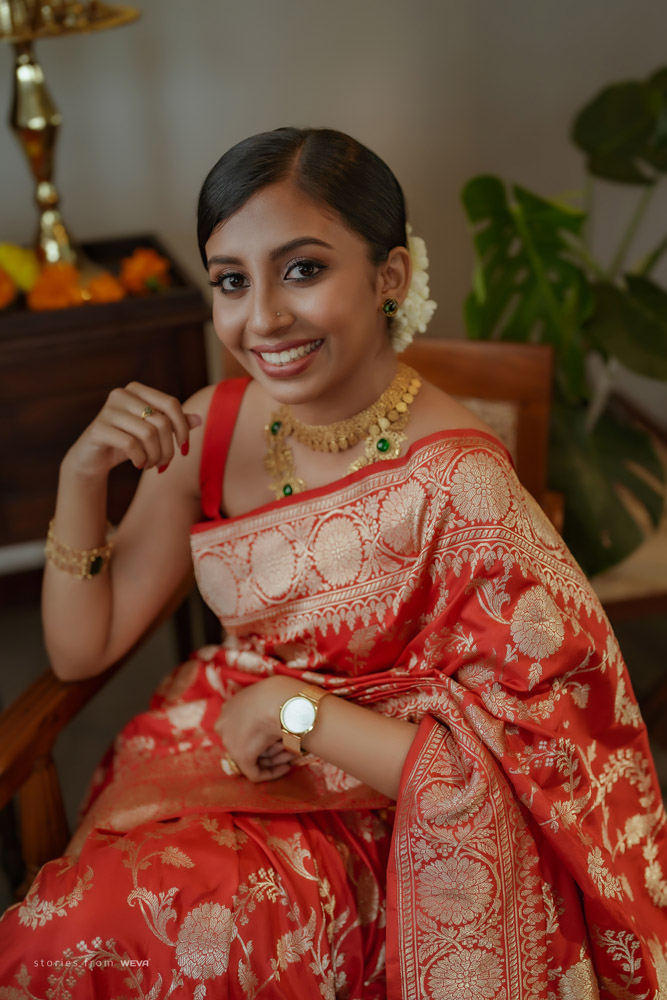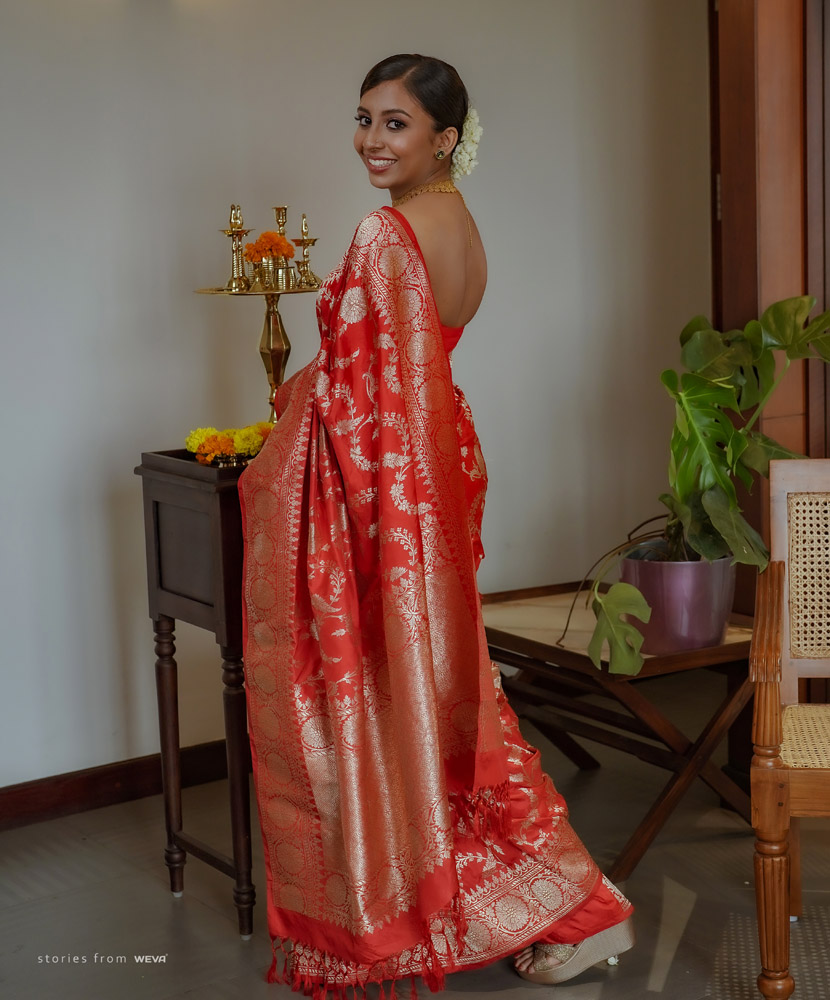 The single portraits of Amy, all decked up in her crimson red saree outfit are truly
giving us diva vibes. Her stunning saree attire is an excellent piece of work by Milan
Designs Kochi. The unique stone-studded jewels she wears are crafted by MOD
Signature Jewelry. The fresh classic nude palette chosen by best celebrity makeup
artist Kochi Samson Lei elevated Amy's whole look to another level. All we see
in these charming portraits is a happy bride-to-be who is super-thrilled
about her new beginnings and a life full of happiness. The side poses with a gently
titled face suit Amy's persona and body structure very well. Her best saree portraits
bridal with a steady posture add a touch of royalty and elegance.
3) Making Memories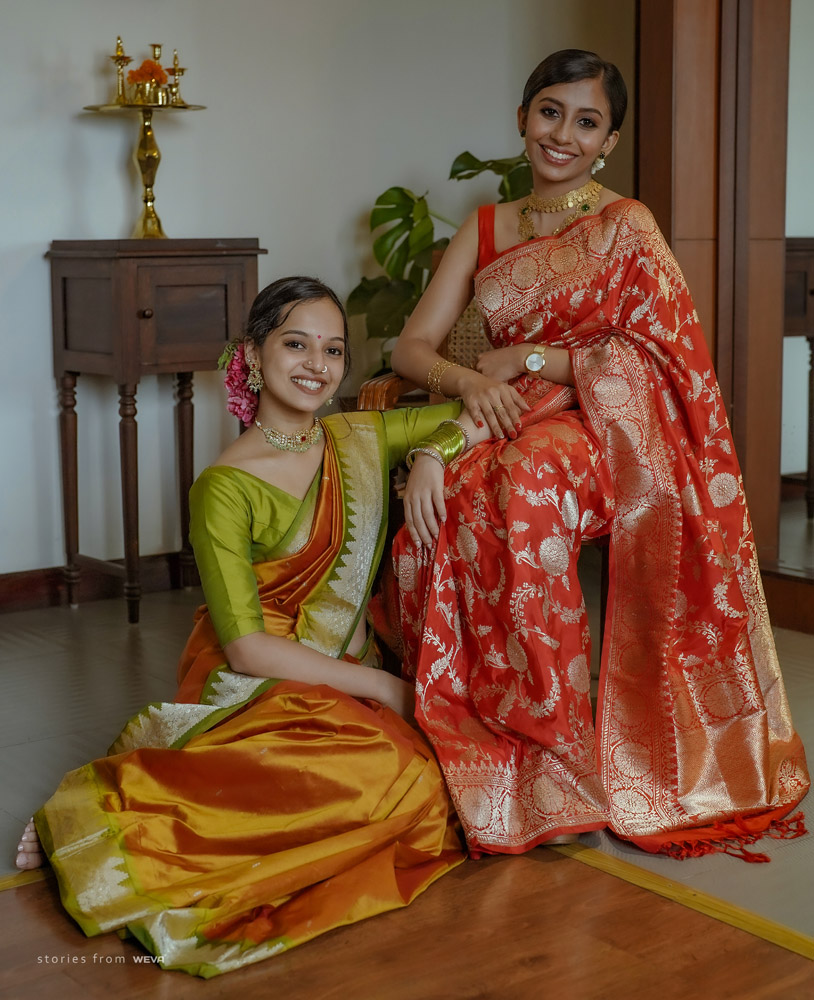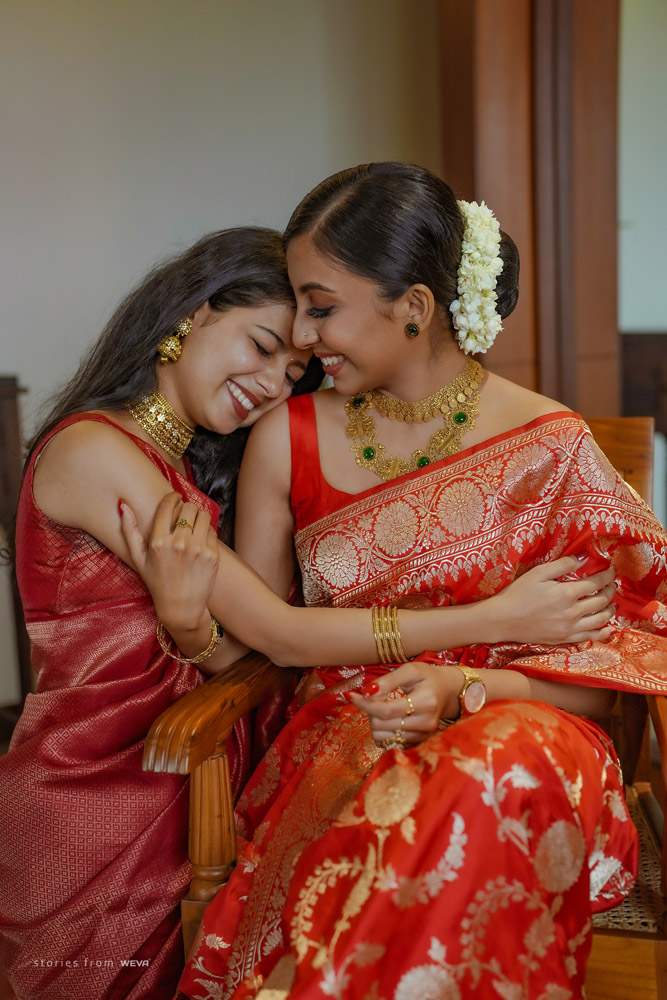 Portraits with best friends and cousins never fail to excite the brides-to-be. Here we
have attempted vintage-style wedding portraits to revamp the documentation to a
brand new vision. Unquestionably, portraits like these feel super-aesthetic and extra
special for bride squad. As of 2021, vintage poses and documentary styles are making
a strong comeback to the wedding photography industry. Amy's dear ones are celebrating
every single moment spent during the session with bright smiles full of life and love.
The poses we see here also resemble a hint of Ravi Varma paintings that are a real
treat to our eyes.
4) Heartwarming Family Portraits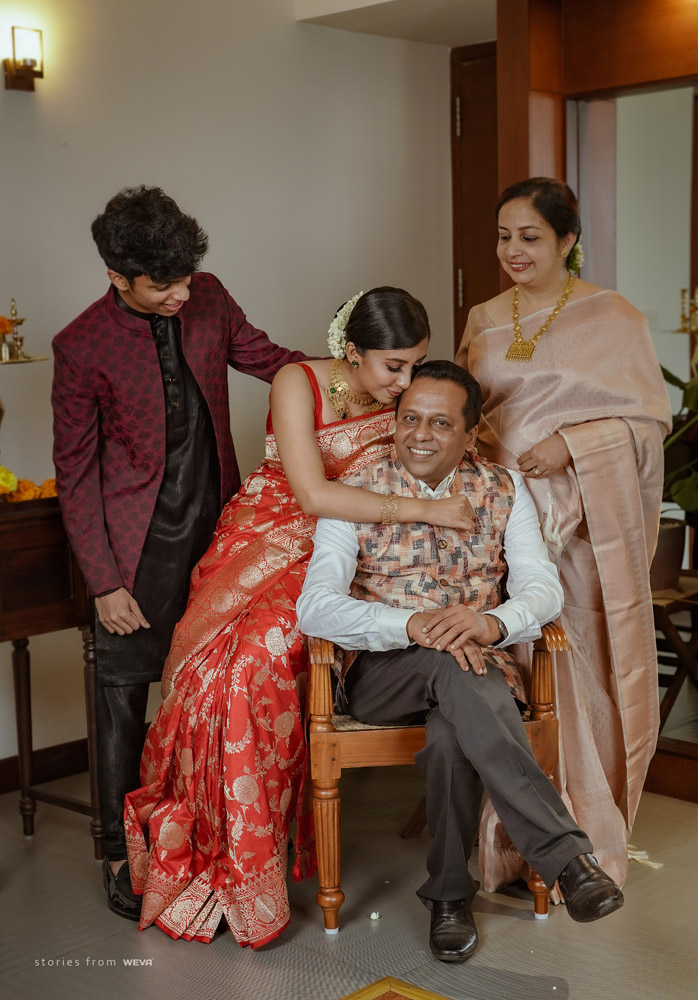 Amy and Sachin's family shares a deep connection. We had a wonderful time
capturing their heart-touching bonds. Amy is strongly attached to her father and the
father-daughter love we get to feel through these best family portraits candid cannot
be expressed in words. Sachin's moment with his mother awake feelings of love and
protection we receive from our own loved ones. All the top family candids wedding
we see here are true candids. Documenting such precious family time always make our
crew feel lucky and blessed. Sachin's single portrait is a pleasant side-shot finished
in dewy black and white tones.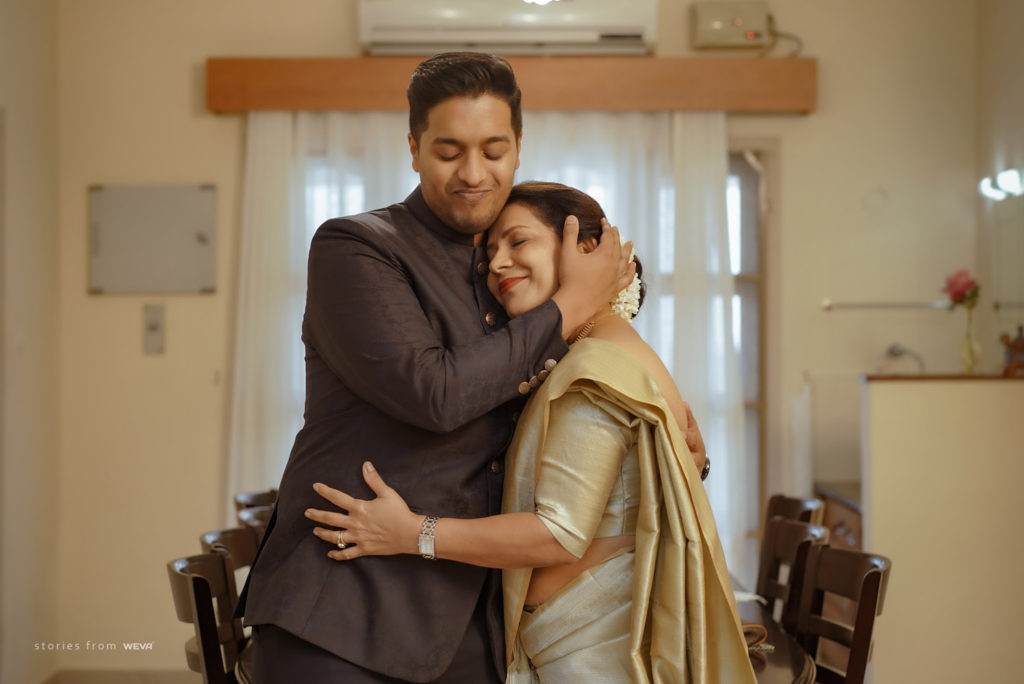 5) Happily Engaged!
For the ceremonial shots, we planned some detailed close-ups and candids. Tight
frames with a clean-cut view of the rituals helped us complete the documentation on a
much satisfying note. Unquestionably, these photos will bring a sense of satisfaction
and joy as they make us feel like we are reliving the day once again.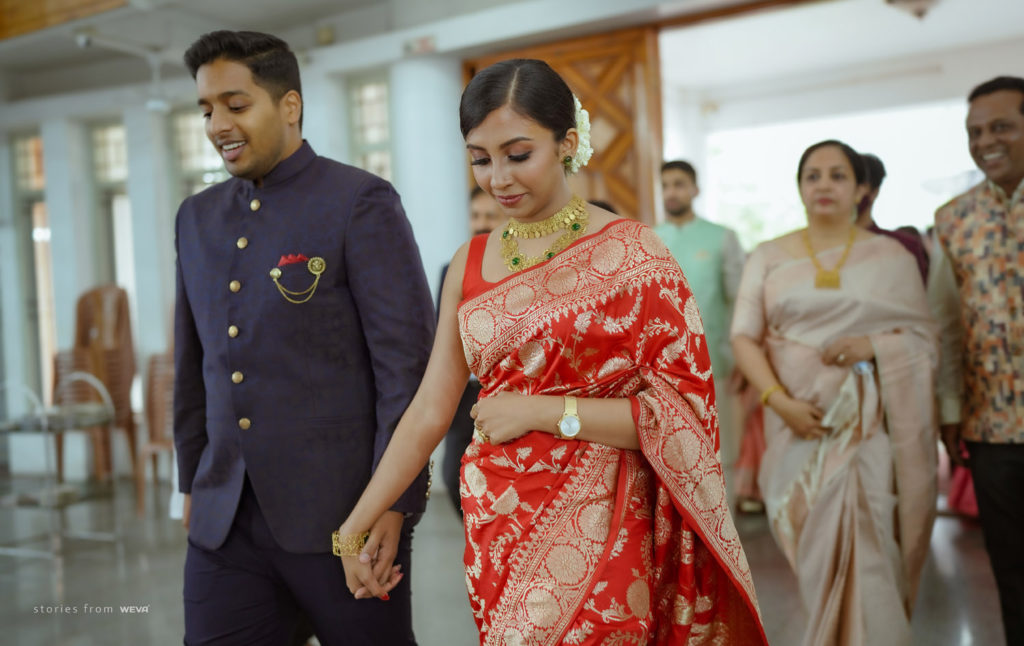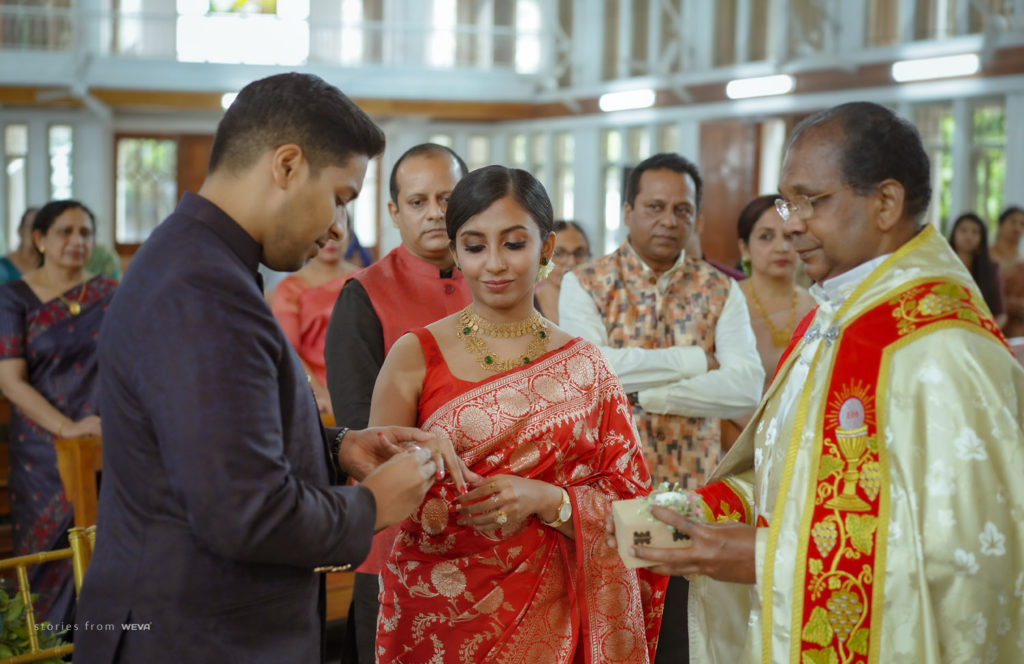 Evidently, semi candids or planned poses can never do the justice that real and
unfiltered candids deliver in weddings and engagements. From entering the church to
freshly engaged photos, we had a great time freezing memories into our frames.
6) In Love
The best engagement couple pics of Amy & Sachin are edited in soothing natural
tones. The cooling greens in the portraits give a contrasting effect to the couple's
attires. Thereby, the composition of the photos in terms of colors feels balanced and
fulfilling. The minimal poses we see in these shots are effortlessly aced by the couple
with their amazing chemistry and infectious smiles.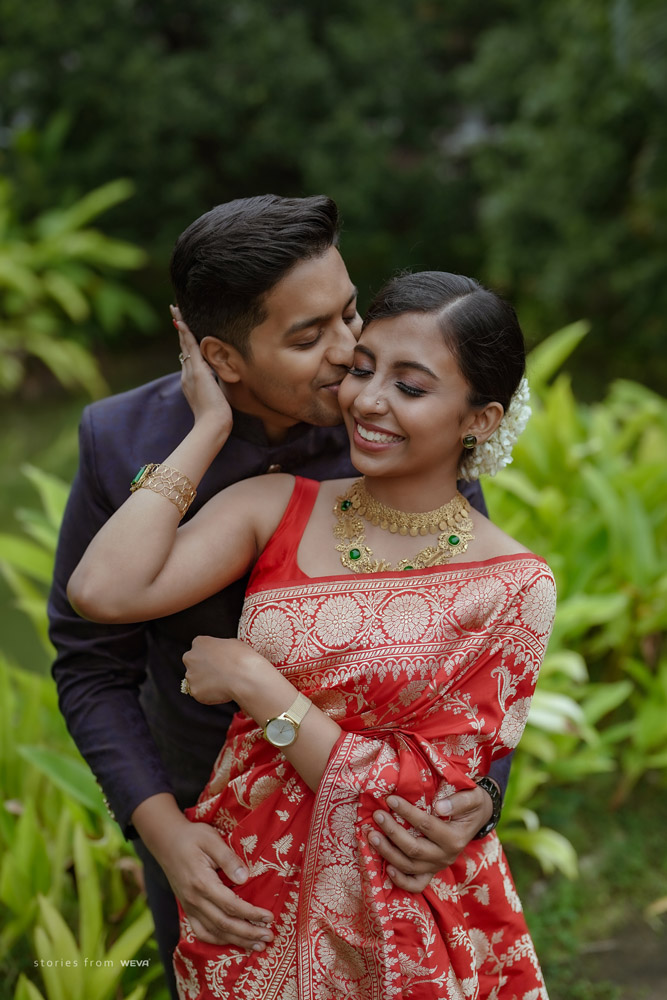 To point out, we have seperately color-treated every single detail in these portraits.
The healthy and plump skin tones and the sheen we see on Amy's saree are carefully
balanced to sync with the entire palette of the images.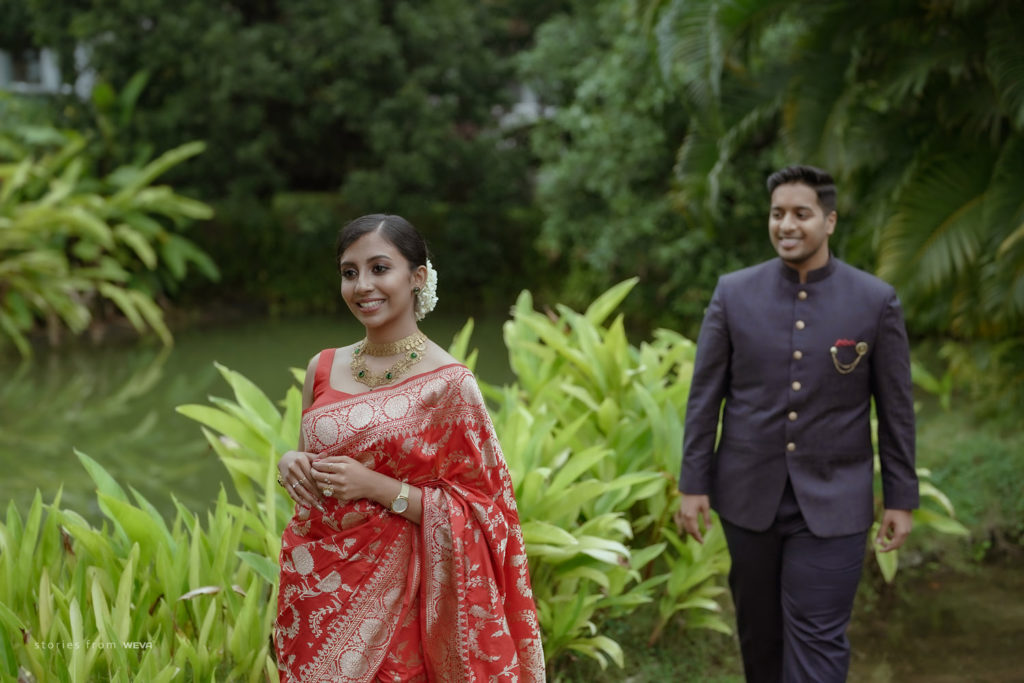 We hope that you had a great time skimming through the wonderous highlights of
Amy & Sachin's big days curated by the best engagement photographers Kochi.
Breaking down our journey and sharing it with you was so much fun for us. We hope
that you gathered interesting tips and tricks that might come in handy when you
prepare for your own big day. Having explained our journey here, we intend to deliver
an educational insight as well to all the fellow hard workers in this glam industry.