Handpicked your wedding outfit, curated all the pre-wedding lookbooks but yet to
figure out the reception look? Don't worry! we are fully loaded with the top 8 bridal
outfit ideas for your reception. Our team had a life-changing discussion with the
most talented wedding photographers in Cochin before tailoring this exclusive list
of ideas for you!
From truly traditional attires to modernist glam looks, our curation is perfectly
balanced with the best 2022 bridal reception looks from all the spectra. Be prepared
to take note of the latest fashion trends in the wedding reception. And, grab your
favorite snack to get seated for a sizzling set of outfit ideas for spicing up your
reception!
1) The Vintage Edit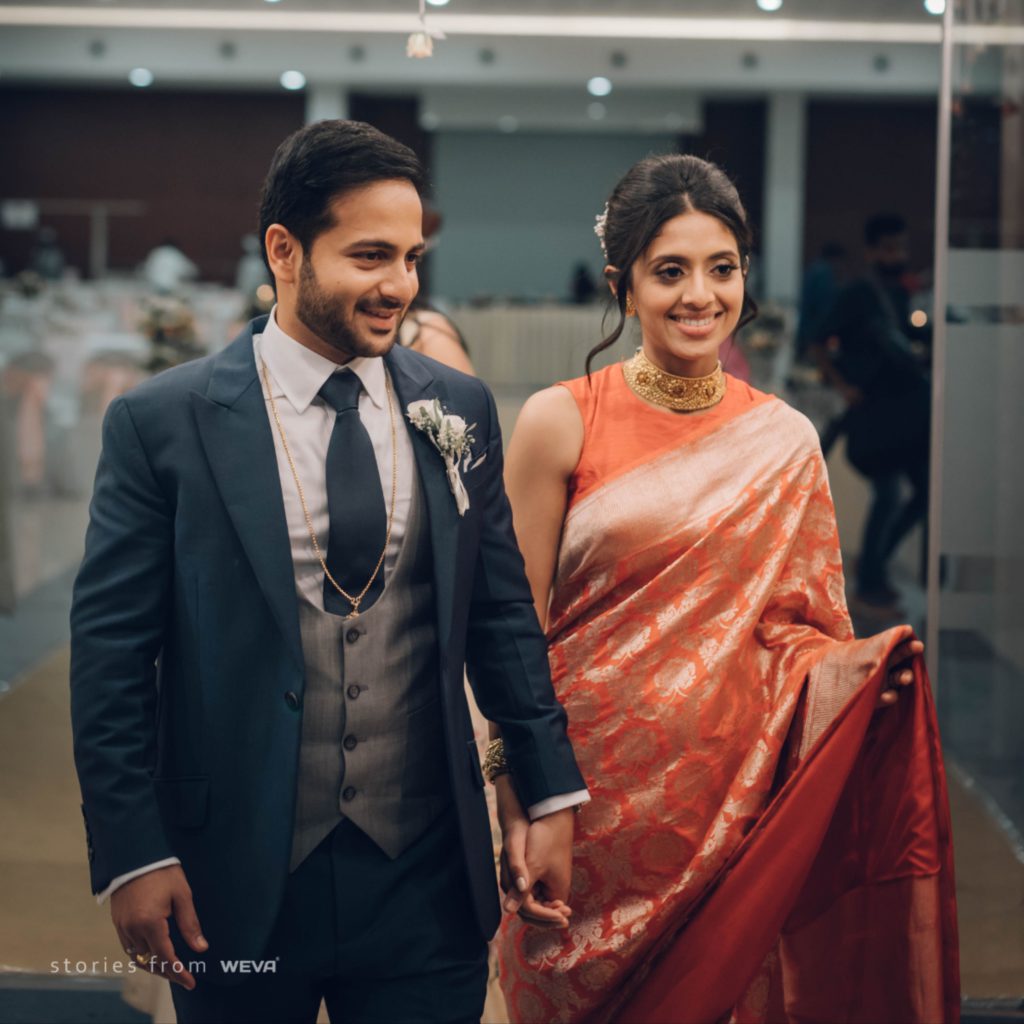 Vintage sarees and heirloom collections have been getting popular day by the day
with the famous bridal fashion trends of 2022. From decades-old Kanjeevaram silks
to modern-day collections that are made to look vintage, brides are going head over
heels!
Evidently, simple silks and brocades with a noticeable border are still among the
crowds' favorites in reception looks. To point out, the sarees with heavy
ornamentation and extra detailing are slowly leaving the stage paving the way to
effortless minimalistic collections that are uber comfortable to dance the night away!
And, bare minimum diamonds and pearls are added for finishing the look with sheer
elegance!
2) Vivid Prints
While one group is obsessing over soft Banarasi sarees and pastel lehenga cholis,
there is another group of audience who is eying vivid prints and florals. However,
these lehenga cholis with vivid prints are often inspired by Mughal paintings and
royal aesthetics. Here, we see a beautiful blend of modern techniques and vintage
floral prints.
To highlight, there is a wide variety of colors in lehenga cholis and sarees where we
see such gorge prints. From fierce neons to calming pastels, Mughal motifs and
traditional block prints never seem to be vanishing any time soon. Added to that,
Kundan jewels and uncut diamond finishes are shining brightly while styled with such
classic attires.
3) Shimmer Shimmer!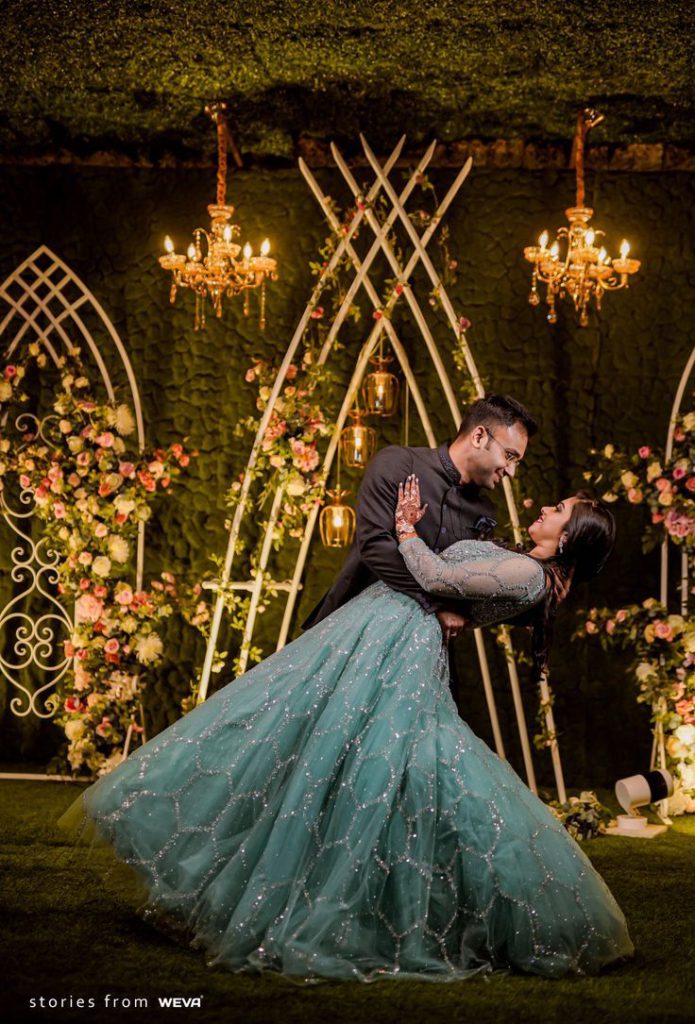 A little glitz and glam can do nothing wrong in a peppy reception party. Evidently,
shimmering gowns and sequence embellished one-piece custom attires have been
making entrances ever since the 80s. Though the style and patterns have changed, the
core elements remain the same. Ball gowns with puff sleeves and dramatic details feel
quite right for ravishing dance performances and fun games at a reception party.
And, if you ever feel like the attire is a bit too much for your aesthetics, there are
numerous ways to tone it down. Such as, choosing pastels and English tone palettes
over solid shades can do wonders in toning the drama down.
4) The Petite Fit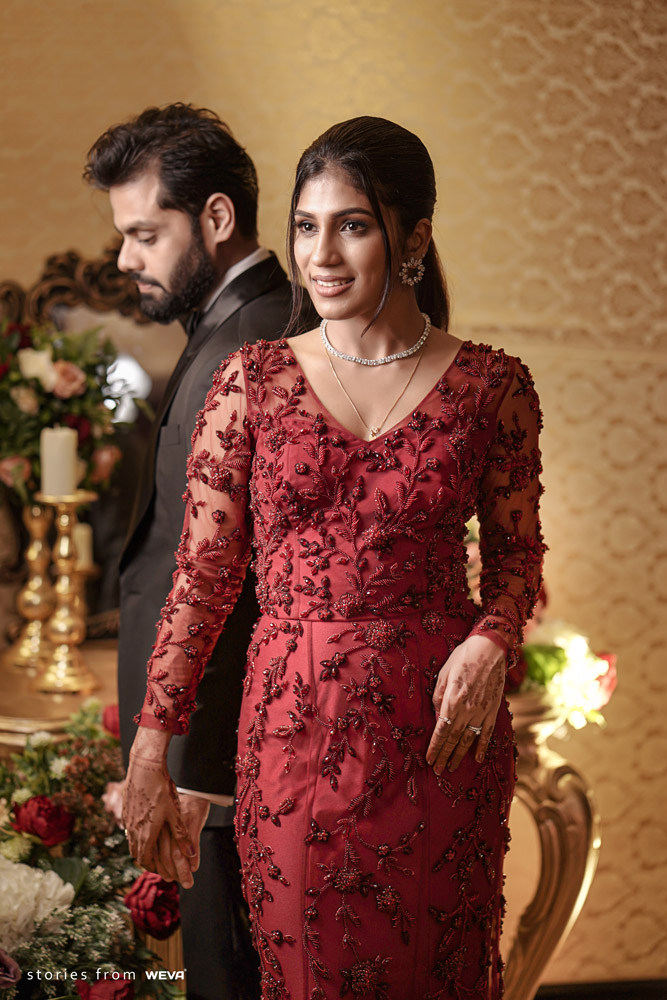 Silhouetted fits have been making quite a style statement when it comes to the overall
wedding trousseau of brides. Be it a mermaid wedding gown or a sleek cut reception
dress, fit of a dress can determine the whole persona of the look. For classic reception
parties with formal events, silhouetted one-piece dresses can easily make a statement
without any loud accessories or details.
To be precise, the shape and fit of the gown have the power to put together a strong
statement without a single piece of jewelry or a sophisticated hairdo. However, one
must ensure that the party attire is comfy and breathable to spend the night without
any concerns.
5) Twinning in Minimal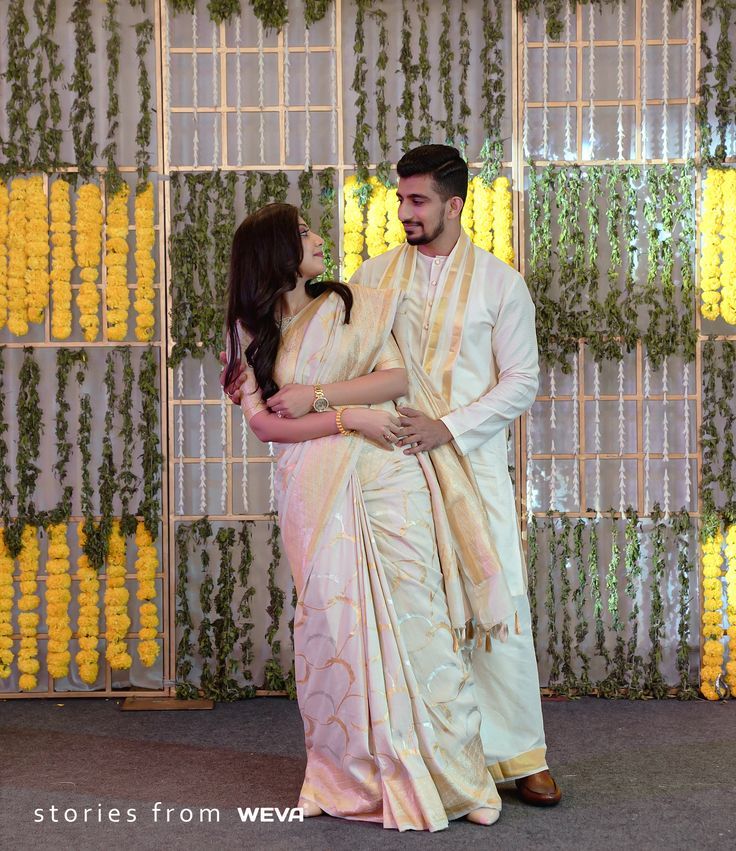 Twinning with your partner can be exciting when it comes to reception bashes.
Irrespective of the type of event, one can bring a fun set of outfits to cherish the big
day in full glory. As we look at the outfits we have showcased here, the couple is
wearing a saree and shirt-Mundu outfit that syncs perfectly in terms of color, style as
well as the overall persona.
Here, we see a lot of advantages of opting for a simple minimal bridal fashion
aesthetic while one is planning to twin with their partner. Also, the couple has picked
a truly ethnic taste for flaunting their reception look.
6) The Half Saree Style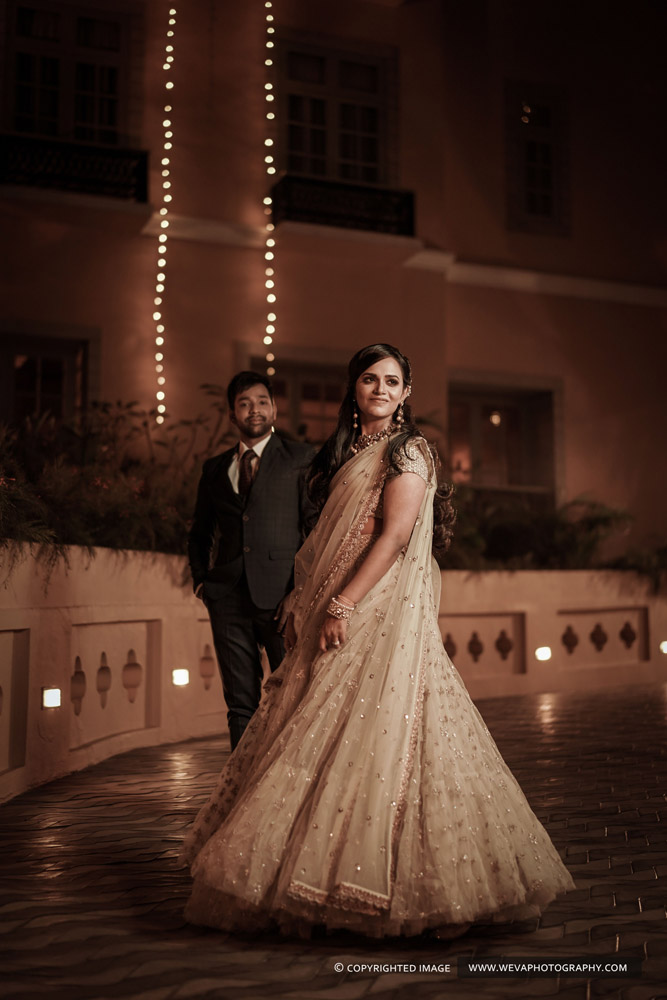 The half saree attire is a muchloved South Indian everyday fit. Most importantly, the
half saree looks are something that can be molded into beautiful custom festive looks
with your signature touch. Unlike all the other Indian outfits, it can be sliced down
into a subtle traditional look as well a luxe party ensemble.
Here, we have showcased a modernist half saree outfit that is a dupe of the classic
lehenga choli draped in South Indian style. Though this look was romanticised a lot
before 7 years, it has started to make its grand entry in the 2022 bridal fashion styles.
7) Trditionals for a Change!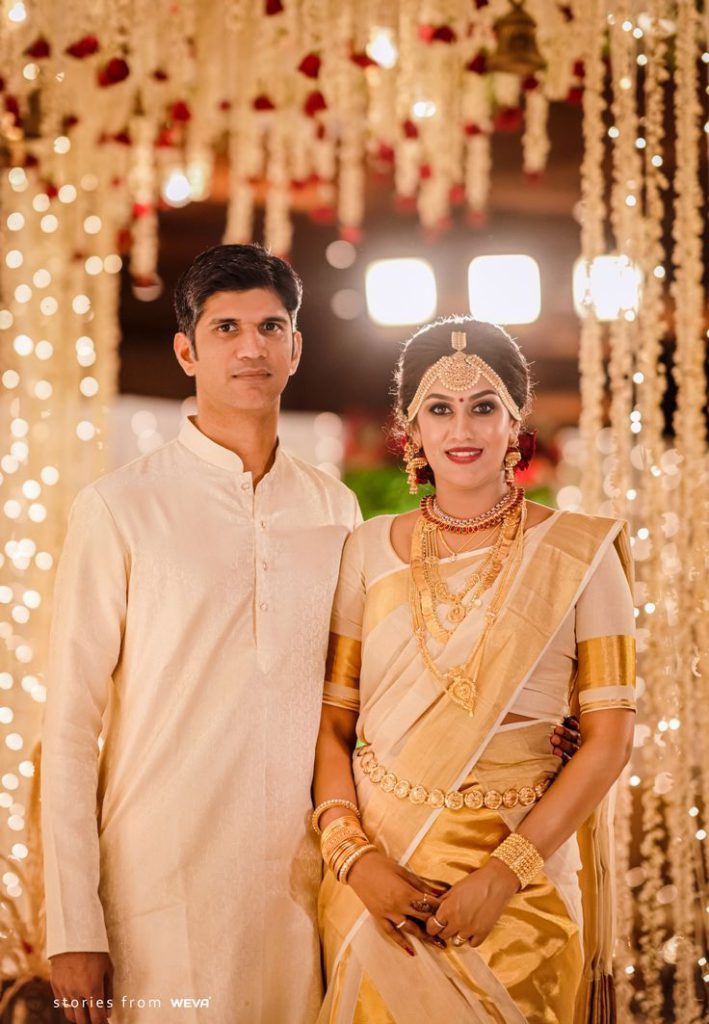 Kerala Kasavu saree bridal looks have their own special grace and elegance. We
have discussed quite a few saree lookbooks in the above categories that are a fusion of
traditional and contemporary reception outfit looks of 2022. But, if you are
planning to pull off a truly traditional look, the Kerala Kasavu saree look provides a
number options to explore!
Added to that, you may craft your look by experimenting with the saree blouse and
ways to style your Kasavu saree with patchwork, embroideries or natural dyes. And,
don't forget to throw in a pair of classic jhumkas, jasmine flowers and temple jewels
to spice up your look!
8) The Celebrity Bridal Couture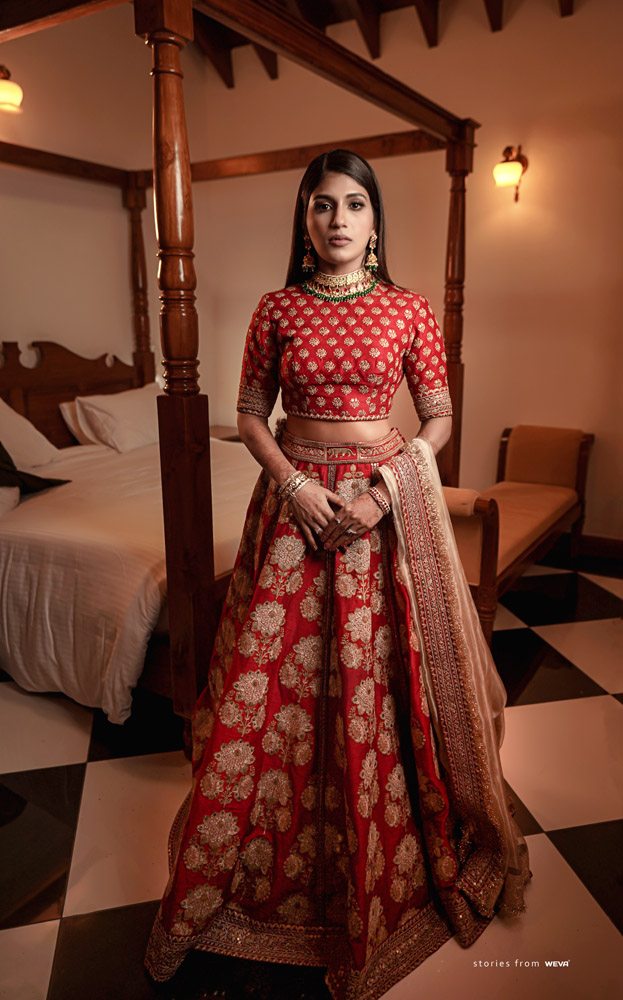 Designer lehengas have experienced tons of interesting transformations during the
past decades. However, royal red lehenga cholis are something that never goes off the
trends. Ever since of birth of designer bridal couture, we have seen several genres of
red bridal lehengas for various occasions.
And, reception being one of the most heated festive events of Indian weddings, a tinge
of red is a perfect recipe for creating a carefree lookbooks. But, the reception lehenga
looks are lightweight, breezy and much more breathable as compared to the real deal
wedding lehengas. This in turn helps the newlywed to move around and throw some
quirky dance steps on the stage.
We hope you enjoyed exploring our bridal outfit trends of 2022 for the reception.
Our curation aims at providing an insightful read about the latest trends and ideas
revolving around the bridal outfit ideas for the reception. From globally loved insights
to national favorites, we have something for each and every one of you.
No matter if you are an ethnics addict or a contemporary fashion enthusiast our
curation will unveil interesting facts to aid in your outfit selection. We are looking
towards more exciting updates in this category. Check this space for our upcoming
fashion news on wedding trends!