Have you been relentlessly searching for the best outdoor wedding mandapa ideas
of 2022? Or have you been disappointed with the cliche choices you see around while
you are on your thorough research? We have something special for you!
Upon discussing the observations and experiences of the famous wedding
videographers of Kochi, we have developed a simple curation with our top 8 picks
on outdoor wedding stage designs. Here, we introduce the hot trends of the year that has a
persona to survive for the coming years as well! Grab your favorite snack as we take
you through this happy virtual ride on the best outdoor wedding stage designs of
2022!!
1) The Green Tie
Venues infused with nature have a fresh, positive vibe that has the power to dissolve
the stressful feels of the big day. And, minimal mandapas with just a simple frame
that perfectly merges with the surrounding can do wonders! As we see no other colors
other than garden-fresh greens, its harmonic, peaceful as well as aesthetic especially
for nature lovers.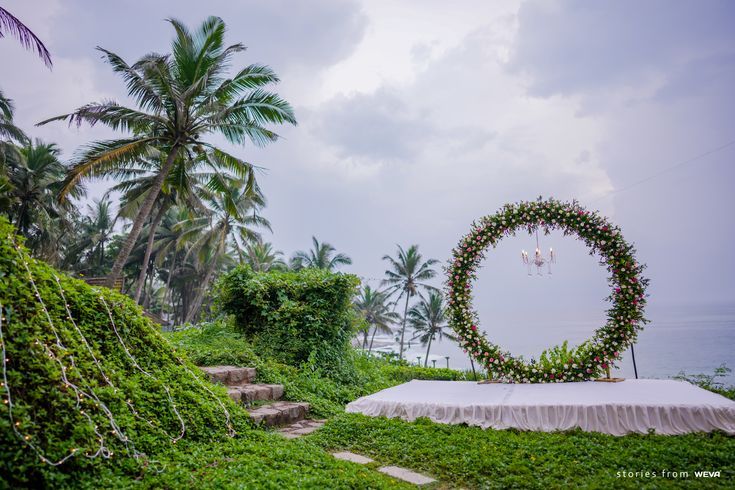 Most importantly, the monotone design shall perform well in the wedding documentation by
enhancing the presence of subjects in the frame. For the base cover, pure white fabric is
a great option as it makes a graceful combo with natural tones.
2) The Royal Wedding
A rush of pastels paired with ivory or golden elements is nothing but royal and
elegant in the vibes. Added to that, preferring a pure white monochromatic supporting
theme with these elements shall add power to this style. Evidently, maintaining a
clean and clear palette plays an important role in achieving this neat style. Let it be
the florals or the furniture or the fabrics, care shall be taken to get each and every
element in sync.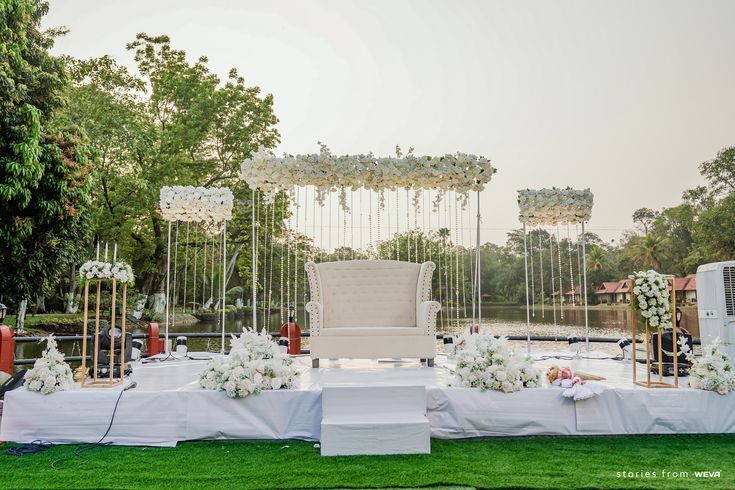 Also, the placement and design as we see in the image showcased here shall be
effortless and artsy. We also see a lot of lines that are positioned accurately with
regard to the design.
3) A Minimal Capsule
By minimalism, we mean adding fewer showpieces, accessories and supporting floral
decor. A solid well-composed background shall be enough to enhance outdoor stages
in the middle of greens. As we discussed above, a monochromatic subtle palette is the
best to bring in some calming and relaxing feels! For example, here we see a solid
block decorated with lush green flora and nothing else!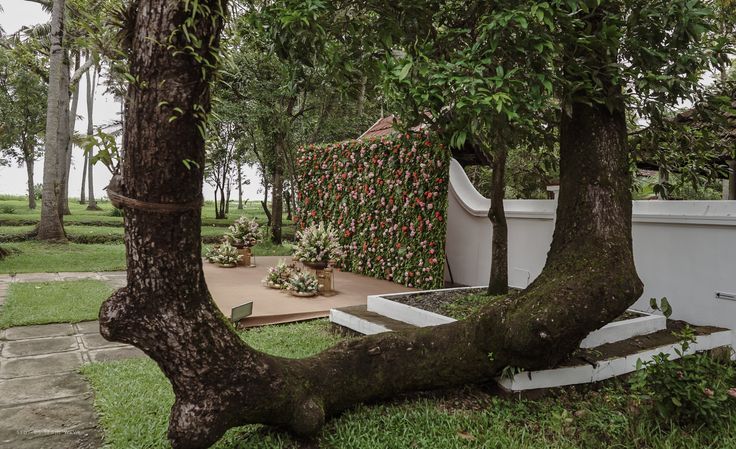 A couple of pots in the stage edges if required can be added to establish a 'wow
element' if you are looking forward to making a statement. To point out, the design
we are discussing here is sustainable, thoughtful and nature-loving which is
something very rare in the 2022 wedding decor trends.
4) A Seaside Fantasy
A beautiful bunch of vintage wooden furniture and a thin stage frame adorned with
leafy decor is something that never goes off the trends when it comes to beach
weddings. The neutral palette of the ocean does magic with the wooden mahogany
palette. Not to mention, the leafy decor is a piece of cake in this curation that adds a
finishing touch with its rich feels.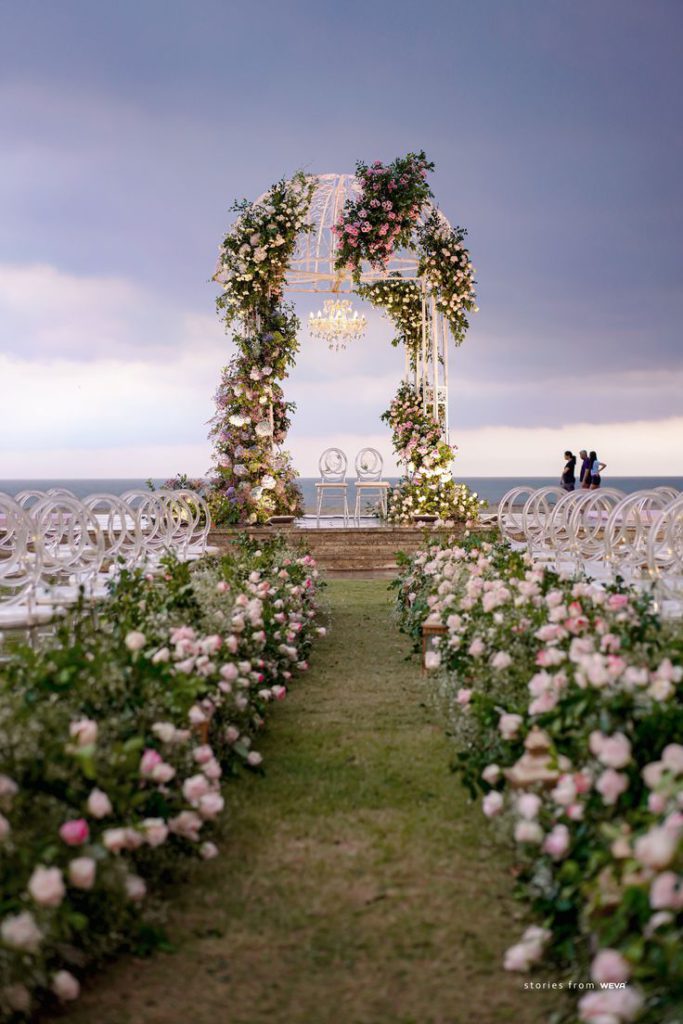 And, we are using the same ground level for the wedding stage with zero custom
platforms or extra materials. This in turn makes us feel more connected and intimate
to the oceanside by feeling the sand on our toes and the breeze whizzing through our
hair strands.
5) Playing with Frames
Playing with frames is quite exciting as there are a million options to try. The shape
and size of the frame add the amount of grandeur one is expecting on the stage. From
one-of-a-kind wedding stage ideas to basic rectangular slim designs, there are
endless options to choose from.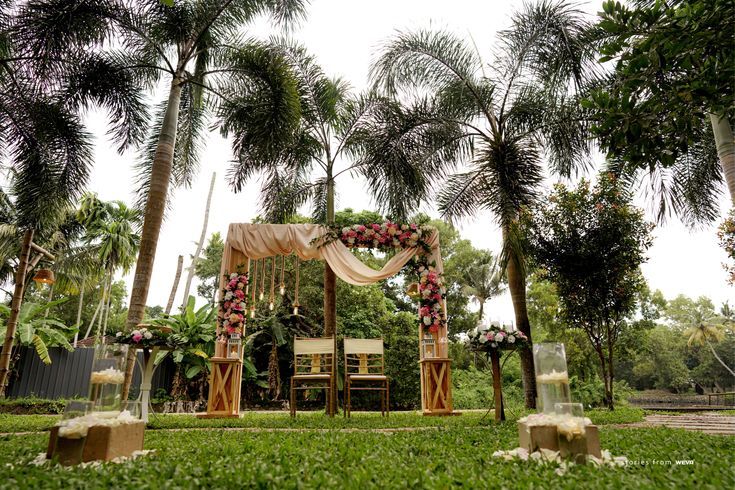 While discussing frames, we shall also look at the varieties of decor that can be
executed on it. The use of fabrics, hangings, flowers and glass beads are some of the
famous wedding stage decors of 2022. Added to that, lighting and fixtures can also
be connected for a refined look.
6) Luxe & Lush
Going vibrant has its town charm if curated with care and synchronization! In the
image, we see a lot of elements going on. From floral hangings to floor resting
vintage vases and tons of airy white fabrics, it's a real treat for the eyes to sit and
enjoy a perfectly coordinated and luxuriois oudoor wedding mandapa design.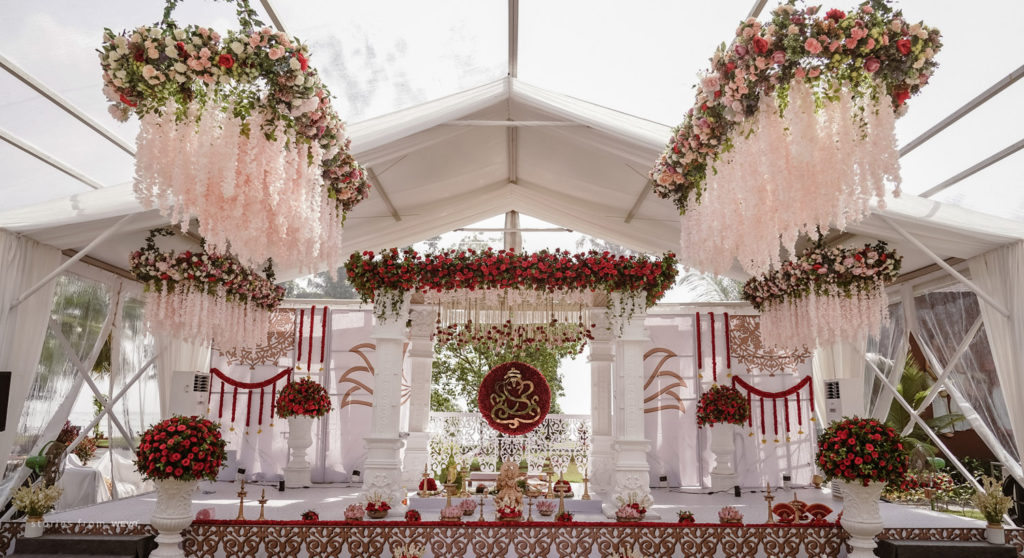 Primarily focused on just 2 colors, there is a lovely balance between all the materials
on stage. Though we are aiming at a luxe and lush style, the palette is kept clean and
the formation is symmetric. 2022 is dealing with a lot of peppy symmetrical wedding
stage decor ideas that are easier to design but challenging to execute!
7) Riverview Frames
Waterfront wedding stage designs may not need much accessorizing as the
waterfront always remains the star of the show. A thin wooden frame with a small
group of deep-green leafy elements is more than enough to create an elegant outlook.
We do not recommend any other supporting elements on the floor or as hangings as
they may disturb the beauty and balance of the venue.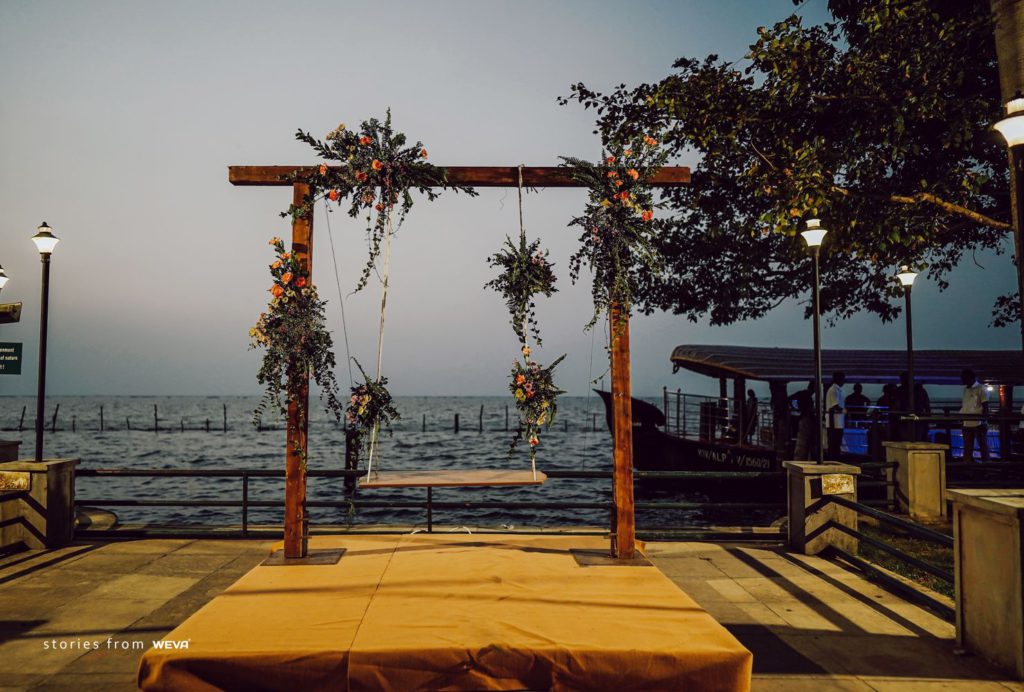 Keeping it simple and cool with the most comforting view is something golden as one
watches their loved ones getting married. And, lights shall be warm and dim to create
a soothing vibe.
8) The Classic Taste
Traditional Hindu wedding stage ideas have a strong lineage to earthy color tones.
The soft yellow monochromatic design we see here is bonded to the rich traditional
Hindu wedding cultures. The selection of flowers and the breezy stage fabric are
something else that is quite commendable.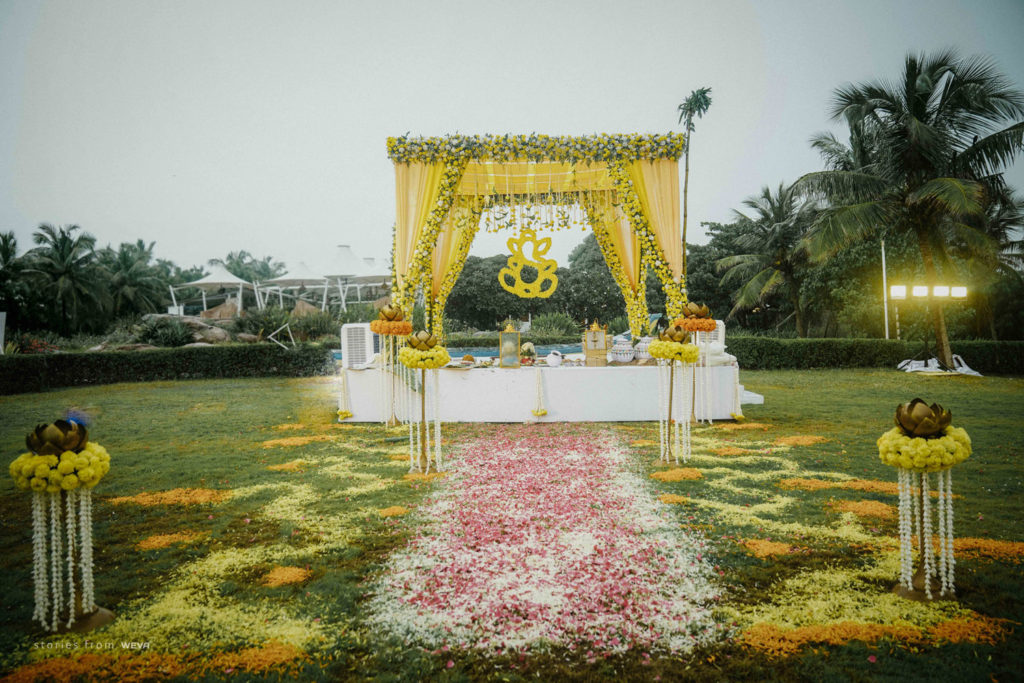 Recreating the best South Indian wedding stage ideas may require traditional decor
patterns and natural elements. In the image, a mini makeover has been attempted to
bring a unique touch to the traditional style. Explaining, the flower stands installed on
the ground and the flower bed on the ground for the couple to walk in feels quite
homely and comfy yet unique in its own style. The mandapa itself is simple and
minimal when it comes to installations and hangings.
We hope you had an amazing time flipping through our top 8 picks of best outdoor wedding stage
ideas. We have examined a wide variety of patterns and designs before concluding
with our top 8 choices. We are certain that our curation holds something for each and
every one of you.
Between the luxurious heavy models to simple wireframes, one can develop a handful
of ideas for their upcoming celebration. Our aim is to enlighten you with the trending
decor ideas and top wedding stage types of the present era for helping you plan and
execute your big day with perfection and a classic custom touch.