Are you obsessed with documenting your moments while you get yourself dolled up
for a big day!? Or would you like to get captured while prepping yourself for
embracing the most biggest milestones in life!? Or are you a bride-to-be or
groom-to-be who has a soft corner for beautiful getting ready images?
We have some amazing tips and suggestions for acing best getting ready pictures
wedding without a hint of tension. We are here to ease your anxiety and make the
process much more easier and enjoyable at the same time. Our pro tips and portrait
ideas will bless your vanity shoot session with a much entertaining experience while
bagging some top getting ready pictures. Without further ado, let's jump straight
into the top getting ready bridal photos of all time!
1) Fun with the Bridesmaid Squad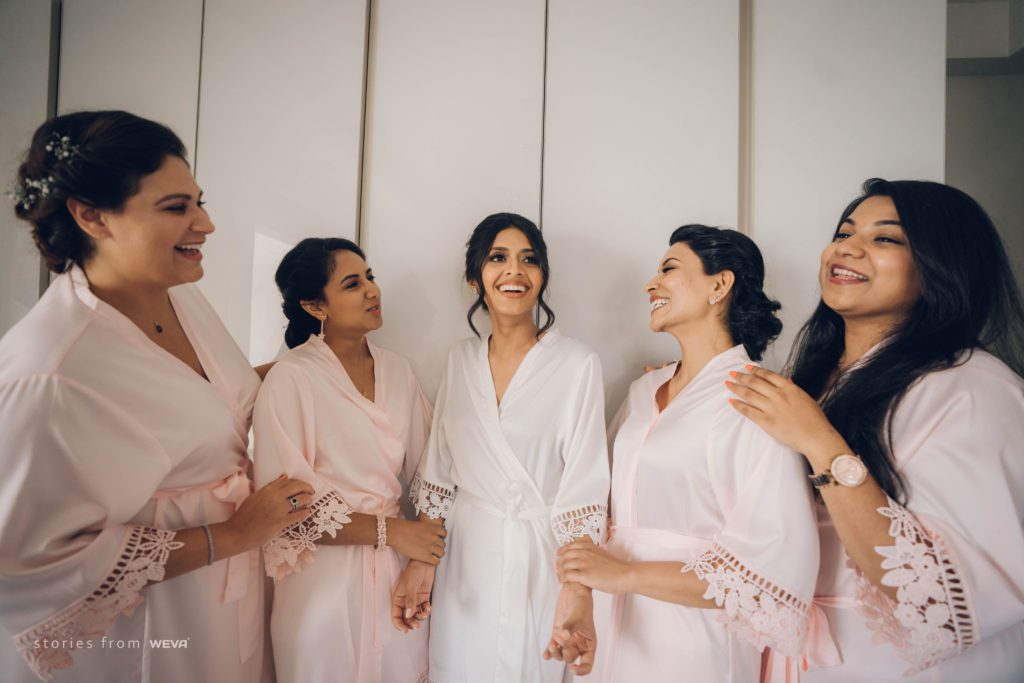 Posing with the bride squad is one of the most fun parts of clicking best wedding
getting ready pictures. Not only it makes the whole process much cherishable and
stress-free, but also boosts the confidence of the bride. Evidently, tons of gorgeous
group portraits can be clicked while both the bride and the bridesmaids get ready
together. Customized robe outfits are trending through the sassy group shots and best
bridesmaid pictures getting ready that we come across in the gram.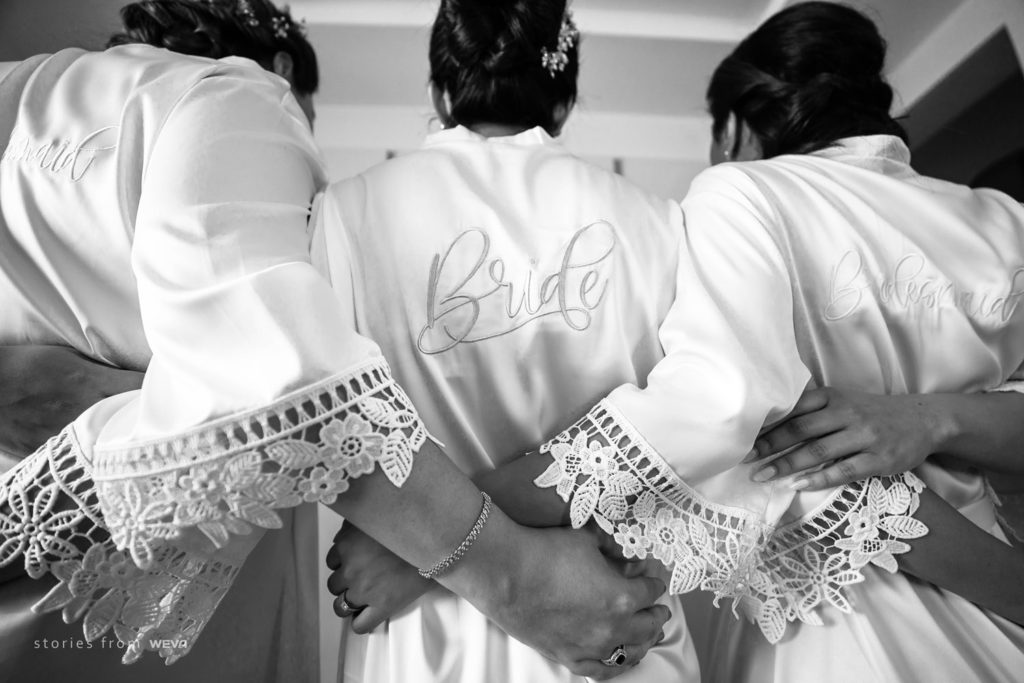 Semi candids and candids are perfect for these group shots to cherish for a lifetime.
The bridesmaids can gather around the bride and be in their element spending some quality
time while the photographers capture the best bridal make over images.
The bride and the squad shall prepare beforehand to have a relaxing and extended time
for the bridal makeover cum shoot session. So that, the brides best photographers
2020 get to capture some amazing portraits in rounds as the makeover progresses.
2) Posing with the Attire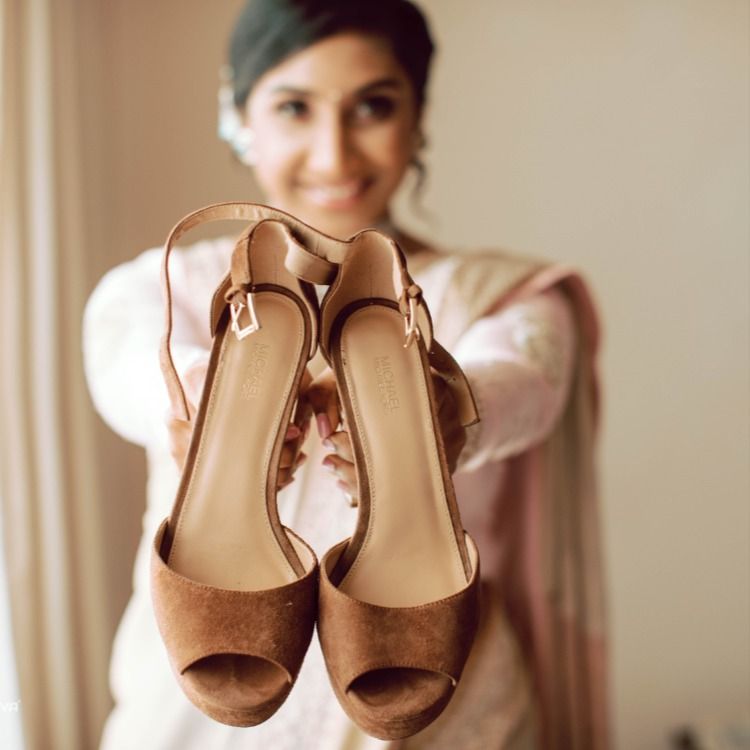 Compiling the best getting ready wedding photos never hit completion without a
bunch of super cool poses holding the elements of the outfit itself. The bride or groom
may hold the most comforting or smallest part of the outfit to pose for some awesome
portraits. If the outfit is uncomfortable to carry, consider other options such as the
wedding shoes or unique details of the wedding jewelry.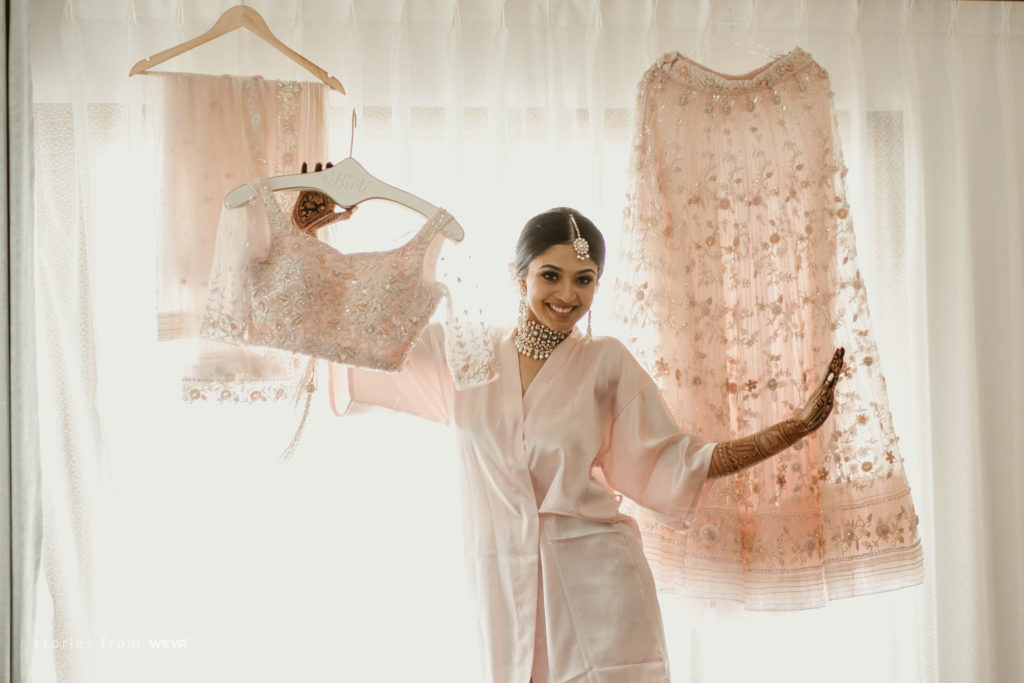 Clearly, standard poses like holding the outfit or any element of the outfit straight into
the camera can also be attempted. And, for adding a glint of fun to these portraits, the
bride shall try out some merry dance moves for channeling the ultimate diva vibe of
the day! Suitable backdrops must be chosen for achieving the right focus on the outfit
elements.
3) Semi-Candids for the Mandatory Poses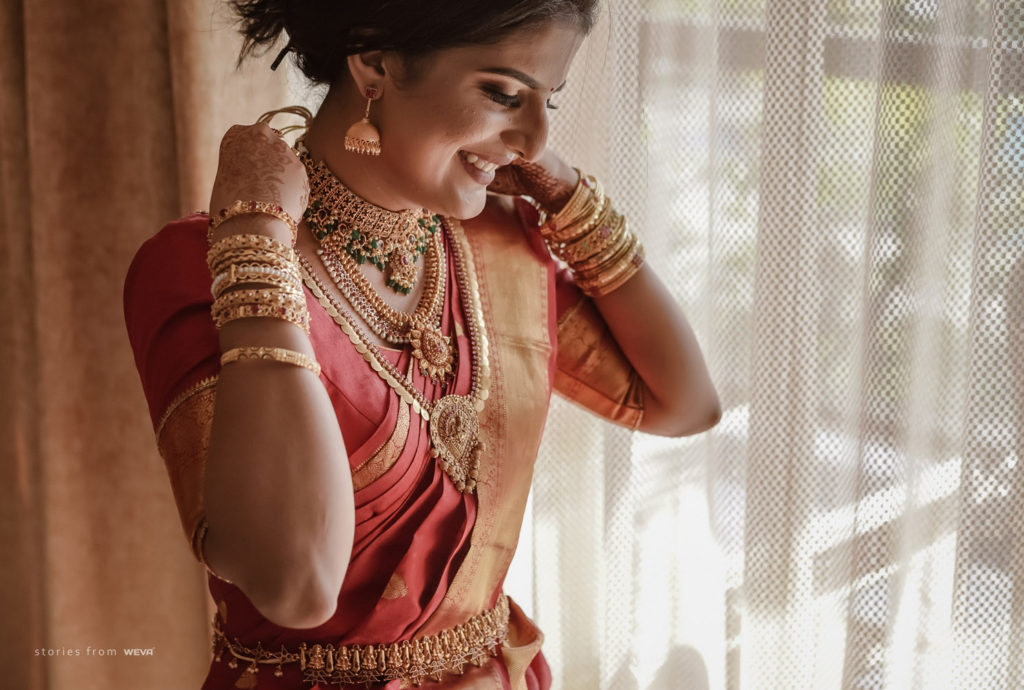 While candids showcase the most real and raw moments of bride's vanity time, semi
candids are very essential for grabbing some mandatory classic portraits. Also, for
brides and grooms who are not comfortable with recording or shooting their wedding
makeover as a whole, these poses will do magic!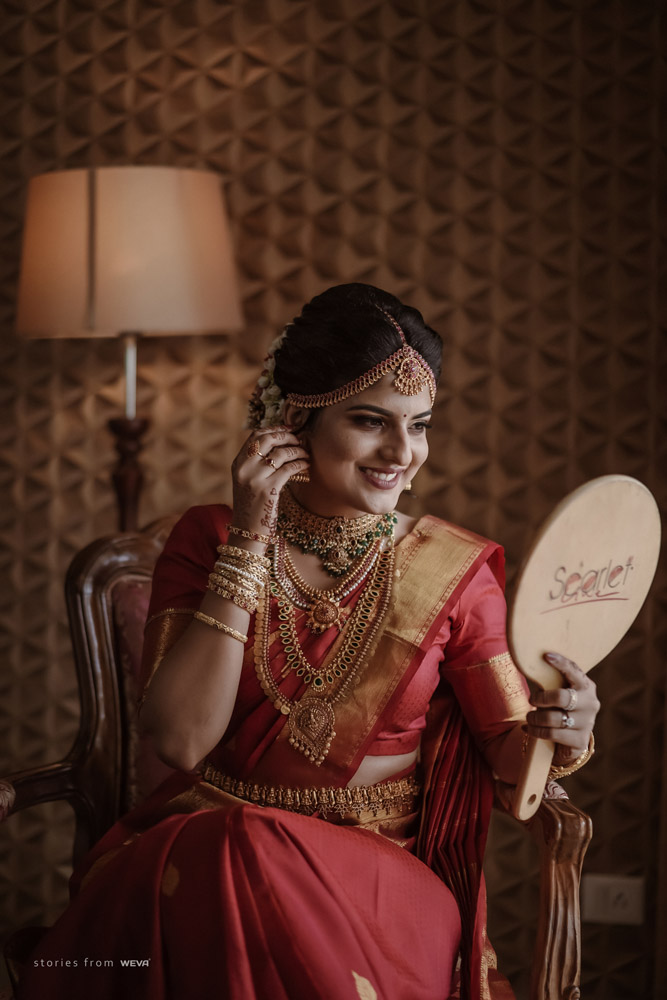 A couple of super-elegant and easily achievable poses can be explained to the bride or
groom so that the vanity moments can be recreated without the just the candids.
Unquestionably camera-shy brides love posing for these portraits as it documents
their bridal makeover journey in a pre-planned manner. Added to that, poses like
adjusting the Maang Tikka (an ornament) by holding a mirror or adjusting the jewels,
in general, are some other great choices for brides.
4) Current Mood – Jolly & Quirky!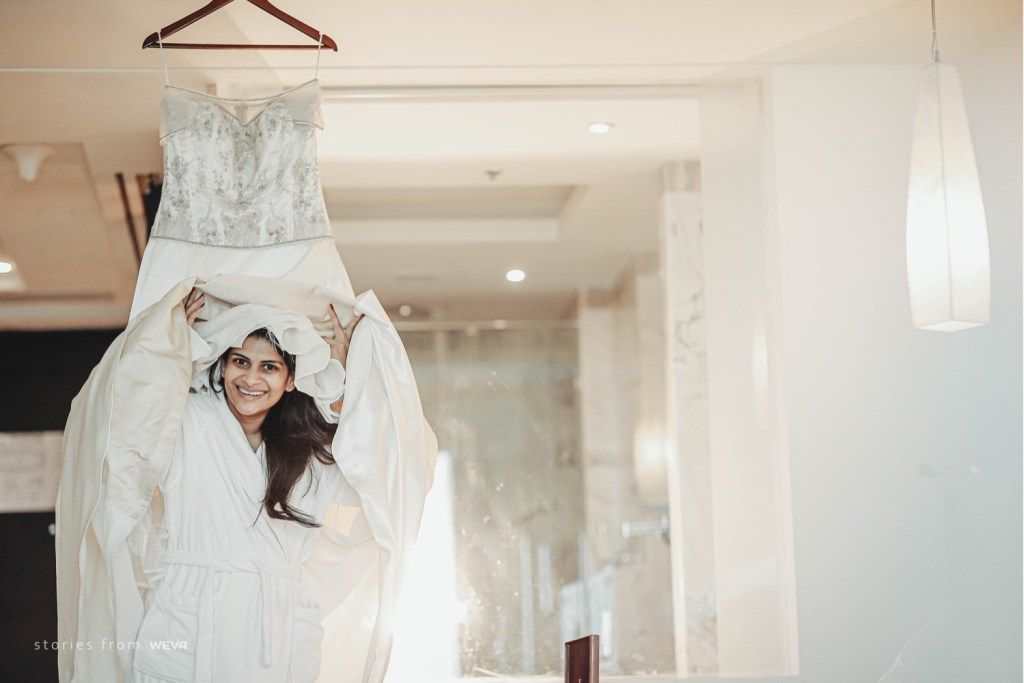 We just had a brief talk about posing with wedding outfits, but did we say the
portraits get even more special if added a teeny bit of jollity!? Jolly vanity shots are
nothing but a breath of fresh air! Being in your element or being your real self before
the camera can do wonders not only for the getting-ready portraits but also for any
type of photography session curated by best wedding photographers Kochi.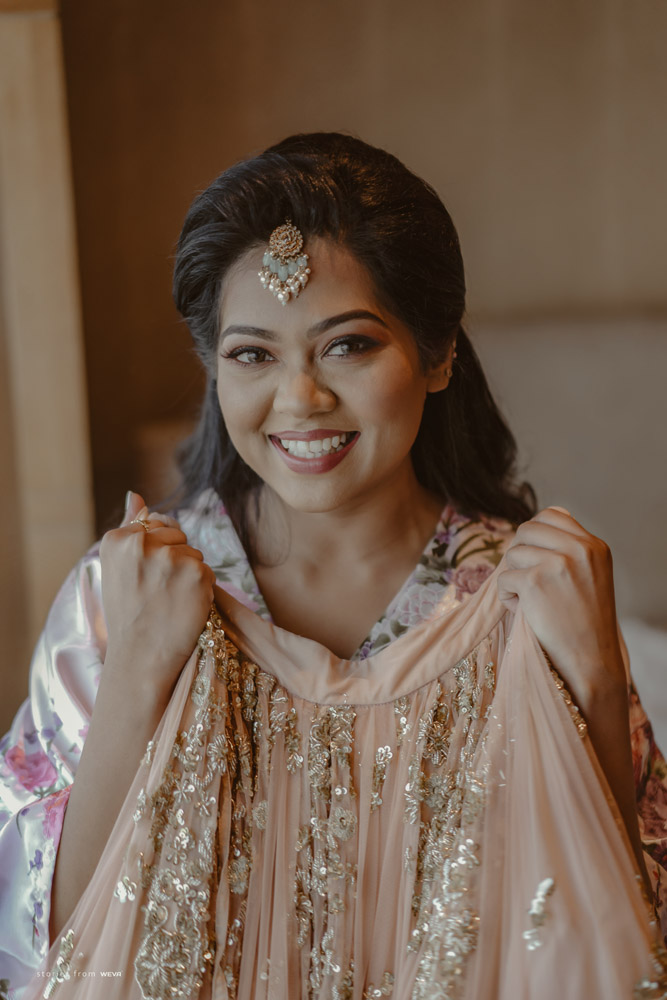 If you are a loud and cheerful person, be yourself and feel free to enjoy the zest and
zeal of the occasion without getting camera-shy. From playing with the outfit
mindfully to feeling chirpy and lightweight, being the real you shall deliver countless
portrait ideas for the professional who is capturing the best bridal makeover images.
5) Pure Candids at the Vanity
As we discussed, semi-candids are great for recreating the vanity shots after the bridal
makeover or grooms makeover is finished. But, if you like to document your
getting-ready moments through candids, it is going to be a completely magical and
inexplicably joyous experience, especially for brides top wedding photographers
2021. If the artists who are in charge of prepping the bride or groom express their
willingness for getting photographed, the photographers are given the luxury of
capturing the finest and best bridal makeup images and groom portraits. Evidently,
the bride or groom may simply relax and relish the process while the photographers
revolve around and click the most wondrous moments!
6) 'Wearing My Jewels'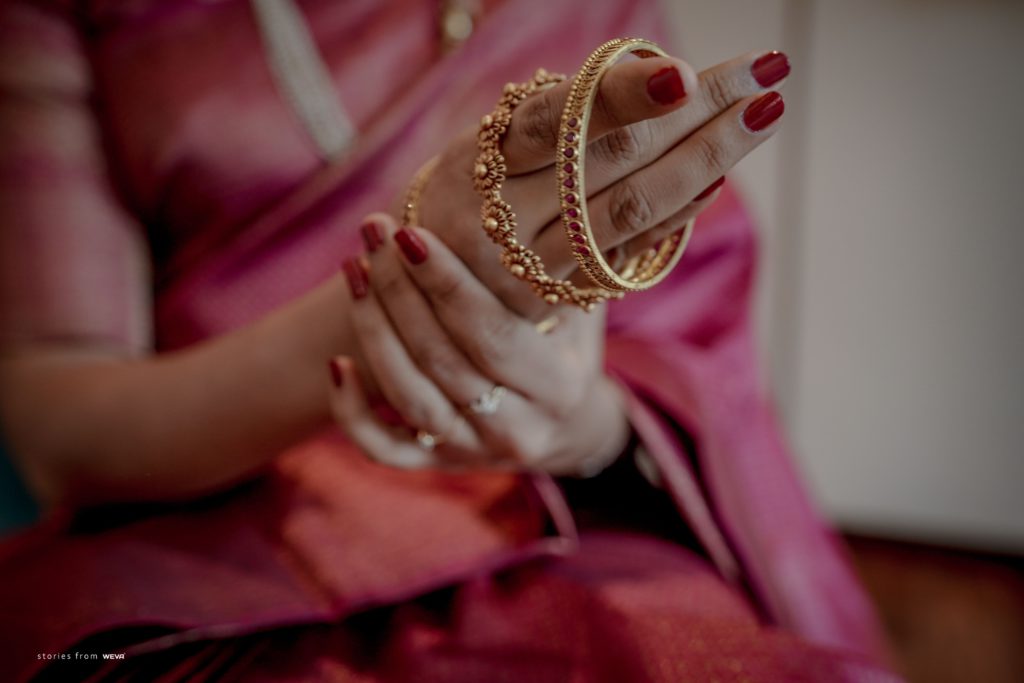 Tightening your Jhumka (traditional earrings) or stacking up your bangles for a
portrait might feel mundane and cliche. But, with the right framing and right angles, even the most mundane poses can turn out to be catchy and classy. To add more
natural and real feel to these portraits, the bride shall avoid straight pointy glances at
the camera. Instead, focus on the jewelry or choose to look away with a gentle smile
for some beautiful portraits.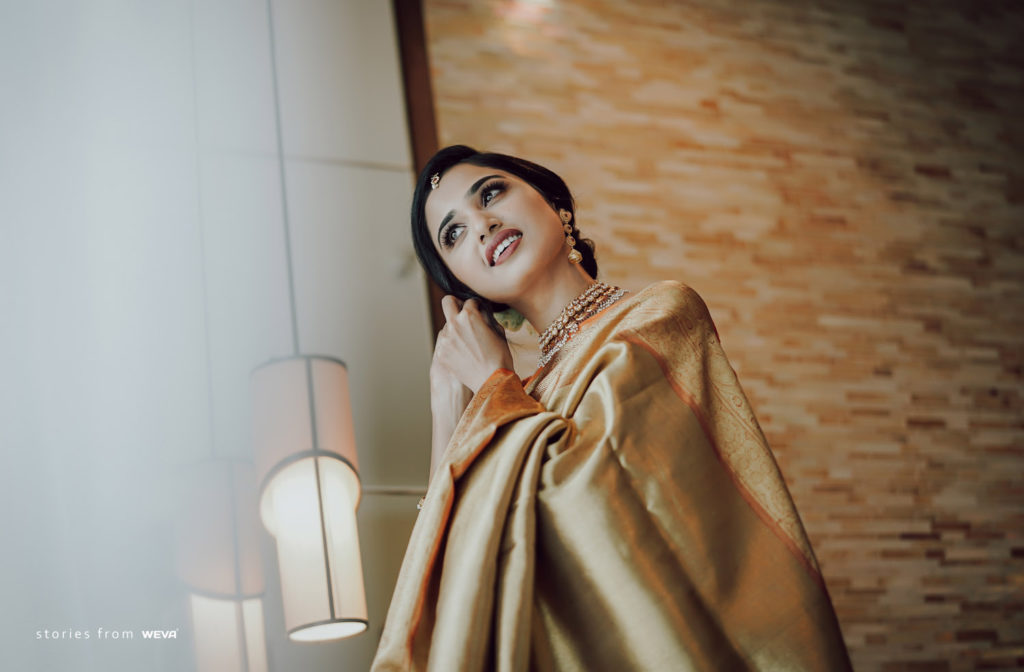 Evidently, the key is to stay engrossed in whichever activity or pose so that the
photographer can check out unexplored angles for kick-ass portraits! Low-angle
frames are often ignored while shooting vanity moments. But, most of us are unaware
of its potential in perfecting lovely poses like the one we have showcased here.
7) Portraits of Happiness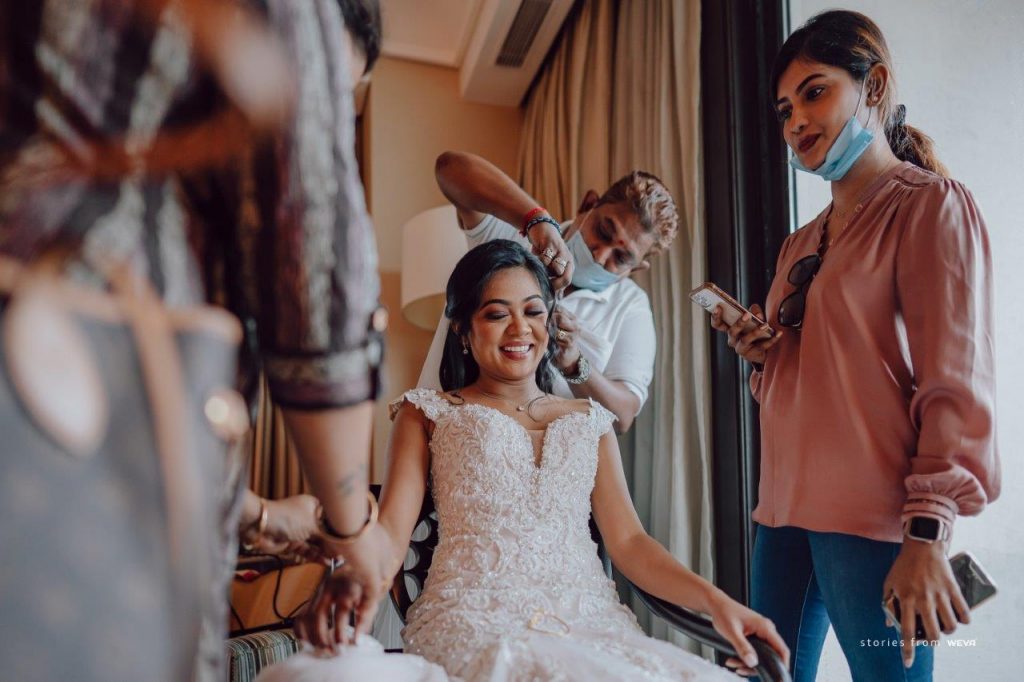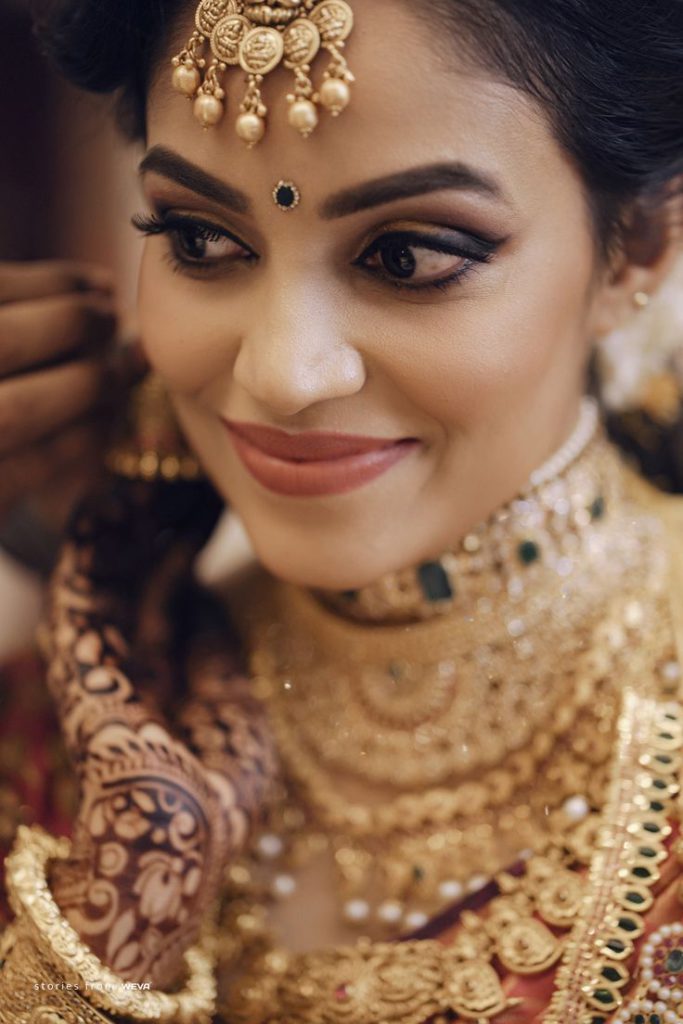 Getting ready is often the first and foremost step of one's big day. Be it a wedding or
an engagement or a private pre-wedding function, time at the vanity can also be
stressful as it triggers anxiety, reminding the big events in order. Hence, getting ready
for the day is clearly not just getting dolled up and camera-ready, but a mixture of
overwhelming emotions. One might cry or laugh to beat the cloudiness. And, the artists in charge often
function as an ironclad to keep the bride or groom happy and peaceful. Unquestionably, this can be an overwhelming process for the photographer as well. Shutters might click a million times for freezing those invaluable time capsules with
the best bridal makeup pics.
8) The Wedding Dress Portraits
We simply couldn't emphasize enough on the importance of portraits with wedding
outfits without sharing few more thoughts! A personal moment with the wedding dress is mandatory to be documented as it would rewind all your jovial days until you said 'yes to your dress'.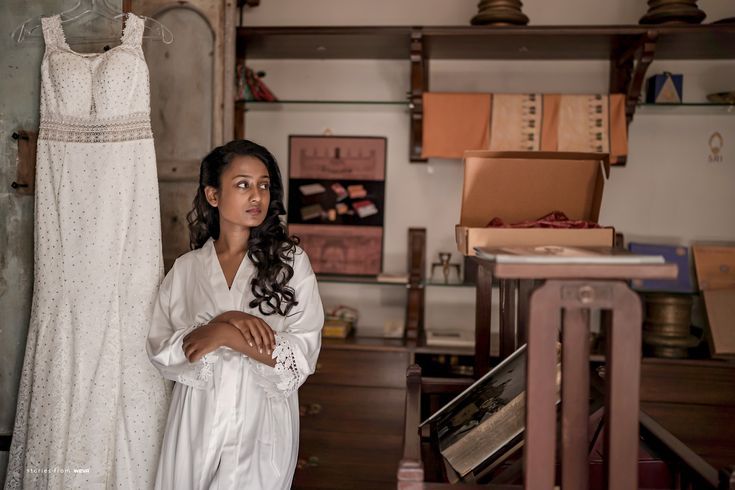 Clearly, it could stir so many memories with yourself, with your bridesmaids, with
your partner and with your dear family. Hence a standard straight shot with the dress
in full-frame holds so much importance in documenting vanity moments. The bride or
groom may strike a simple relaxing pose for nailing these shots that could include the
best bridal lehenga images.
9) Grooms Getting ready Portraits
Groom's getting-ready portraits are often given the least importance. Just like how we
pre-plan and execute bridal vanity shoots, the groom's vanity moments must also be
documented with equal enthusiasm. Unquestionably, its a big milestone for both the
bride and the groom.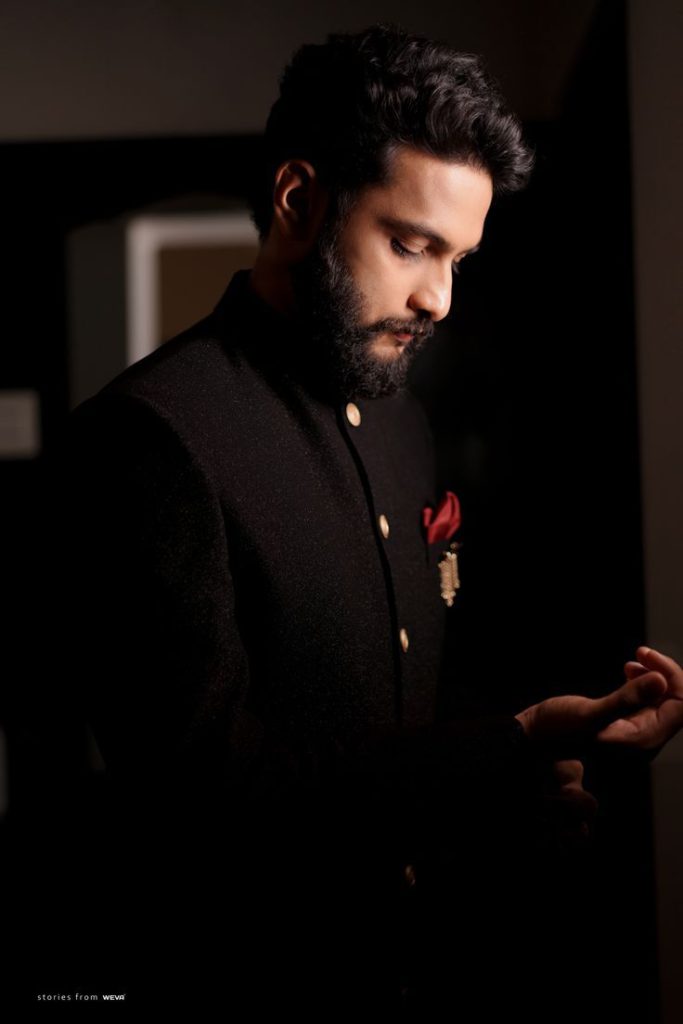 Oftentimes grooms disregard the importance of capturing their vanity moments as it is
less eventful and quick when compared with the brides. But, trust us! If you are a
groom-to-be, you should certainly consider yourself getting photographed while you
get yourself polished and ready for your big day.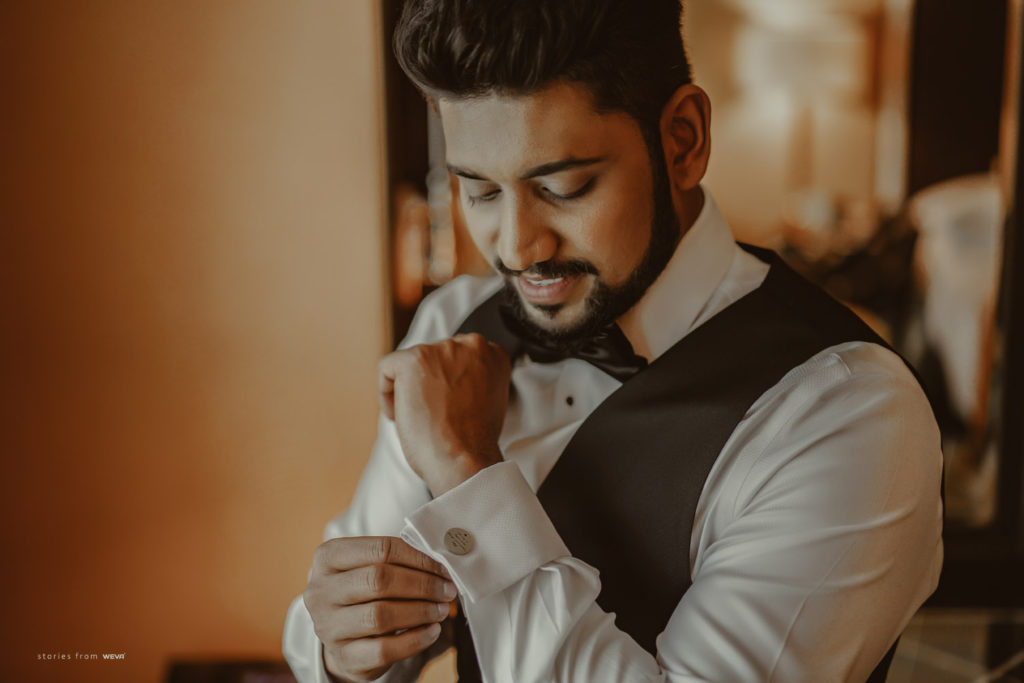 And you will realize its importance only when you skim through the photos much
later after the wedding. There is a handful of snatching options for best groom
getting ready photos. Evidently, adjusting the cufflinks and buttoning up the suit are
some of the most common poses of all time.
We hope that you had a great time analyzing the different aspects of getting ready
portraits. We suggest you to be planned and ready for your vanity shoot session to
avoid running late and rushing it to just a breeze time. Pre-planning plays an
important role in scheduling enough time for this portrait session. Evidently, we do
not want an intense stressful time at the vanity juggling and multitasking between
styling artists and photographers. We hope that you are feeling much more confident
and positive about posing for your getting-ready portraits with our portrait ideas and
pro tips!
See More Bridal Portraits