From ravishing colors to breathtaking quality, Sony cameras never fail to inspire us
with the brilliance in its built quality and in-camera features. Users of Sony always
come back for upgrades instead of switching back to other brands due to the best
customer care and user experience by this top-selling camera brand. Ever since Sony made its breakthrough in the camera world, the company made sure
to foresee the futuristic challenges that the industry was going to face. Since the
beginning of the camera race, Sony has grown from a seed level to a fully-flourished
brand by experimenting and perfecting each device they release over time. Clearly, each new device is designed with a glimpse of future developments that the brand is
about to face. And, Sony never fails to amaze its users with its latest new-gen
technologies. First mirrorless full-frame camera in the world, Alpha VII was released by Sony, 8
years ago. The company shook the industry by replacing the traditional SLR and
DSLR cameras with the innovative release of Alpha VII. With every new launch, the
company makes us feel thrilled and amazed with its genius ultra-modern
advancements in the new devices. Let's take a virtual walkthrough of the journey and
fame of Sony, one of the most popular camera brands in the world.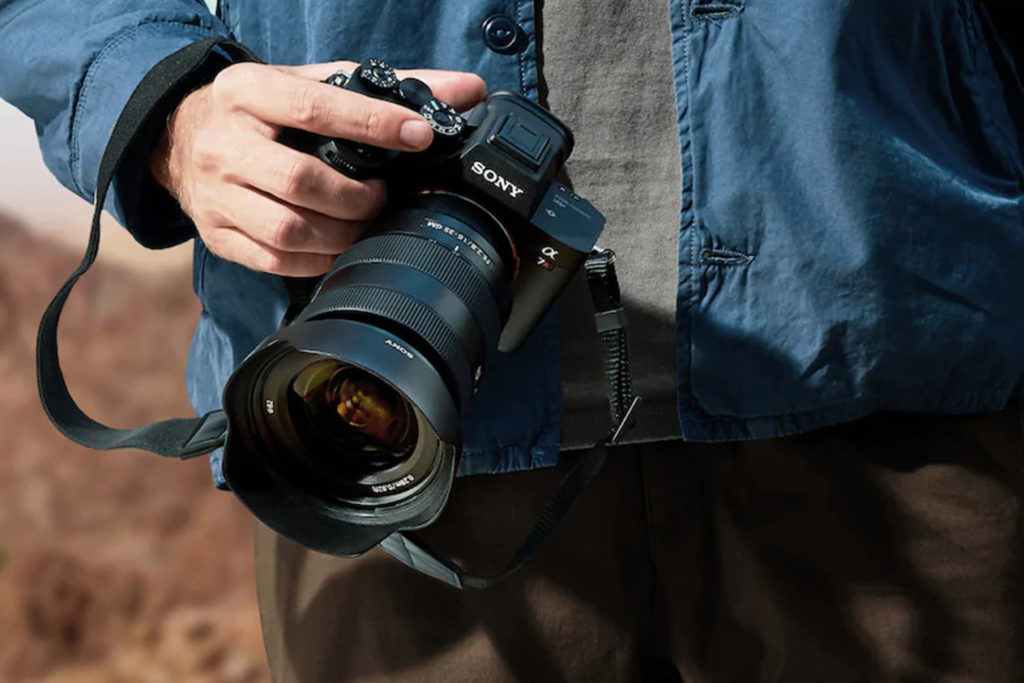 1) Reaching Stardom through Baby Steps
The Beginning
Let's begin with the initial years of Sony before becoming the no 1 camera brand in
the world. Dating back to 2006, the company released a model called Alpha
DSLR-A100 with Konica Minolta lenses. Konica Minolta is a Tokyo-based
multinational company that was quite popular during those years in the
uber-competitive camera race. Technologies such as anti-shake neat outputs helped
Sony achieve a decent place in the market.
The Alpha Models
Sony Alpha, as the name suggests is a camera series particularly focusing on the
professionals who look for the best camera experience. All the equipment in this
series is finely crafted with the best materials for fully-fledged fine camera
performance. Each new Alpha model is designed in such a way that the brand new
features introduced in the new model get added up to the old model as a plus.
Rise of Mirrorless Versions
Years after the trend of Cyber-shot versions released in 1996, the era of mirrorless
cameras began. With the rise of cameras having interchangeable lenses, the size and
weight of the devices started to affect the user-friendly factor. That's exactly when the
company released the best Sony mirrorless cameras of the time, the NEX models
which were surprisingly compact and with less noise.
With the absence of mirror mechanism, images captured by mirrorless cameras are
more stabilized and less shaky. Added to that, the sensors are compact as compared to
DSLRs. In 2013, the company released the Alpha VII series with stunning features
and body. As we already discussed, Sony Alpha VII is the first mirrorless camera with
single lens, in the world, that functions with full-frame sensors in 35 mm. Recent Alpha mirrorless models such as Alpha 7S III have outstanding image
stabilization and 4k video quality. This full-frame range is specially prepped for
professionals who desire for lightweight equipment experience with maximum
functional usability while shooting for long hours without breaks.
Achievements of 2019
Sony released Alpha 6400 which is mirrorless and has Real-time capabilities
(tracking). RX0 II is yet another release that is the most compact, lightweight and
smallest camera in the world with all the amazing features of the RX series. According to the Sony survey of June 2019, the SEL600F40GM is the most lightest
F4 lens in 600mm in its whole class. With regard to the same survey, Alpha 7R IV
has the first 61.0 MP full-frame CMOS sensor which is back-illuminated. Amazing
image quality and wide range of dynamics are some of the interesting qualities of the
camera, making Sony a popular camera brand in the world.

2) Promising Compact Editions
Unquestionably, Sony releases the best compact mirrorless cameras, especially for
professionals. Compact editions of Sony cameras are so much easier to store, carry
and hold. Supporting equipment of these cameras also are super-handy and easy to
work with. Sony mirrorless compact cameras are a perfect amalgam of super-comfy
overall size, inbuilt stabilization features and best fit for better and faster videography. Sony lenses in the G-master series are some of the best quality lenses available in the
consumer camera industry. Compact Sony Alpha cameras play an important role in
the wedding photography & videography industry as well. As these cameras are
developed with the best and latest technologies, professionals find it fuss-free and
uber-effective in documenting events such as weddings, without depending on several
uncomfortable supporting equipment.
3) Low-Light Performance
Wedding photographers face a number of obstacles and troubles especially with the
strength and mode of lighting available at the event venues. Hence, it is very
important to use cameras with promising image and video quality even in dark or
dimly-lit conditions. Sony Alpha professional cameras are built with smart image processors and large
image sensors for capturing the best quality images with minimum noise and good
amount of sharpness. We may not even require to use the flash for attaining this
marvelous output. A sensor that is full-frame is helpful to achieve good low-light
images. The type of lenses used and noise reduction which is in-camera also play
important roles in obtaining good quality images.
The large sensors in the best low light compact cameras provided by the Sony Alpha
series can absorb all the difficult details in images even in dimly lit conditions. Impressive! Isn't it!? With these features, a photographer can explore endless
possibilities even in challenging light.
Options for Good Low-Light Performance
Sony A7 III is one of the number one cameras currently available in the consumer
market for best low-light performances. It is a mirrorless camera which is quite
affordable for the awesome features it carries. Both video and image quality are up to
the mark in low light. Sony A7S II is a good Sony low-light camera released in the past few years. The
recently released upgraded version Sony A7S III is currently the best Sony camera
for videos. Excellent noise reduction even at compromised ISOs is an impressive
feature of this camera. Sony A9 shoots drool-worthy photo bursts with its best ISO
performance.

4) Image and Video Quality
Impressive in Every Spectrum
When it comes to image and video quality, Sony always wins the crown in each and
every spectrum. Capturing premium quality images in a compact form factor is yet
another attractive feature. The photos captured by professional Sony cameras are full
of life, with the best chromatic balance. Added to that, high-resolution image
capturing and sharp video quality are 2 other highly appreciable factors. Top Picks for Photography & Videography
Alpha 1, Alpha 9 II, Alpha 7R IV and Alpha 7 III are some of the best Sony cameras
in the Alpha series for professional photography. These models range from 1.7 lakh
to 5.6 lakhs of Indian Rupee. Alpha 1 is a full-frame camera with number-one features
which also includes 4k and 8k movie-making abilities. Alpha 9 II is capable of silent
shooting and continuous shooting. Alpha 7R IV is a full frame mirrorless camera with
amazing operational comfort. Alpha 7 III has a highly advanced and upgraded image
sensor for better image quality. Alpha I, Alpha 7S III and Alpha 7 III are some of the best Sony cameras for
videography. These models range from 1.7 lakh to 3.4 lakhs of Indian Rupee. Alpha I
offers 8k and 4k video capturing quality with an unprecedented range of dynamics
and super-resolution. Alpha 7 III is a full-frame camera that delivers an amazing dynamic range with 4k
video sand hybrid autofocus, well-suited for both images and videos. Alpha 7 II is the
first camera in the world with image stabilization on five axes. It has exceptional
capabilities for tracking subjects that are in fast motion. Also, vloggers in social
media are often found to be obsessed with the Sony interchangeable vlog camera
which is a superb pick for vlogging.Sony memory cards have the highest performance even in unsuitable, extreme
conditions. The cards are one hundred percent reliable and compact as well.

5) Customer Support
Sony service centers provide quality services in customer support. The Sony Family is
always all ears to each and every customer having product-related queries or damage
and repair concerns. Another interesting service provided by Sony centers includes
access to camera and supporting equipment for testing. This amazing service lets the customer test-shoot and check the camera before
purchasing it. In case of zero access to service centers, a customer can always call on
the toll-free number provided by Sony India for further assistance. There are also live
chat and email options available on the official website for customer support. We hope that you have enjoyed flipping through all the essential information about
Sony Cameras. It was our pleasure taking you through each and every detail because
we truly enjoy being the happiest and proud Sony Artisans. We feel that it is crucial to
understand and evaluate reputed companies like Sony in the consumer camera
industry to know about the latest technologies and trends introduced to the camera
race by them.
Our Equipment list:
Camera
Sony A7S2 : https://amzn.to/2NQcDwA
Lenses
Carl Zeiss Batis 85mm : https://amzn.to/2K2AWGq
Carl Zeiss Batis 18mm
Camera Bag : https://amzn.to/2XWCibq
Audio Recorder : https://amzn.to/2Kk2aZx