Are you starstruck by the variety of wedding gowns you saw while hunting for your
wedding outfit? Would you like to know about some timeless wedding gown designs
trending this year? We are so excited to reveal some of our picks to give you an
insight into the sea of trending gown designs in the fashion industry!
Here, we are going to introduce you to different types of gowns for weddings that
stole our hearts in a second. We hope that you get inspired by our curation to build
your own wedding gown. If you are feeling uninspired, this curation will entertain
you for sure! Let's jump straight into the latest wedding gowns 2020 trends!
1) A Lacey Ensemble with Illusion Neckline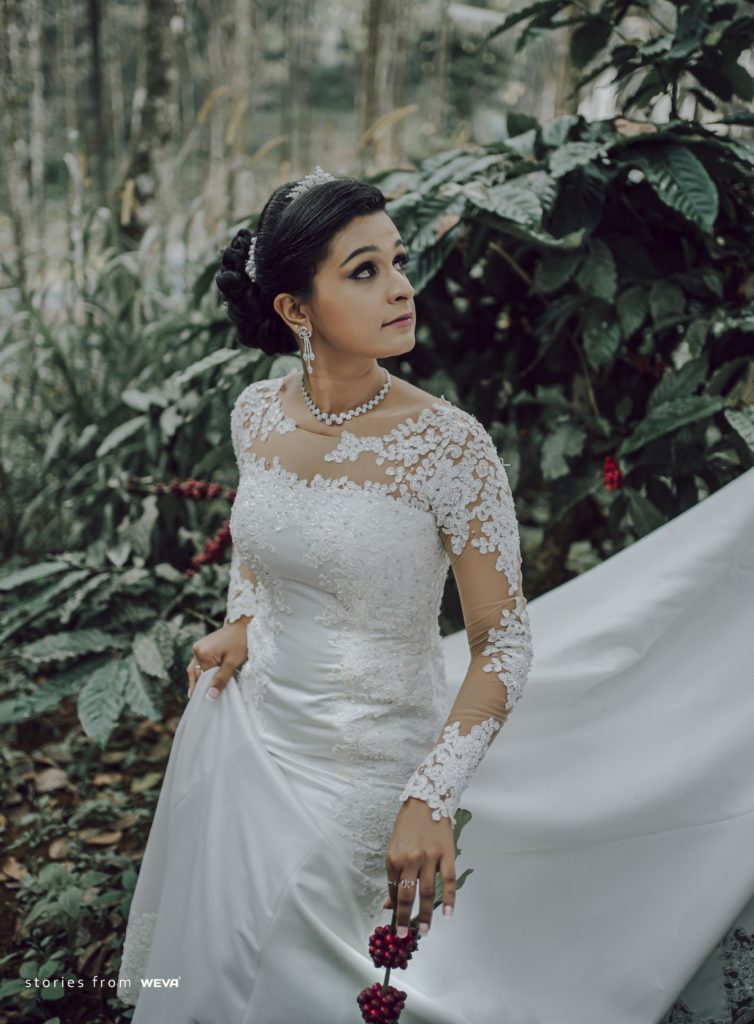 Satin Gowns are the best when they are designed with a cathedral or royal type of
train. Also, illusion necklines have been trending in the wedding gown industry ever
since it has made its very initial appearance. Clearly, illusion necklines give a vast
scope for portraying the necklines with interesting lace detailing. Also, it adds a
classic touch for achieving the best gown design for wedding.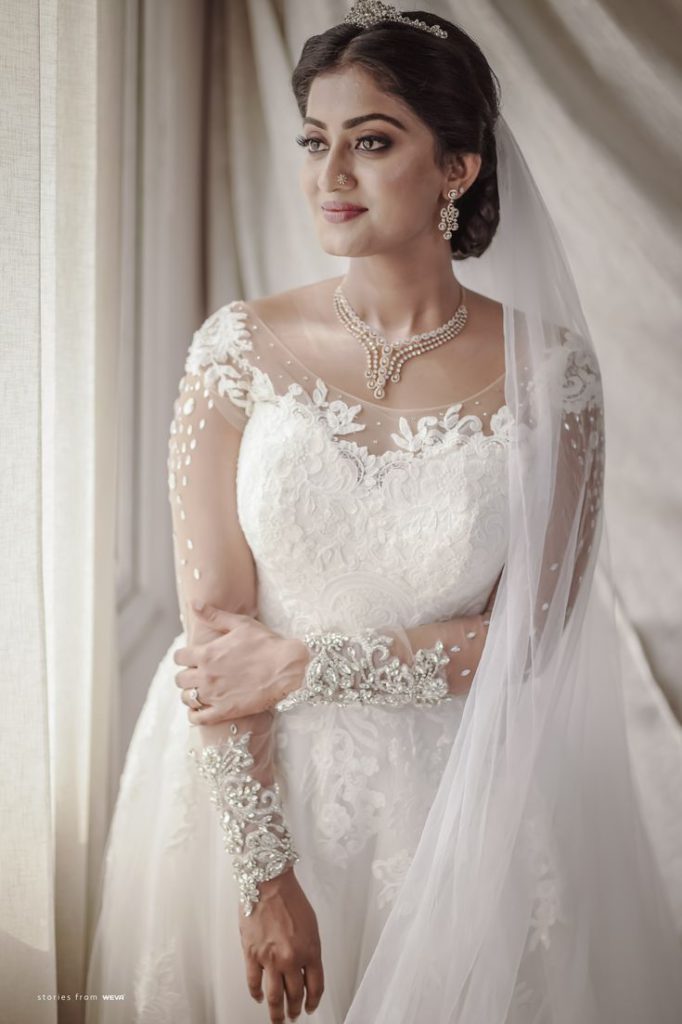 In the portrait, our bride is wearing a gorgeous pure white gown with a satiny sheen. The illusion neckline is extending to the sleeve where the same pattern is followed. Most importantly, this best satin bridal gown effortlessly slays without the addition
of any heavy jewelry piece or waistband but with just the lovely sleeve and neck
detailing along with the beautiful train. This particular type of neck-detailing allows us to experiment with the type of the
neck we are thinking about. One of our brides is wearing a gown with a straight
illusion neckline while the other bride is wearing a gown with a mermaid neckline. Irrespective of the gown type, illusion neckline has been widely used in a variety of
top Christain wedding dress designs from ball gowns to A-line gowns.
2) Colored Gowns or Striking a Unique Style
Opting for colored gowns instead of pure white gowns is an amazing way to strike a
statement. Pastels or muted colors like pale lavender or pale peachy shades are most
loved in the colored gown section. Our bride is wearing a highly embellished best
wedding ball gown and she is looking absolutely gorgeous!
Paired with a pastel bouquet and open hair, the gown is a real headturner with
amazing detailing. If decorated with the same shade of stone or lace detailing, you can
easily achieve a monochromatic look. Make sure to synchronize your veil, jewelry
and bouquet so that your look is even more put together.
3) The Mermaid Gowns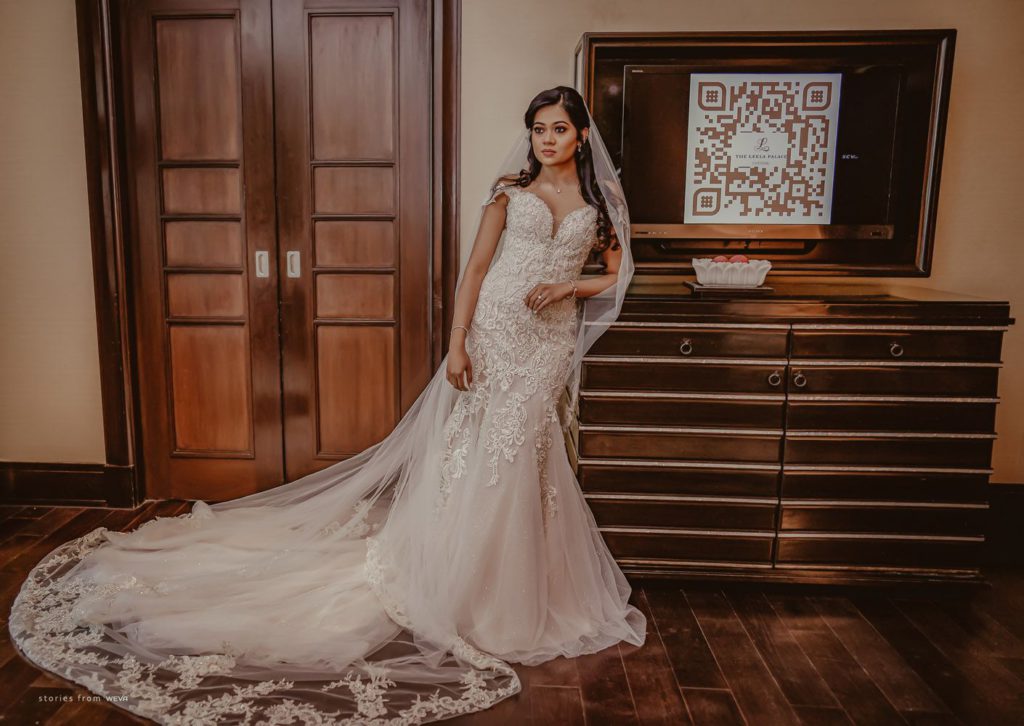 Mermaid gowns look ravishing while worn with minimal diamond or platinum
jewelry. This gown type has flares starting around the knee area. A train adds more
beauty to the form and style of this gown. These designs are mostly found strapless
with a prominent neckline like sweetheart neckline.
Beautiful mermaid wedding gowns are indeed timeless pieces that never go off the
trends even in the era of experimental wedding fashion. The train added to the
mermaid is called a fishtail, symbolizing the giant tail of a mermaid. Hence, mermaid
gowns are also called fishtail wedding dresses. The strapless mermaid wedding
gowns give more of a delicate and feminine feel.
4) Off-The-Shoulder Trumpet Gowns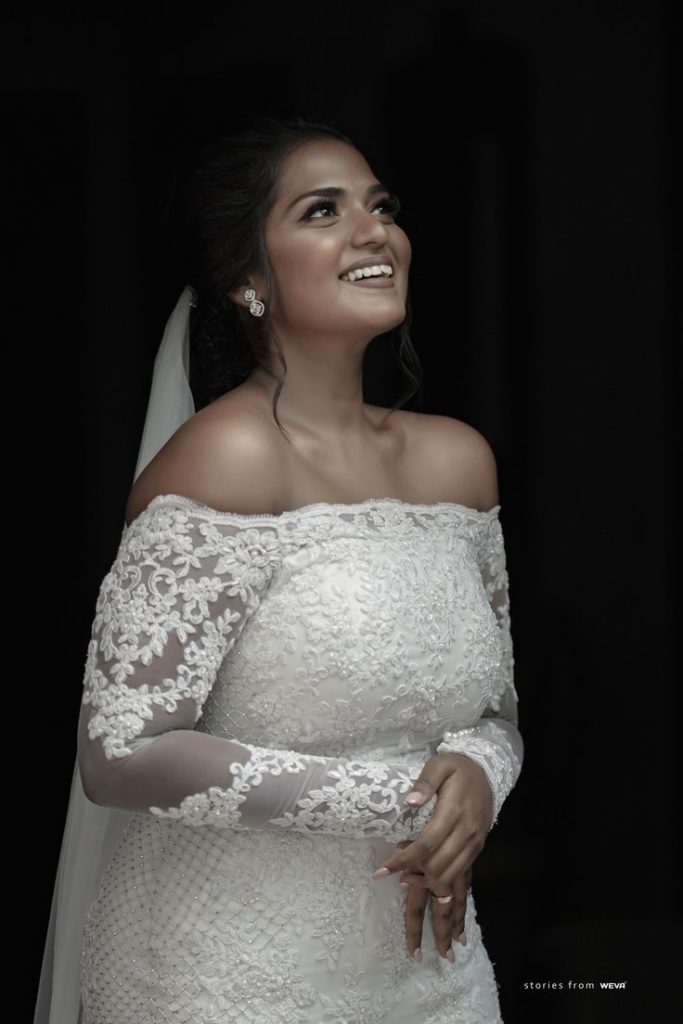 Beautiful trumpet off the shoulder bridal gowns have stolen the hearts of brides
who are highly inclined to contemporary wedding fashion. For those who are looking
for a fusion of modern age and vintage fashion, blending an off-the-shoulder neckline
with a trumpet-style gown will be a perfect. Our bride is rocking a lacey trumpet
style wedding gown with long sleeves. She has chosen to wear zero jewelry on her
neck which in turn enhanced the beauty of the gown even more!
Delicate diamond or platinum jewelry with minimum gold tones fits amazingly with
gowns having a statement neckline. Undoubtedly, trumpet gowns have a silhouette fit
with flares running from mid-thigh. Those who are hunting for a fitted design should
definitely check out trumpet types. Do not forget to experiment with the detailing on
the flares, neckline, sleeves etc.
5) Minimal A-Line Gowns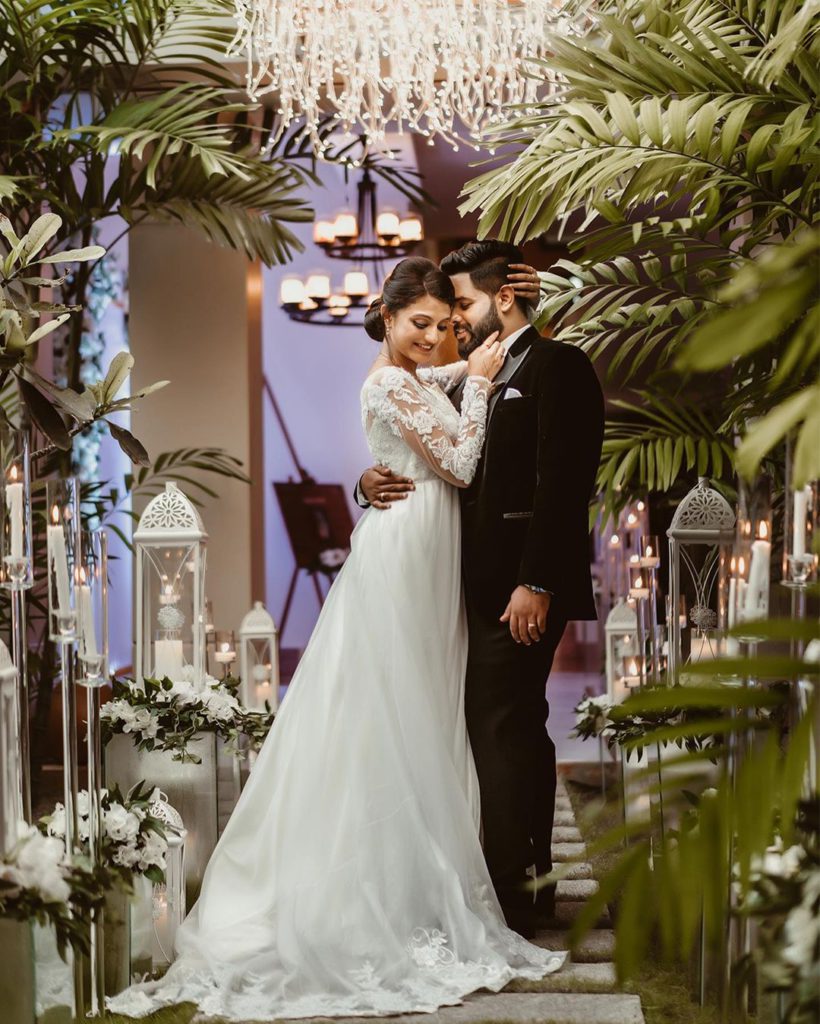 A-line gowns make you feel very structured and flawless by narrowing down the
waist and widening your hip. Basically, the design refines your body structure to a
much sharper and fine-tuned version. Minimalist A-line gowns involve very less
patchwork or detailing. Instead, it has a prominent neckline or a broad illusion
neckline. Evidently, full sleeve will look gorgeous on top A-line bridal dresses. The design
seems to excel without any added elements such as a veil or a train due to its specific
cuts and form. For those who wish to wear a simple yet classic gown outfit, A-line
designs can create wonders for you!
6) High Neck Gowns with an Illusion Neckline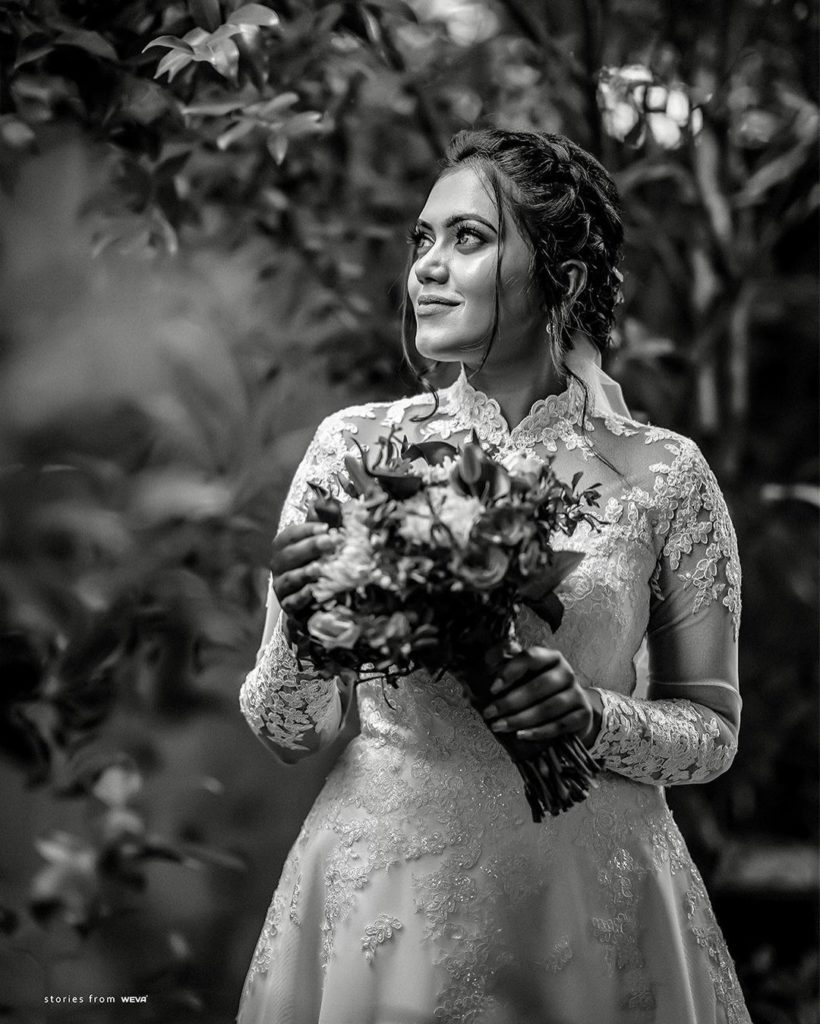 High neck lace dress wedding gowns with a braided hairdo give major cottagecore
vibes. Most importantly, this design kicks out jewelry from the entire attire with just a
couple of finger-rings and earrings. Rather than giving a feminine look, the high
collar wedding gown designs bring out a much bolder vibe. To add up the boldness, choose a statement bridal bouquet as well. A subtle long veil
if added will break down the bold vibe by adding a slight touch of grace which in turn
is perfect! Unquestionably, A-line, column and trumpet designs go hand in hand with
this type of yoke and details.
7) Fitted Off-the-Shoulder Ball Gowns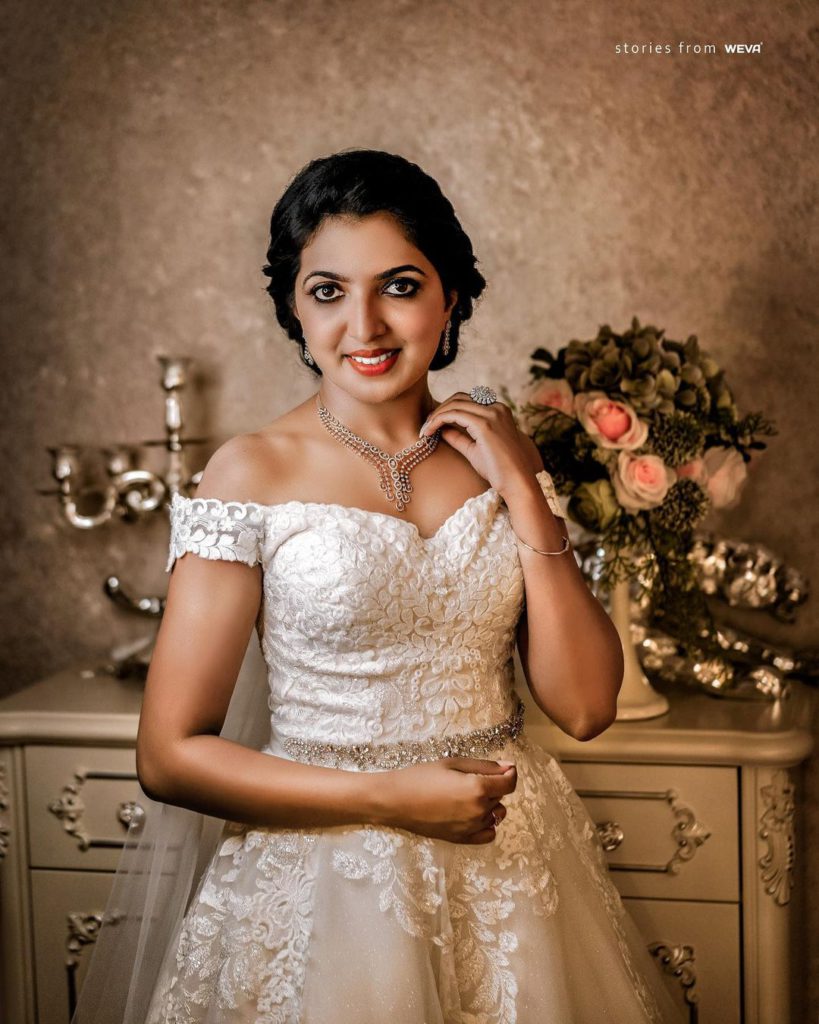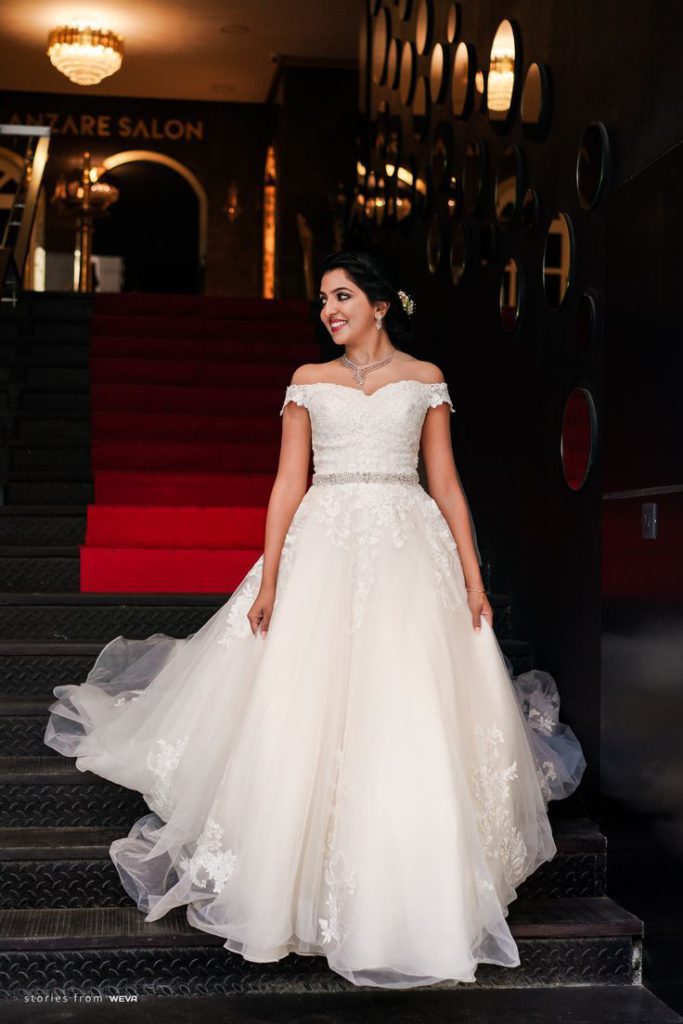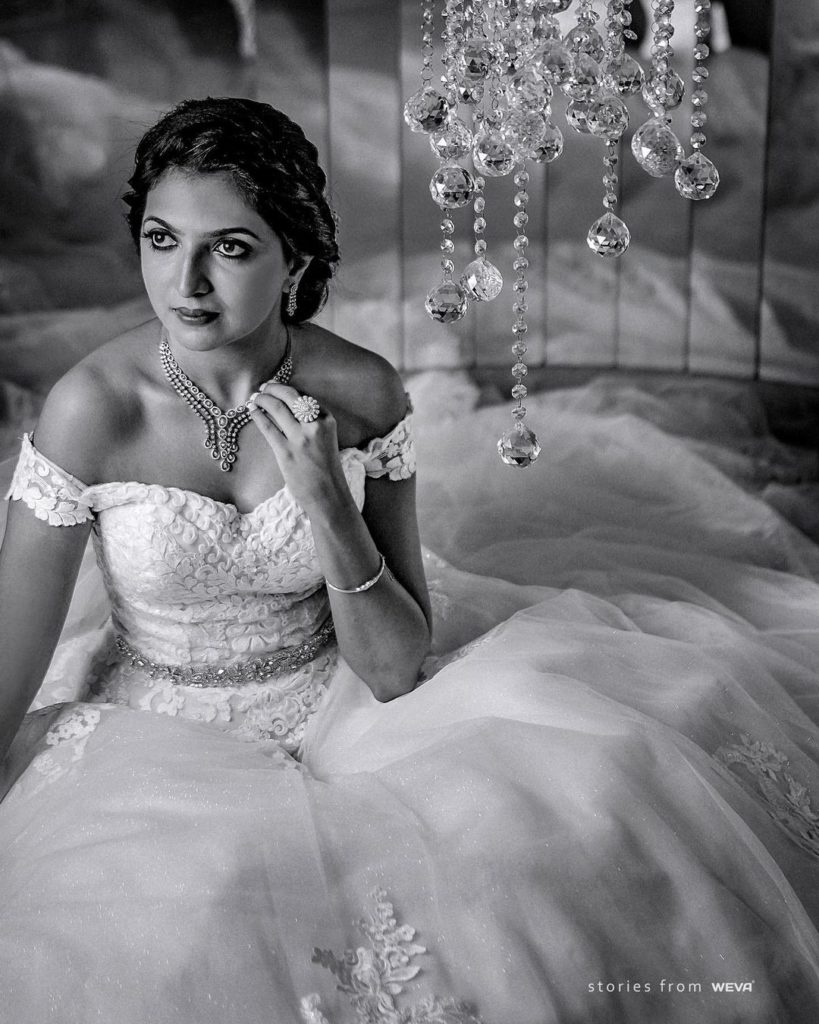 If you wish to dress like a fairy or a real princess, we suggest you to take trials for ball
gowns. Ball gowns can give you that much-desired feeling of celebration and
merriment. In these portraits, our bride is wearing one of the best ball gown wedding
dresses with off-the-shoulder sweetheart neck detailing. Evidently, the waistband on the gown levels up its complexity and adds much more
sophistication to the design. The delicate layering we see on the flares is carefully
mended together in an outer netty layer and an inner solid white fabric layer. Her
prettiest ball gown look is completed with a fab diamond neckpiece and barely any
other statement pieces. The gown itself has a strong persona to make the whole attire.
8) A Floral Dream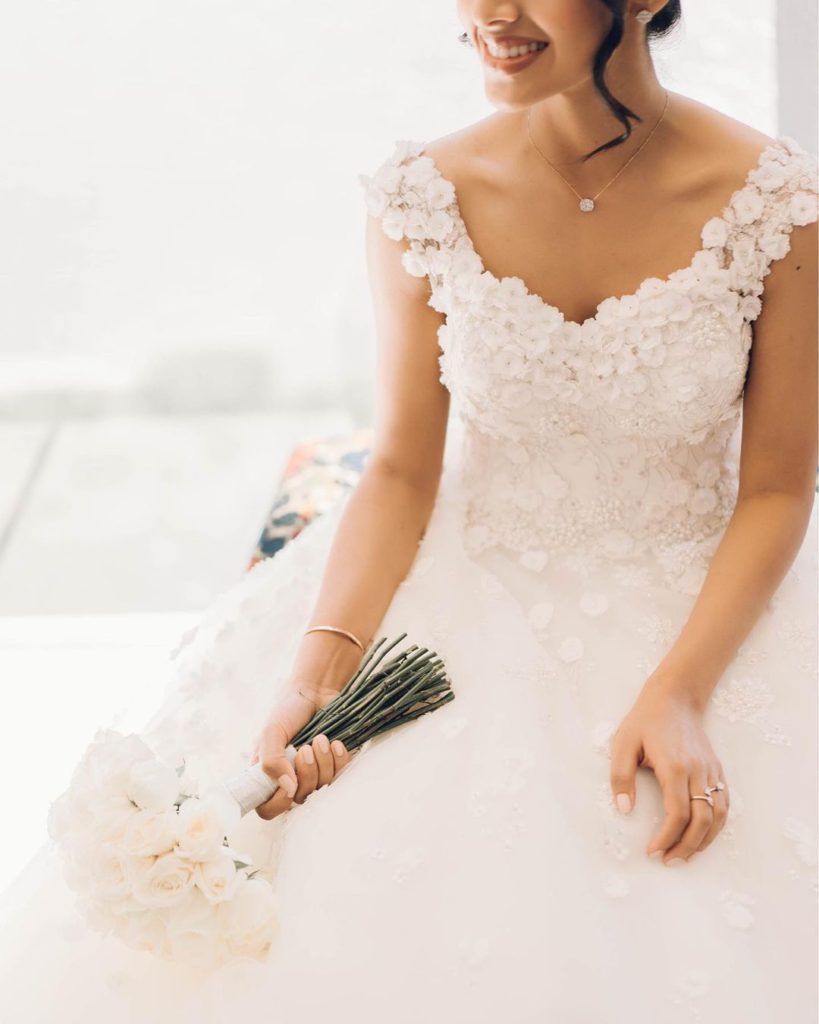 We come across a number of lace details in wedding gowns. But it's very interesting
to find brides wearing gowns with unique details like a floral lace detail running all
across the garment. Here we are going to talk about the minute details that we often
give no importance to while choosing our outfits. While hunting for lace details and stone details, try your best to pick the best and
amazing lace styles for wedding that truly defines your personality. As we take a
look at our bride's outfit showcased here, the gown itself feels unreal. It genuinely
feels like a floral dream. Similarly, if you wish to go loud, go gaga on your details and
accessories. It adds so much volume to your entire wedding attire.
9) Silhouetted Gowns with a Plunged Neckline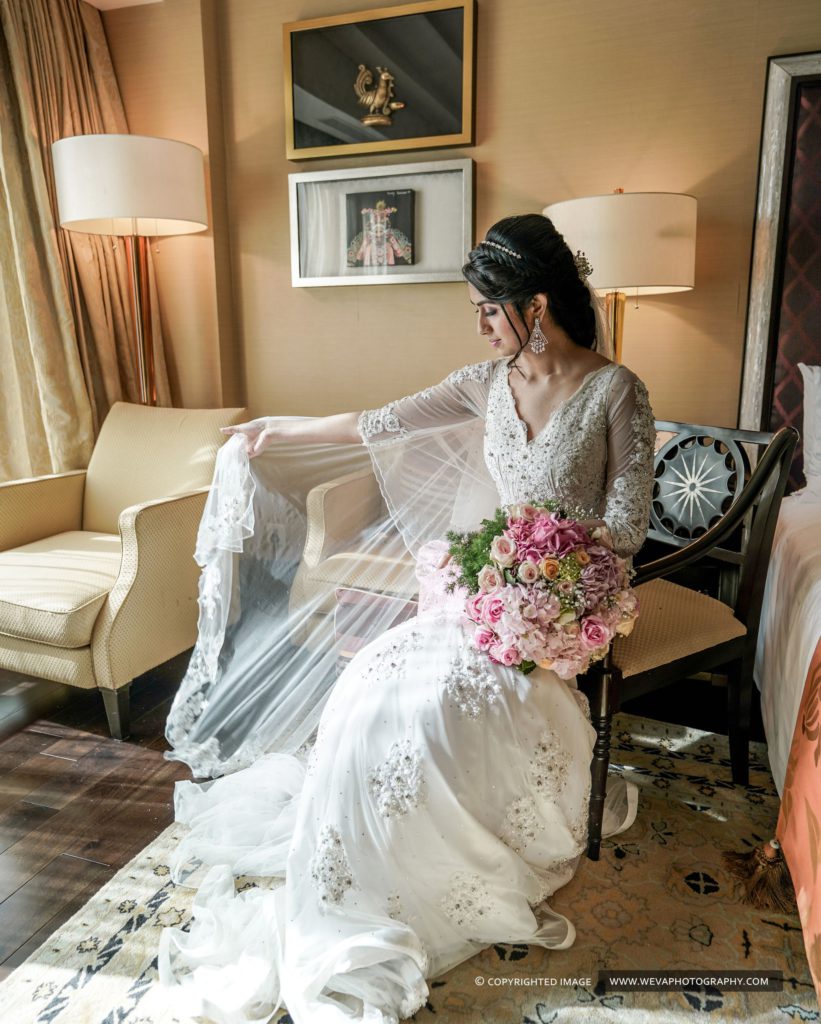 Plunged neckline wedding gowns with fitted design highly remind us of Hollywood
and royal weddings. A long train and veil feel like a compulsory part of this specific
design due to the classic inspirations it spirals out! Full sleeves and lace details along
with a gorgeous low bun hairstyle are commonly found in this type of wedding attire. Here our bride has chosen to experiment and formulate a design that reflects her taste
and personality. She has chosen an open hairstyle and half sleeves. Certainly, the form
of the gown remains fitted and silhouetted extracting a perfect structure well suited to
the mood of the attire.
10) A Ball Gown with Statement Details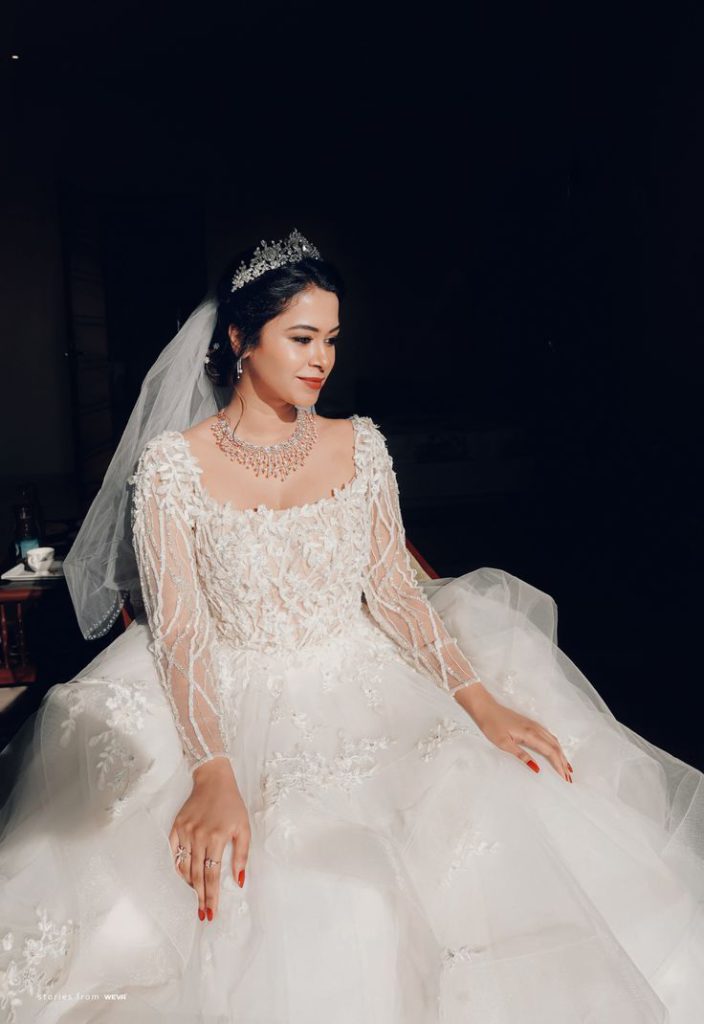 When we think of ball gowns, we feel that there is not much hope to adding a
statement detail to this timeless design. But, there are a handful of ways through
which we can accentuate a ball gown to a celebrated design. Adding statement sleeves
is a brilliant option. By statement sleeves, do not overdo the sleeves with heavy
details.
Because it may overkill the gown and collapse its balance. Instead, add a unique
pattern that is subtle enough to blend with the overall outfit. In the portrait shown here, our bride is wearing a statement sleeve wedding dress that has an amazing wave-like
pattern. Similarly, think of interesting elements to add to your ball gown that easily
merges with your gown. We hope that you had a great time over-viewing the designs we presented to you. These are some of the trending gown types of 2020-2021. Added to these designs, there are several other categories that you can immerse yourselves into. We suggest
you to always opt for a design that you feel thrilled and excited to wear on your
wedding day. Hence, it is very important to consult with your designer for a detailed
discussion about your dream outfit. We hope that you will have a great time molding
your wedding outfit.