Are you someone who is crazy about wedding flat lay photography? Have you ever explored
the spectrum of viral wedding flat lays 2022? Or would you like to take a look at the
unexplored sides of wedding photography? This time we have come up with a unique
curation consisting of a bunch of interesting wedding flat lays. Flat laying or product
photography is where we photograph different products or elements by coming up
with harmonious compositions. This special type of photography do not necessarily
involve human figures. Flatlay photography is an art that has to be learned and
explored with lots of practice and dedication. When it comes to top flat lay photography
weddings, flat laying gets more sassy and exciting! Grab some snacks while we take
you for a visual treat curated by the best wedding flat lay photographers Kochi!
1) The Shoe Game!
The wedding footwear flat lays are just smashing the 2022 wedding trends headlines.
As of 2022 wedding additions, photographing the wedding shoes after composing a quirky
flat lay composition is considered to be super pinteresty and trendy. Evidently, the
key element of these flat lays remains to be the wedding shoes. To add a finishing touch,
we add perfume bottles, tiny elements of the wedding outfit etc sometimes from our latest
wedding flat lay styling kit. For example, while curating the groom's flat lay edition,
we would love to add bow ties, pocket squares etc to the composition.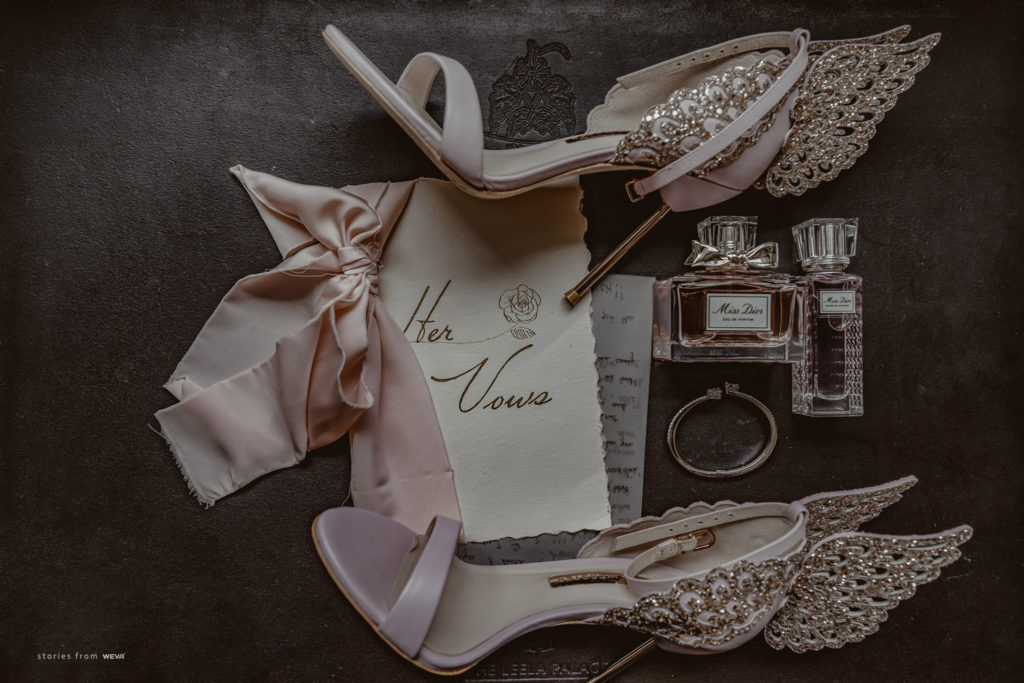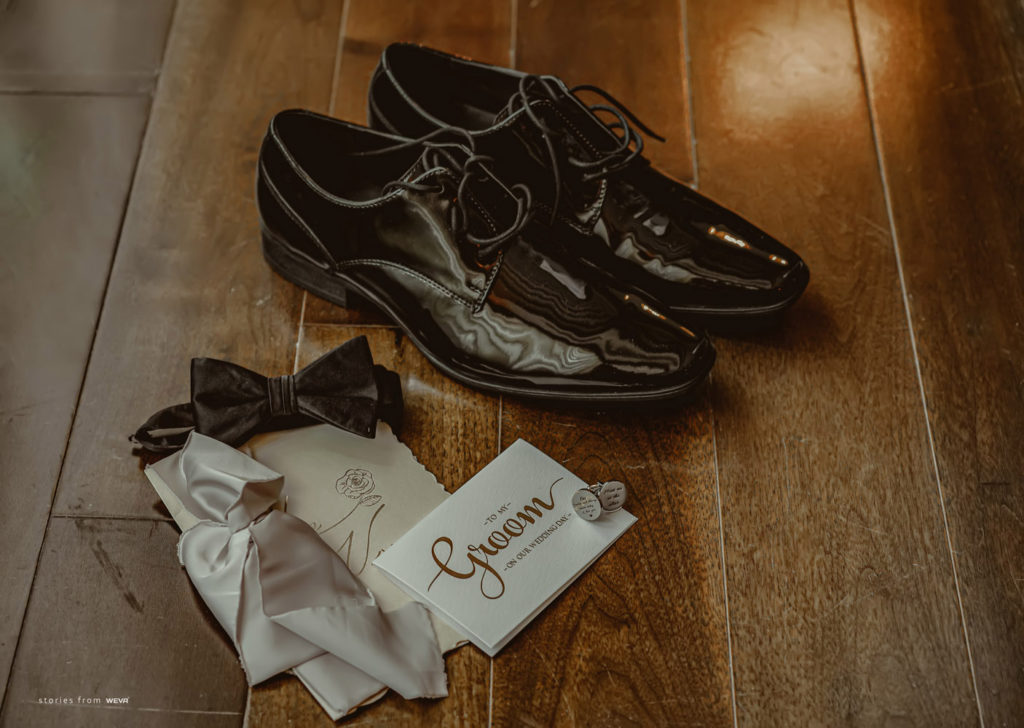 Likewise, for the bride's flat lay edition, we make sure to add little elements of bridal
jewels or her perfume for the day!. To point out, the base for these flat lays is decided
based on a number of factors such as the color of the shoes, the texture of the supporting
props etc. To clarify, we always make it a point to come up with interesting formations
every single time. Edgy, beautiful flat lay wedding photos are a good way to step up the
2022 wedding aesthetics!
2) Bridal Jewelry Edition
Classic Mughal jewels and contemporary diamond accessories are so much fun to work with.
Clearly, we take great care in finalizing an equally royal base for the jewelry flat lays.
Let's review the snapshots we have showcased here. The Mughal-inspired necklace-earring-set
in the first photo has been neatly placed on a lacey fabric base with absolutely no wrinkles.
To spice up the whole look, we have added a freshly plucked cute flower with its stem and
leaves.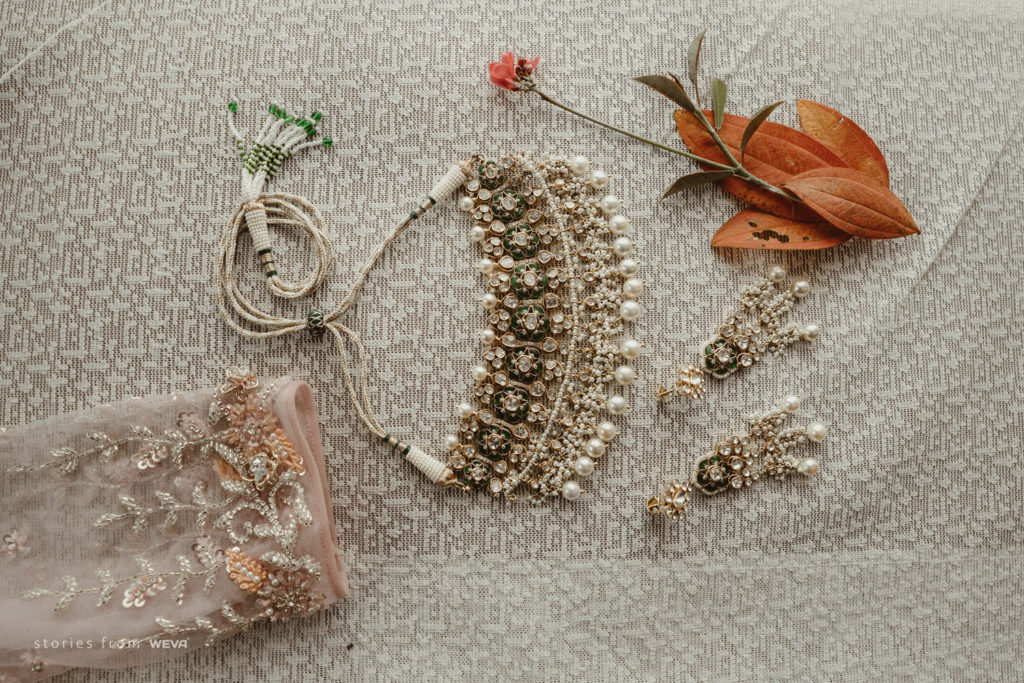 The autumnal leaves are added to pop the flatlay with a different color. As all the other
elements have white and muted pink undertones, we decided to break the monochrome palette
with the leaves and the flower. The next image is aligned in such a way that it conveys a
sharp, clean look. Placed on a wooden platter, the jewels have fooled us into an illusion
of yummy snacks laid on a shiny wooden platter.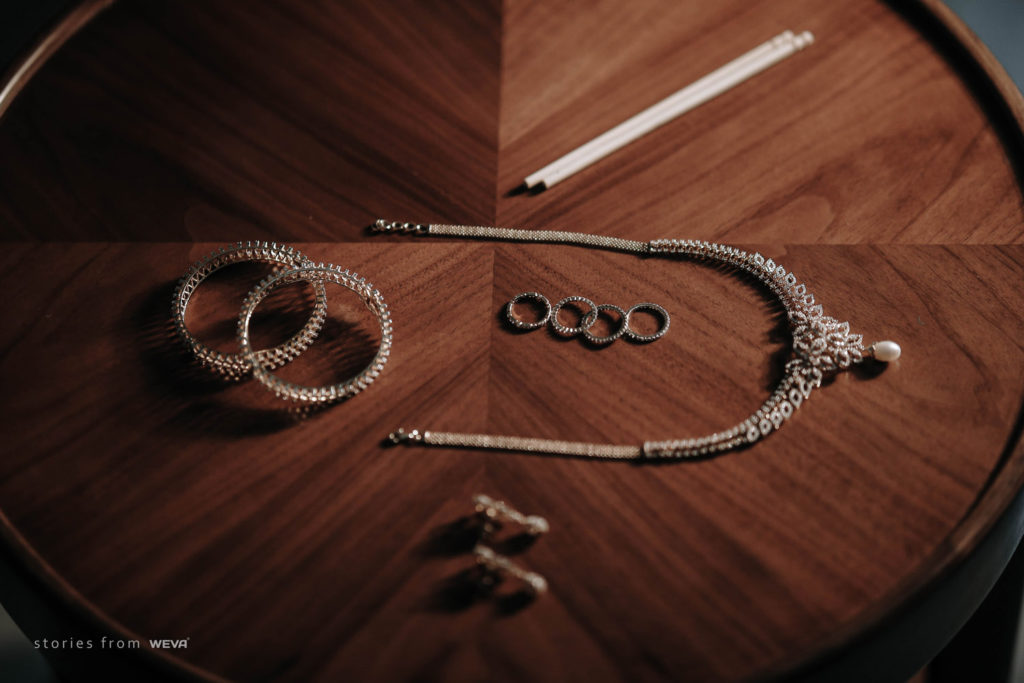 3) The Universal Prop in Wedding Flatlays
For ages, photographing 'the watch for the day' has been a special part of documenting the
groom's and bride's outfits. Much before the evolution of wedding flat lays, 'the watch for
the day' always managed to steal the show. While featuring the outfit details of the couple,
the watch shots appeared to be a mandatory part. Many a time, no other props were considered
while clicking getting-ready-images. With the recent evolution of wedding flat lays, it has
become a trend to shoot the groom's as well as the bride's outfit flat lays.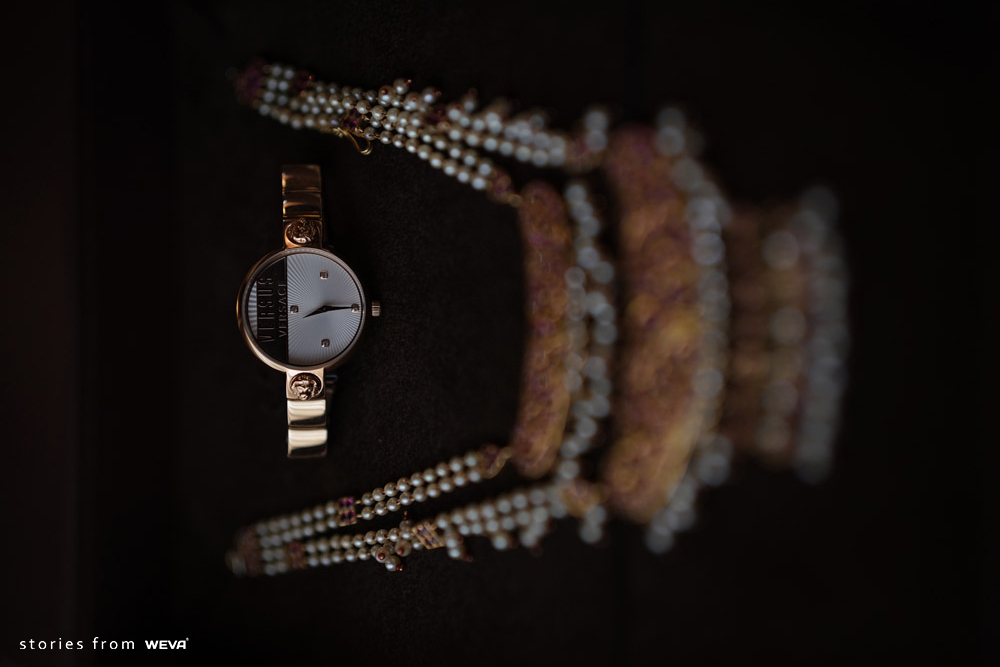 To experiment with the watch shots, we often play with the lighting and intentional blurring
techniques that we love. When it comes to the bride's edition, little details of the bridal
jewelry such as earrings and finger rings come in handy. But when it comes to the groom, it
gets more refined and selective with just the engagement ring or a cufflink.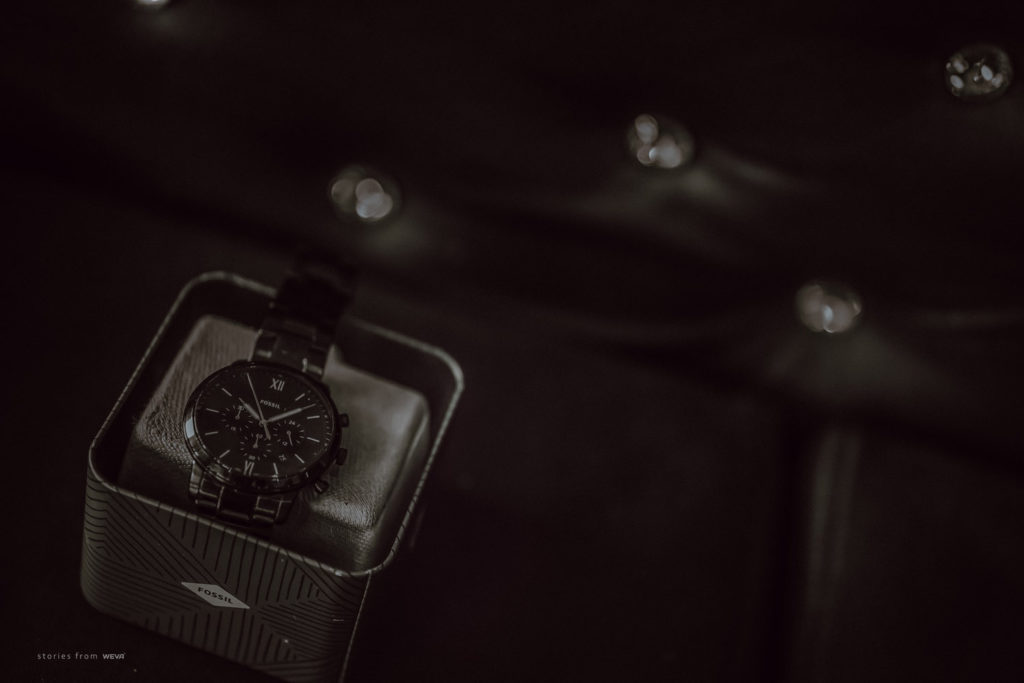 4) The Wedding Outfit Edition
When it comes to documenting the wedding outfits, we always tend to lean more towards hanging
the outfits. By doing so, we get to capture a detailed, full view of the outfit. But, we never
disregard the flat lay photography during wedding outfit documentation. Oftentimes we focus on
capturing an interesting part of the outfit with the art of flat laying. Being said that, we
would also like to click cutting-edge top shots of the neatly folded outfit with a bunch of
other supporting props.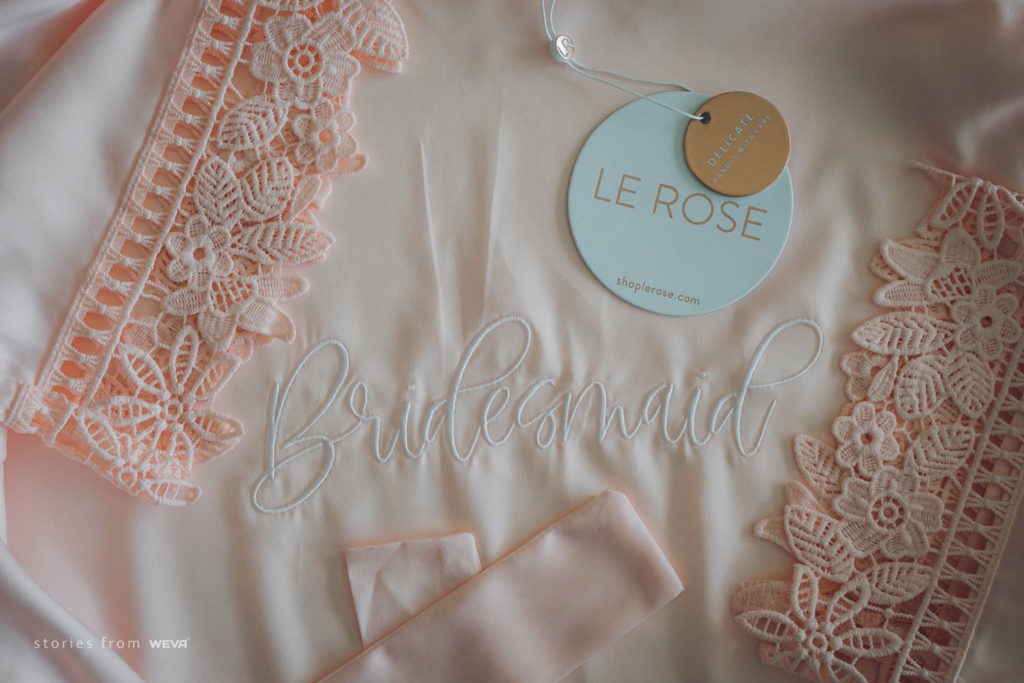 As showcased here, we have just focused on getting a detailed view of the embroidered lettering
on the bridesmaids lounge outfits. Likewise, we always try to find such cool elements to
concentrate on while shooting the famous bridal flat lay images.
5) The Engagement Rings
Flat lays featuring engagement rings are a mandatory part of any wedding documentation.
A pleasant view of the rings placed together will churn heartwarming memories while
flipping through the final images much later. Hence, we give extreme importance while
composing the engagement ring flat lays. Being small subjects, the rings have to be
crowned with utmost importance while gathering the other props.
For highlighting the rings, we place the objects in a gorgeous light setting and on an
appropriate base. Smaller props such as little flowers and ribbons can be utilized to
mold an elegant setting. Textured fabrics or sturdy trays can be used as the base. At
times, the rings come in personalized boxes with engravings and designs. In that case,
the tray shall also be placed in the frame to make the flat lay more unique.
6) Creative Invite Card Shots
Just like engagement rings, we give prime importance to top flat lay invitation designs as
well in wedding flat lays. To point out, we always request the invitation cards of both the
bride and groom's side for planning some trending invitation flat lay clicks. It is super
exciting to merge both of these cards to form a wholesome composition. From angled shots
and close-ups to wide-angle top shots, there are countless ways to aesthetically present
these flat lays. Evidently, the invitation flat lays acquire so much more definition if we
also add the engagement rings to it.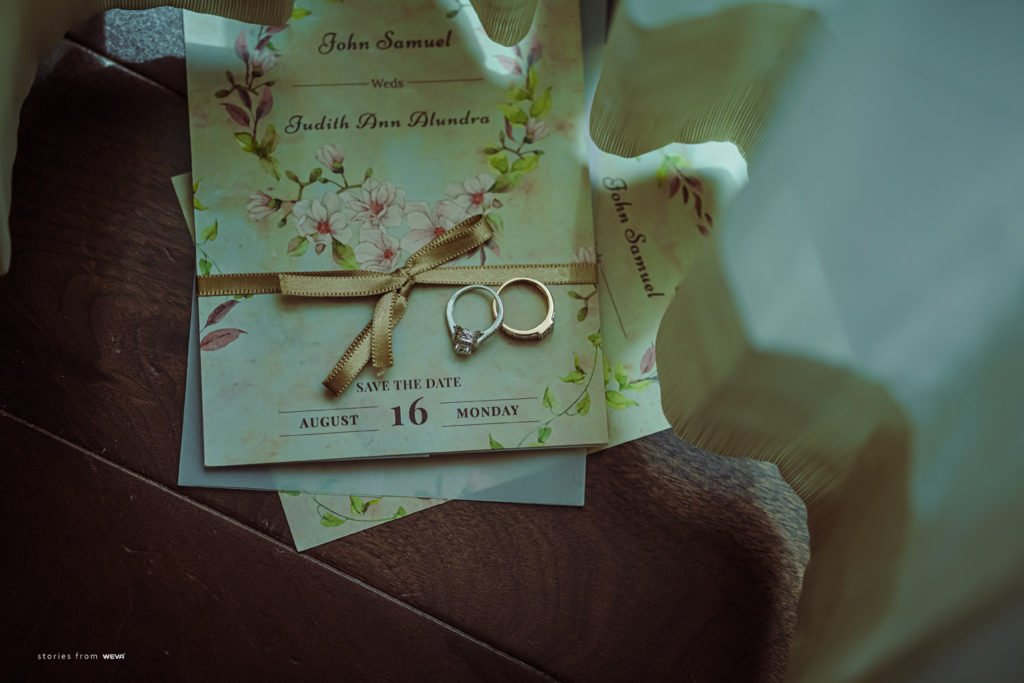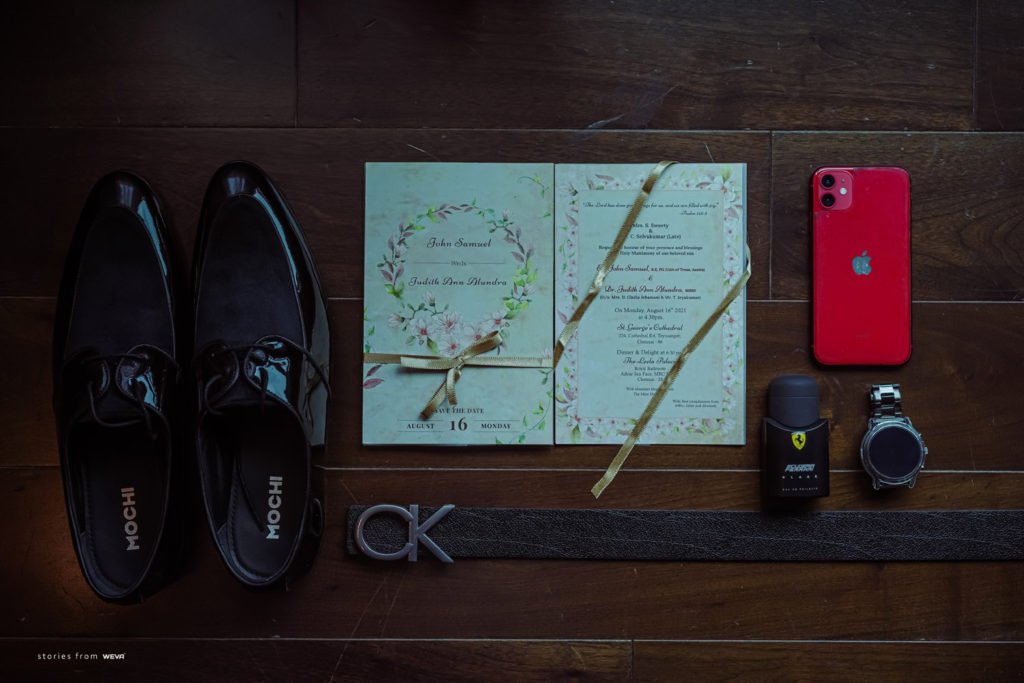 As the letterings on the cards add so much detail to the frame, we try to keep the overall
number of props used as minimum as possible. While working on the best wedding stationery
flat lays, we love to arrange more props in clean lines. When it comes to close-up shots,
we always try to avoid overstuffing the frame. Thereby, the perfect wedding invitation flat
lay would mostly consists of not more than three supporting props.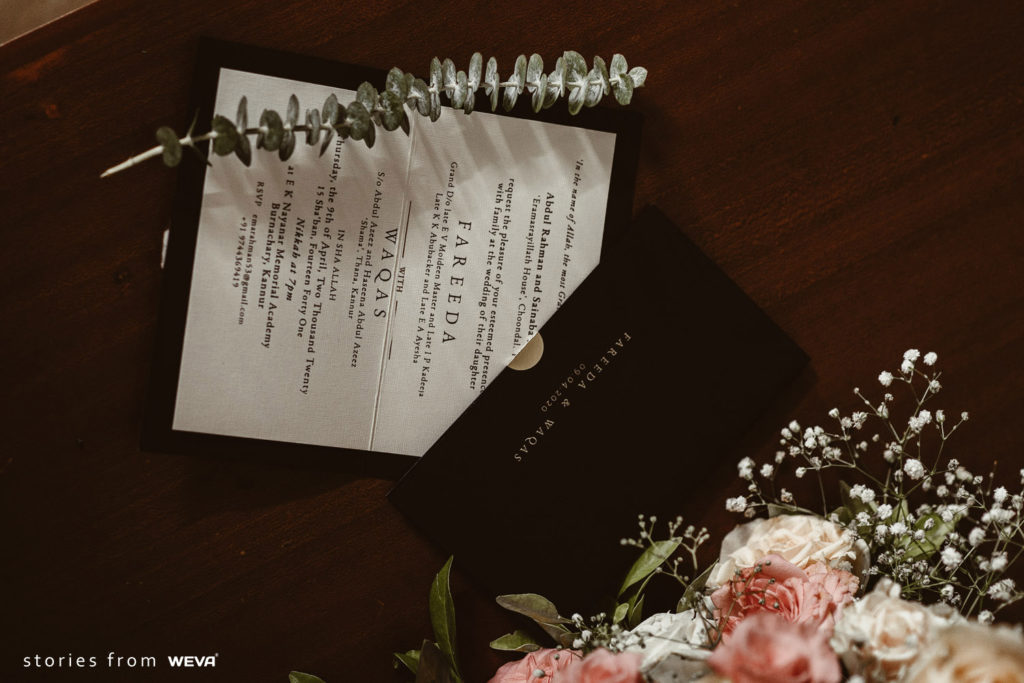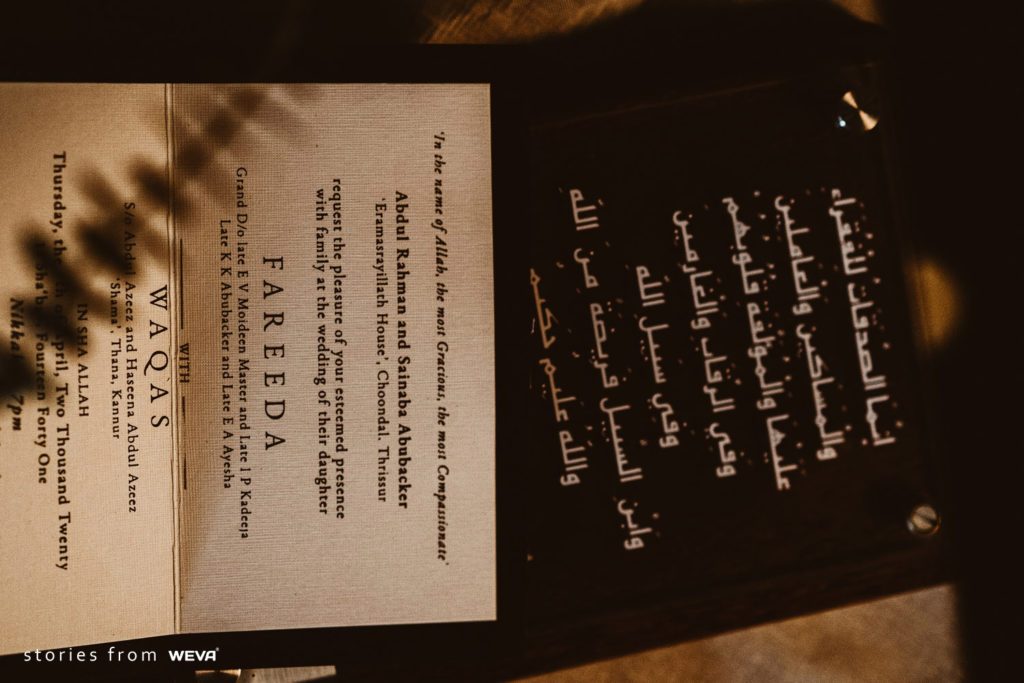 7) The Wedding Essentials
Diverting our eyes from wedding outfits and invitation cards to pooja essentials and
wedding lunches, there are unlimited flat lay ideas that we can work on. With a pinch
of our creative juices, the wedding sadya and the wedding stage can be utilized for
creating gorgeous compositions. Evidently, there is no need to consider all the items
present there. We can easily handpick a few items and arrange in a rare or unexplored
composition for the best flat lay wedding photography Kerala.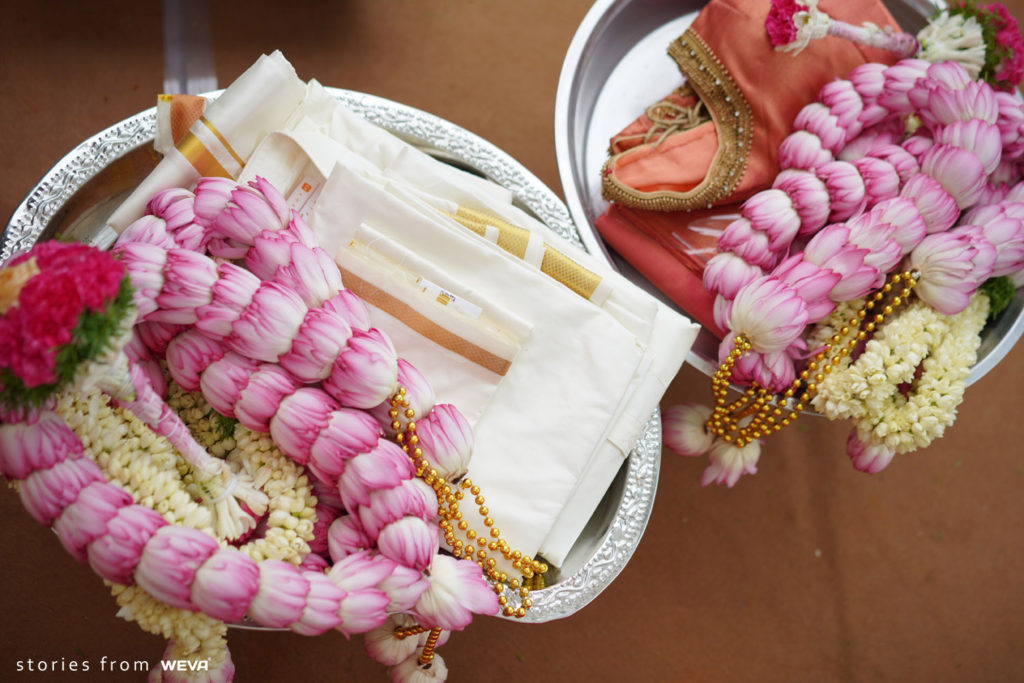 Here, we have picked the banana leaf and a couple of sadya essentials to curate an
interesting sadya flat lay. Undoubtedly, it's giving a beautiful Kerala traditional
Hindu wedding vibe. Similarly, the wedding pooja essentials can be clicked from
interesting angles even though we didn't get the access to work with the sacred
essentials.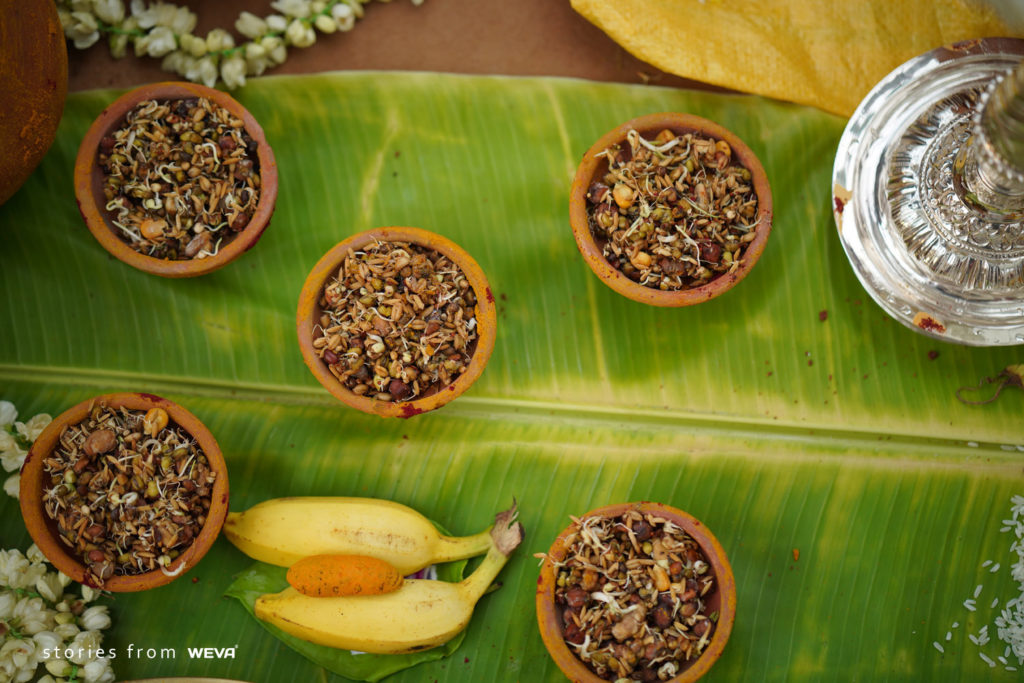 8) Nature's Essence
It doesn't feel fair to wind up this brainstorming session without sharing some of our
pro tips! Glimpses of nature are a breath of fresh air while composing wedding flat
lays. To clarify, we try our best to bring elements of nature into our flat lays. While
clicking jewelry snaps and even watch shots, we would love to take the objects outdoor
and experiment in different lighting.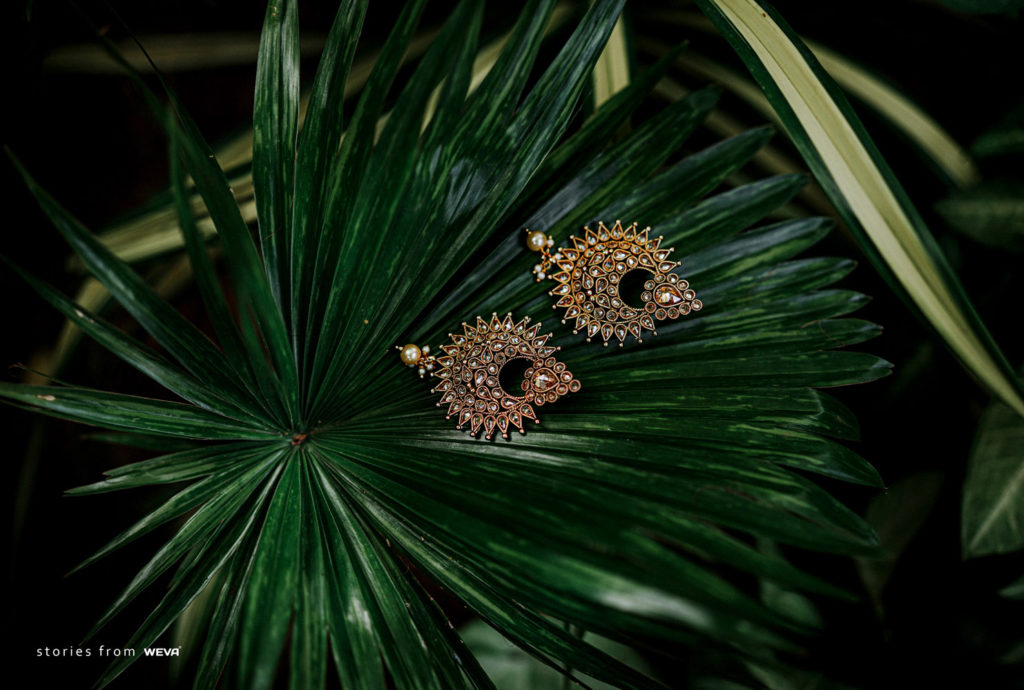 Added to that, we never forget to try different textures and colors we see in nature to
intertwine with that of the objects we have in ready. Clearly, the soothing feel we get
by seeing these natural hues is inexplicably comforting. Also, it may not always be
leaves or flowers. We can also try out natural surfaces or surfaces or bases made from
natural objects. Please relate our tip with the examples we have given here.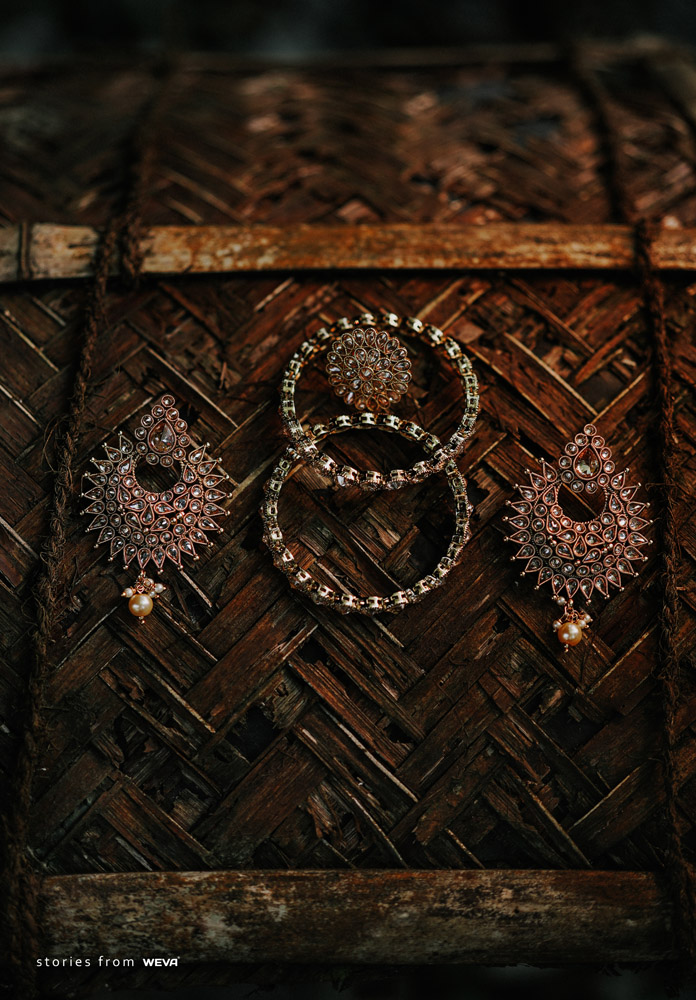 We hope that you enjoyed our brainstorming session about wedding flat lay photography.
Also, we hope that you had a great time skimming through our handpicked clicks of wedding
flat lays in this curation. When it comes to experimenting, wedding flat lays are one of
our favorite spectra.
Certainly, we are yet to explore so many different compositions and flat lay ideas.
And, we can't wait to update you on the new findings we land upon with time. As a
part of acquiring more knowledge, we try to keep our eyes open on hot trends in wedding
flat lays.