Have you been dreaming of crafting your bridal wear with an artsy vintage touch?
Would you like to make it unique and classy by working with the best custom
wedding dress designers in the industry? Are you looking forward to embellishing
your wedding or party attire with unique pearls and stones for the best bridal
pictures? You can stop stressing out now! Because we are introducing one of the
famous wedding dress brands in Kerala with the best wedding wear dresses which
is the 'Ros Story.'
Ros Story is lead by Ros Anto Parekkattil, one of the top wedding dress designers
2021 Kochi. She states that her favorite expression of Indian art is the bejeweled
couture where embellishments are done with unique pearls, quarts etc in pastel
fabrics. The store has a brilliant team to design and execute your dream outfit for your
special occasions. Let us take you to the shiny world of Ros Story with more
interesting details about their best bridal outfits!
1) Meet the Designer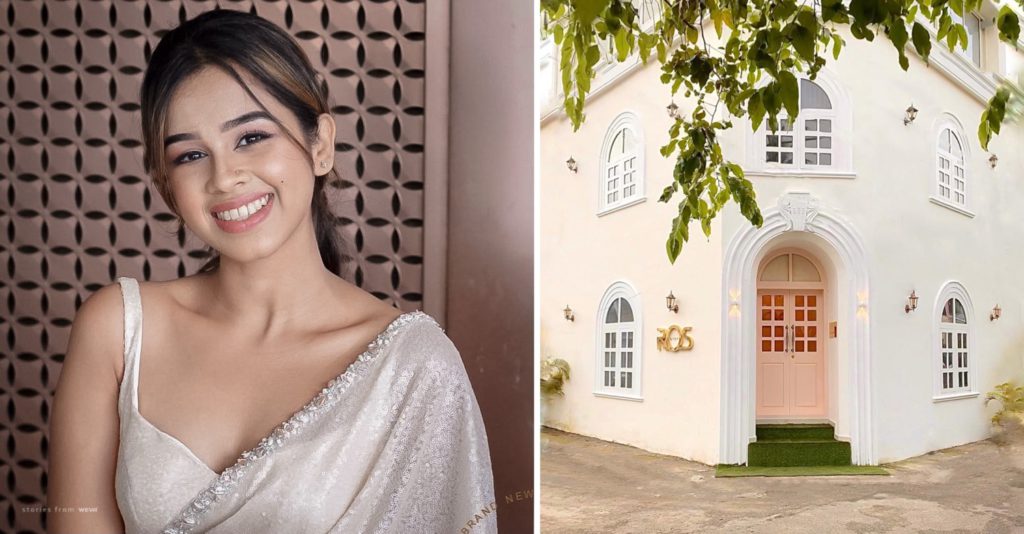 Ros Anto Parekkaattil is the mastermind behind the gorgeous collections of Ros
Story. Ros is a Cochin-based wedding fashion designer who is always in search of
Vintage Indian art inspirations and elements of nature. She is also one of the top
designers for bridal wear in Kerala. The flagship store of Ros Story is situated in the
Ernakulam district of Kerala.
The initial signature collection has been launched by celebrity Nikki Galrani in the
2019 Times Fashion Week held in Bengaluru. Well-known celebrities such as
Ahaana Krishna and Deepti Sati flaunted the special collection which inturn made the
store crowd's favorite with its excellent craftsmanship and dedication. You will be
spellbound by the aesthetics of the flagship store of Ros Story with neat organizations
and chic decor.
2) Ros Story – Values & Concepts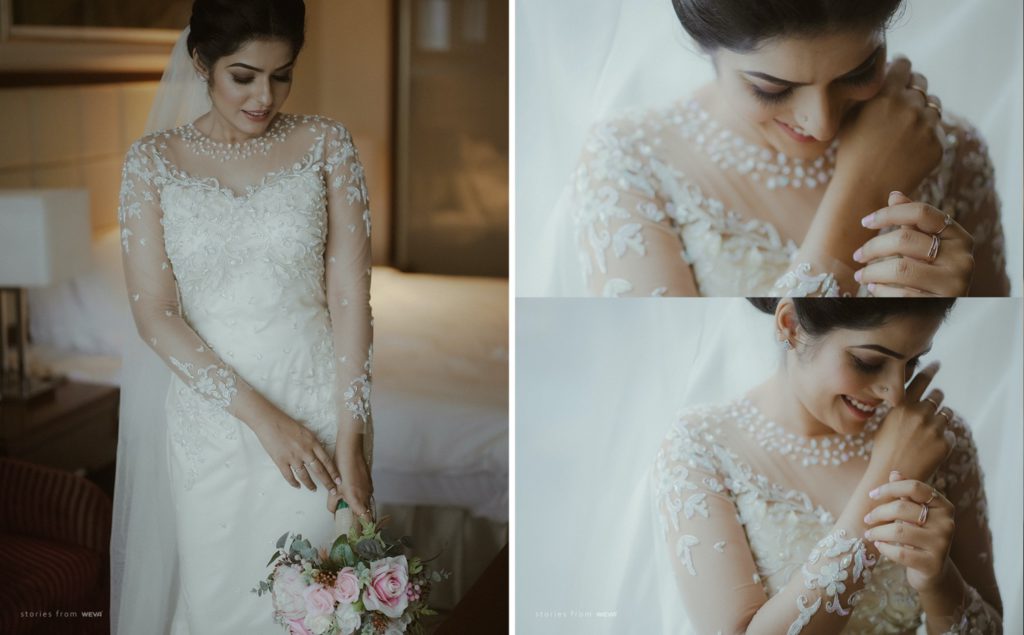 The brand led by one of the most popular wedding dress designers Kerala, mainly
concentrates on uplifting the long-lost classic details of wedding fashion such as the
usage of baroque pearls. Baroque pearls are those pearls with a non-spherical, irregular shape. Most importantly, these pearls were widely used in ancient royal
wedding attires. Unfortunately, designers of the present age often tend to ignore
ornamentation with baroque pearls due to its imperfect form and shape.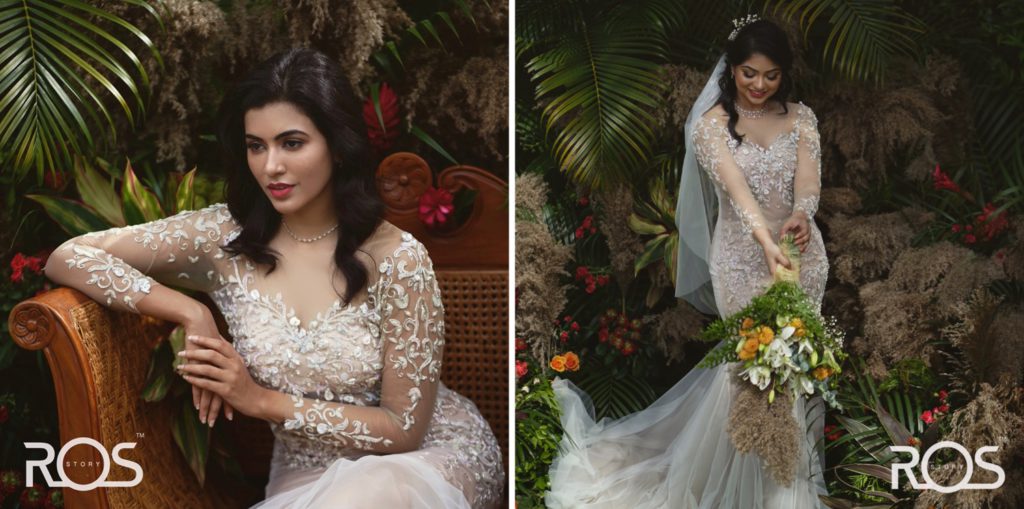 Ros Story states that baroque pearls are good examples of mother nature proving that
even the irregular forms in nature are beautiful and loved. The store perfectly conveys
the boundless beauty of irregular pearls through their timeless classic designs. Just
like the pearls, Ros Story is bringing back the Vintage editions of festive wear and
luxe bridal wear with its own signature styles and techniques. The heartwarming
designs of Ros Story are showcased here through best bridal photoshoots.
3) Fashion Weeks & Achievements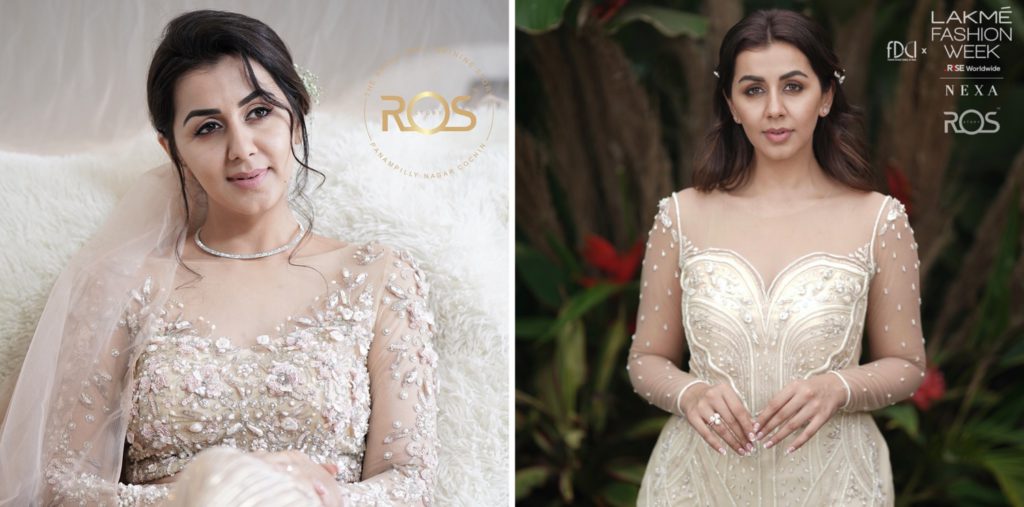 As discussed above, Ros Story made its debut in the glam wedding fashion industry
through a ravishing appearance in 2019 Times Fashion Week. The store made several
heads turn once again with an impressive appearance in Bombay Times Fashion
Week announced by Times Group in 2020. Actress Pranutan Bahl made an
appearance in the show as the showstopper in a lovely gown with a stunning veil
perfectly complimenting her vibrant personality.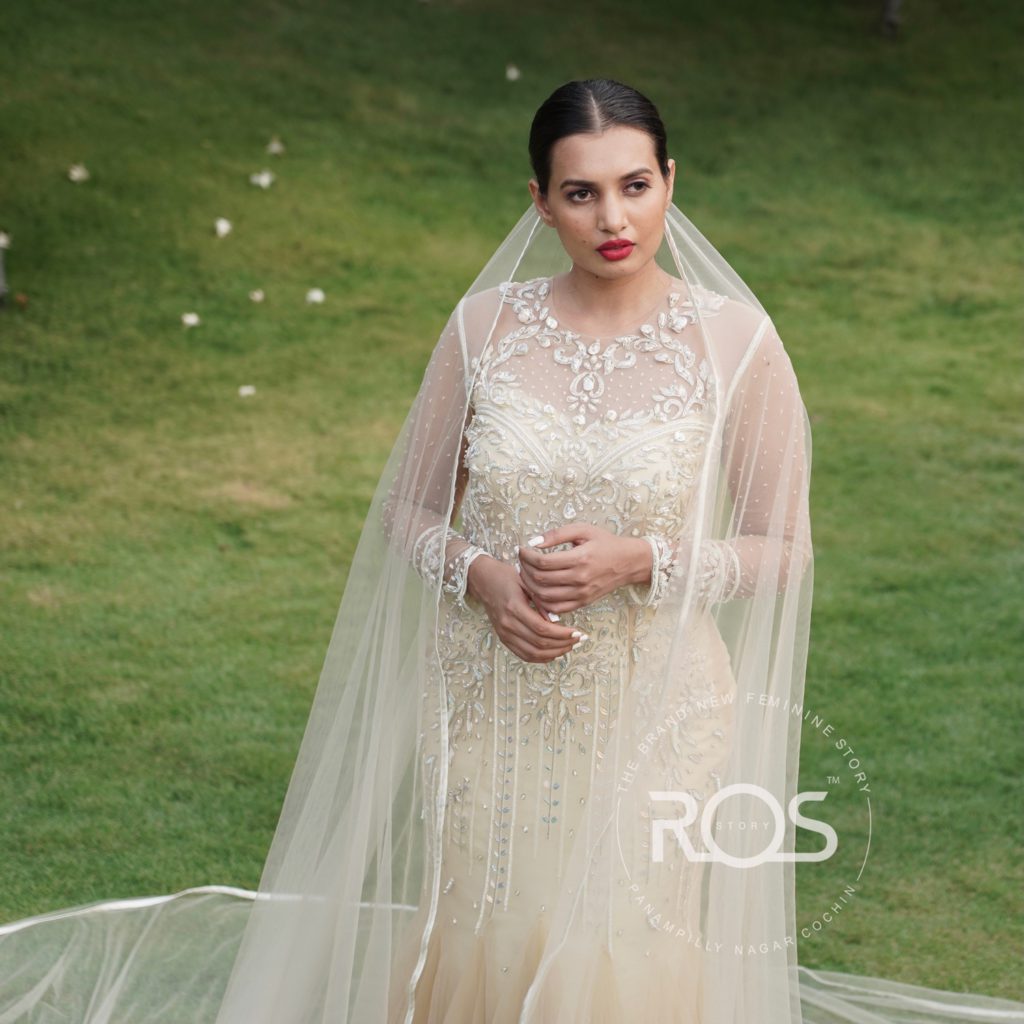 Followed by this, a collection specially focusing on baroque pearls and luxe fabrics in
subtle pastel tones was presented via the virtual showroom of Lakme India Fashion
Week 2021. The collection was named 'The Lost Art&' Mermaid patterns and
gorgeous texture plays paired with 3d detailing works stole the hearts of legends in
the industry. The celebrity appearance was made by Tamil actor Nikki Galrani. She
looked charming and effortless in a royal wedding gown designed by one of the top
Lakme fashion week designers 2020 ie. Ros Story.
4) Luxurious Indian Weddings
The best dress designs for wedding from Ros Story have a contemporary feel to it.
The concept of illusion neckline has been beautifully narrated through the bridal and
party wear collections of Ros Story. Handpicked stone works and beading by
professionals ensure perfection through fine craftsmanship. Bridal portraits of Ros
Story captured by the brides top wedding photographers, look right out of an
editorial due to the impressive signature style of the store.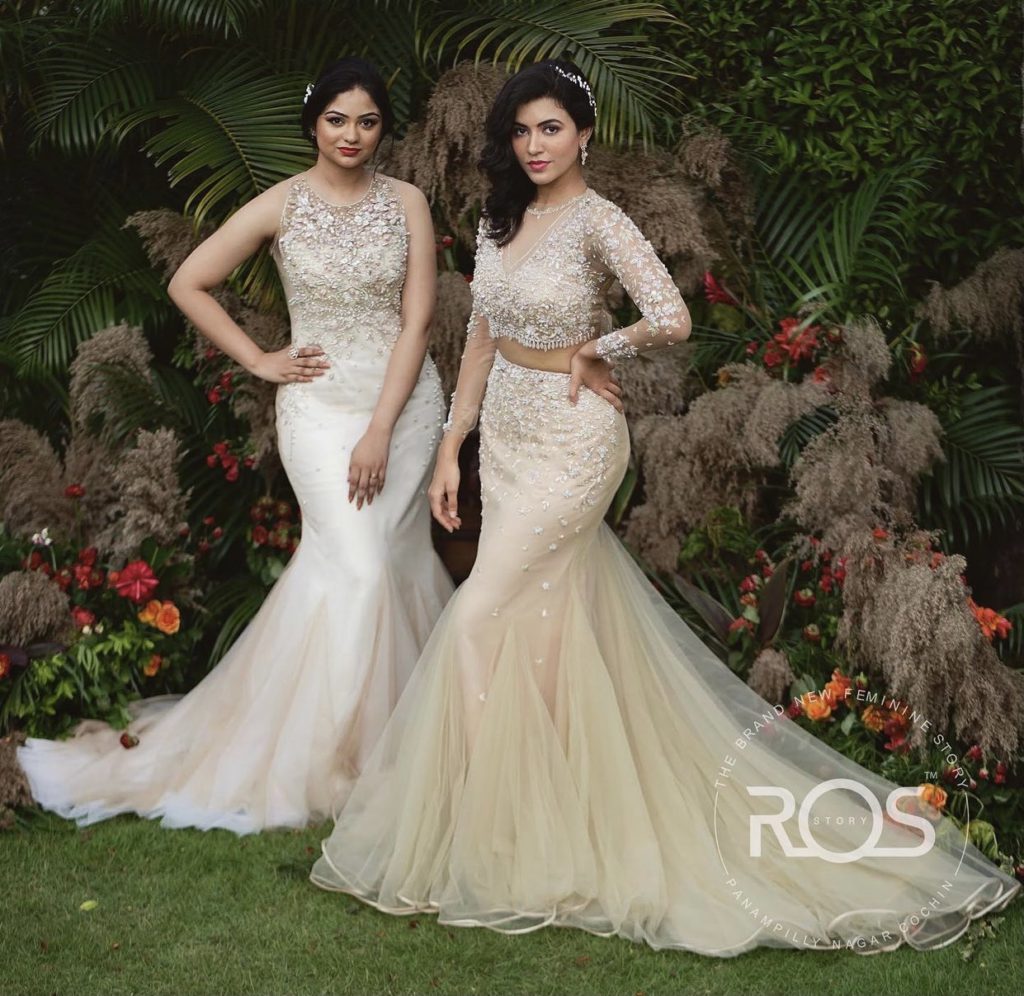 The designer strongly points out that each and every bride deserves to wear a
masterpiece on the wedding day. 3d embroideries, romantic pastels in the finest
fabrics and refined pearl detailing contribute to the DNA of Ros Story. Services
provided by the store include tailoring, embroidery, fashion, stitching, ironing and
sewing. From doing the initial design drawings to fittings and review sessions, Ros
Story has excellent services with the best gowns for wedding parties.
5) Indian Cathedral Weddings
From ball gowns to mermaid styles we are always thirsty for experiments in the
wedding fashion industry. Unquestionably, the efforts and the hard work should pay
off well for arriving at a fresh style or design. Ros Story never fail to amaze us when
it comes to introducing new waves in the bridal and party wear field which inturn
contributes to the best wedding photoshoots bride .
Though the looks are universal, the designs always tend to surprise us with extra spicy
features such as a brand new off-the-shoulder neckline or an illusion neckline which
actually is not an illusion. The designs are a fusion of classic romance and natural
elegance. Other than Baroque pearls Ros Story uses a wide variety of ornaments such
as quarts.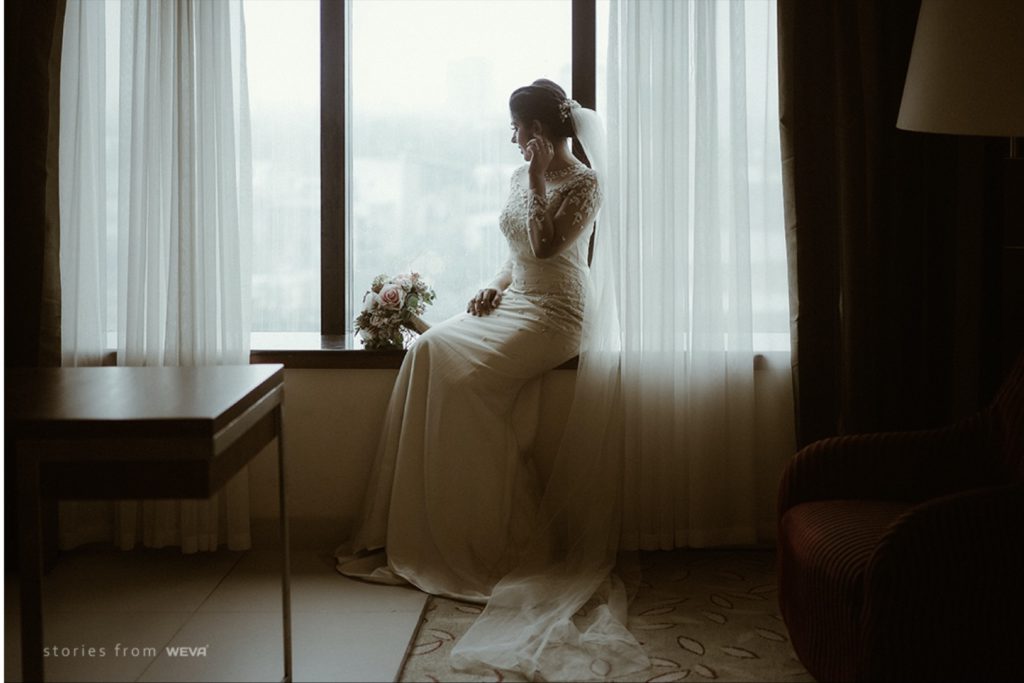 6) Brides of Ros Story
Just like the sophisticated bridal gowns, Ros Story also has minimal bridal wear
collections and design ideas. If you are looking for something dainty and super
simple, the store has a wide variety of options and ideas for you. Similarly, for those
of you who wish to level up your bridal or party wear, your designer will assist you
with a handful of breathtaking ideas. Irrespective of the occasion Ros Story ensembles
always make a statement with its signature style and flawless cuts and fits. The
autumn-winter 2020-2021 collection has some superb styles waiting for you.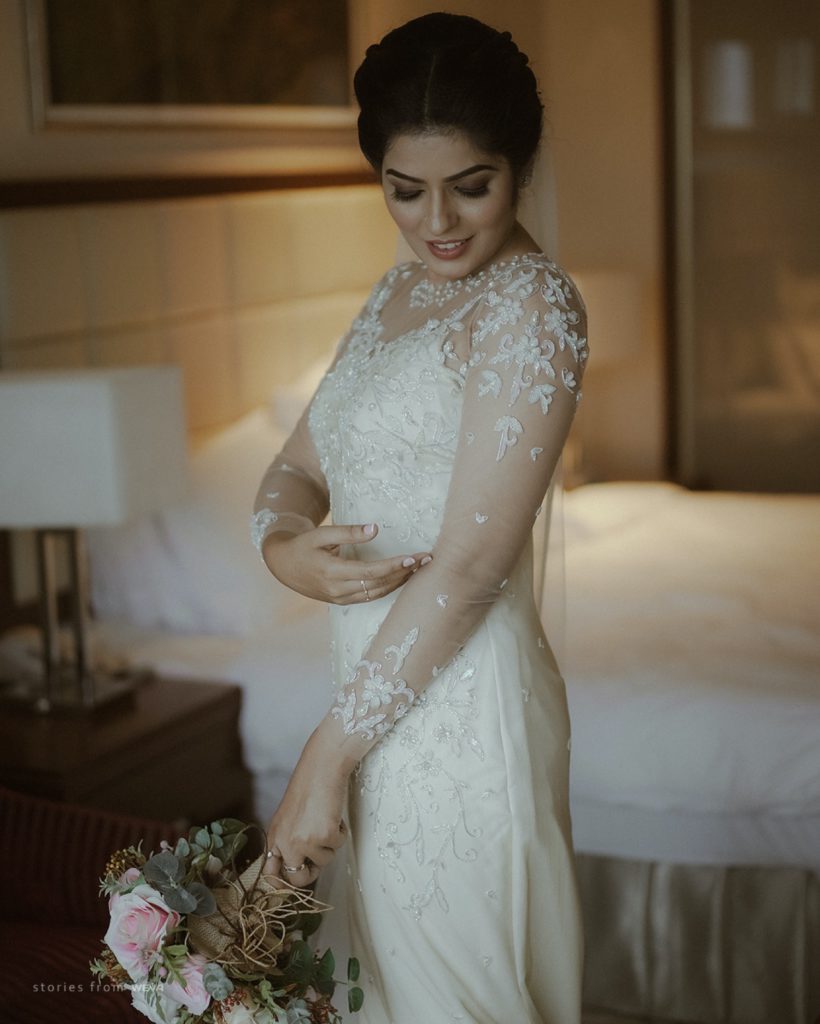 7) The Ice Cathedral Collection
The collection is inspired by elements of nature such as Ocean floors and beautiful
Cathedral gardens. Clearly, the gown is of mermaid pattern with a long train in unique
form and shape. From the type of train to its detailing, shape and structure, the design
truly resembles the body of a mermaid. Heavenly! Isn't it?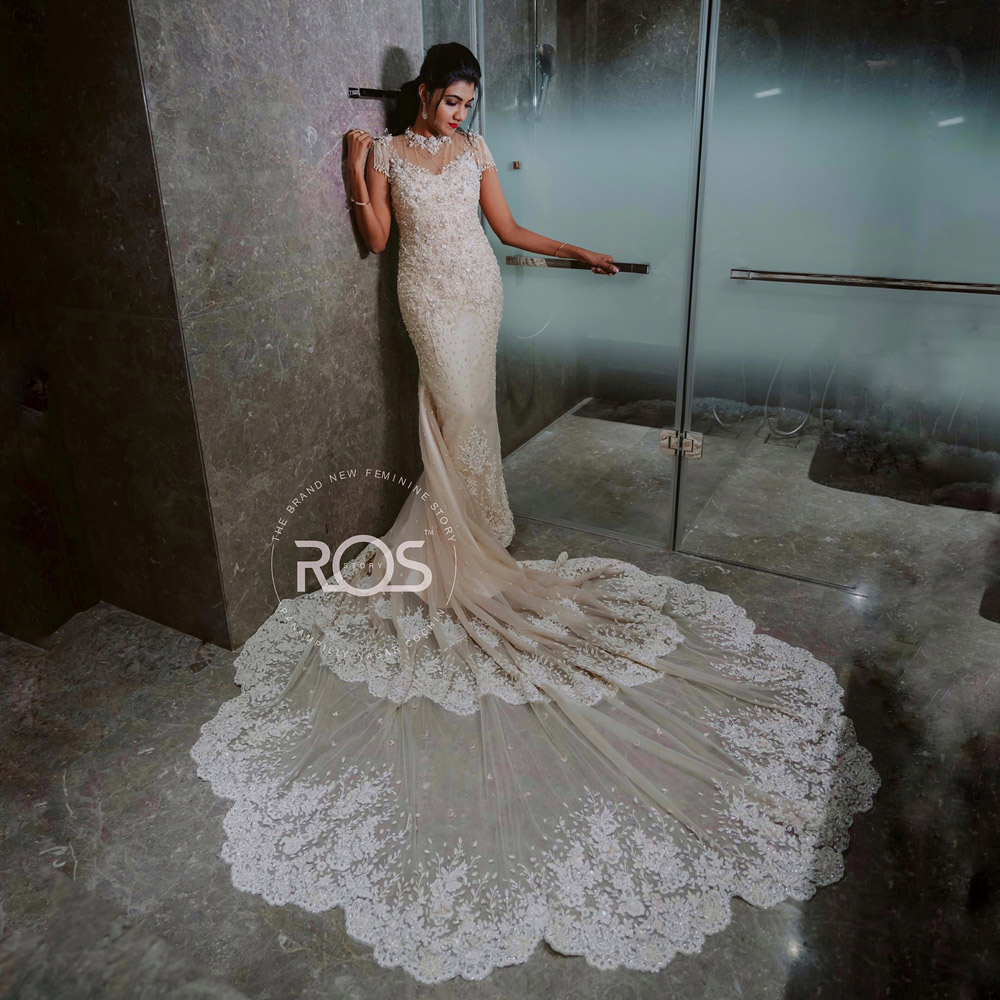 Texture play is yet another factor, that is given attention to. Experimenting and then
mastering the textures can be achieved only after thorough research. Evidently, sleeve
detailing is absolutely marvelous with hangings that are quite balanced with the
overall design. The fitted gowns in this category are every bride's dream. You never
need to frantically search for heavy jewelry pieces as the outfits itself speak huge
volumes.
8) Sarees of Ros Story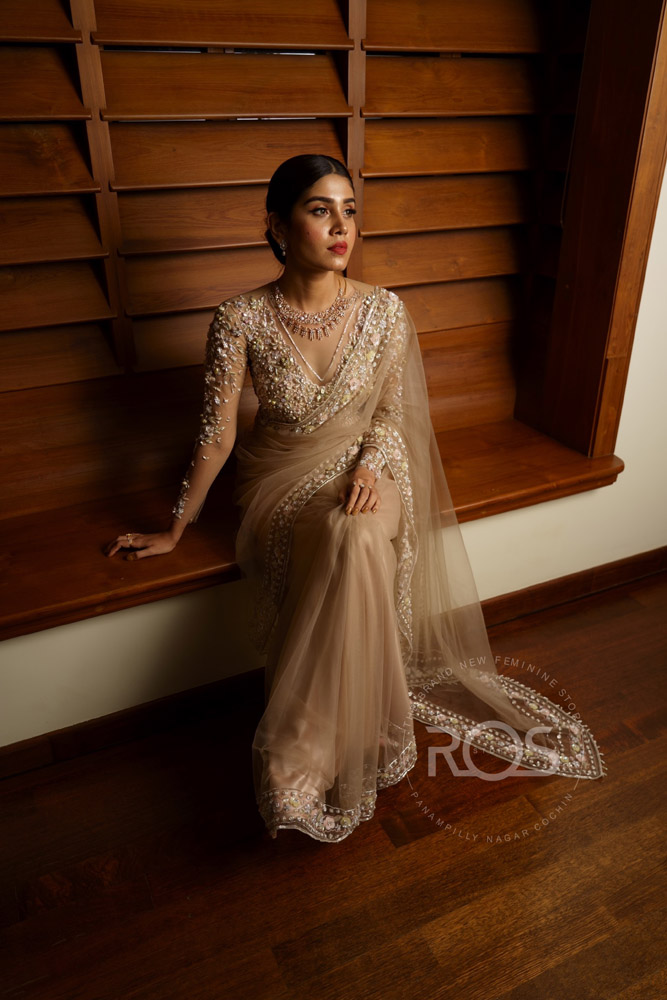 Sarees of Ros Story have a special place in our hearts especially due to the elegant
blouse cuts and flowy lightweight fabrics with amazing borders. As we see here,
sarees are mostly of earthy neutral tones such as ivory. Baroque pearls on the blouse
are something that steals our glances in less than a second. The beading and stone
work on the saree blouse are perfectly fusing with the subtle saree fabric.
Unquestionably, plunged necklines and gorgeous embroidery on the blouse are the
heart and soul of bridal sarees these days. Bridal and party wear sarees of Ros Story
feel like a breeze as it is uber comfortable and attractive at the same time.
We had a great time discussing the amazing skillsets we see on Ros Story Collections.
For brides who dream about tailoring their own unique outfits with amazing details,
Ros Story gives you the best customer care services in aiding and structuring your
design dreams from skeleton level to finished level. The staff and the chief designer
are super friendly and welcoming. Hence, stop stressing over building your dream
outfit and start planning now!
Ros Story is currently open for In-store shopping. However, there might be changes
according to the future updations in covid guidelines.
Location:LIG 866, near Avenue Centre Hotel, Panampilly Nagar, Kochi, Kerala,682036
Contact Details: +91 8075927460, 0484 4031311
Email: rosantopark93@gmail.com
Days & Timing Details : From Monday to Saturday (closed on Sundays)
10:00 AM to 07:00 PM
Instagram: For more Photos and Updates on Collections, please check the Instagram
profile of Ros Story
Facebook
Website