Feeling super pumped about your pre-wedding shoot? Let's boost your confidence
with the pre-wedding couple outfits specially brewed by us for you and your
partner. Most importantly, we are going to infuse your excitement with fresh and
easily achievable pre-wedding outfit ideas. Thereby, you feel extra confident around your partner
and the photographer. Likewise, pre-planning the shoot outfits will help you to be
more organized and carefree on your big shoot day! Our pre-wedding outfit ideas are very flexible
to all types of locations you might have listed. Hence, pop your tension bubbles
regarding the compatibility of these amazing outfit ideas with your chosen locations.
So, let's jump into this virtual fitting session! Shall we?

1) A Picnic Date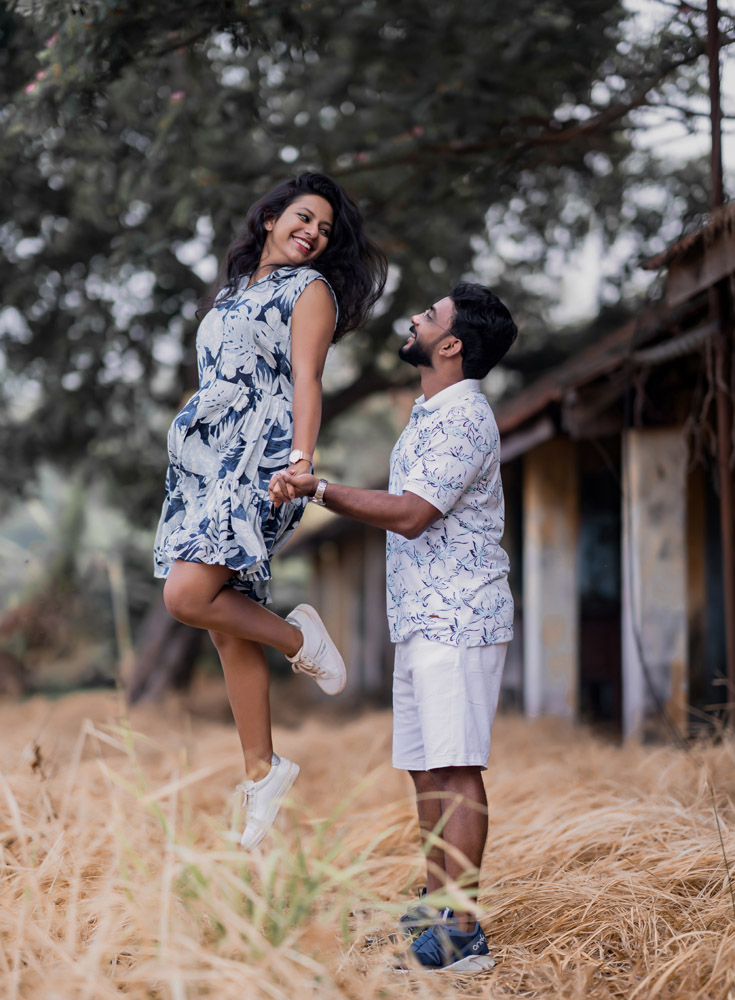 Let's begin by aesthetically manipulating your pre-wedding shoot to a chilling picnic
date! Knee-length breezy dresses will be a cozy pre-wedding shoot casual outfit.
Similarly, cargo shorts or denim shorts will be a perfect fit for the groom-to-be. Also,
color-coordinating your outfits will help you to bring out neatness in composition.
Similarly, the decision between prints and solid colors is a very difficult choice to
make.
But, we have a hack for you! If your shoot location is minimal and simple with plain
walls or solid backdrops in a studio, feel free to pick interesting printed outfits. From
hand-blocked Indian traditional prints like Ajrakh to chic and modern geometric
prints, options are endless. But, if you are choosing a very loud, vibrant location,
wearing solid colors will help you stand out.

2) Identical Print Party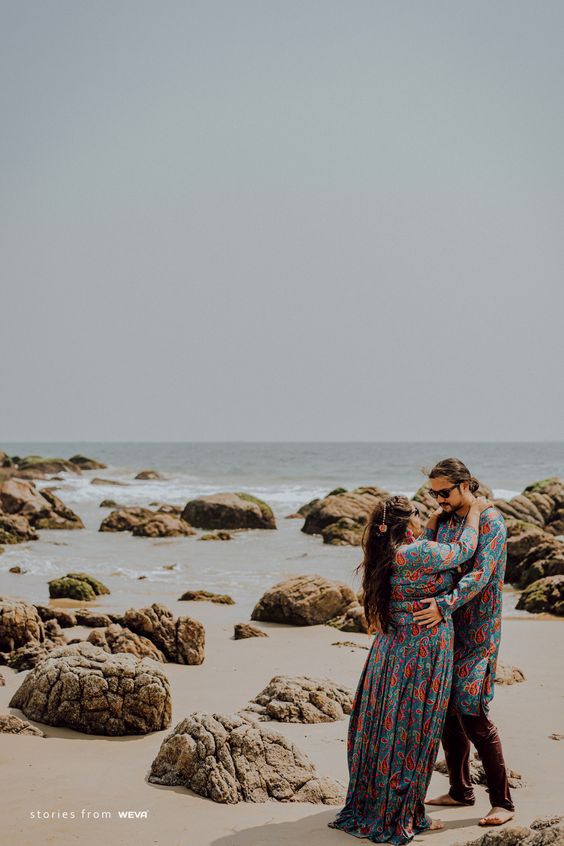 Wearing identical prints with your partner can be as satisfying as taking bite of a
crispy samosa with a cutting chai! Modern, contemporary or traditional, whichever
your choice is! Identical prints can never cease to shine in the wedding industry. First
of all, it creates a fun element in the couple portraits, no matter how subtle the outfits
are.
For curating this peculiar trend, all you need to do is decide on a printed fabric perfect
for both of you. And, design the outfits as per your dreams and plans. Interestingly,
paisley printed cotton fabric has been a head-turner for the past couple of years.

3) A Semi-Traditional Kerala Edition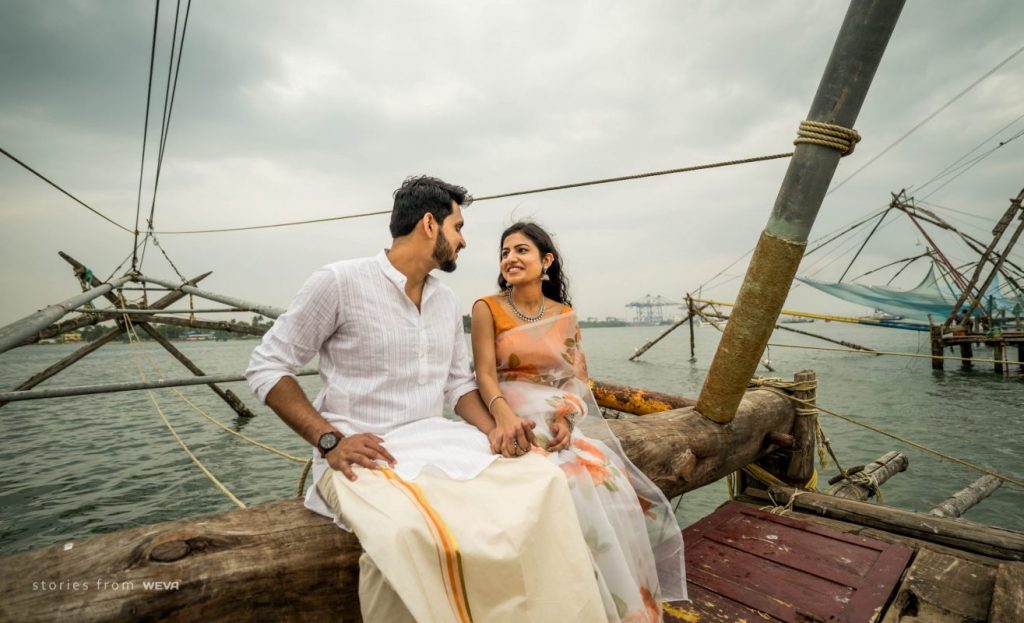 Incorporating the goodness of Kerala Tradition will add a perfect pinch of elegance to
your photoshoot. Pre-wedding shoots are all about simple frames with priceless
memories. Traditional Kasavu mundu and crisp white shirt is a classic combination
for the groom-to-be!
This particular outfit is very easy to blend with the bride-to-be's attire. Similarly, a
saree outfit is apt to channel your love for Traditional Kerala goodness. But, you can
try to semi-modernize it by choosing flowy organza or chiffon fabric instead of the
authentic silk sarees. Likewise, feel free to experiment with the saree-blouse designs
as well.

4) Majestic in Monochrome – All Black Outfits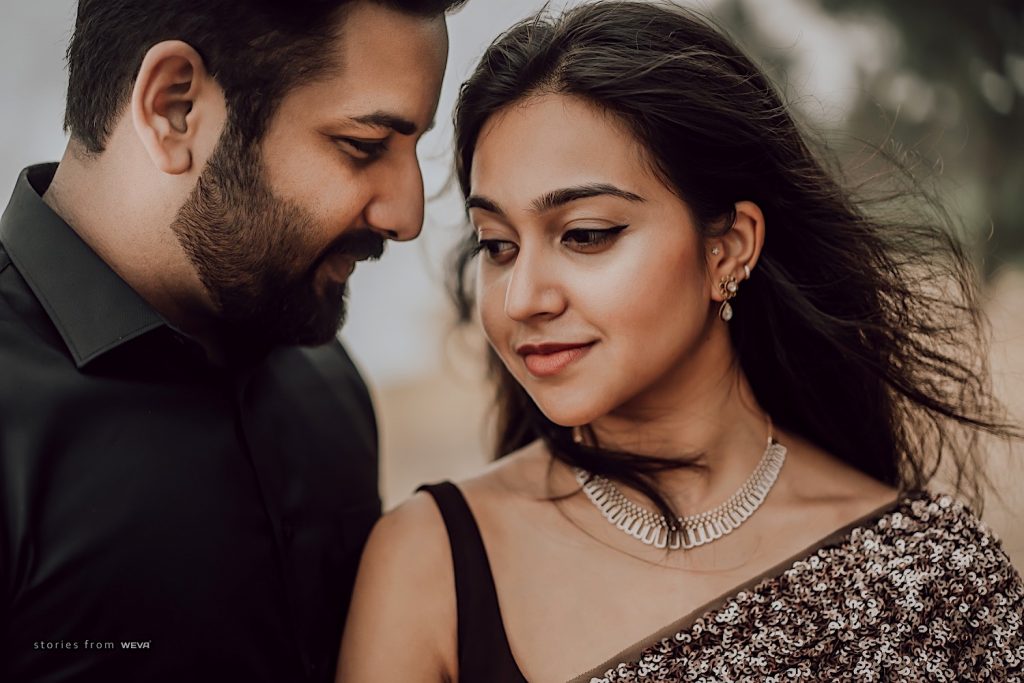 Black is a powerful color to make a statement irrespective of the occasion. If you are
planning to go bold with plenty of ornamentation and details, black is a great choice.
Similarly, black being the base color of your outfits, both gold and silver
embellishments will compliment gracefully. Undoubtedly, a saree or a gown could be
the most majestic option for the bride-to-be.
While we come to saree-blouse design, sleeveless designs and full-sleeve designs are
always shining in the wedding fashion industry. A sleek full black tuxedo can never
go wrong when it comes to making a special effort. Most importantly,
wearing monochromatic black outfits will definitely level up your outfit game.

5) Majestic in Monochrome – All White Outfits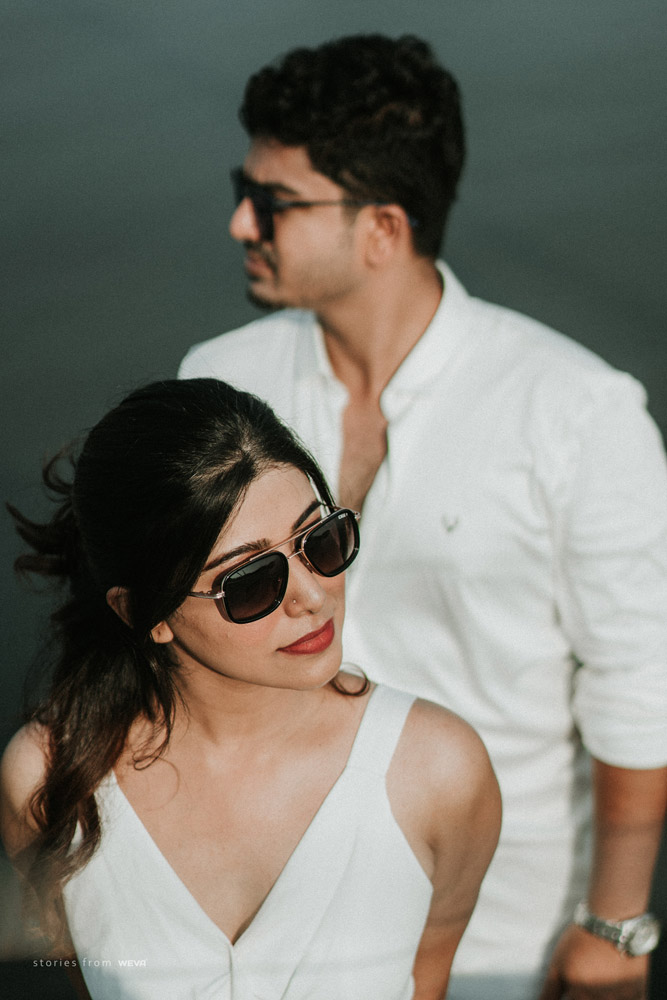 All-white outfits have a special place in the minds of edgy-fashion enthusiasts. To
begin with, plain white outfits with minimal cuts never fail to grab attention. Hence,
it's very likely to reach a higher dimension of aesthetics, if you are coordinating your
partner in monochromatic white outfits.
If you are inclined to curating minimal yet unique full white outfits, then don't think
twice! While black radiates ravishing rays of confidence, white outfits shout elegance
and simplicity. Even though detailing adds sophistication, at times it swallows the
efficiency of the outfits to stand out. Instead of adding excessive detailing, we shall
concentrate on the design to make it even edgier.

6) Subtle Indian Outfits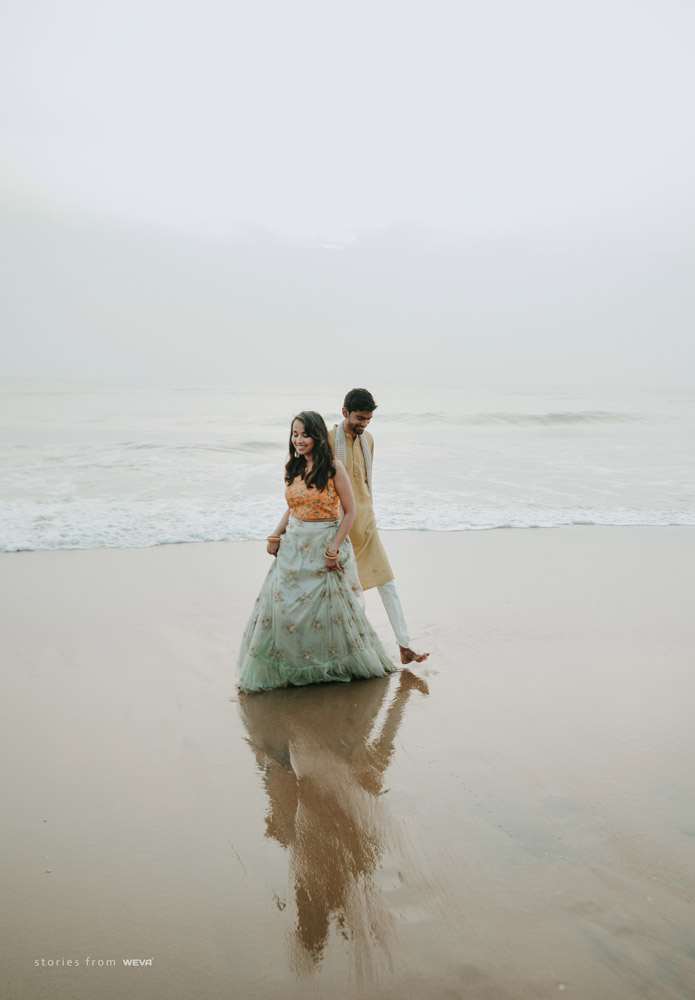 Just like the traditional saree-veshti combo, here we are introducing lehenga-
sherwani combos. Both are attractive ethnic wears. If you are having plans to shoot at
calming locations like an empty beach, we have great freedom to choose versatile color combinations which may not be matching. But, as a couple you will still make a
statement, beaming with amazing chemistry with the help of subtle backdrops. Ethnic
Indian wear is a symbol of elegance.
Hence, outfits like lehengas and Sherwanis are perfect for enjoying your shoot in full
blast. Likewise, if you wish to merge the traditional elements with modern, you can
play with colors. Pastel colors are a good option since the palette has acquired its
throne in contemporary fashion long back.

Besides the fun of enjoying a shoot day with your husband-to-be, pre-wedding shoots
are excellent for relaxing before your big day. Moreover, when you look back, years
after, your pre-wedding photos might excite you much more than your wedding
photos. Therefore, planning your outfits is important as planning your wedding outfit.
Comfort and style should come hand in hand for deriving a perfect pre-wedding
shoot outfit. We hope that we cleared at least few of your confusions. Make sure to
sit with your partner for discussing your pre-wedding outfit ideas. We wish you a cozy shoot day!