Browsing for some uber-cool portrait ideas for grooms? Feeling clueless about acing
masculine poses? Stay relaxed while we pull out some superb poses for you to ace in
your wedding attire. Aside from the innumerous bridal portrait ideas we come across
every day, it's hard to hunt down best groom posing ideas. Hence, we decided to ease your
tension by referring to some of our most loved groom poses and portraits. Sit back
and enjoy this useful guide that we curated for all the new grooms out there. If you are
not used to being in the limelight, don't worry! Because, we have some tips and tricks
for the best groom photoshoot ideas!

1) A Pose for Traditional Kerala Hindu Grooms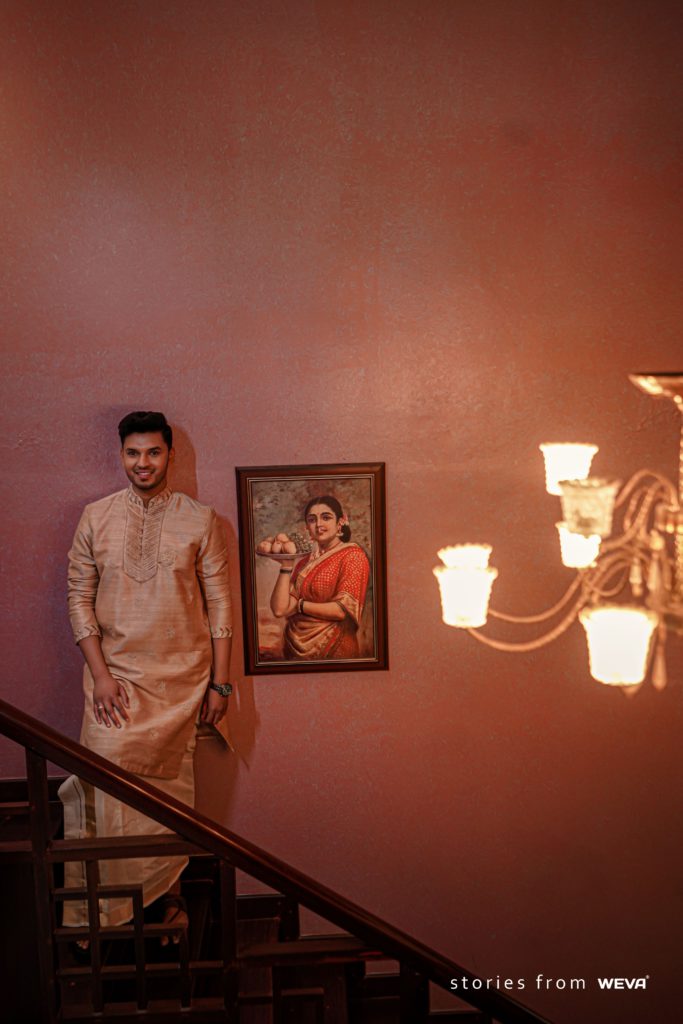 Leaning on the staircase wall, smiling gently is a great pose for traditional Kerala
groom wedding photography. Here, our groom is leaning on the wall and looking at
the camera eye with a wide smile. Evidently, a glimpse of the chandelier, the wall
hanging of Ravi Varma painting and the staircase in wooden finish are beautifully
complimenting the groom's pose. He is placing one of his hands on his leg which is
stepped forward. Undoubtedly, this is a perfect pose that can be tried out by all the
traditional Hindu grooms. This is an easy wedding groom posing idea that supports any
ethnic Hindu groom outfit.

2) A Charming Pose in Suit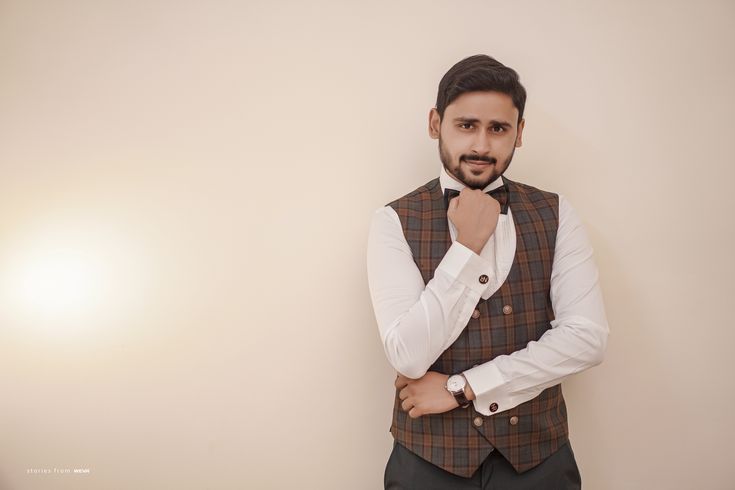 There are a variety of quirky poses for Christian grooms. Particularly, adjusting the tie
is a cool pose to try for grooms dressed up in suit attires. Our groom is holding his
chin with his fist. And, his other arm is supporting his elbow. Not only does this pose
spotlights his amazing suit outfit but also adds a dimension to the portrait. Likewise,
the groom can also act like he is buttoning up his vest or tux. In this portrait, our
groom is making direct contact with the camera eye. However, the groom can also
look away from the camera while doing the same. It would bring a different feel to
this best wedding groom photoshoot.

3) The Lean-Against-Wall Pose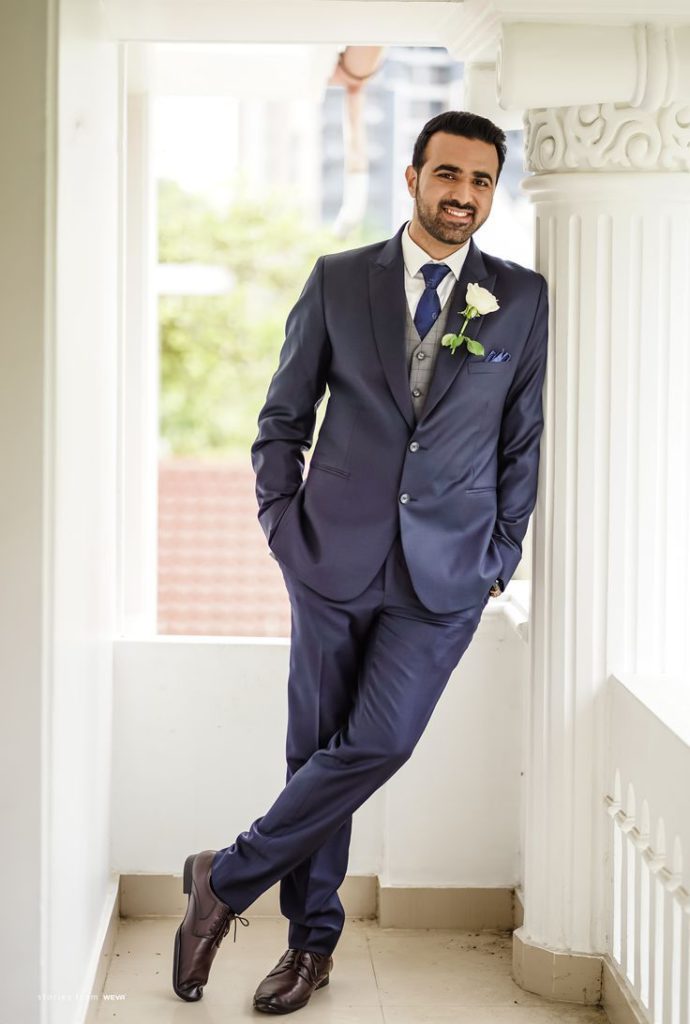 For those grooms who love posing by leaning against a wall, here is an awesome
posing idea. Unquestionably, this 'standing-leg-cross-pose' can be tried by grooms
wearing pant-suit outfits or even Sherwani outfits. Our groom is placing his both
hands in the pant pockets. However, this pose can be also aced by placing just one
hand in the pocket and casually resting the other hand.
A wide smile would make this pose even more lively. In order to make the portrait
more edgy and neat, choose a catchy nook with a detailed pillar or a wall. The groom
can also look away from the camera. In such poses, maintaining a neutral face or
smiling lightly would be more suitable.

4) The Sherwani Pose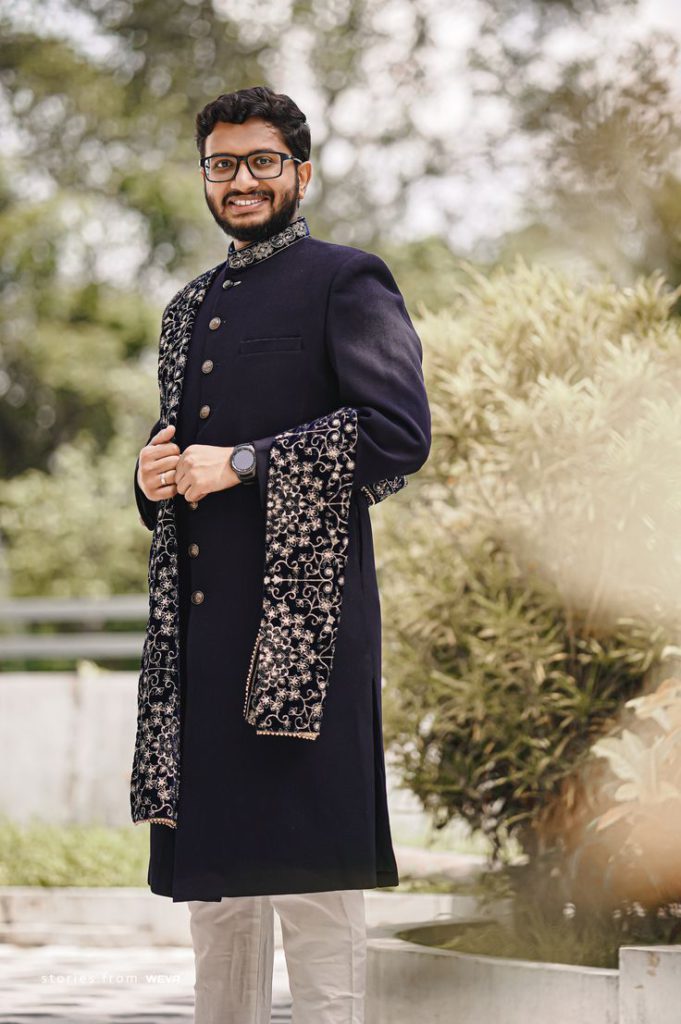 The Sherwani pose is an evergreen and simple pose for grooms in the history of
groom poses for an Indian wedding. Without a doubt, this pose is easily found
among the groom portraits clicked ages ago, all across the country. A sherwani worn
with a dupatta adds great definition to the groom portraits. To begin with, style your
dupatta in an attractive way with respect to your taste and body shape.
Then, hold the Dupatta with one hand. The other arm can be relaxed without holding
any element of the attire. To add more detail, avoid standing in parallel to the camera.
Instead, turn lightly to one side and look at the camera by just keeping your head
straight to the camera eye. Also, if you wish to get a standard straight shot, look away
from the camera with a neutral face.

5) Inside-the-Car Pose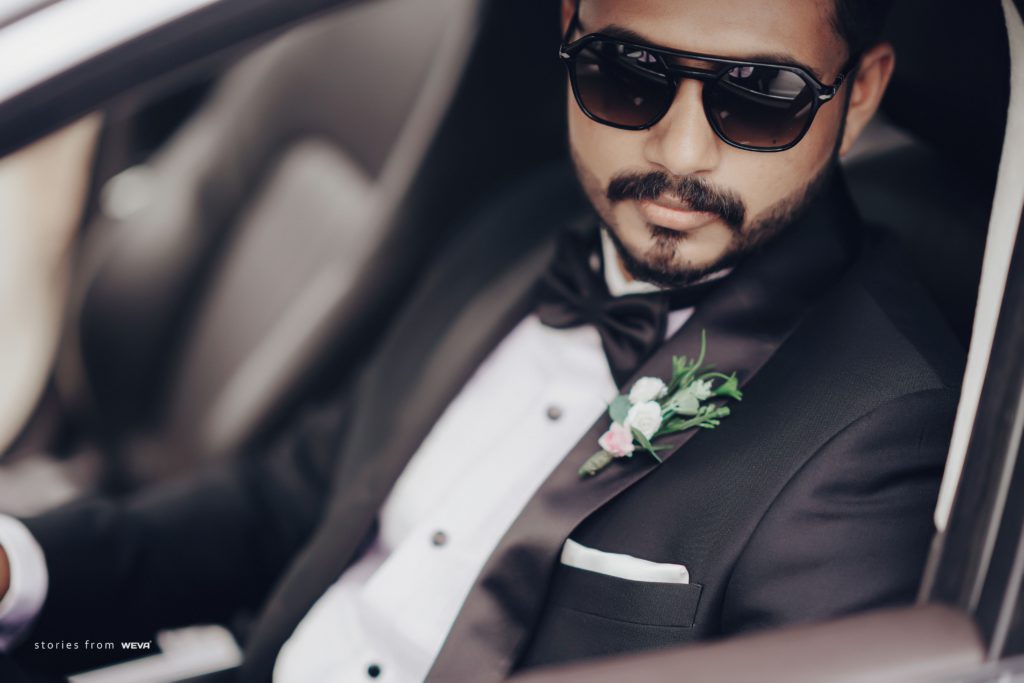 The inside-the-car pose is an impressive one that almost all grooms are excited about.
Though bridal portraits are also captured from car seats, groom portraits are often
given more significance while shooting inside-the-car portraits. For traditional grooms
in mundu outfits, candids can be captured while opening the car door and stepping out
of the car. There are limitless options to try around and inside a car while capturing
groom portraits. Leaning on the car, about to drive the car, peeping out of the
window, candids while rolling down the window are some excellent portrait ideas for
all the handsome grooms out there.

5) Getting Ready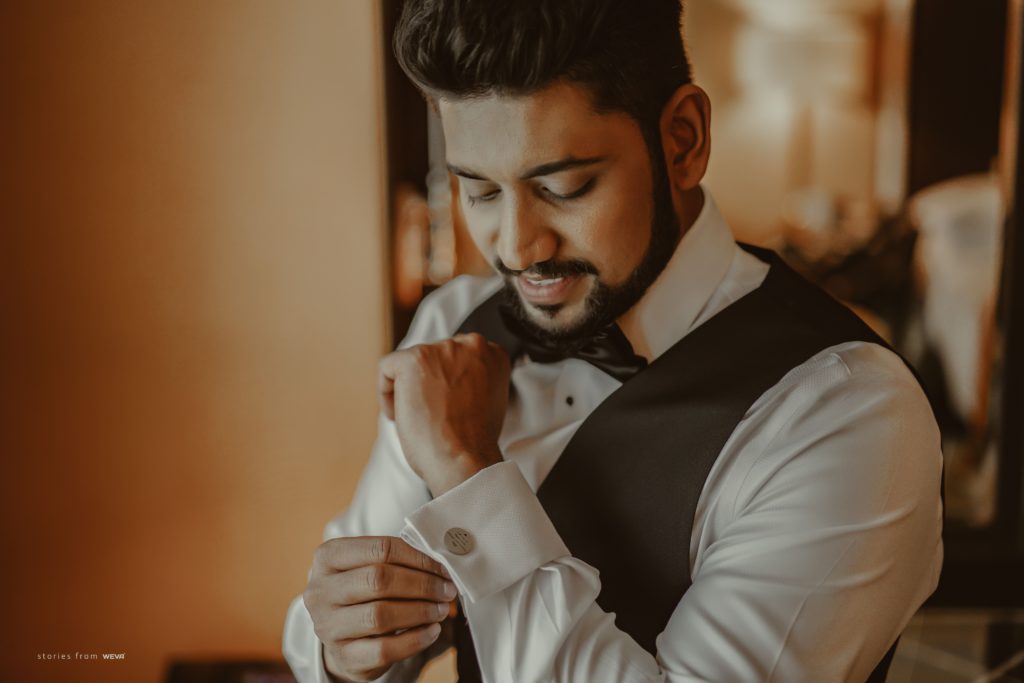 Portraits taken while getting ready are quite personal and invaluable for all grooms. It
marks the beginning of their big day. Just like bridal vanity shots, it is very important
to capture 'groom getting ready' photos as well. Here in the portrait, our groom is
adjusting his cuff-links with a beaming smile. Definitely, his excitement and
overwhelming joy are clearly expressed in the portrait.
Similarly, there are a handful of easily achievable poses that can be tried by the
grooms while getting ready for the big day. Candids and planned poses can be tried as
per the comfort and confidence of the groom. Adjusting the hair, buttoning the
shirt/vest, tying the shoelaces, wearing the watch, wearing spectacles/sunglasses etc
are some awesome pose ideas for vanity shots.

7)The Sit-Down Pose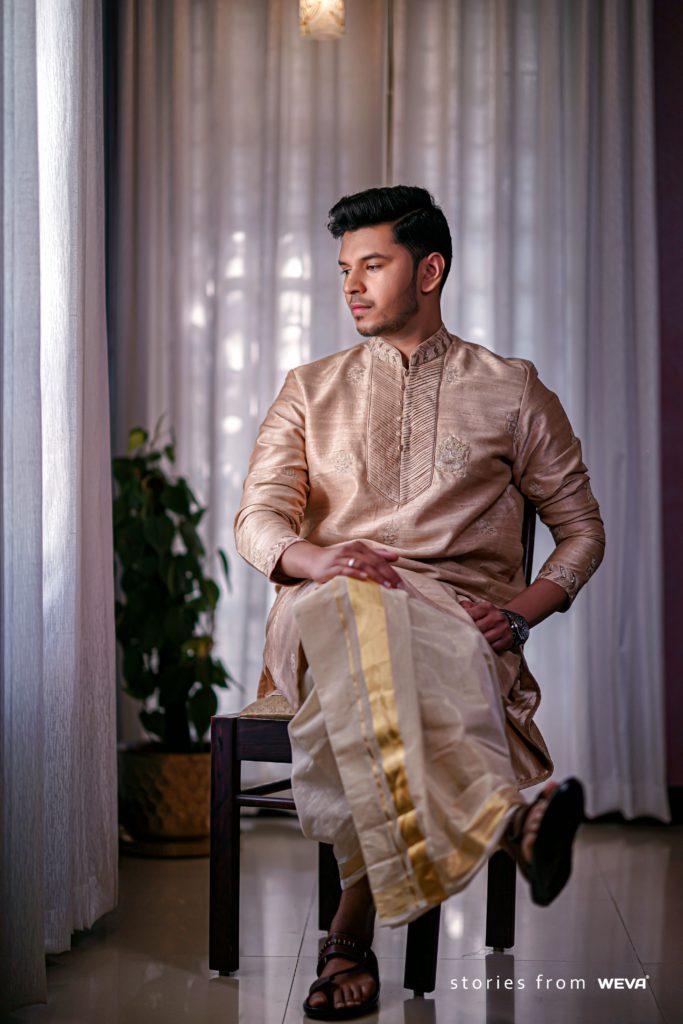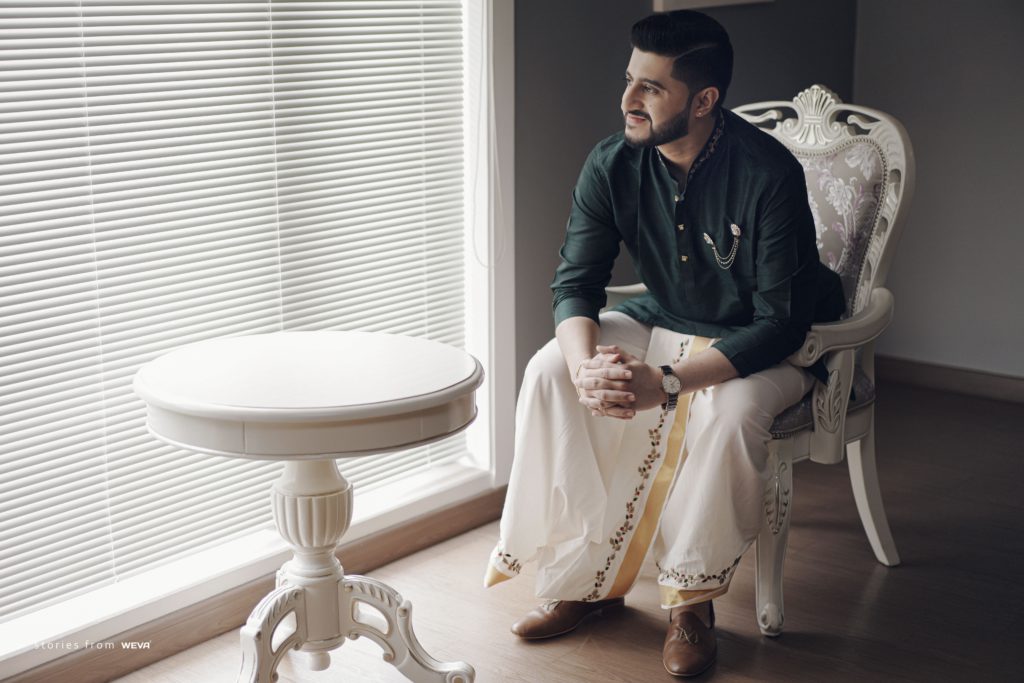 A regal set of furniture or a minimal backdrop without unnecessary disturbances in
the frame can bring out excellent sit-down poses for grooms. Straight and top-angle
shots can bring the best outputs. This relaxed pose is a good icebreaker between the
photographer and the groom. As the pose requires sitting down with an appropriate
posture, there is a visible reduction in the stress level.
We have showcased the 2 best groom posing ideas for weddings where our grooms are
acing 2 different poses in different postures. In the first shot, our groom is maintaining
a steady posture, resting his hand on his knees. In the second shot, our groom is
leaning forward with a relaxed posture crossing his fingers. Added to that, both of
them are looking away from the camera.

8)Accentuating the Outfit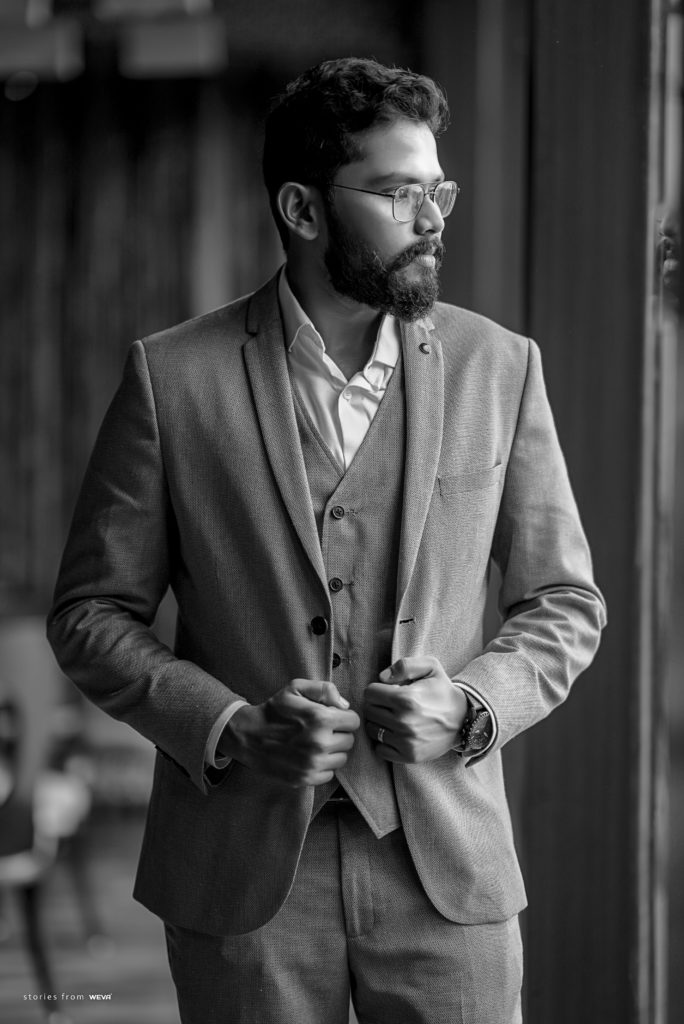 With respect to the type of attire, there are a variety of poses that can help in
accentuating the groom's outfit along with striking an impressive pose. For grooms
with suit-attires holding the coat firmly is a snazzy pose idea. Whereas, for those
wearing sherwanis or similar traditional attires, walking towards or away from the
camera can bring in fabulous candids. In-motion candids or poses are perfect to
capture and lock in the beauty of the groom's attire. Most importantly, close-ups and
medium shots can add more spice to the wedding groom photoshoot by adding
details.

9)The Side Pose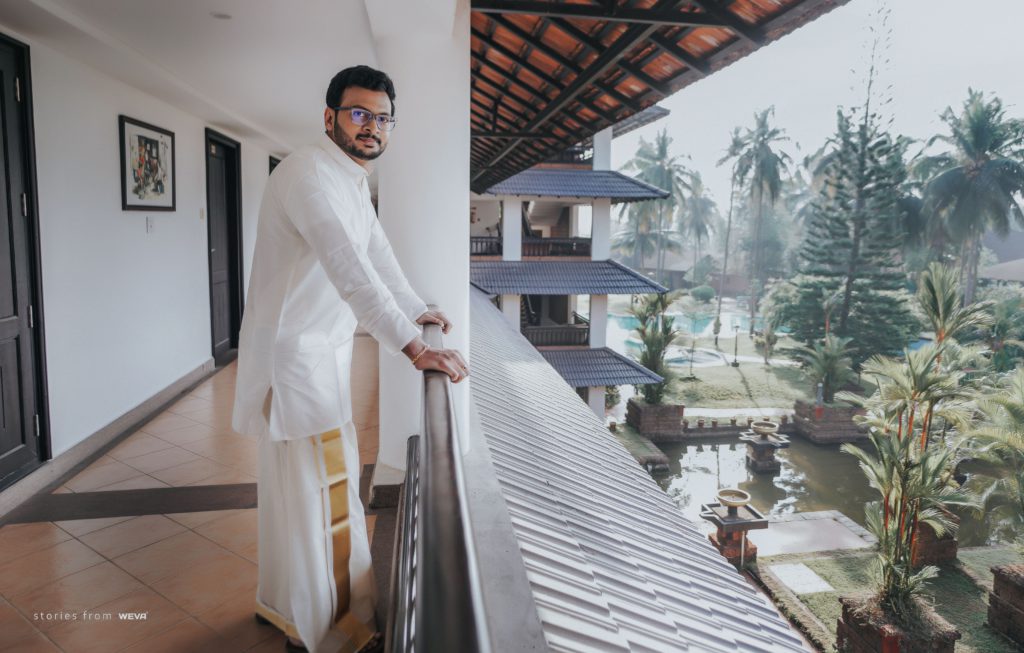 Confident side poses can fuel the portraits with energetic vibes. Wide shots can be
tried when the groom is striking a side pose. Evidently, there are types of groom
wedding poses where a side pose can be attempted in both sitting and standing
positions. In the frame, our groom is leaning towards the balcony, placing both hands
on the rails.
Another way is resting the back on a wall while looking at the camera. A side pose
can also be achieved without any support elements. For that, the groom can stand
facing sideways, maintaining a steady strong posture. When it comes to sitting
position, crossing legs and looking away from the camera is a royal pose idea.

10)The Standard Pose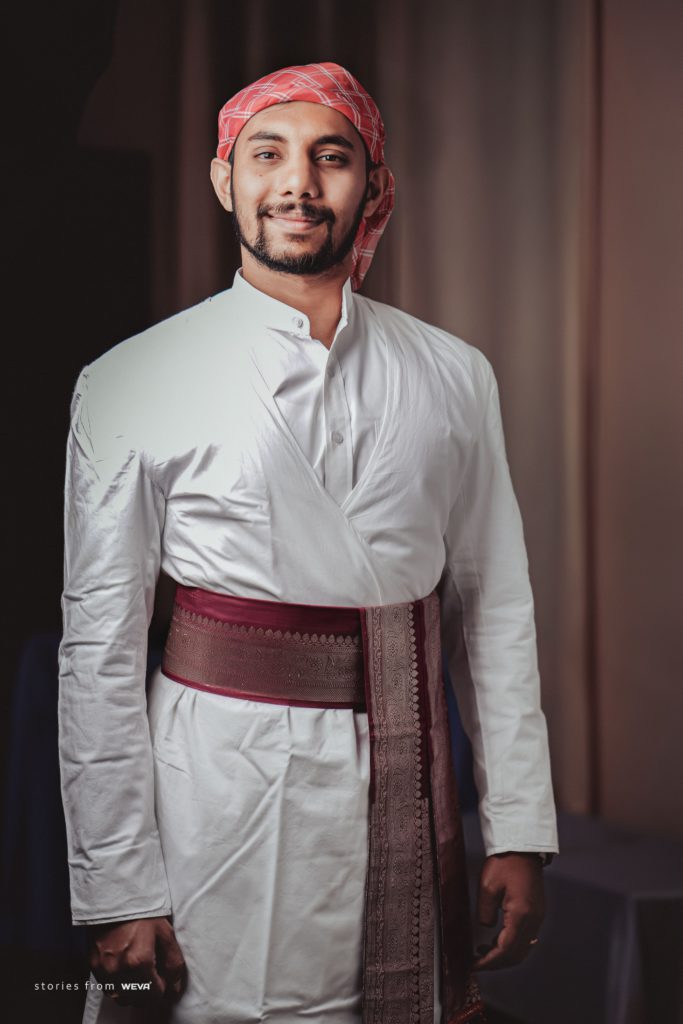 Our traditional Coorg groom is winning our hearts with a simple yet marvelous pose.
His traditional attire is beautifully showcased in this standard frame. For those grooms
with special traditional attires, this standard pose is a mandatory one to document the
precious details of their outfits. Irrespective of the mode of outfit, standard poses are
one of the best wedding poses for bride and groom.
For standard poses, the groom may stand straight with arms crossed or relaxed
looking straight to the camera eye. Though such a pose is considered a cliche or
mundane everyday pose, most grooms would like to have one such photo among their
selection of best wedding pictures of groom.
By brushing through these easy-breezy groom poses, we hope that you are feeling
much lighter. We have listed out a set of trouble-free poses for the grooms to rock in
their charming outfits. You may even try practising it before the big day to feel
confident. If you are still feeling stuck, sit down with your photographer and discuss
ideas. We believe in you and we are so sure that with all the preps, you can do an
amazing job at the shoot session. We wish you all the very best!