Wedding Photography Of Sreeleena And Unnikrishnan
Kolkata Weddings have a specific type of beauty, many of the weddings had inspired so many bride's out there. Sreeleena and Unnikrishnan tied their knot at Westside Pavillion Kolkata. Fabulous ceremony rich in traditions and colours also. – Grand Kolkata Wedding Photography.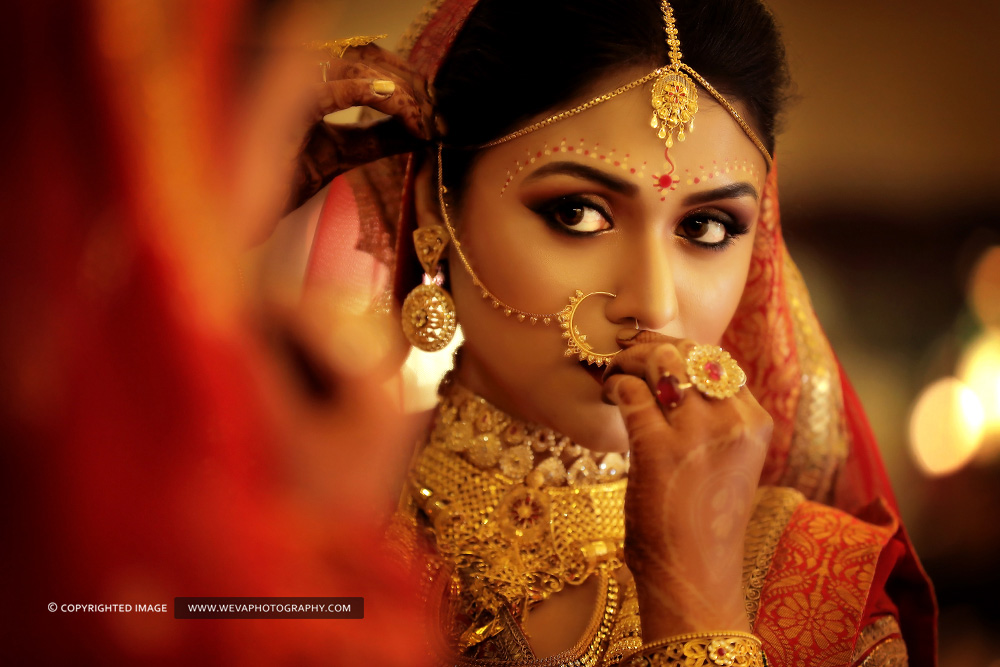 Sreeleena, charming bride glowing in her antic jewellery. Her vintage nose ring ( nath ) complemented her stunningly, enlarged and influenced her entire face. Her ear rings ( Jhumko) it's all about floral designs, and her Tikli, an exemplary piece of jewellery studded with stones makes her fabulous. Tairaa, a jewellery which is used to hold her veils added an additional elegance too.  Also her neck covered with chik, a bridal jewellery studded with diamonds .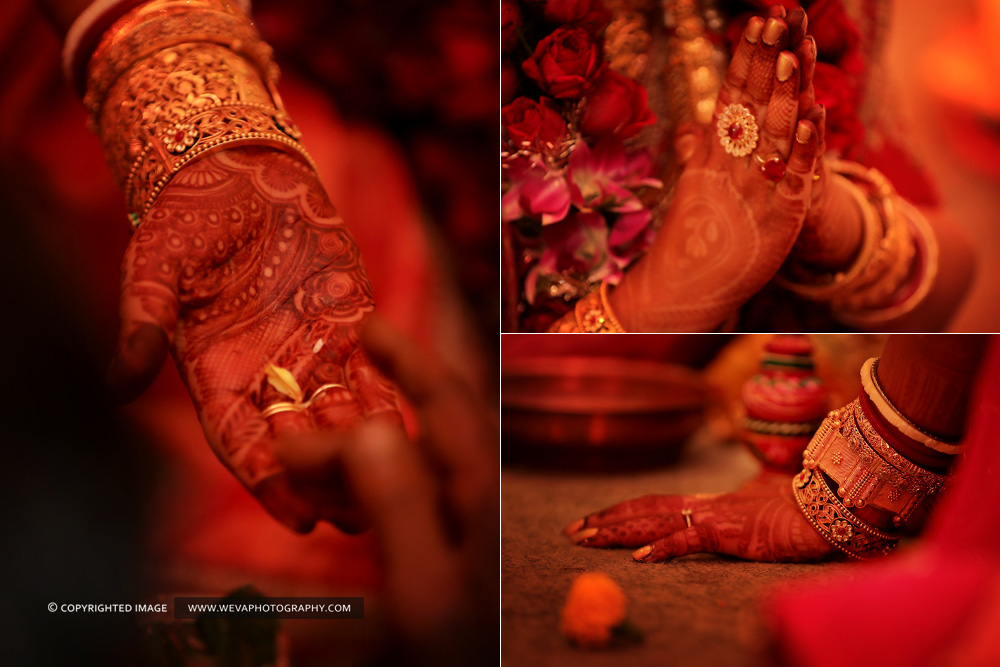 Her chur bangles and rings really awesome.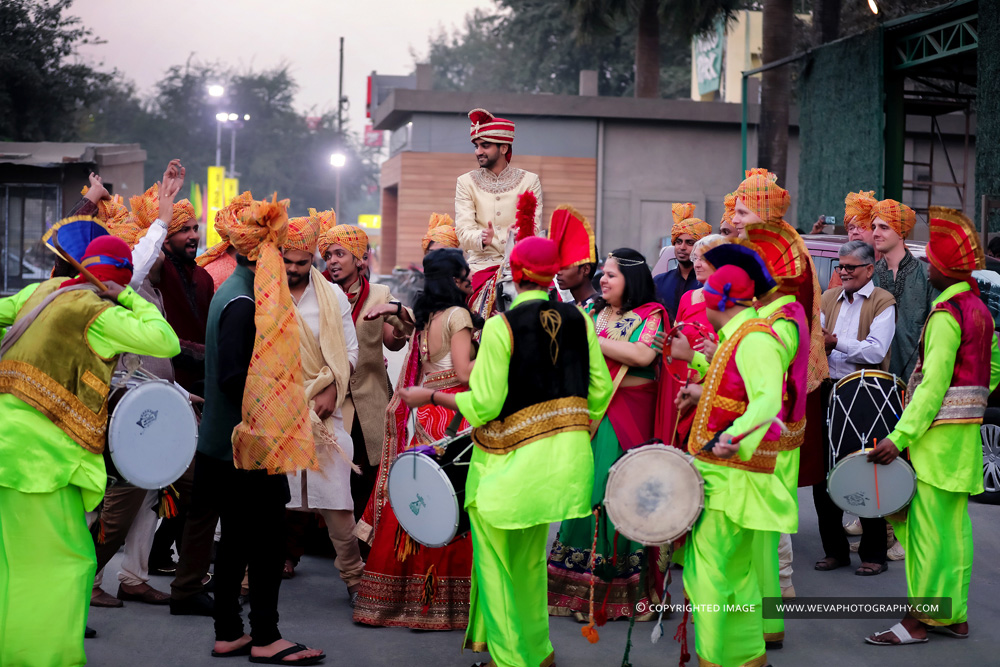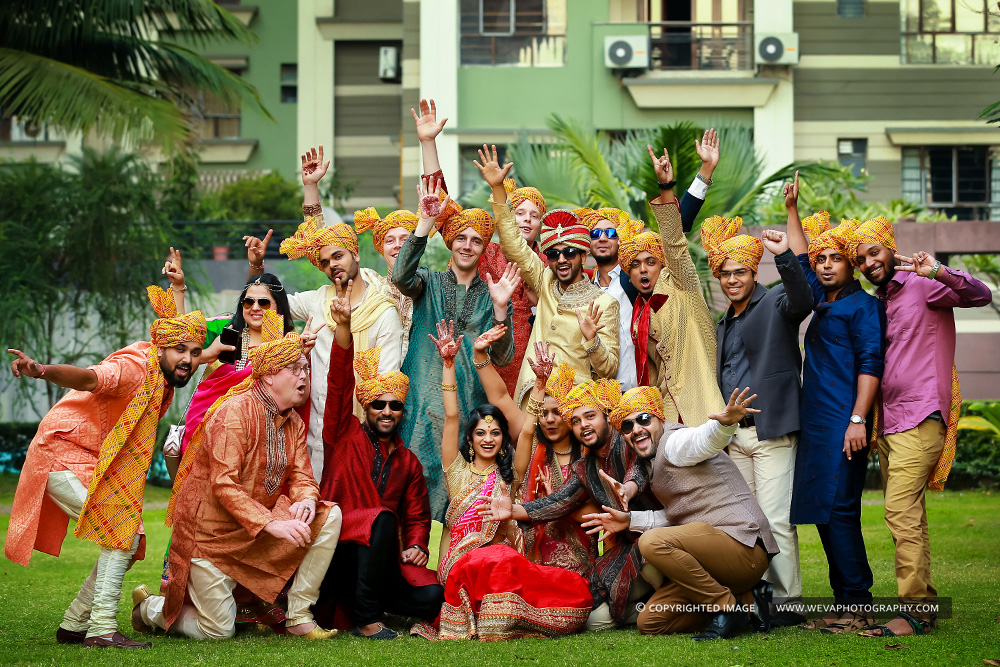 Unnikrishnan, groom equally regal in his Sherwani reached the venue along with the Baraat, followed by dancing family members especially relevant.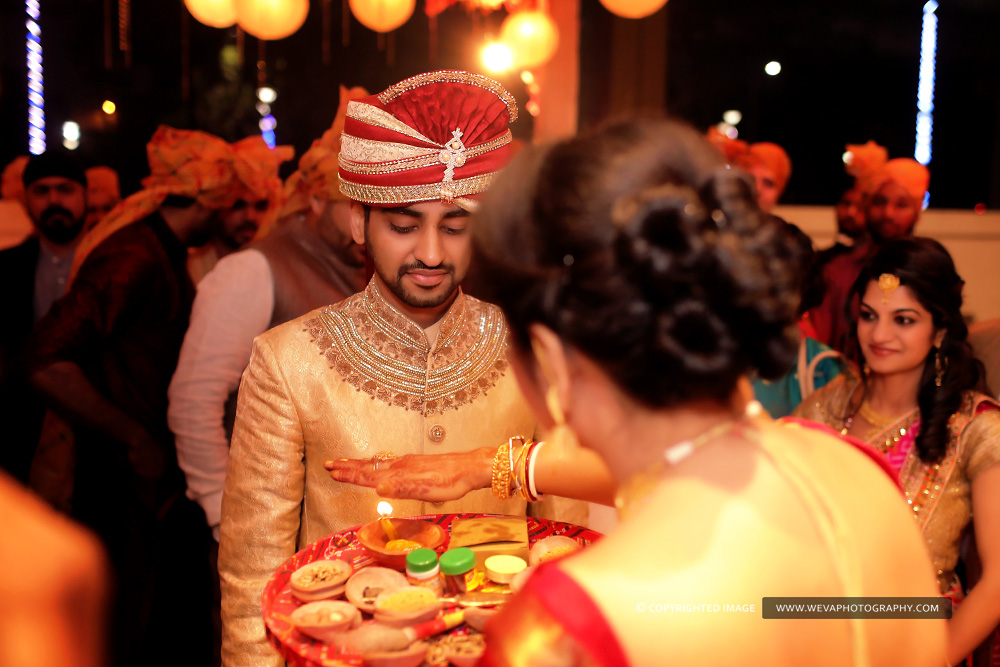 At the entrance of the venue, Unnikrishnan welcomed by the bride's mother with tilak and also does an aarti before welcoming him.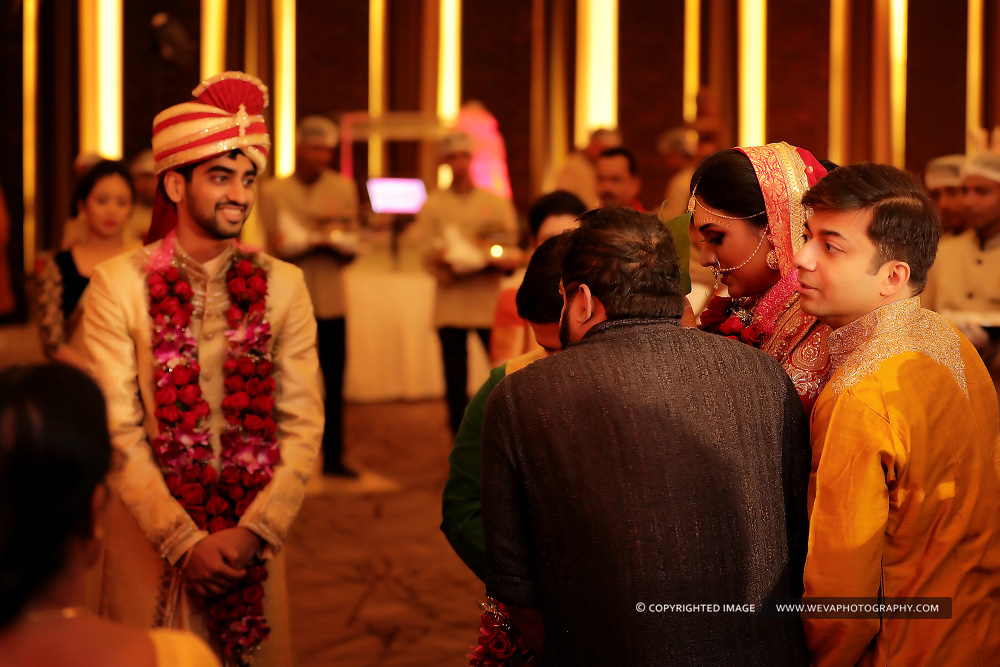 Bride entering to the venue, she seats on a wooden stool called pidi. Her family members carrying her on the pidi.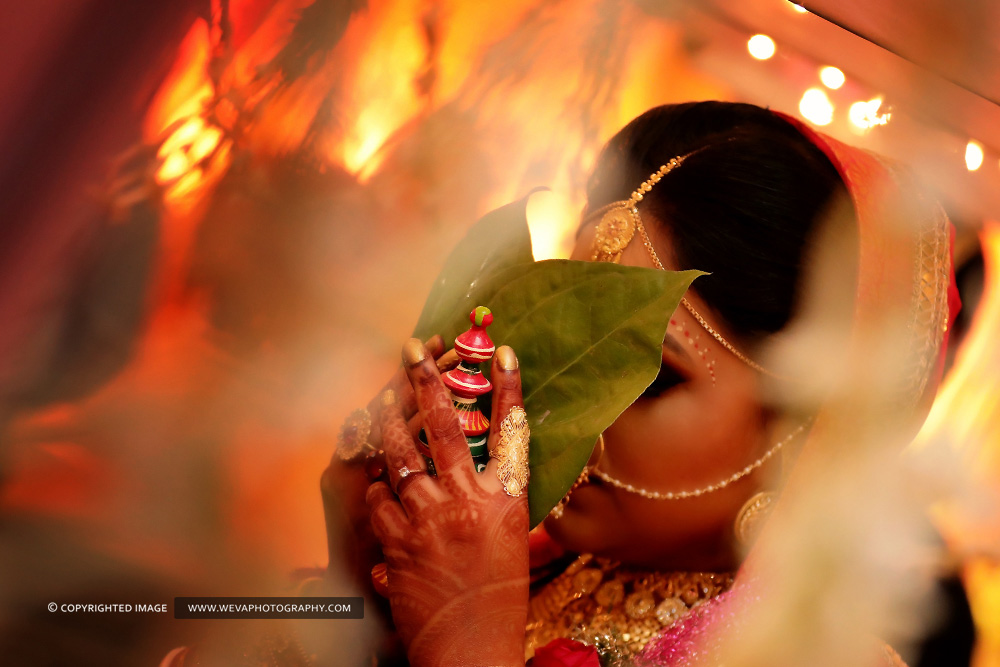 Bride covering her face with a pair of betal leaves.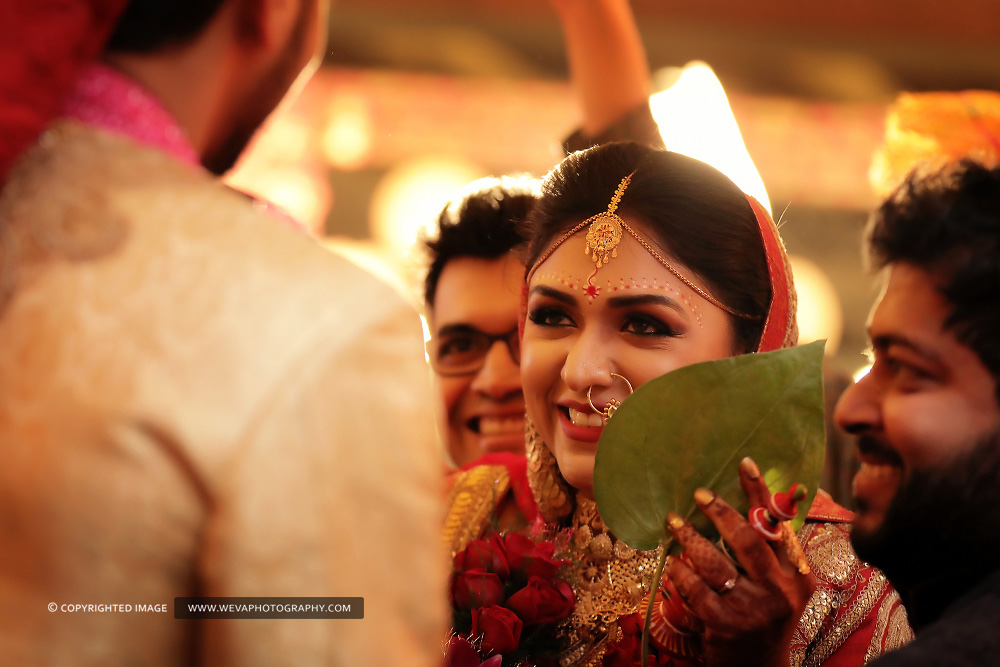 Bride then take the leaves off her eyes and sets her eyes on the groom. The purpose of this ritual is to wind up the couple securely to each other.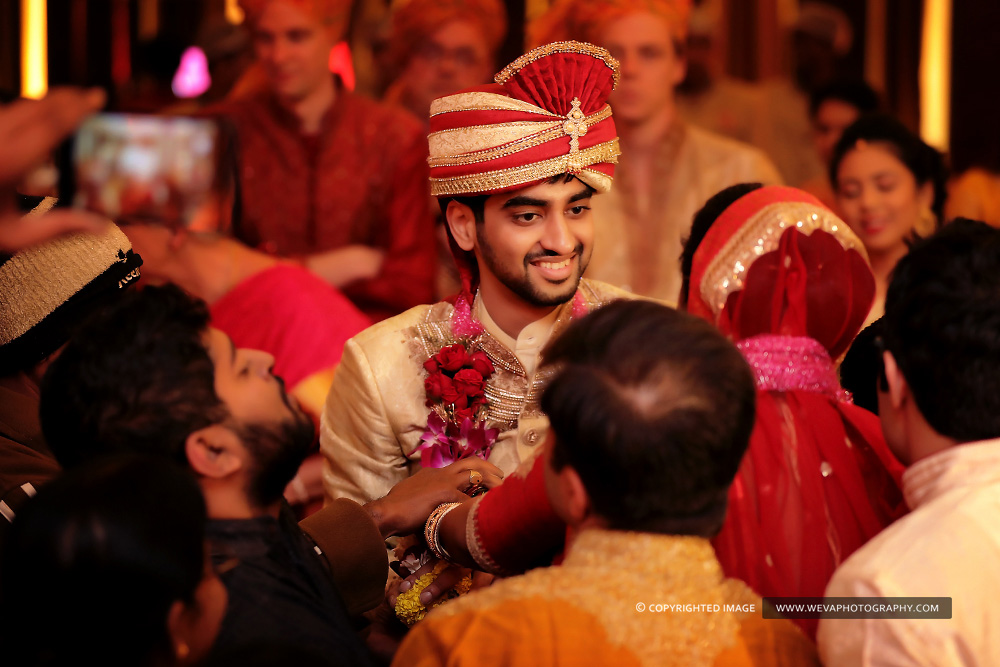 Bride lifted by family members and exchanging garlands made of fragrant flowers.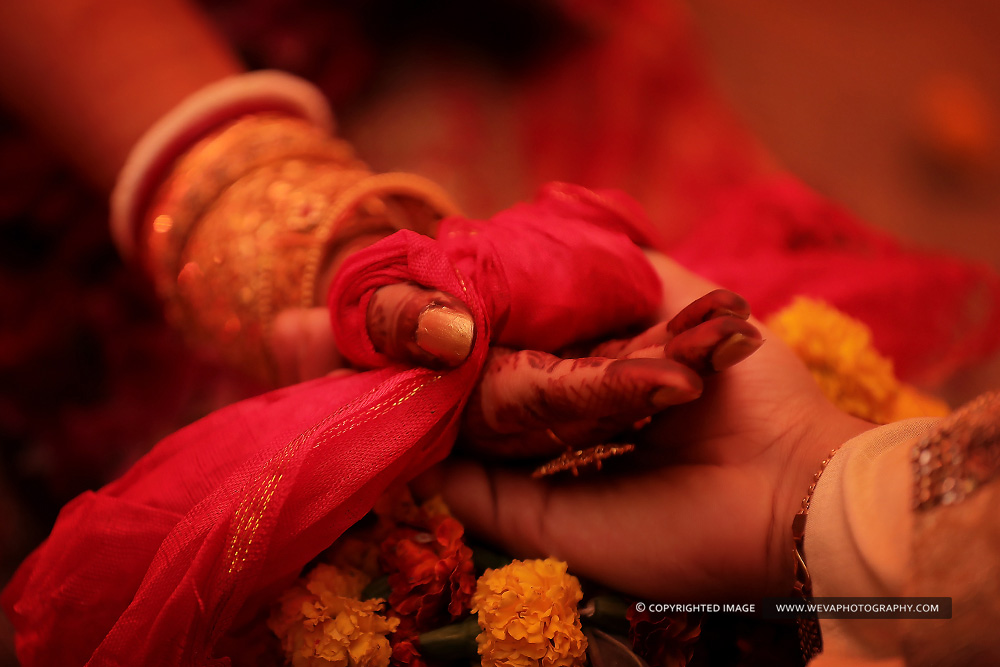 Their hands are tied by a sacred thread and the hands will stay like that till the end of rituals.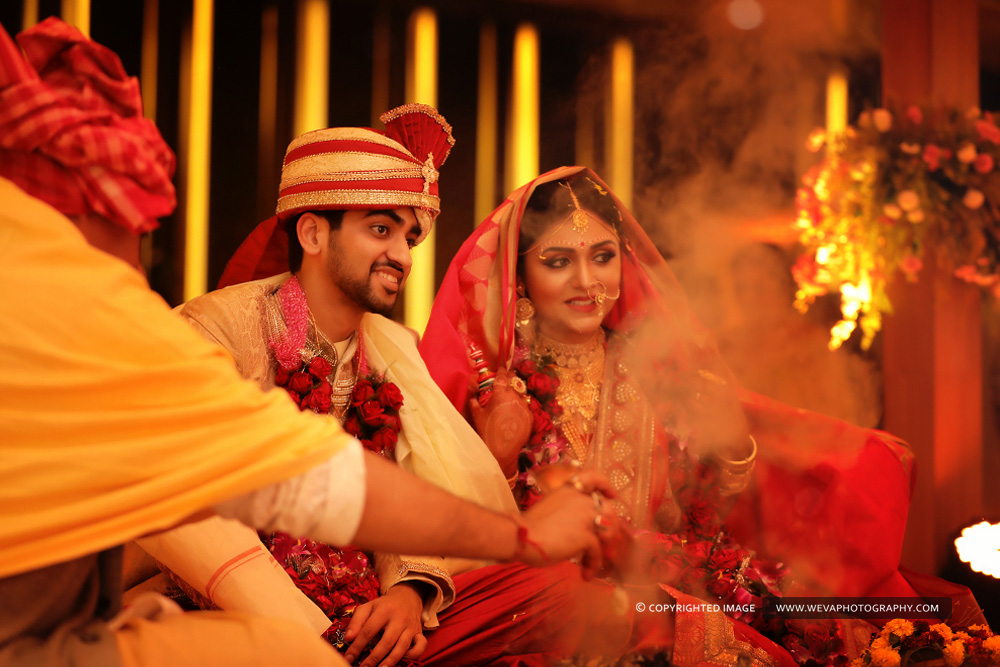 Couple sitting along with the priest facing the fire god to solemnize the marriage.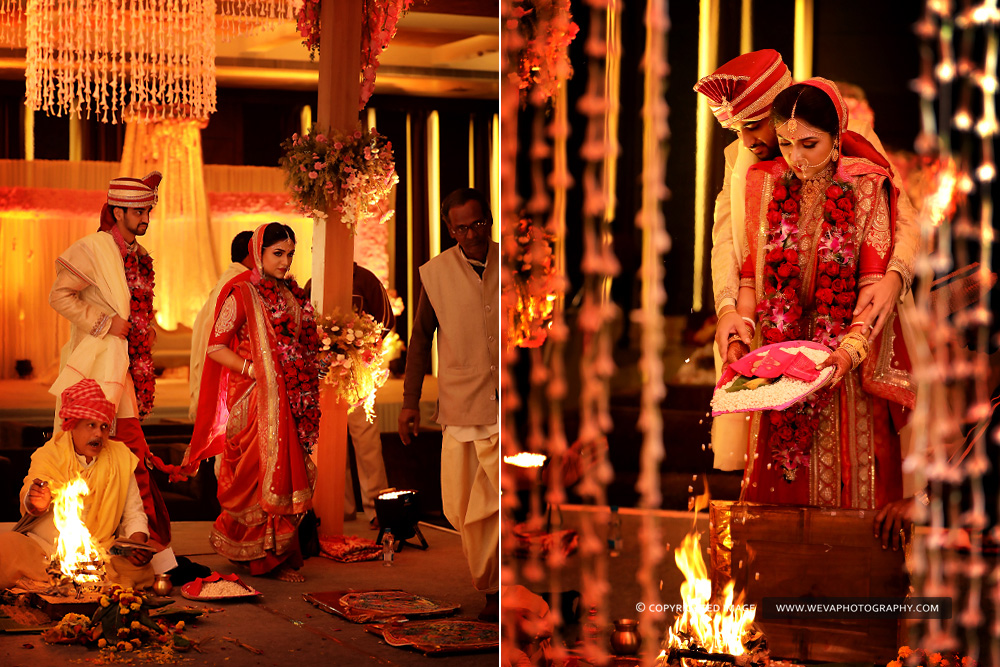 Couples asked to go around the fire. The bride stands in front of the fire with a chaff filled with puffed rice and asked to thrown into the fire.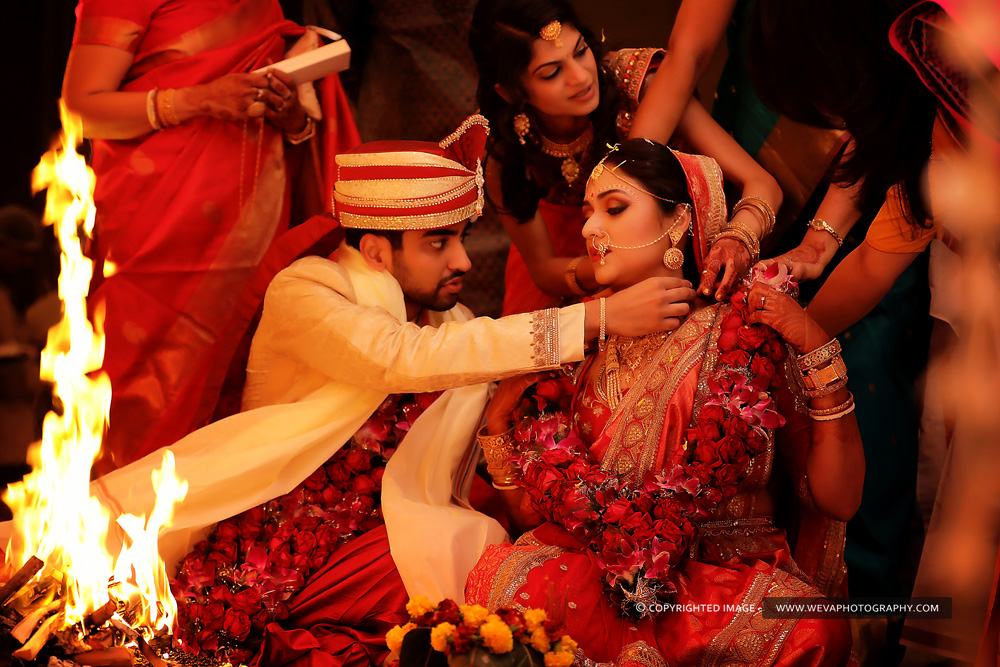 Tying mangal sutra around bride's neck.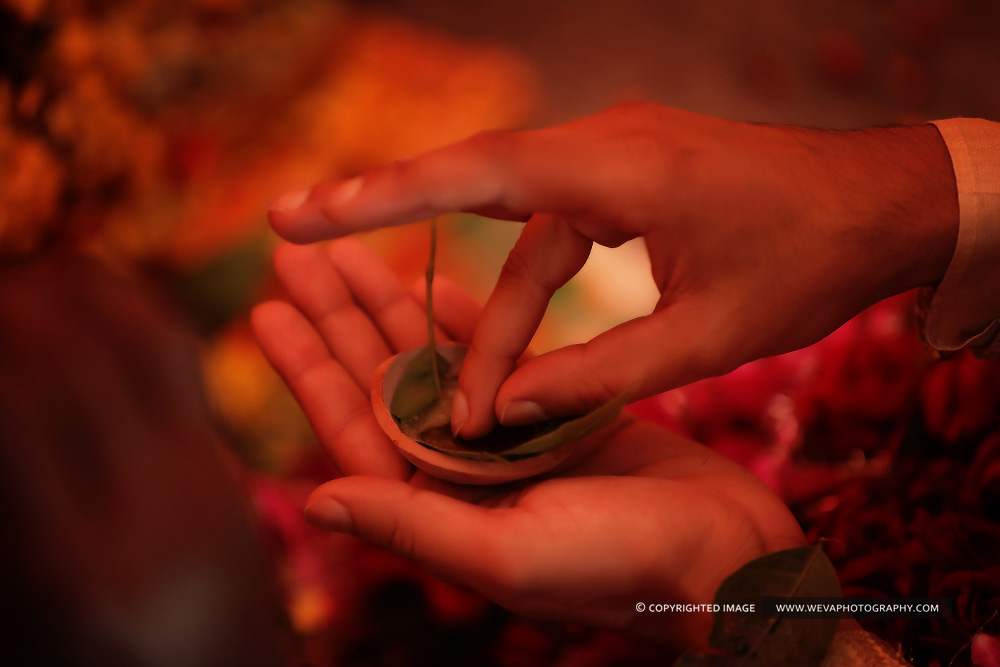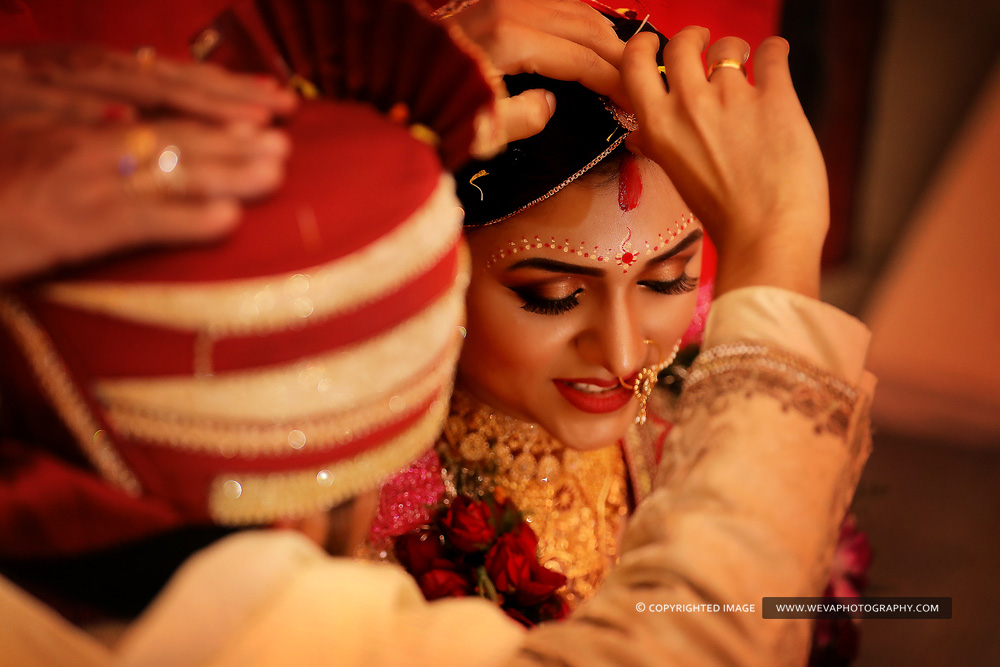 The groom putting Vermilion mark on the forehead of the bride.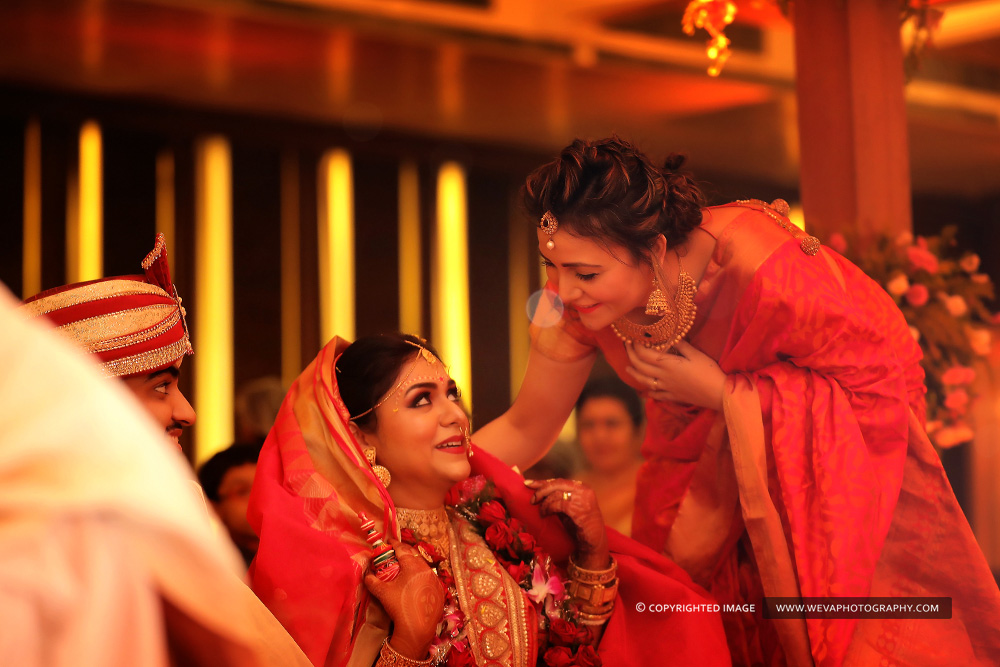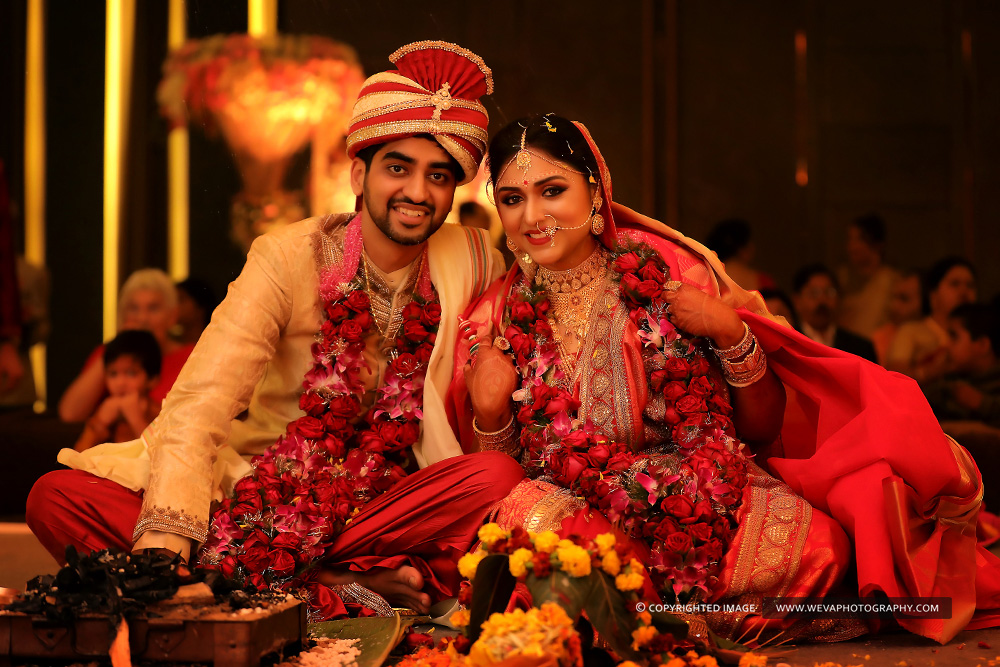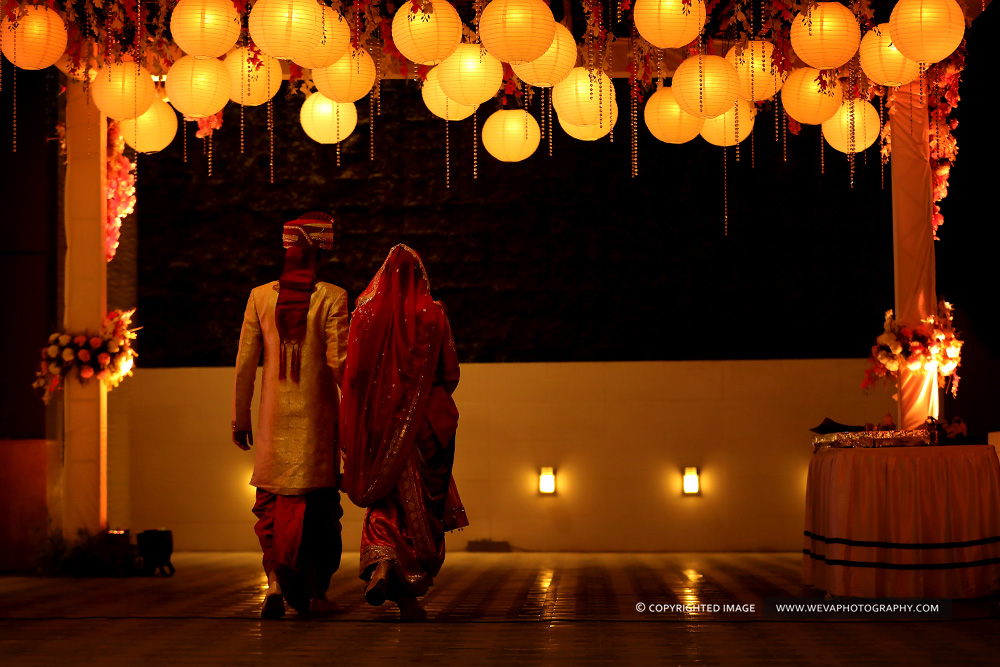 A happy beginning of their wonderful life together, their love for one another is steadfast and strong…._Grand Kolkata Wedding Photography.
Hence Congratulations Sreeleena And Unnikrishnan.
Couple             : Sreeleena And Unnikrishnan
Location          : Westside Pavillion, Kolkata
Composition   : Team Weva
Contact            : +91 9061040472
Mail                 : mail@wevaphotography.com
Fb                    : facebook.com/wevaphotography
Youtube          : youtube.com/wevaphotography