Are you a fan of floral wedding cakes? Would you like to have a quick read about the
trending floral wedding cakes of 2022? We have curated a beautiful list of famous
floral wedding cake designs after consulting with the best wedding photographers
in Kerala.
Our curation is composed of some yummy floral wedding cake designs we found
while documenting our weddings. We hope it helps you to find your dream wedding
cake design that has a signature touch of your aesthetic. Join us for a delicious visual
treat about beautiful wedding cakes with flowers!
1) Wildflowers
Sticking real flowers that are freshly plucked cannot be compensated with anything
else. Clearly, the fragrance, the visual treat and the fuss-free design process are
something to die for. And, wildflowers that belong to fairy core and cottagecore
aesthetic are some of the much-loved floral designs in the wedding cake trends of
2022.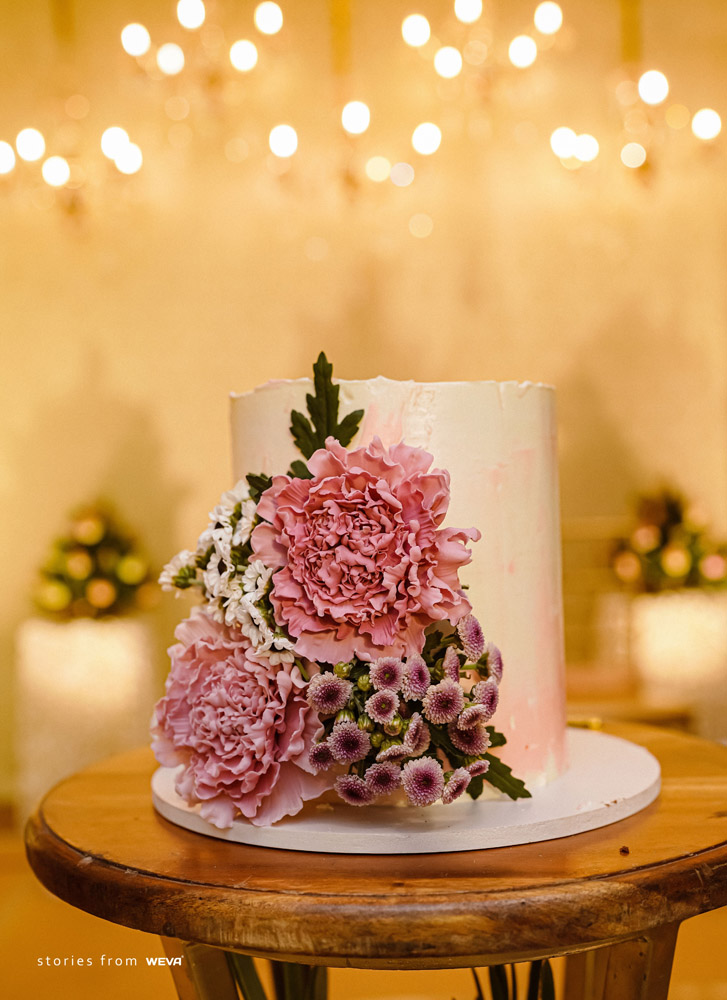 Couples are head over heels in love with multiple-tiered designs that are beautifully
decorated with lots and lots of real wildflowers. Certainly, the choice of flowers shall
depend upon the overall wedding aesthetic. From heavy bundles of statement pieces
to very minimal touches, there are a variety of ways through which the best floral
wedding cake designs can be developed.
2) Minimal Beaut
Minimalism in wedding decor is something that is getting explored a lot in this season.
Definitely, wedding cake designs are often showered with lots of design elements like
multiple tiers to make it as grand as possible. But, as per the latest designs in floral
wedding cakes, we see a lot of minimalistic details that are quite pleasing and
soothing to our eyes.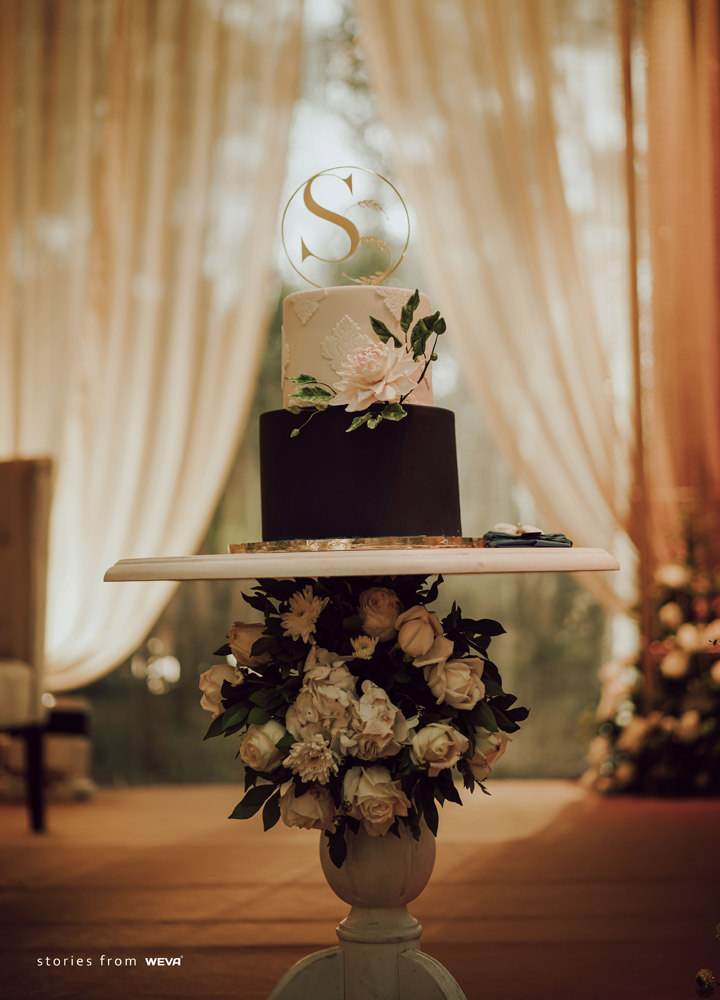 The cake remains simple in every single element such as color palette, flower
selections, icing, tiers and so on. A couple of garden-fresh flowers and just 2 tiers are
some of the common details we find in this section. At times, there would be the
couple's initials embedded at the top and that is pretty much it!
3) Messy Aesthetic
Getting a little creative with spatula icing can bring jaw-dropping designs. Here, we
see a sunny summer garden aesthetic in the picture we have showcased. Clearly, the
messy finish created with a spatula is bringing warm new energy. Contrasting to the
super neat cut wedding cake designs that we often get to see, these designs are
something new and exciting.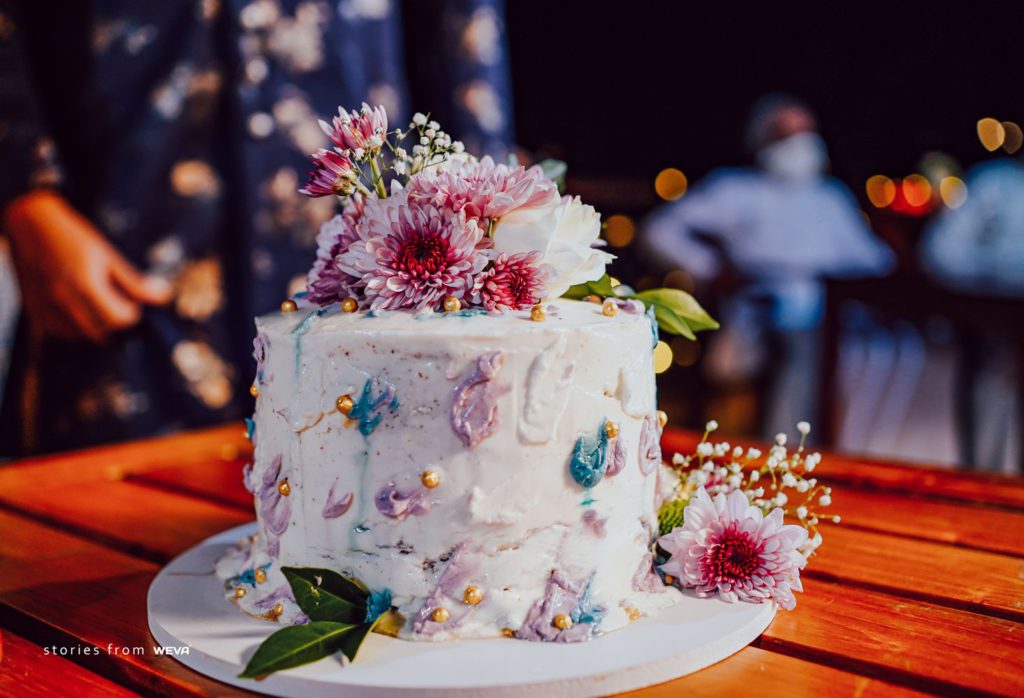 We see a lot of summery tints and lovely flower decors of fairly core aesthetic. From
the baking and finishing to serving and dining, the whole process of its formation
seems to be quite fun-filled and joyous. Rather than giving an uptight vibe, fun
wedding cake designs like these bring out a much more relaxed feel at the after-party.
4) Edible Floral Design
Textured cakes are so unique especially when it's finished with fondant designs
inspired by nature. Instead of adding freshly plucked flowers, fondant art is amazing
to design edible flowers and leaves that can be placed onto the cake.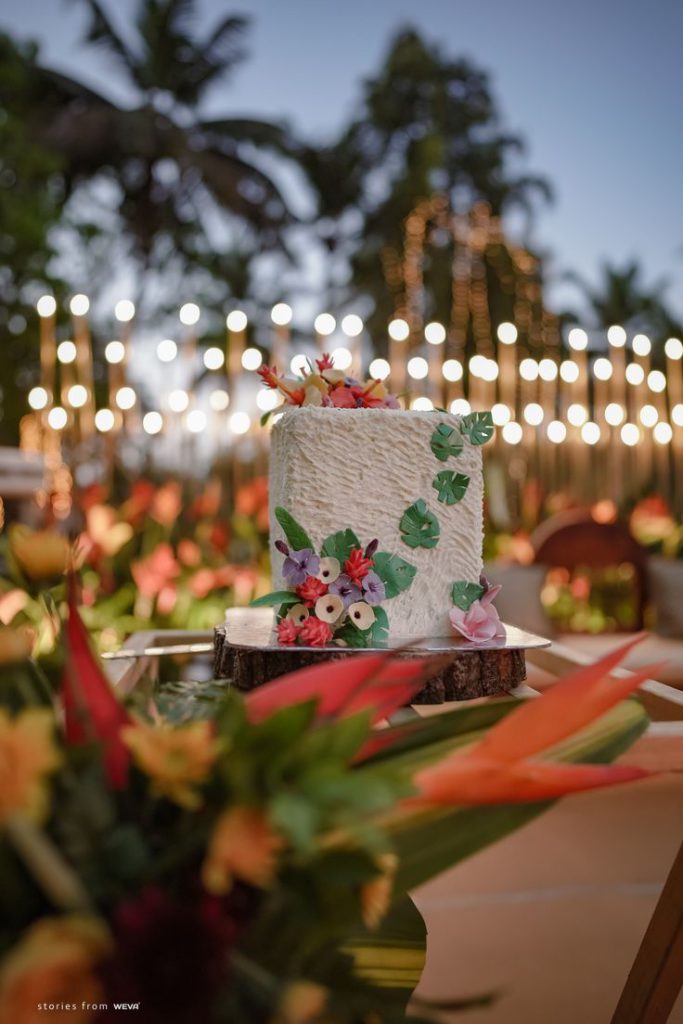 As compared to the meringue techniques and album arts, fondant art receives more
love and appreciation due to its neat, professional look. Clearly, it is an art that has to
be mastered with hard work and patience.
5) Pastel Edition
Pastels blend beautifully with buttercream and whipped cream icings. Pastel floral
theme has been widely found among the best and latest cake designs for Christian
weddings. To be precise, the smooth velvety finish of buttercream and whipped
cream icing go hand in hand with pastel flowers that are handmade with love.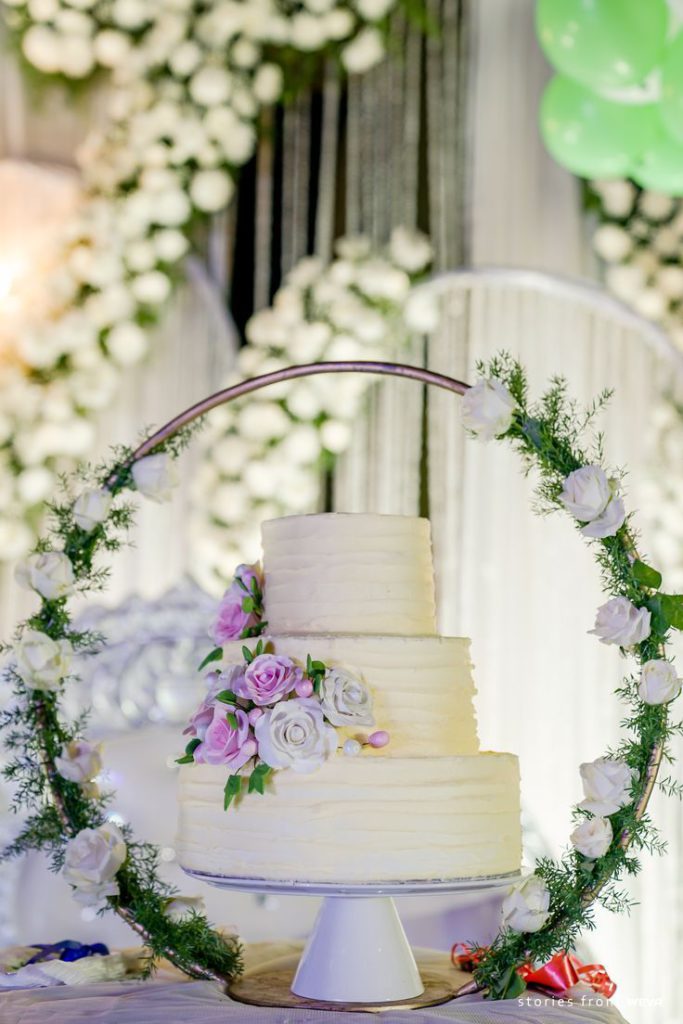 Added to that, soft rose bundles, calendulas, hibiscus, daisies and sunflowers make a
perfect combination with pastel-themed wedding decors. From tropical beach vibes to
Western spring aesthetic, pastel-themed wedding cakes can create magic with suitable
flower choices. And, we have been noticing some spicy elements like minimal
frameworks and flower crowns that are not a part of the cake but placed nearby to
accentuate the decors.
6) Classic Designs
Handpainted fairy tale wedding cakes are forever favorites of newlyweds. How about
decorating it with fresh red roses and some whipped cream frosting!? Certainly, the
red and white combination is a classic one that has been found in the top wedding
cake designs of most seasons.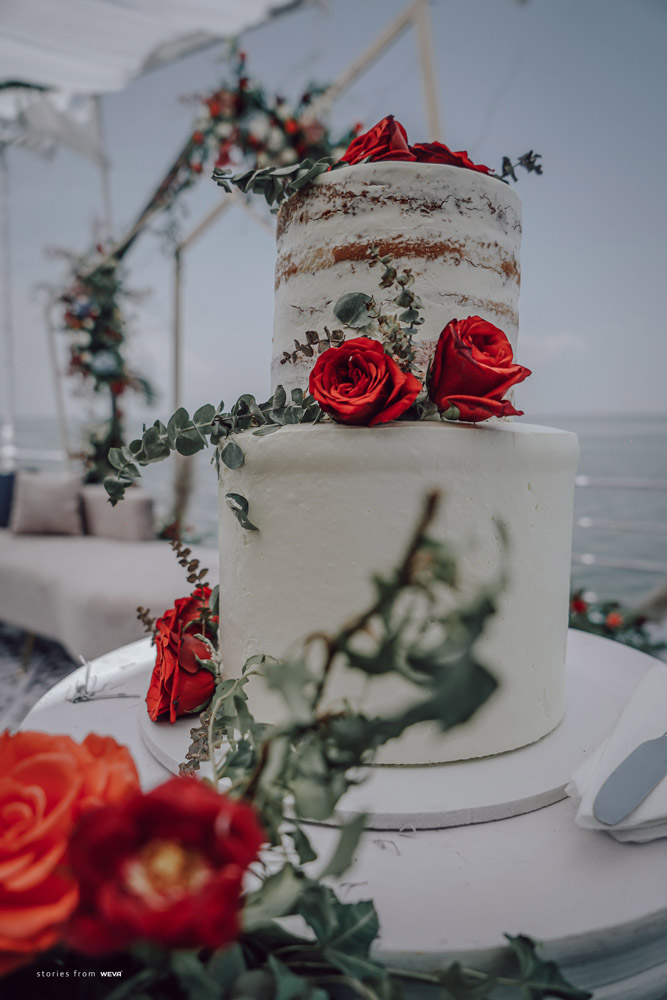 When it comes to evergreen wedding cake designs, this combination has been living
through history for the longest time. With regard to the icing and frostings, one can
try different techniques such as basket weaves, sweet glazes, swirled patterns, royal
icings and so much more. Unquestionably, multiple tiers and fresh red roses are a
must to ace this aesthetic!
7) Futuristic Ideas
Adding edible floral designs with fondant art is something we just discussed above.
But how about crafting a part of the cake itself as a floral element. Here, we have
showcased a unique futuristic design piece that may not be everyone's cup of tea! But,
having considered its beauty and rarity, we couldn't hold ourselves from talking about
it. Obviously, we see a lot of similar designs in weddings of difference, gothic themes
etc.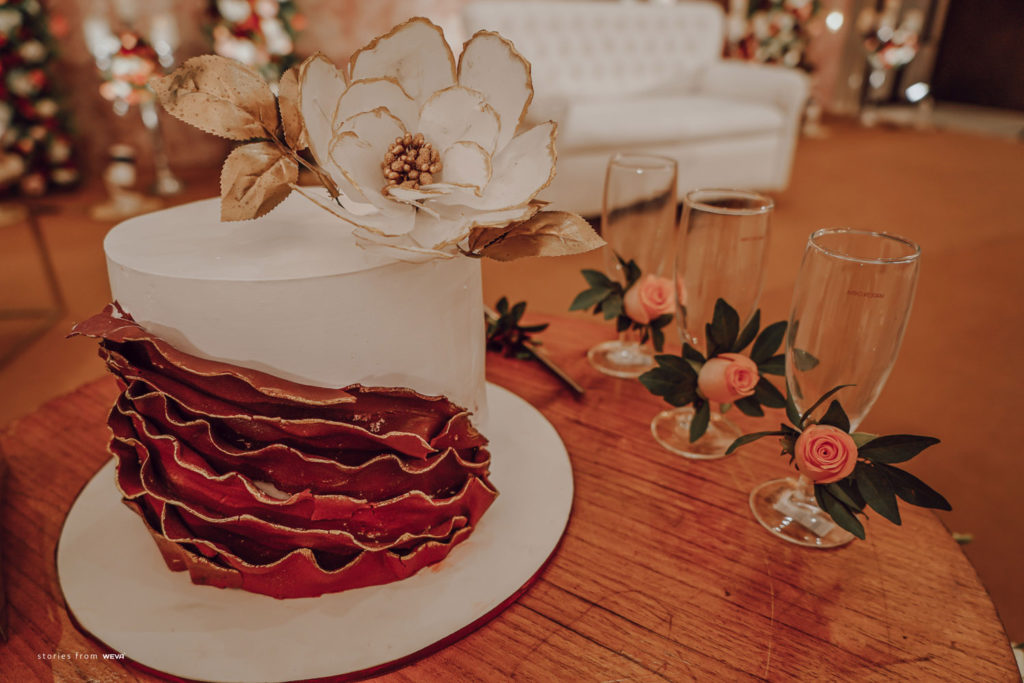 But executing these patterns gracefully for a classic Christian wedding definitely
seems like a challenge. Evidently, the color palette and the finish of the element shall
be decided with care to bring one hundred percent justice to the design. If you are
someone who is planning to go for something different, this is a great option to
explore.
8) Monochrome Love
Monochrome wedding cake designs have been trending ever since they made their
initial appearances. Imagine a snow-white wedding cake finished with well-chiseled
floral designs all in the same shade of the cake.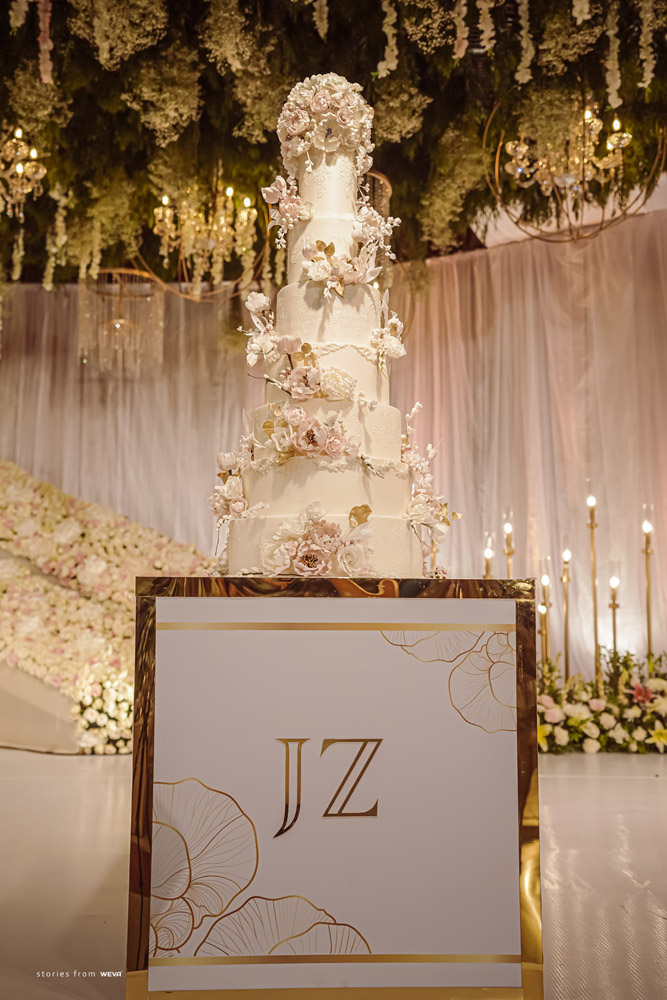 There is nothing more elegant than adding details to a monochrome cake design of the
same shade. Definity, the elegance is incomparable. Most importantly, the cake itself
stands as a statement piece without any added extras like fancy beads or fake
accessories or even real flowers. You may go for subtle fondant carved patterns or
easy meringue varieties for detailing. The options are just endless!
We hope you had a great time flipping through the yummiest cake designs with
flowers of all times. From fairly core to classics, we have listed a wide variety of
designs.
And we believe that we have something in store for each and every one of you
craving something interesting in the process of building your own wedding cake
designs. Wedding cakes with flowers give a fresh perspective on the trends of 2022.
Apart from lighting up the venue with goodies from the garden, the energy is truly
magnificent. We hope our curation has given you an insightful experience!