Are you planning to level up your wedding decor game? Then definitely don't miss on
your stage decor! Wedding stage decoration plays an important role in the overall
aesthetics. There are a variety of themes trending in the current era of fancy weddings.
A contemporary or minimalistic approach shall convey simplicity and humble styles.
However, if your aim is a luxury event, then you should think out of the box.
Luxurious or budget friendly, the style of decor conveys the style of you and your
partner. Therefore, it is important to stay in check of the best wedding stage
decoration ideas . Let us take a look at top 8 wedding stage decoration ideas we
prepared for you!

1) A Grand Gesture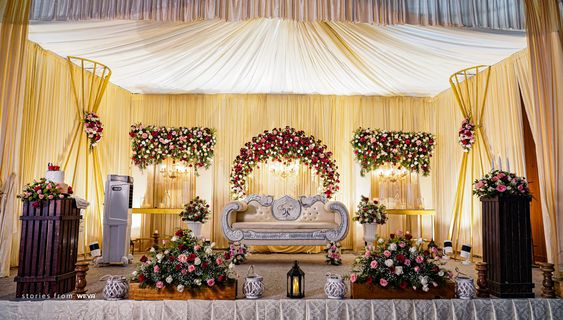 Are you dreaming of something big for your wedding decor? Beige or yellowish
golden tapestries are a good option. Go big on bold and beautiful for the best flower
decoration in marriage hall. Because floral arrangements are something unavoidable
in every stage decor. Large dummy stick structures can enhance the complexity. And
don't forget lighted lanterns and pretty flower vases. Make a bold choice on the
podium. Give wooden finish a try. It is evergreen and immortal in the realm of
wedding decor. Never go easy on the couple's couch also called the 'love seat'. Select
the puffiest one which pops out the most.
2) A Traditional Beauty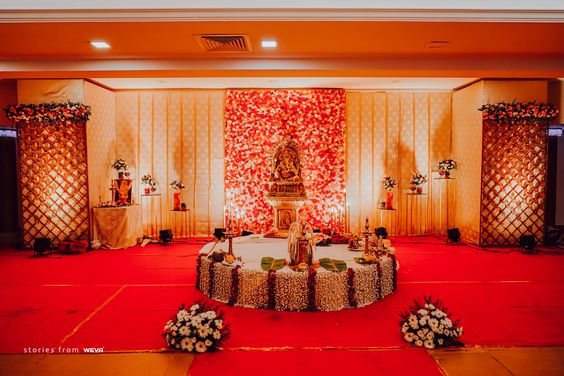 A typical Kerala Hindu wedding stage decoration is generally minimal and simple.
A lot of free space is required to conduct the rituals. As a result, the major center of
attraction tends to be raised platforms on the ground. This platform is where the bride
and groom settle down. From gazebo models to plain floral arrangements, the decor
industry has limitless options. Background wall holds the majority of scope for
decorations. Sculptures of Hindu Gods and Goddesses are often placed on the rear
wall. Diyas and long garlands are good additions. Warm lighting is the most used
lighting for best south indian wedding stage decorations.
3)The Classic Style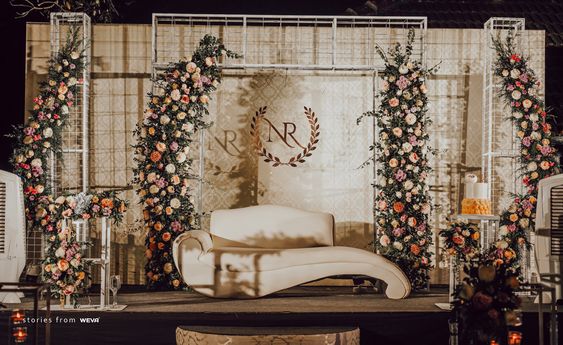 A classic traditional wedding stage decoration 2021 is achieved through careful
color coordination. Flowers, seating, wall decor and tapestries should be uniform in
colors. Accurate and symmetric positioning also play significant roles in this top
wedding reception stage decoration . Do not clutter the stage with so many props. A
pastel color palette will help you to brighten the mood. Do not go for flashy or
overpowering lights. Be gentle and opt for a soothing, ideal option. Leave the front
half of the stage clear and concentrate on the rear wall. Mix and match the materials
of the decor. Meanwhile, stick to vertical floral arrangements instead of horizontal
ones. Roses are a great option to elevate the classic touch.
4) A Vintage Attempt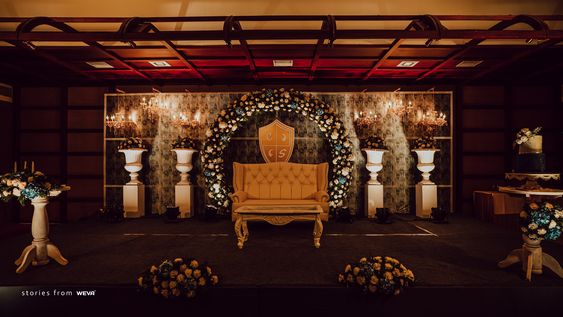 Hunting for the best vintage props is your first step. We may need colonial-style vases
and sculptures. Ever thought of using wallpapers for the rear wall? Well, an elegant
print in the right shade can change the whole vibe! We need the feel of entering a
vintage ball room with the best indian wedding stage decoration 2021. The couch
should be as fancy as possible. You can go easy on the floral decor. Because our focus
is on the props here. But be sure to make a bold choice on the flowers. Even though
we say 'less is more', the 'less' should be able to make some impact. A bold royal color
palette is our ultimate target. And spice it up with loud but not harsh lighting.
5) A fairytale Venue
Dummy frames are everything in curating best wedding stage backdrops, preferably
white. Here, we go big on horizontal floral decor than vertical ones. Make sure that
your stage has different levels. We are not talking about the flight of steps leading to
the main stage. We are talking about the level differences on the main stage itself. It
will bring more depth and fantasy. English colors can help you out during color
selection. Hanging bulb lights can add a cute touch and extra light. Design the ceiling
and rear wall in dark tones. So that, a contrast in the color grading can uplift the
decor.
6) A Wedding in the Woods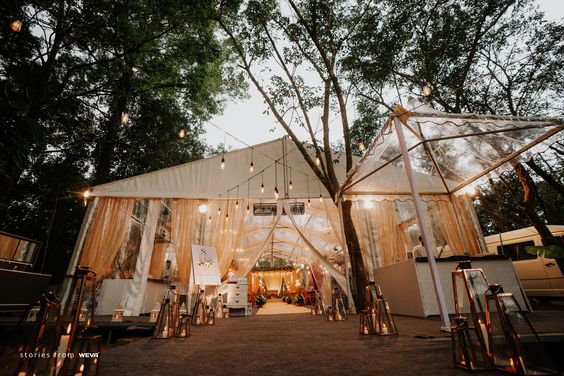 Post-wedding ceremonies will be extra fun if it's in a serene green location. Choose an
evening on a summer day. It gives us the opportunity to light up the entire venue with
lanterns, chandeliers and fairy lights. As it gets darker, the stage and the venue shall
enter another dimension. This style is a mix of classic and famous vintage wedding
stage decor. You can add aesthetic metal candle stands and beautiful flowers.
Wooden furniture and props will help you to acquire a countryside wedding feel.
Choose golden over silver for accessories and decor. As a result, your venue will
radiate an antique touch.
7) Monochromatic Grand Theme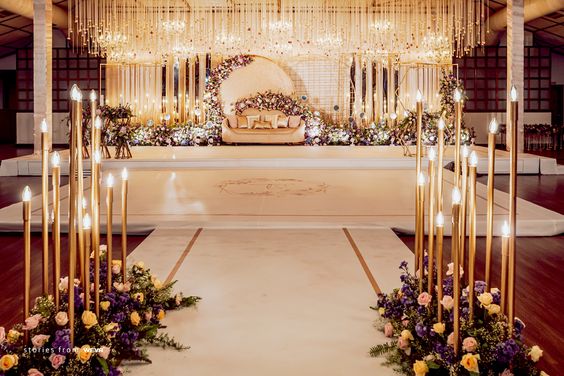 Monochromatic wedding stage decoration trends have been on internationally for
the past 5 years. To make it easy for you, initially decide on a light color scheme.
Pastels or neutral colors can bring out a pleasant atmosphere. But if you want to go
big, you may choose bright tones like red or orange. Assemble the coordinated props
and flowers on the floor. Leave the rear wall plain and focus on the ceiling. Usually,
we do not worry much about the ceiling. But here, let's make an effort. Shall we?
Hang lots of flower garlands or LED lights, positioned closely. You might feel like
this may overwhelm the stage. But trust me! You are going to feel heavenly! Try to
add floor lamps to escalate the happy occasion.
8) Outdoor Open Venue (Overnight Wedding)
Installations are the most striking part of this 3d wedding stage decoration 2020. As
we are hosting a wedding in the open air, building a perfect backdrop is very
important. Giant frames or installations will help you to cover up the clumsy
background behind the stage. Use vertical as well as horizontal floral bouquets and
formations. It will help you to lift the intensity of the design. Decide the number of
props according to the size of the stage. Also, choose a unique piece of furniture for
the couple's love seat. Keep in mind that the rear set up is the keystone of your
popular outdoor wedding stage decoration. Lighting should not be harsh to avoid
exhaustion of eyes at night.
9) Minimal Outdoor Stage (Daytime Wedding)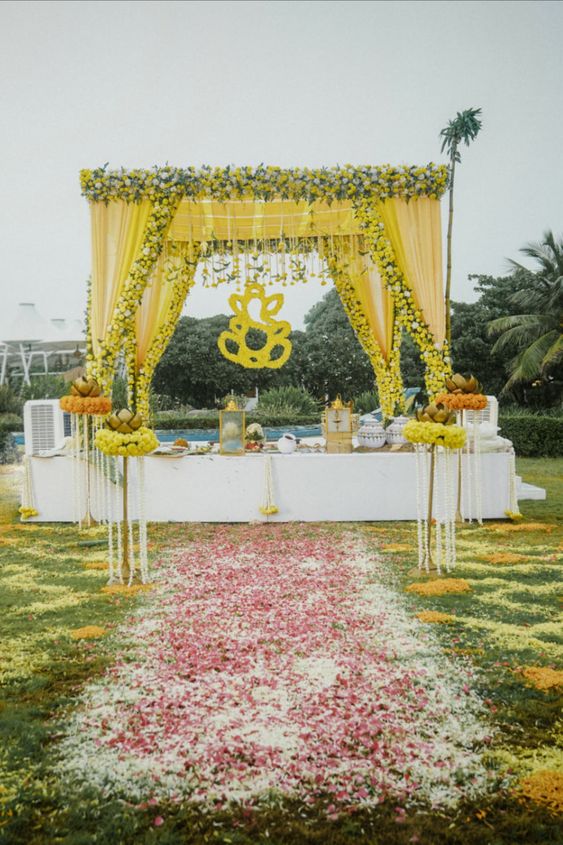 If you are building an outdoor low budget wedding stage decoration with beautiful
sceneries around, then covering the rear side is not important. Focus on the ceiling
and make it interesting with garlands. Color coordination can always bring perfection
in any scenario. Utilize the beautiful surroundings by going for a subtle design.
However, we can add minimal floor installations and lanterns to make it special.
Choose a day color for the flowers and props. It will radiate even more energy and
enthusiasm to the event. If you are setting up the stage on a lawn, scatter flowers on
the ground to differentiate the pathway. Avoiding carpets may make it more natural
and relaxing.
Stage decor can create a huge wave in your wedding decor if attempted with
dedication. Spare some time before the wedding with your partner to decide on a
style. If you are hiring an event planner, feel free to express your opinions and ideas.
Attend your meetings with enough data. It could be some reference pictures or a small
note about your dream stage. Most Importantly, your stage decor is going to get
photographed and recorded the most. Hence, give special care to the decor set up and
plan your wedding diligently. These tips and tricks are dedicated to all the budding top
wedding event planners and soon to be married couples.
See more wedding stage ideas