Are you feeling stressed about your wedding jewelry shopping? Are you unfamiliar
with the glittering world of bridal necklace desi? Are you still unsure about whether to
go for traditional or modern in necklace selection? Don't worry! Take a deep breath
and get ready to grasp some basic knowledge about the best bridal necklace designs for
wedding. Sit down with your bridesmaids and girlfriends with a coffee and snack.
Because we are going explore the shiny world of best bridal necklaces together. In
this guide, you will find out about the old as well as new type necklace designs for
wedding along with tips to select, layer and style your necklaces. Here we go!

1) Traditional Temple Jewelry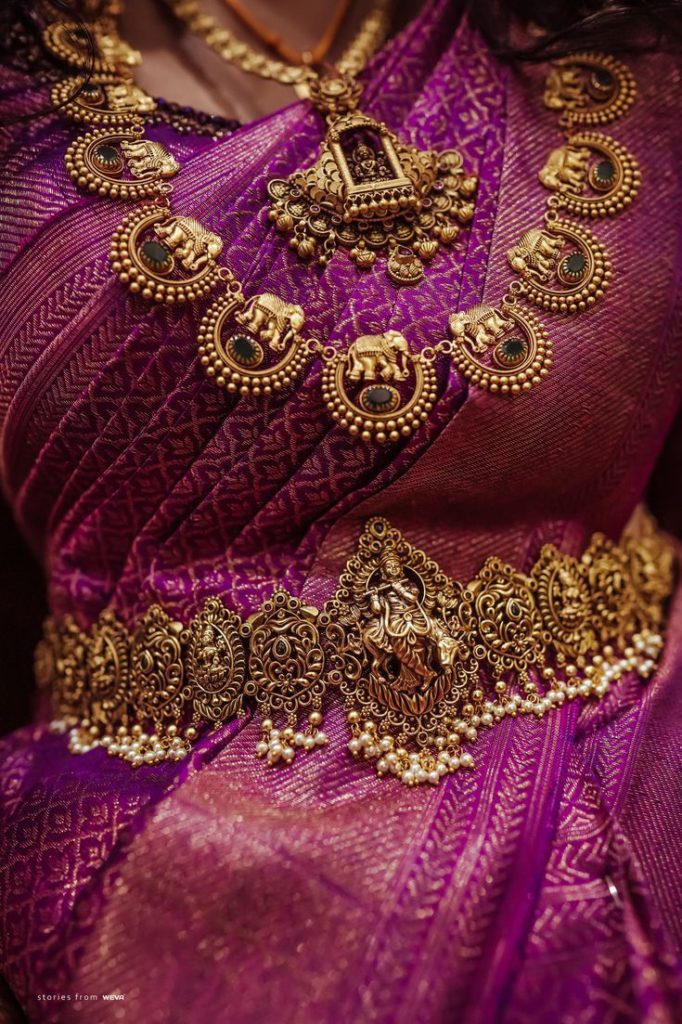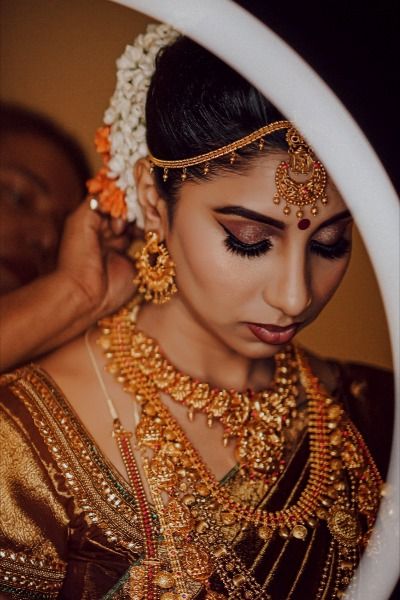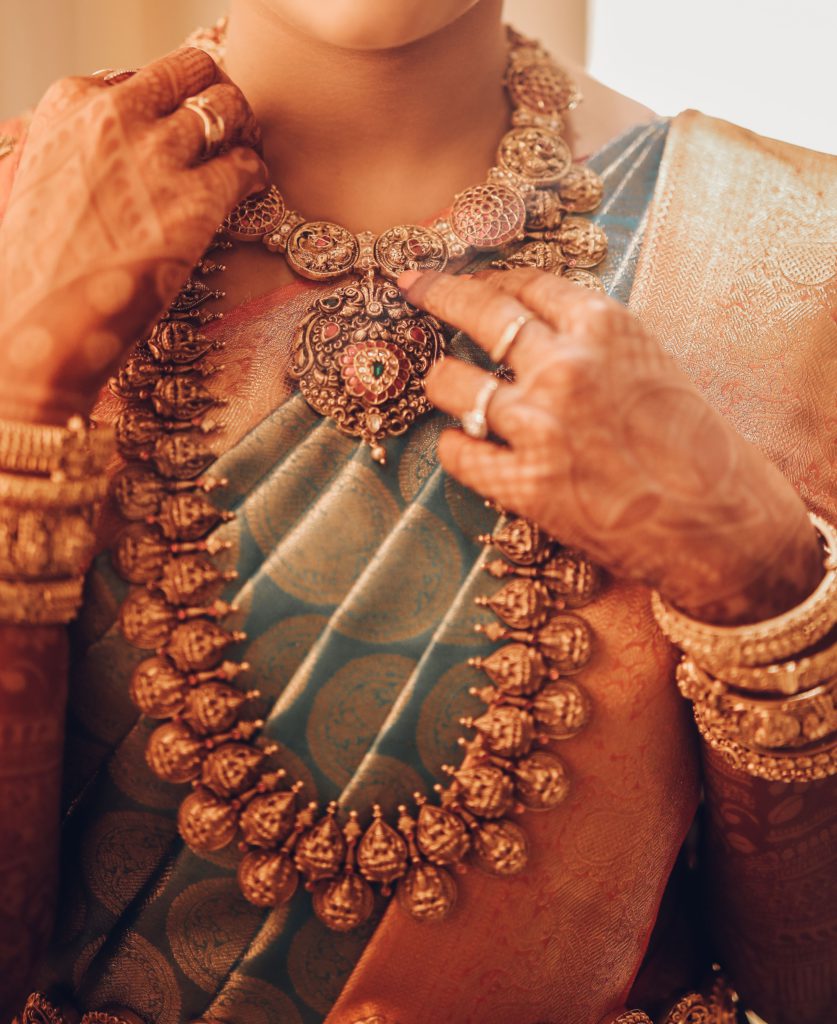 Temple Jewelry is exclusively found in traditional South Indian Brides especially in
Karnataka, Tamil Nadu and Kerala. Evidently, this style consists of heavy bridal
necklace sets. Therefore, even by wearing just one prominent statement piece the
bride can easily sparkle in her silk saree. Originally, the necklace is finished in gold.
But, it is often embedded with a variety of stones and gems.
The most important feature of these necklaces is the carvings of Hindu Gods and
Goddesses. Though the jewelry is adequately bulky, traditional Hindu brides are
always excited to wear these necklaces due to its elegance. Necklaces in temple
jewelry come in various types. Necklaces with a catchy pendant and a uniform
structure with repetitive patterns are some of the best temple jewelry designs.

2) The 3-Layered Beauty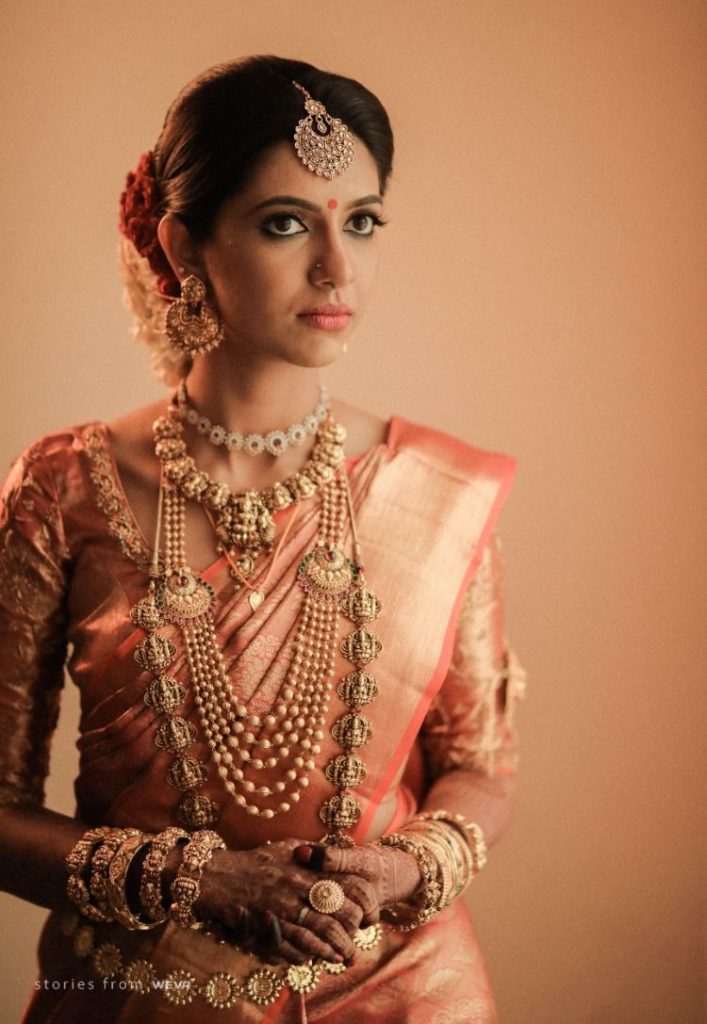 Layered gold-beaded necklaces have been worn by brides of different regions and
traditions. This beaded beauty was often found in Muslim brides. But, due to the
lovely design and the immense grace, these necklaces have conquered the hearts of
brides all across India. Unquestionably, this design can be worn even after the
wedding with simple ethnic attires. Hence, it is a good option for brides who are
looking for minimal necklaces which they can reuse after the wedding.
Interestingly, this design easily blends with the latest bridal gold necklace designs
from different regions and customs like traditional Mughal and Temple Jewelry.
Therefore, layered beaded necklaces still hold an impressive position in the wedding
jewelry industry. The number of layers varies from 3 to 6. And, you can even
customize the number of layers as per your taste.

3) The Evergreen Kaasu Maala/ Coin Necklace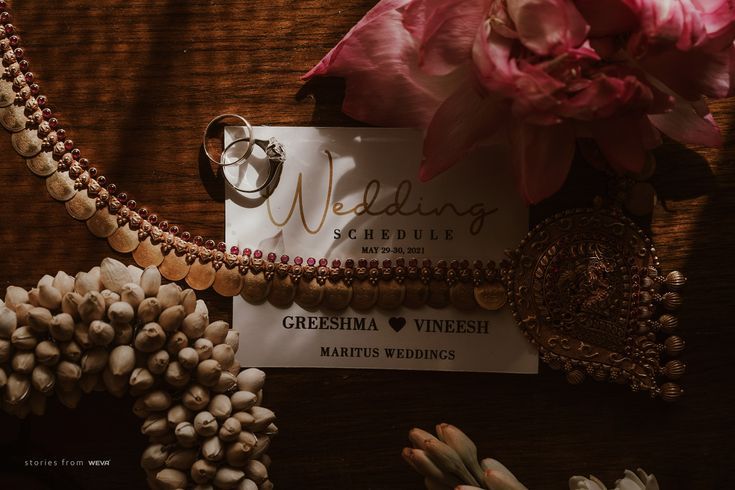 This necklace is originated in Kerala. And, it has been a mandatory necklace piece
worn by almost all Kerala Hindu brides of the 1900s. The necklace consists of gold
coins fitted together in an impressive and neat pattern. To clarify, this necklace is still
considered as the best gold necklace design for wedding even by modern Kerala
Hindu brides. It is often paired with Kerala's traditional Kasavu saree.
And, this serene attire is a trendy bridal look when finished with the right makeover
and accessories. Despite being a part of Hindu bridal jewelry, women of Kerala wear
this necklace on traditional celebrations like Onam, Vishu etc. Clearly, the old design
has been developed into various new forms. But, the classic original Kasu Mala is
always a head-turner even while worn with latest bridal necklace designs.

4) The Mughal Elegance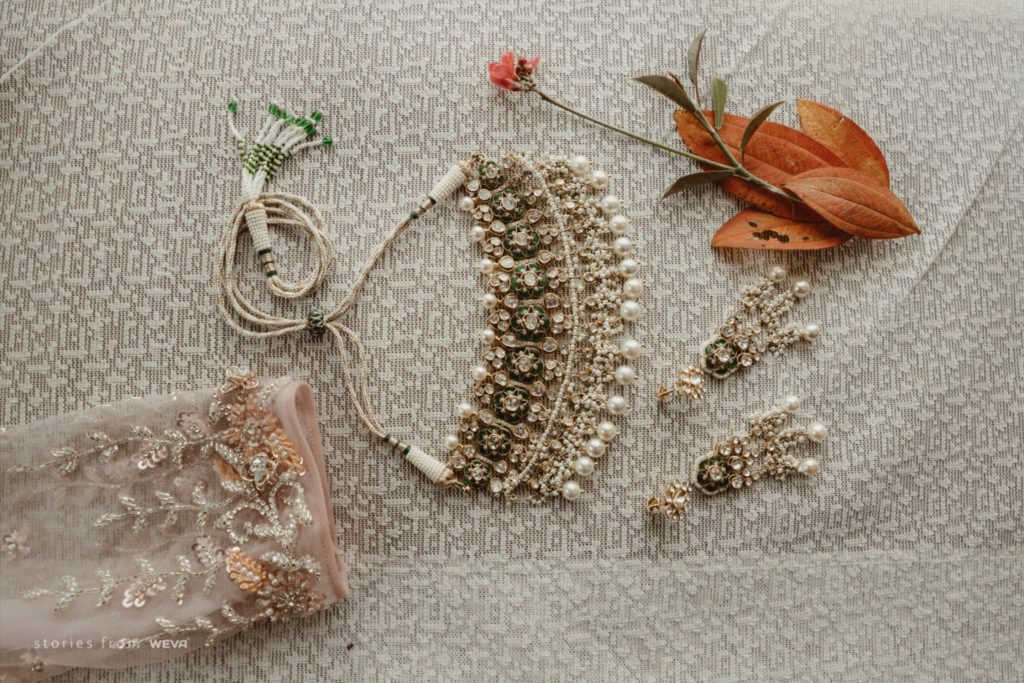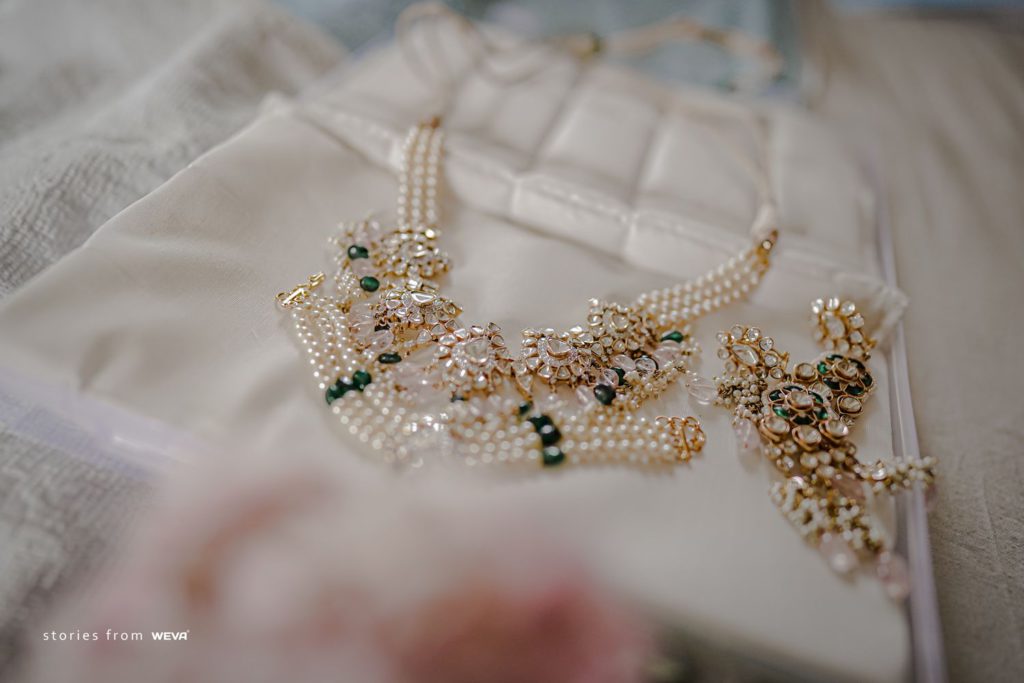 Mughal jewelry never fails to fascinate us even after decades of transformations in
wedding jewelry. Firstly, the shiny pearls found in these designs are not so micro-
beaded in size. Secondly, the quality and shine of the pearls are inexplicable and
beautiful. Added to that, gemstones and Kundan stones of various colors are also
embedded. There is always a signature layering pattern in all the Mughal jewelry
including wedding necklaces.
Marvelous flower motifs are yet another highlight of the designs. Brides often pair
Mughal Jewelry with lehengas and Sharara suits. And, Muslim brides are more
attracted to Mughal neckpieces. Evidently, Sharara suits are most commonly worn by
Muslim brides. But, Mughal jewelry still manages to win the hearts of brides all
across the country. It often makes an appearance in pre and post-wedding celebrations
of lots of Indian brides.

5) Kundan Stone Embedded Contemporary Designs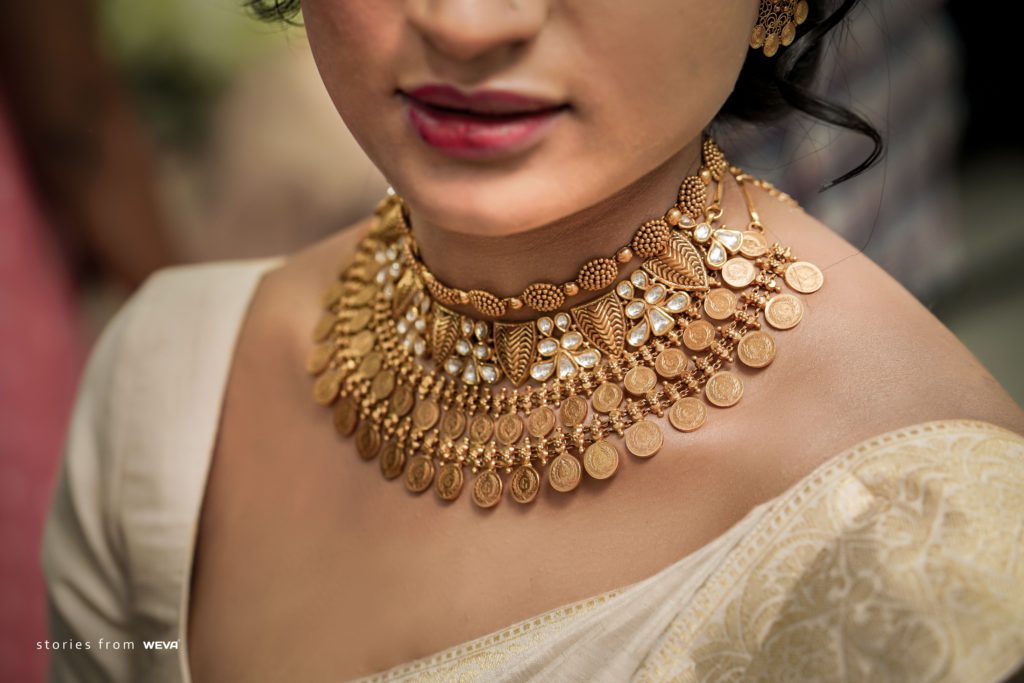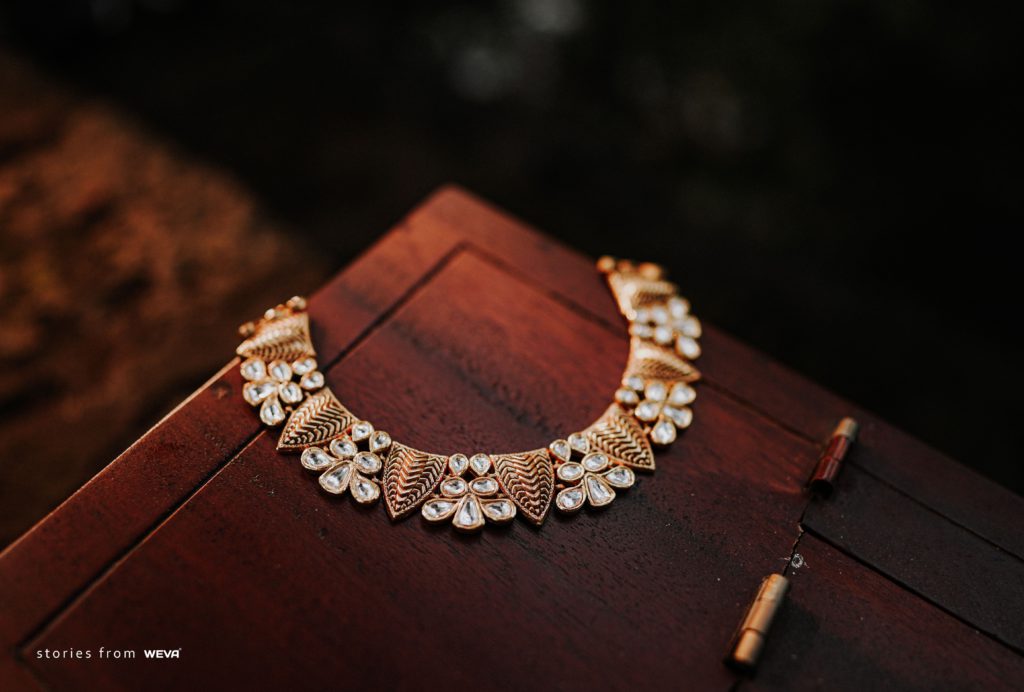 Contemporary designs have been most celebrated after 2010. Here, in the photo. our
bride is wearing a set of latest gold set design for bridal. The beautiful pairing has
almost convinced us to believe that it's a single neckpiece. But, surprisingly, its not!.
Kundan stones embedded in the centrepiece make the entire look a real stunner. Our
bride has pulled off a perfect contemporary design by pairing 3 necklaces of various
origins. The topmost one is a choker belonging to the traditional wedding jewelry
category.
And the middle Kundan piece is a contemporary design with 2 different repetitive
patterns. The 3rd statement piece is a modern design of the traditional Kerala coin
necklace. Together, the final look is giving a feel of completeness to her saree attire.
Brides who are looking forward to wearing 2 to 3 simple bridal necklace designs for
a minimal yet classy look can try this method of pairing.

6) A Regal Combination of Gemstones & Diamonds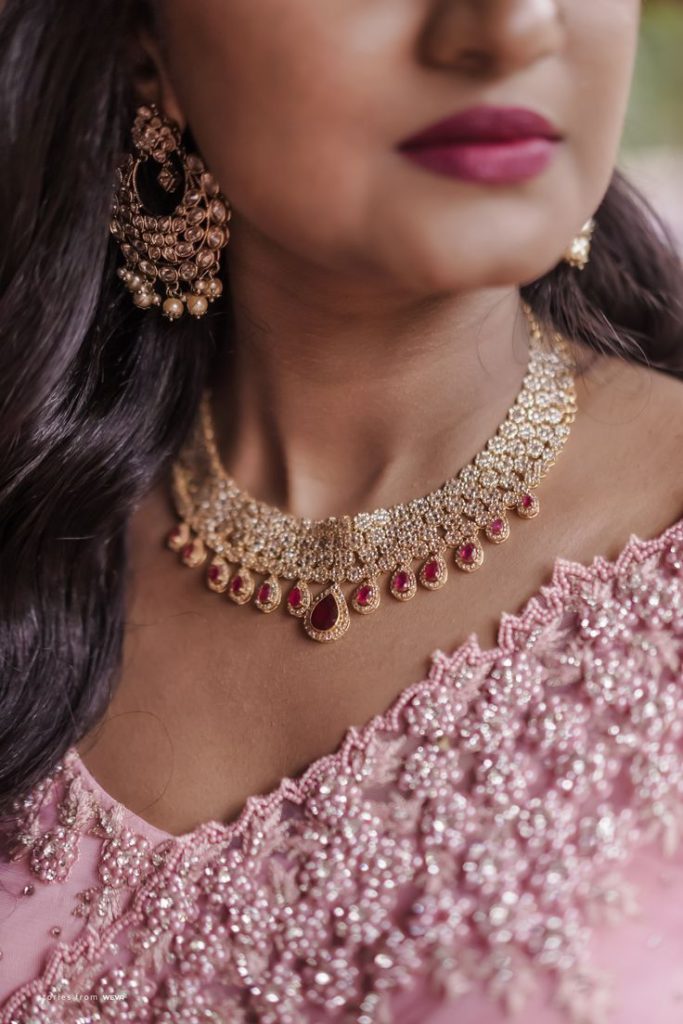 Who doesn't love to see a pop of color in their diamond jewelry? Wedding necklaces
finished in intricate diamond details often come as solid pieces with just stones. But,
there are varieties where you can find Rubies and Emeralds studded as large pieces.
When the necklaces have a central stone piece in a deep color, it often catches our
attention in seconds.
Also, you can match or mismatch the colored gemstones or precious stones to your
wedding outfit. If you are looking for a monochromatic theme, then it would be great
to go for colored stones matching the color of your wedding outfit. But, you can also
pick contrasting colors for the colored stones so that your jewelry gets to stand out!

7) Intricate Diamond Necklace Sets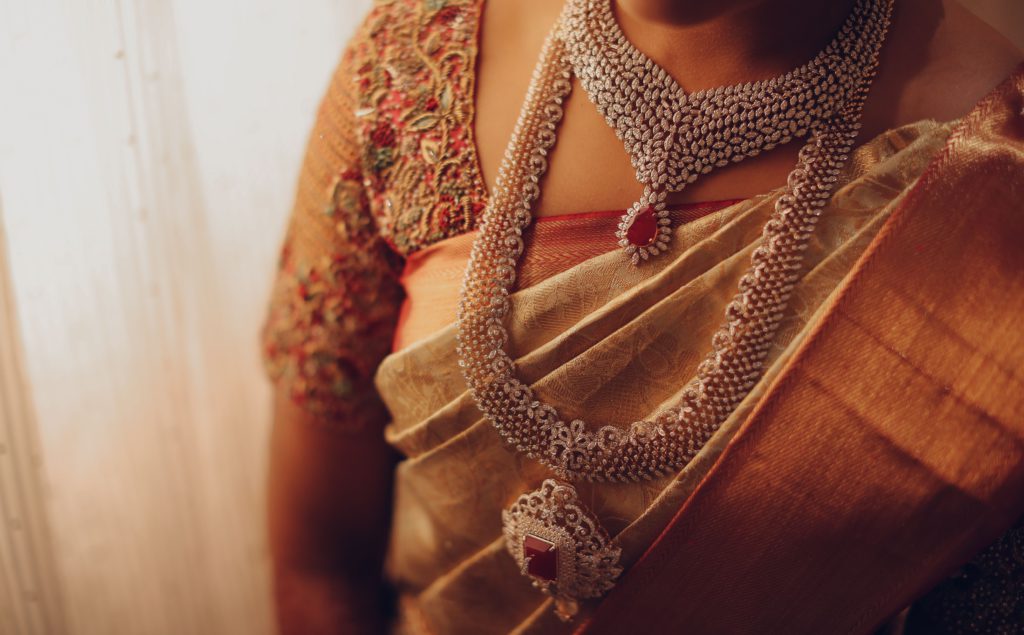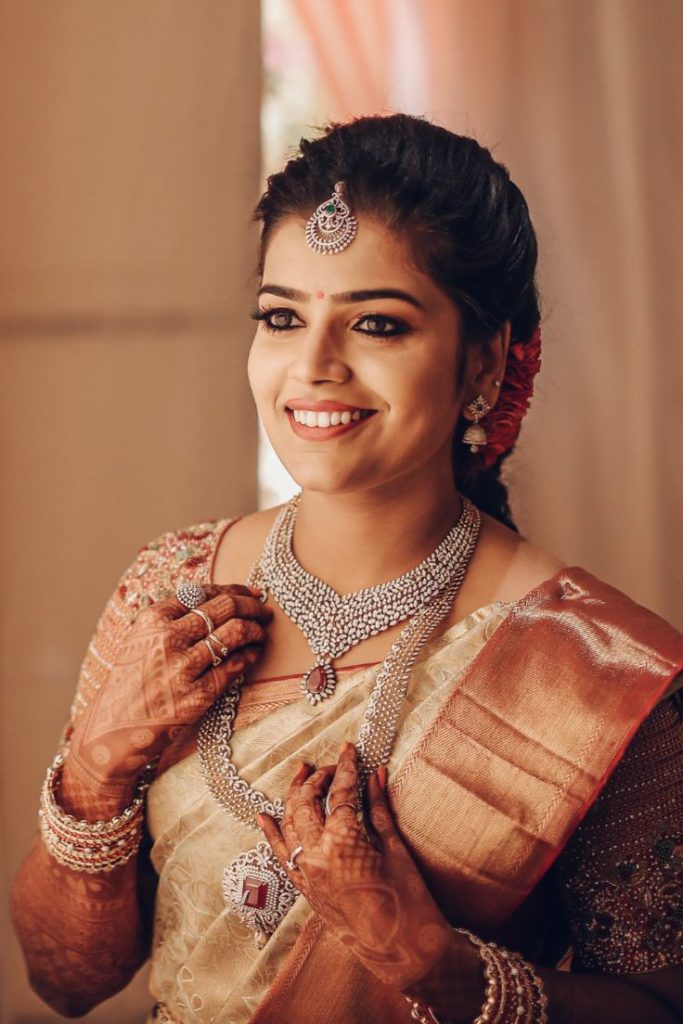 Struggling to find a perfect set of diamond necklaces for your outfit? We have some
amazing tips about latest bridal necklace designs in diamond! There are a million
ways to pair your wedding necklaces no matter how different or similar each necklace
is. Here, our bride is wearing a classic set, sized perfectly according to her taste and
wedding saree. The first necklace comes with a close-to-neck design embracing the
collarbones with glory. The prominent Ruby studded pendant is effortlessly making a
statement.
And, the second long necklace maintains a suitable gap between the first one.
Thereby, both the diamond necklaces with the very similar stone arrangements and
designs get a chance to stand out individually. Here, both the necklaces are appeared
to be a set. It can also be achieved by purchasing two individual pieces and then
pairing it conveniently. The designs here are perfectly finished with fine diamond
stones with classic pendants styled using beautiful Rubies.

8) Classic Statement Necklaces – Diamond Edition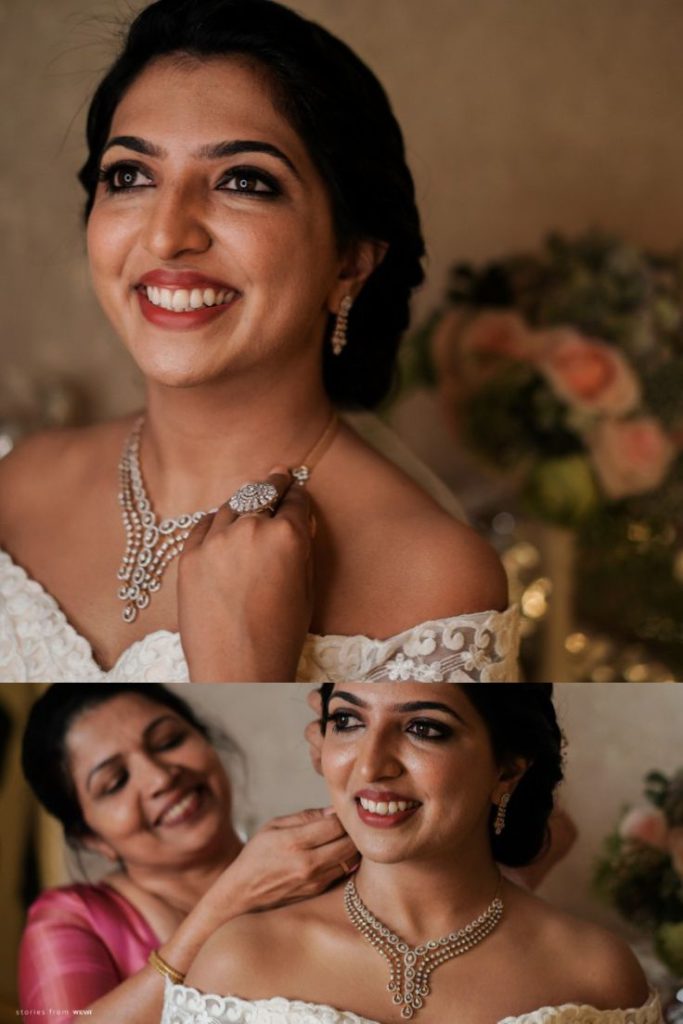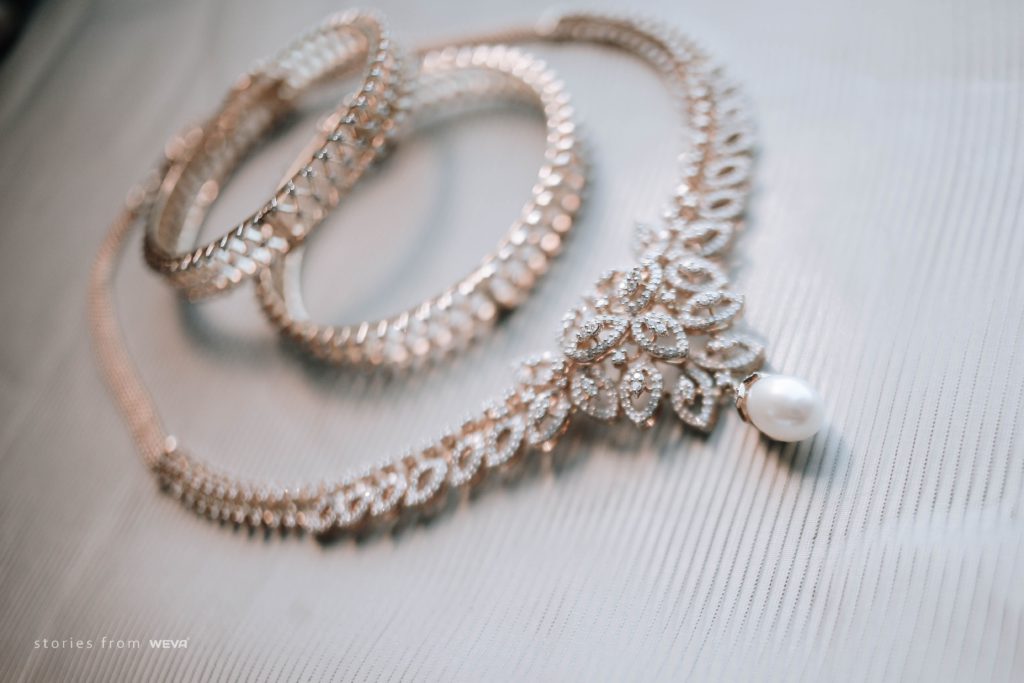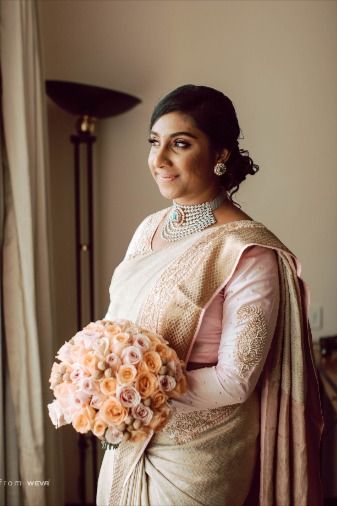 Are you looking for a unique single neckpiece to flaunt with your wedding attire? We
have some tips for you! Look for detailed necklaces with small patterns. Hunting for
unique shapes is another amazing option. Without just choosing a choker or a long
piece with a plain repetitive design, look out for diamond necklaces with unique
forms and patterns. As you are planning to focus on one necklace it's very important
to make sure that you decide the right size, length, design and type of stones for your
necklace.
Our brides are wearing necklaces which are accentuating their features and outfit.
Don't forget to consider the type of neck design your wedding outfit has, while
choosing the necklace. As many people are unaware of this, we will break it down to
you. Our bride here is wearing an off-the-shoulder gown with a sharp cut at the
middle. The necklace she chose consisted of only diamonds and it has a sharp form
complimenting the neck cut and color of her outfit.

9) The Grace of Micro Pearls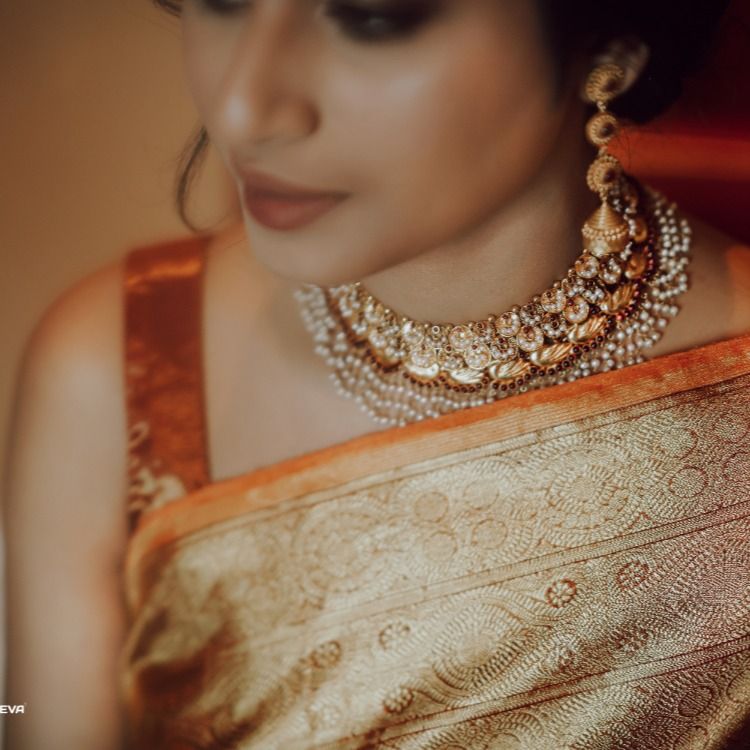 Micro beaded pearl necklaces have a special charm when paired with broad-bordered
silk sarees. These necklaces carry a bold middle layer and are finished with hanging
pearls at the bottom. Our bride is wearing a necklace where the top portion hugging
the neck is finished in gold beads which are spaced uniformly.
Microbeads can be incorporated into different types of gold necklaces. As smaller
the beads are, the elegance of the necklace increases. While some people focus on the
number of pearls and beads in the necklace, others choose to have a single layer of
larger pearls hanging from the bottom of the necklace. Micro beaded pearls are found
to be the prettiest in choker necklaces.

10) The Enameled Edit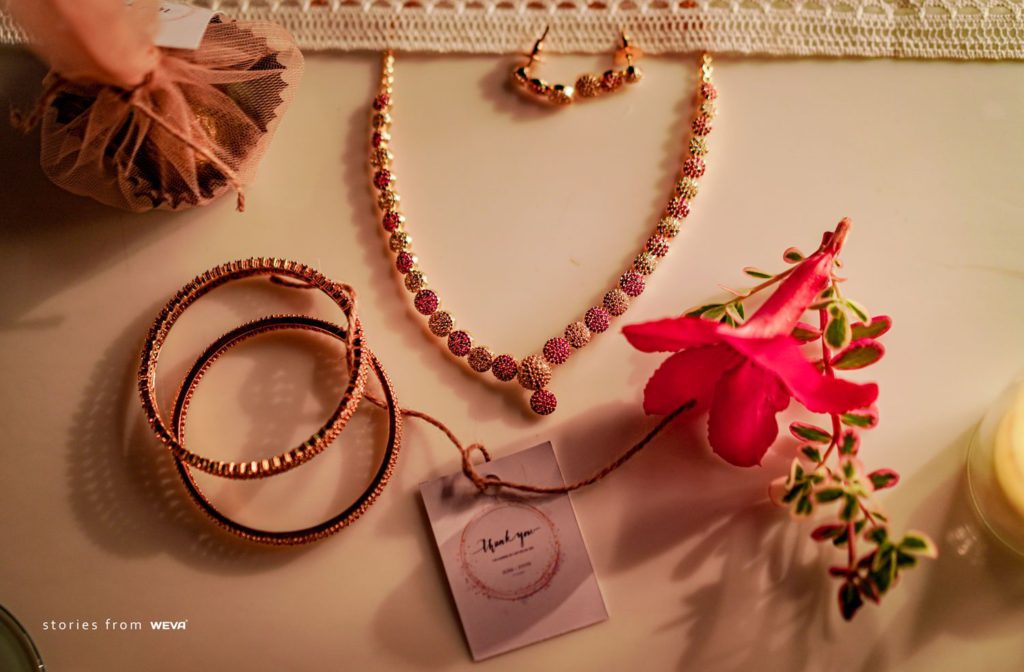 Enamel-painted necklaces were a new type necklace design, decades ago. While
Kundan jewelry conquered the whole wedding jewelry industry, enamel-painted
collections had gone off the trends for a little white. But, those brides who are not fans
of stones or pearls but still require a pop of color in their neckpieces can go for
enamel-painted necklaces.
As compared to stone embedded necklaces, these designs are much more lightweight
and comfy. Also, there are necklaces where both enamel painting and stones are used
for detailing. Modern and contemporary wedding jewelry designers often tend to use
enamel paints. 'A Little Goes a Long Way' applies to these designs. Be careful to
choose necklaces with a perfect balance of enamel paint.
Wedding jewelry shopping can be insanely exhausting if you don't have an idea about
the types of necklaces you want. This jewelry guide created by us is inclusive of a
large spectrum of necklace collections trending all over India. From traditional brides
to modern brides, each and every one has something to get inspired of in our
collection. We hope that you are feeling much relaxed and clear about the style and
type of wedding necklaces. If you are still tensed, then feel free to once again skim
through our jewelry shots and bridal portraits. We wish you all the very best for your
big day!