Are you a beach enthusiast who has been planning forver to have a trending beach
couple shoot with your fiance!? Would you like to review some viral beach
photoshoot ideas to turn session into something special, unique and memorable? We
have news for you! After consulting with the best wedding photographers in Kochi,
we have curated an exclusive list build with creative couple portrait poses and ideas.
Here, we are concentrating on easy and hassle-free poses, themes as well as
suggestions to make your photo session stand out from the everyday snapshots we see
on the gram and tumblr. Grab your favorite snack as we take you for a cozy virtual
treat that is all about famous beach portarit ideas!
1) We're Twinning!
Planning twinning outfits is never a cliche in pre or post-wedding shoots. And when
it's a beach portrait session, the concept of twinning outfits gets even more sassier
with the calming hues of the location. Minimal backgrounds like ocean venues can
create a particular emphasis on the outfits.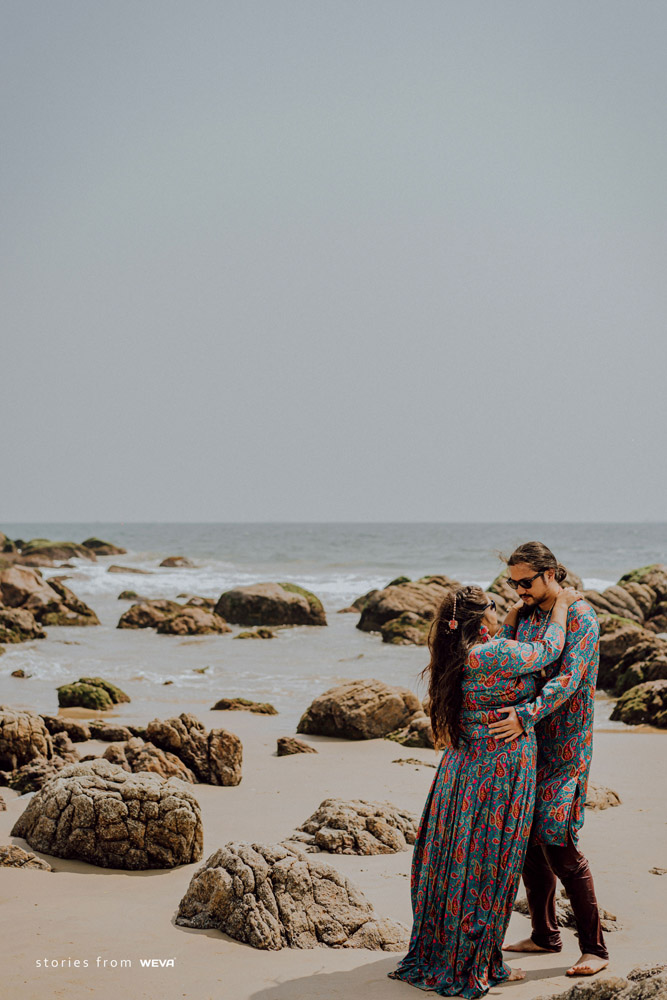 As compared to nature-loving green venues, street spots and busy city nooks, the
background here is calming and relaxing with notable blue tones of the sea and the
sky. From ethnic attires to contemporary beach fits, the options are endless for
creating colorful beach outfits for couples. Clearly, refreshing prints and breezy
fabric recommendations are great options to create a pleasant contrast with the
oceanview!
2) Nature-Inspired
Capturing the scenic beauty of blue waves and the clear sky is a special feel indeed.
But how about clicking the surrounding green cover as well? An occasional pop of
green can create an interesting feel to the snapshots, especially when the outfits of the
couple are styled accordingly.
In the photos we have showcased here, our couple is wearing solid neutral tones and
green shades that beautifully blend with the surroundings. Added to that, an
occasional peep of the green cover is making the frames so much more relaxing and
nerve-cleansing. Clearly, we have finished the shots in a moody relaxing palette with
no harsh colors for the best visual experience.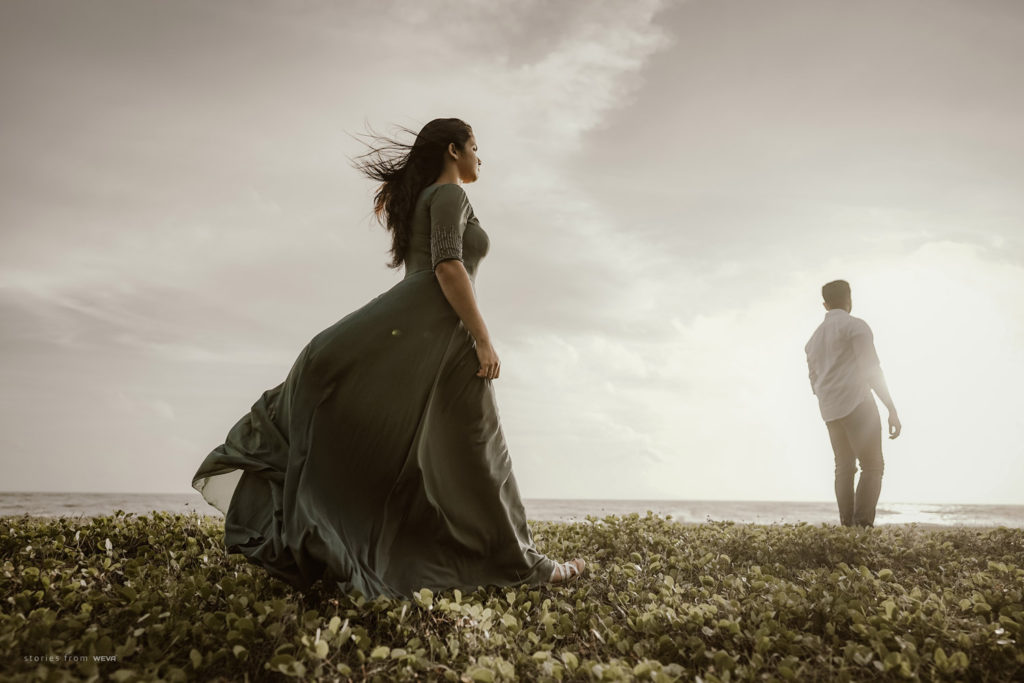 3) Playing with Silhouettes
Capturing silhouettes at dusk hours still remains a favorite beach frame for most
couples as well as photographers. Though silhouette is nothing new to the current
trends in beautiful beach photoshoot ideas, it still holds the power to make our heads
turn. Clearly, the ideas are endless for painting amazing beach silhouettes to cherish
forever.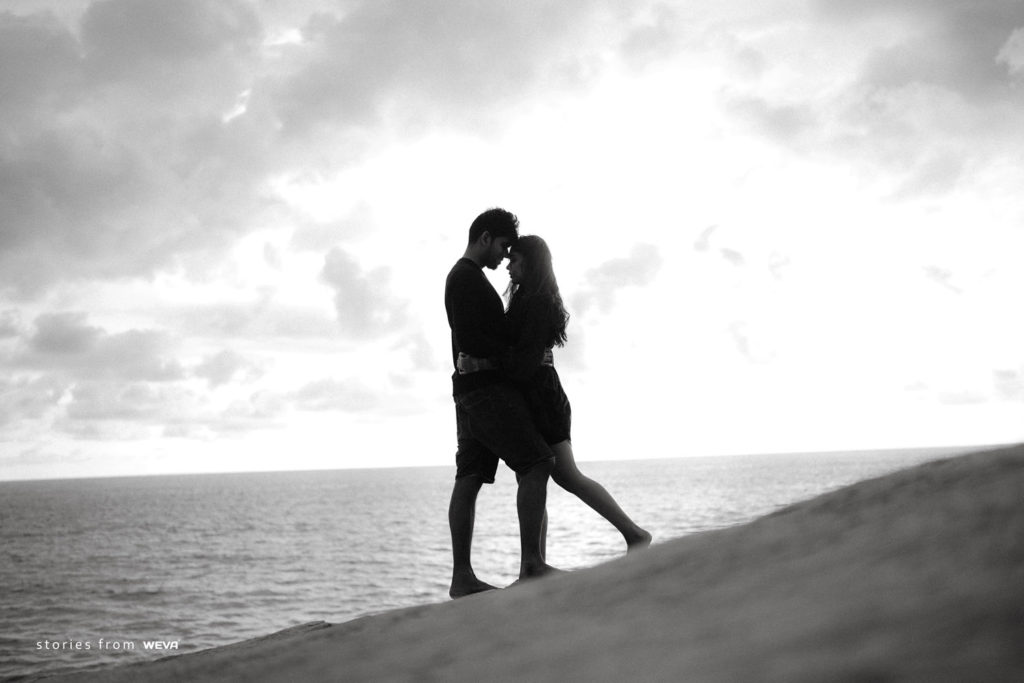 From vintage-era dance steps to minimal poses with intimate emotions, we have tons
of options to consider. And, semi-candids are so much fun to work with once the
photographer directs the couple to bring the desired body postures. Evidently, the
body posture matters a lot in achieving the right silhouette poses.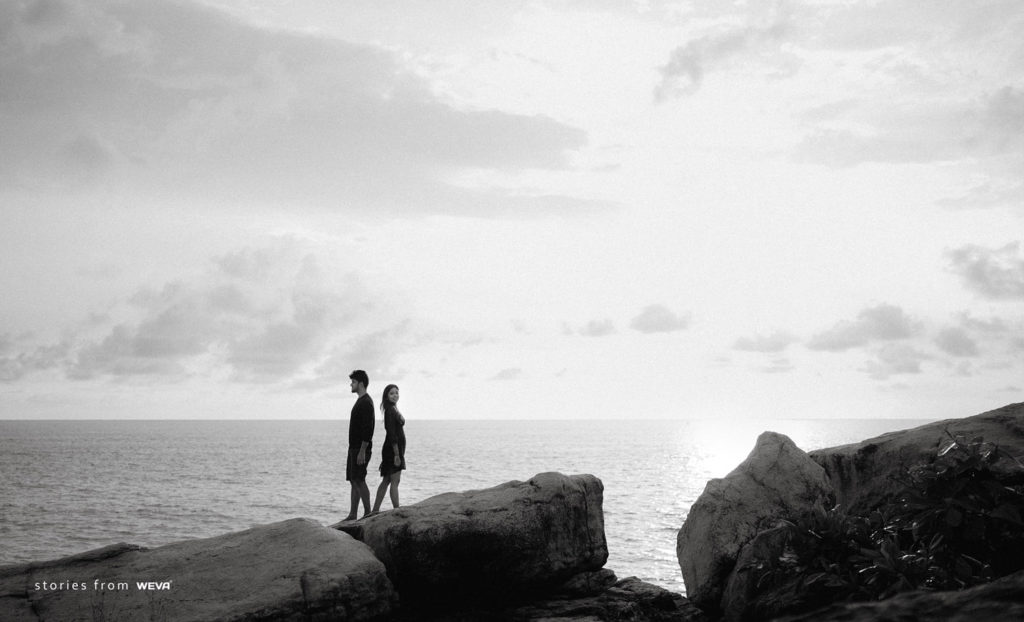 4) The Moment
Contrasting to the striking silhouette-style beach photos and semi-candids in
twinning outfits, capturing candid close-up moments has quite a special feel to it. To
be precise, the little details in the frame like the waves crashing and the clear blue sky
hues enhance these close-up moments in the best way possible. And, there is nothing
more expressive and precious than pure candids from a beach session.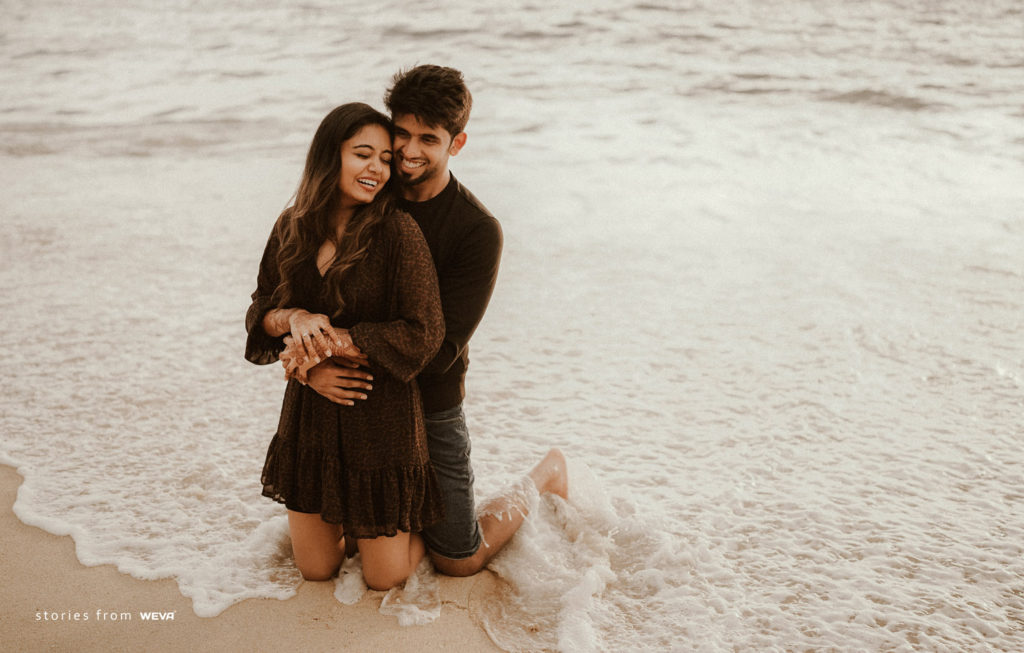 Interestingly, both cheerful and serene 'caught-up-in-the-moment' style frames work
equally magical in beachy backdrops. It is these little moments that leads to
heartwarming beach candids like the one we have showcased from our collection.
Playing with the waves and taking a short walk along the shore are some of the
common poses in beach portraits.
5) The Energy-Packed Poses!
Loud, energy-packed beach portraits are real good for a quick adrenaline rush!
Though serene and slow-paced photo poses feel magical in beaches, loud poses have
their own charm to create a strong punch of positive energy. To highlight, the process
of posing and curating these semi-candids is quite fun-filled as well.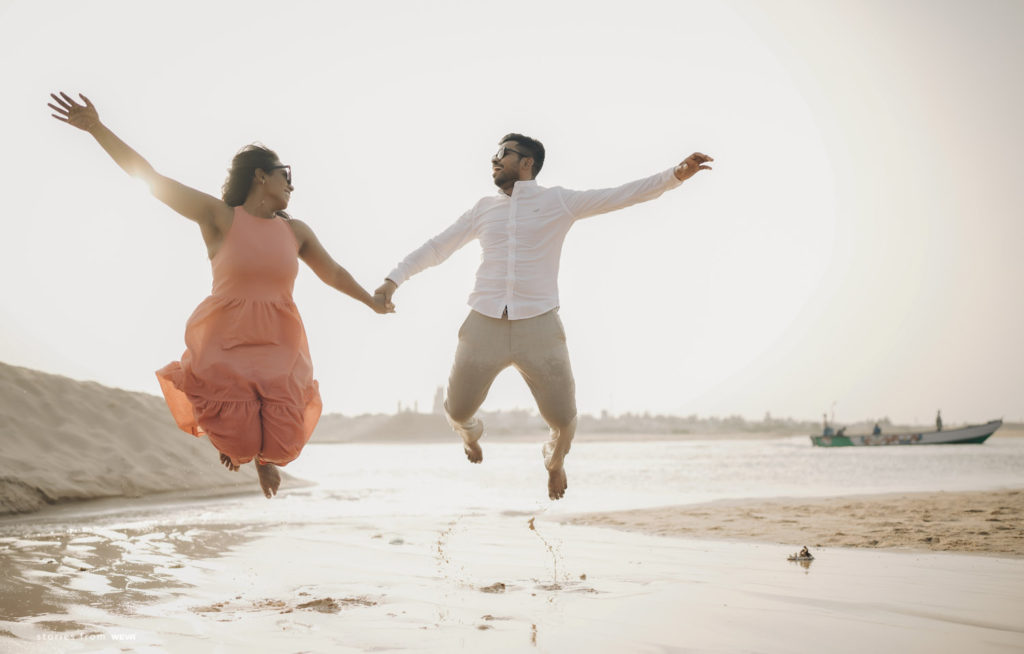 Compared to directing candid intimate poses, frames like these are fuss-free, easy to
compose and entertaining at the same time. In-motion fluid frames like playing fun
games by the sea is a great example of such poses. For those couples who are open to
experimenting with sporty poses, this theme is an amazing option to create beautiful
beashside memories.
6) Cozy Close-Ups
Heartwarming close-ups with a surreal backdrop sound like a beautiful pose for
couple portraits. Evidently, the power of neat backgrounds adds a polishing touch to
the close-ups and candids.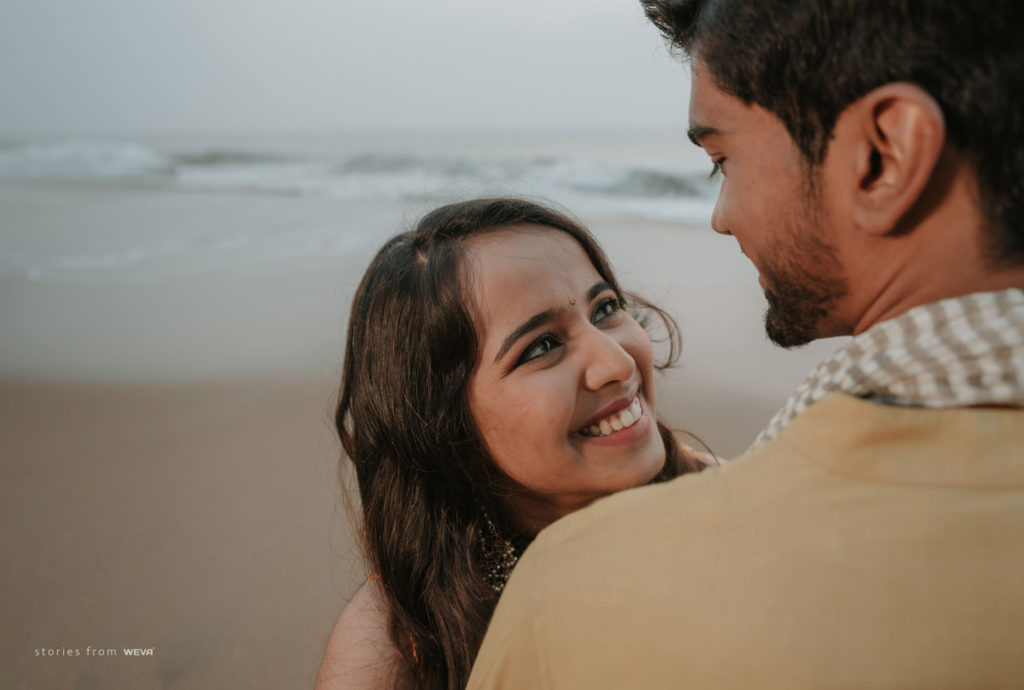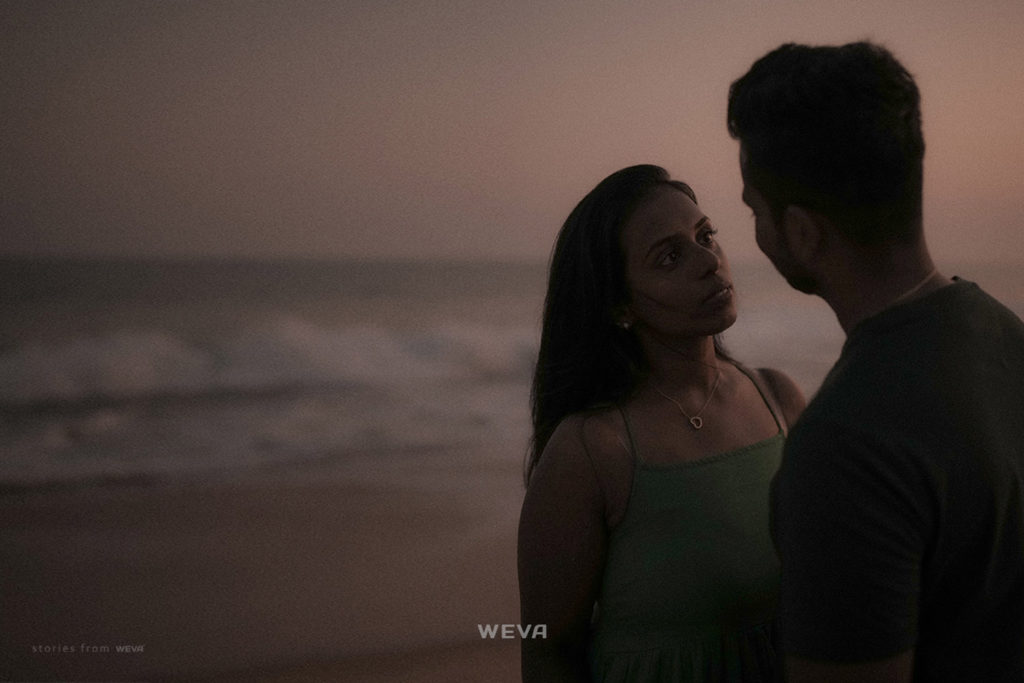 The aim here is to bring maximum focus to the subjects with a lovely beach backdrop
that does not disturb the focus on the subjects. And, partially silhouetted photos at
dusk or dawn hours in a beach slay at its finest! Not to mention, the number of times
we have come across sweet frames like these for pre or post-wedding photos is quite
commendable!
7) Serenity in a Photo
Let's now jump to events of importance or special occasions for shooting by the beach.
Have you ever fantasised about wearing your ethnic wear to the beach for a cozy
festive-themed photo session? Those who would like to level up their
post-engagement portraits or pre-wedding photos shall definitely consider the beach
theme.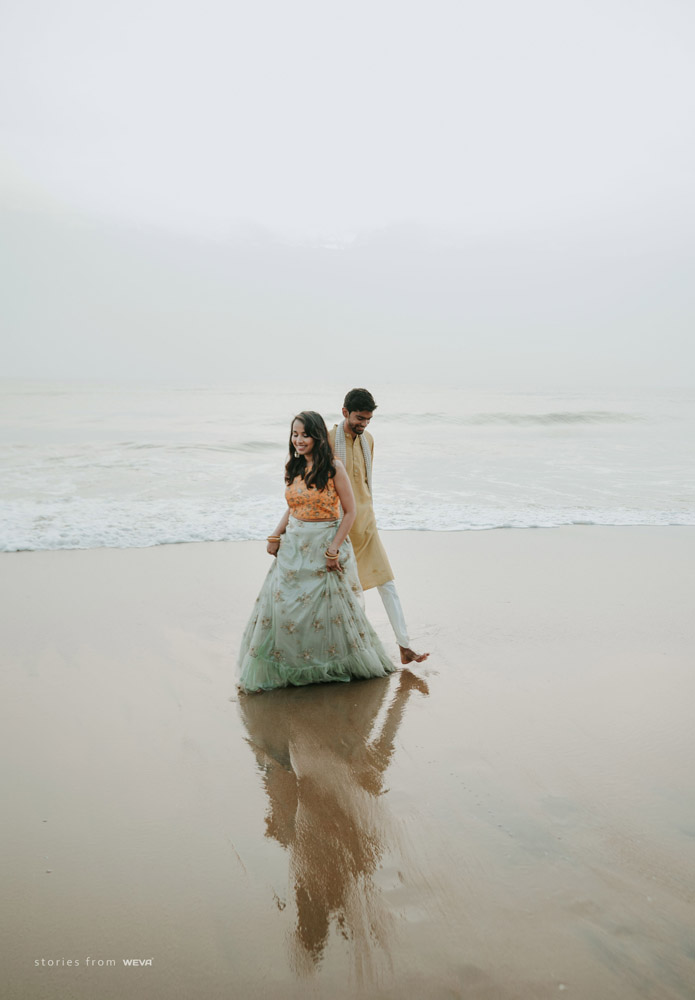 It is crystal clear that the feel of grandeur brought by the nature itself while filming
festive occasions is truly unparallel! Grab your besties and close cousins to get
enough help for your lehengas or shararas while you rock your couple portrait looks
with an awesome beach view! Added to that, the sounds of the seaside and the cool
breezes shall ease your pre or post-event stress bursts effectively.
8) Beach Weddings
Who hasn't dreamt of curating a private beach wedding with your near and dear ones!?
Beach weddings always manage to remain hot and trending from the beginning till the
end of the wedding season. To point out, setting up a minimal altar and custom guest
seating arrangement can be quite fun to plan than imagined!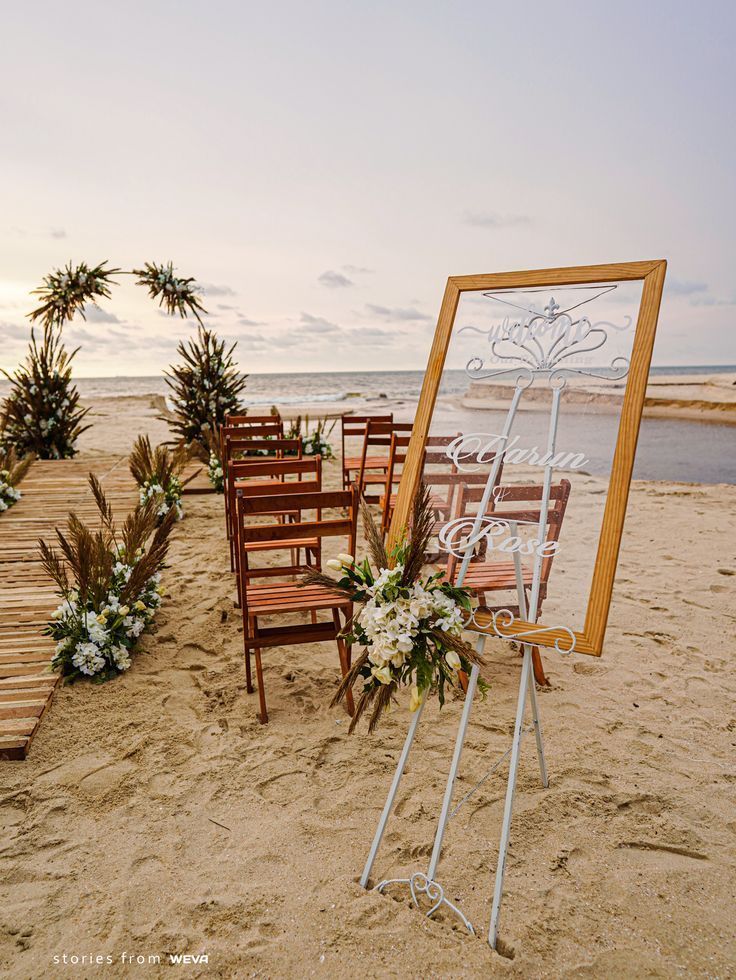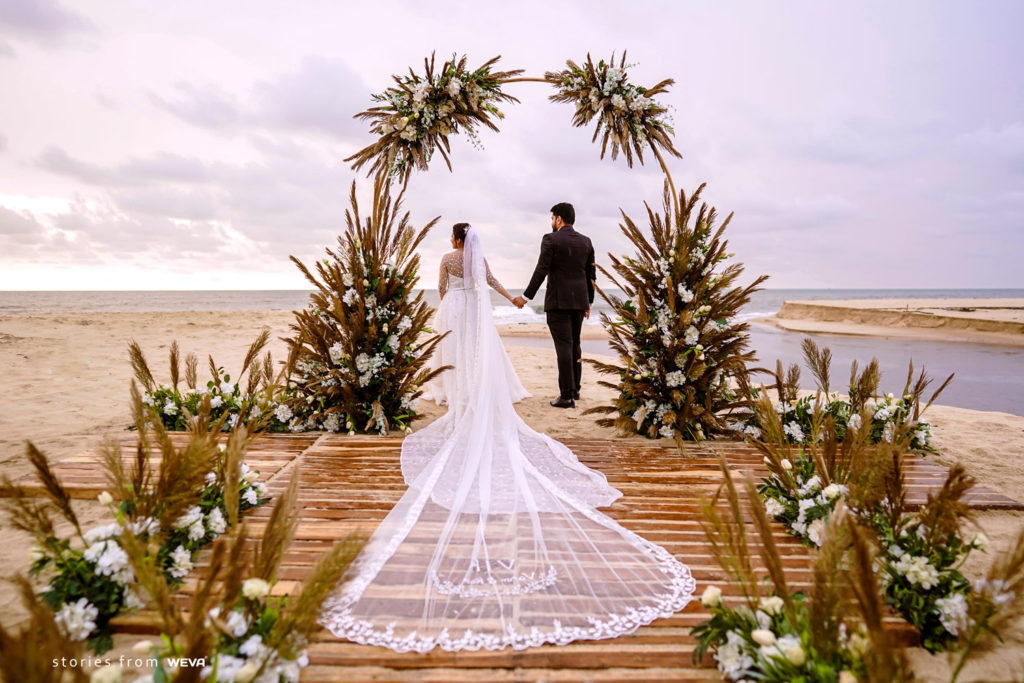 From monochrome fairycore themes and classic Western aesthetics to trending
cottagecore editions and luxe destination themes, the venue styling options are endless.
Though Christian weddings and engagement parties are the most commonly
documented wedding events, Hindu weddings have also begun to slowly catch up
with the 2022 beach photoshoot ideas.
We hope you had a great time flipping through our beach photoshoot ideas. In the
curation, we have detailed a handful of photoshoot ideas that can be tried by the beach
enthusiasts of different aesthetics. We have included something for each and every
one of you no matter how diverse your ideas are!
And, make sure to reserve some time with your partner to have a quick study about
our listing. Definitely, brainstorming sessions with your wedding crew shall light up
your ideas to a great level. We wish you a fun-filled and exciting shooting experience
with your event planners and photographers.